My Favorite Mod Podge Decoupage Home Decor Ideas
I found some amazing Mod Podge decoupage home decor ideas while searching for project inspiration. I've never thought of using Mod Podge for anything other than decoupaging  fabric, paper, confetti, etc. to furniture and home decor.
These projects really opened my eyes to amazing things you can do with Mod Podge. I had no idea you could mix it with paint and create pretty items. I also never thought to mix it with glitter….. basically making a whole new diy product.
Of course I've made some awesome project with Mod Podge and you may not have seen them here before. How about my colorful tile confetti coasters?
Mod Podge Decoupage Home Decor Ideas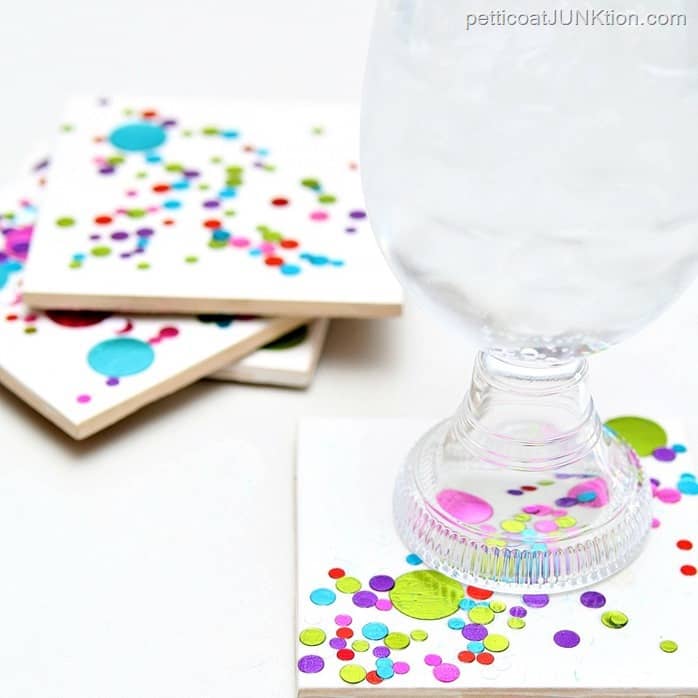 Confetti Coasters  Well, these were such fun. The coaster project only requires; plain white tiles, confetti, and Mod Podge. I put cork feet on the bottom but that's not necessary. ( I know the title says 18 projects and I found 20, who's counting. Don't forget to click the pink links to see the complete project)
Turquoise Bar Stool With Papered Legs  This is my play on paint dipped legs. I thought, why not decoupage paper to the legs instead. And that's what I did. The wrapping paper has bold colors. Wrapping paper designs are so pretty these days, don't you think?
Metallic Color Watering Can  You may not believe this but this watering can is plastic. The metallic paint worked wonders. I brushed the paint on and I was afraid there would be all kinds of brush marks but the paint leveled out nicely. The metallic paint is Modern Masters.
I just added one other detail to take it over the top…..a decoupaged vintage card.
DIY Ring Dish With Mod Podge Mega Glitter from oneartsymama.com  Super fun project for the girl who loves sparkle and shine.
Mod Podge Wooden Letters from heytherehome.com  These wood letters are such fun and the customization ideas are endless.
DIY Wrapping Paper Covered Boxes from clubcrafted.com This is the prettiest wrapping paper! The colors are right up my alley. The paper covered boxes are pretty and functional.
DIY Confetti Candy Bowls from tellloveandparty.com  These bowls are so stinkin' cute. I can see doing something similar with a  glass cake stand. Would be perfect for parties.
DIY Mod Podge Fabric Rug from damasklove.com Talk about a statement piece. Wow. What an idea.

Do you love that rug as much as I do?? For some reason all of these Mod Podge projects I selected for inspiration are color intensive.

DIY Mod Podge Pots from iheartnaptime.net The pots wrapped with paper and twine are too cute.
Custom Photo Planter from burlapandblue.com  A great way to showcase family photos and you have a planter too.
Pressed Petals And Rock Vase Art from sustainmycrafthabit.com  I never would have thought of this idea. That's why I like searching the internet for inspiration. I have to say this rock vase art ROCKS.
Mod Podge And Food Coloring Painted Glass from unoriginalmom.com Cute glasses and I like how she showed her fail before she got the win. I have a lot of fails too.
DIY Geometric Planter from sarahhearts.com I seriously want this planter. Now I'm on the hunt for a similar white planter so I can recreate this look.
Mod Podge Frame Tutorial from tidymom.net  A good way to decorate $1 frames. Pick out pretty paper and go to town.
Easy Mod Podge Serving Tray Makeover from acultivatednest.com This is a thrift store upcycle and I love it. If you aren't shopping the thrift stores you're missing out.
Modge Podge Glitter Bowl DIY from momdot.com Another idea I would not have thought of. I have a bunch of glitter (not the term she used, hahaha) and I need to try this.
Easy Table Makeover With Spray Paint & Mod Podge from artsychicksrule.com This project is from my friend Nancy. She decoupaged a table with wrapping paper and I have the same paper except in green.
Decorate Bottles With Vintage Labels from modpodgerocksblog.com I have a ton of bottles and this project would be easy to put together. Just print vintage looking labels on your computer and Mod Podge them to bottles. Easy.
DIY Dripping Paint Planters from weregoingtomakeit.com Another fun use of Mod Podge which is all new to me. You can customize any planter using this technique.
DIY Tile Coasters from itallstartedwithpaint.com  I like these tile coasters almost as much as mine (insert Kathy smiley face). Seriously, the scrapbook paper on the white tile is super cute and super easy. You know, tile coasters like these make great gifts, not costly at all.
Mod Podge Decoupage Home Decor Ideas 
Did you pick out a favorite? I picked a couple…..the Geometric Planter and the Rock Vase Art!
I hope you enjoyed this tour through Mod Podge inspiration world. Tomorrow I have a very, very, pretty furniture project to share! Thanks for being here and have a great day, Kathy