Definition (by me
)…….
Decoupage is the art of decorating an object, furniture, etc., by gluing paper, fabric, and other such items onto them.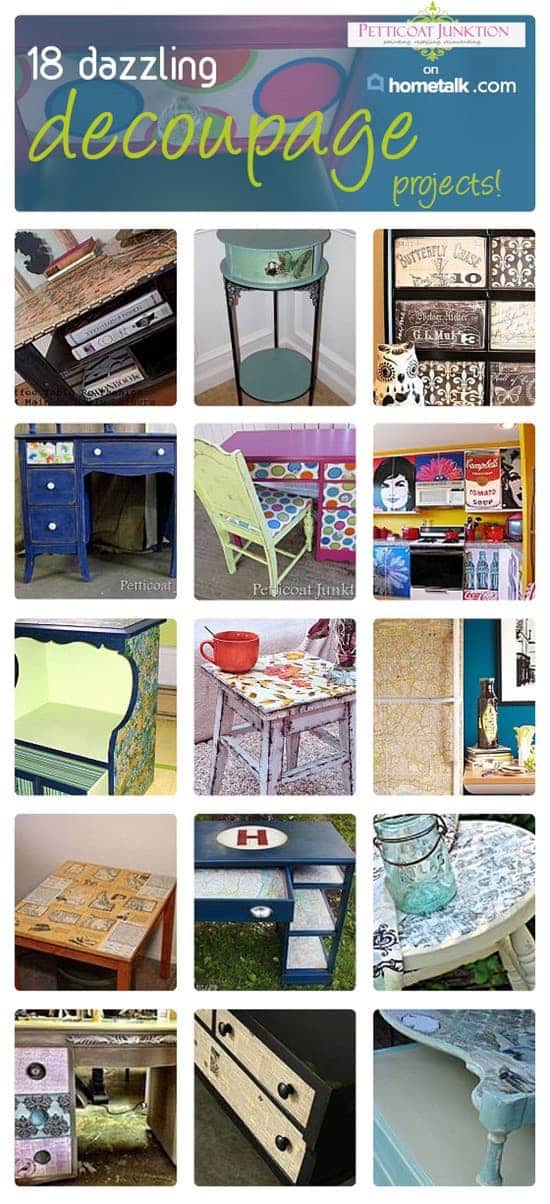 I love decoupage because there is no limit to the finishes you can create.

MY LATEST VIDEOS
I curated this clipboard of decoupage projects from the Hometalk DIY Community.
Here's a preview of a few projects…..
map decoupage  mypassionfordecor
old book decoupage foreverdecorating
fabric decoupage   my going in circles decoupage desk
This is decoupage….we all have stuff laying around the house that we could use to decoupage furniture or other home décor objects.
Grab some stuff and get to work!
For more ideas view the 18 Dazzling Decoupage Projects Clipboard on Hometalk by clicking here.
Back in the stone age when I was in school I remember doing decoupage projects. Did you?
Love to hear from you. You can leave a comment below.
If you don't have a blog….that's ok…you only have to leave your name (first name is ok) and your email address, then your comment. Your email address will not be shown on my blog. It is to prevent spammers from leaving comments.
Thanks for stopping by and have a great week,
Kathy
Follow….
On Facebook Petticoat Junktion
On Twitter Petticoat Junktion