Metallic Paint Options For Furniture and Home Decor
Questions I get about metallic paint - -  Where can I find metallic paint? Why can't I find the Martha Stewart Precious Metals Metallic paints you used on your furniture? What kind of brushes should I use? Should I seal my project?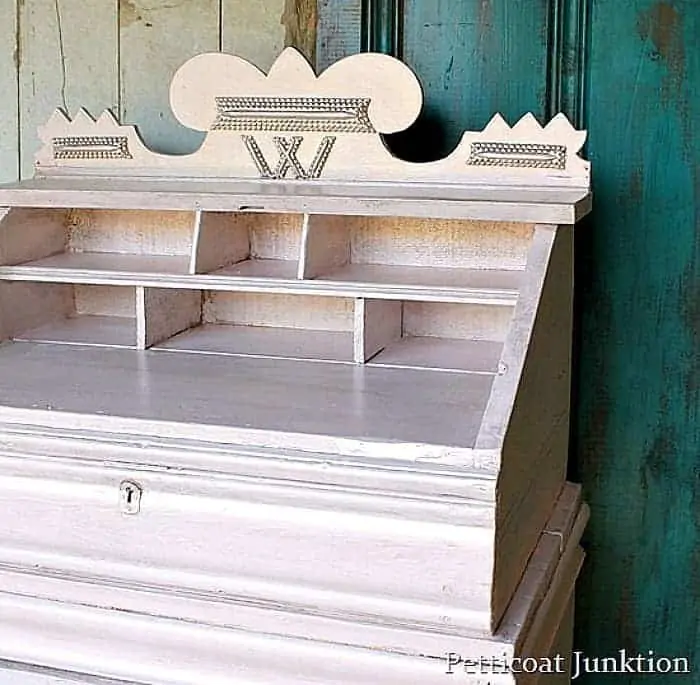 Pink Paint with a Metallic Paint Glaze
There are several metallic paint options available for furniture and crafts. I'm going to give you my opinion on the paints and also share a few things I've learned when using metallic paints. The metallic paint is a little different from regular paint finishes. Nothing scary though.
Metallic Paint Options
1. Latex Metallic Paint
My first Martha Stewart Precious Metals paint project was a pair of nightstands. I fell in love with the paint first thing.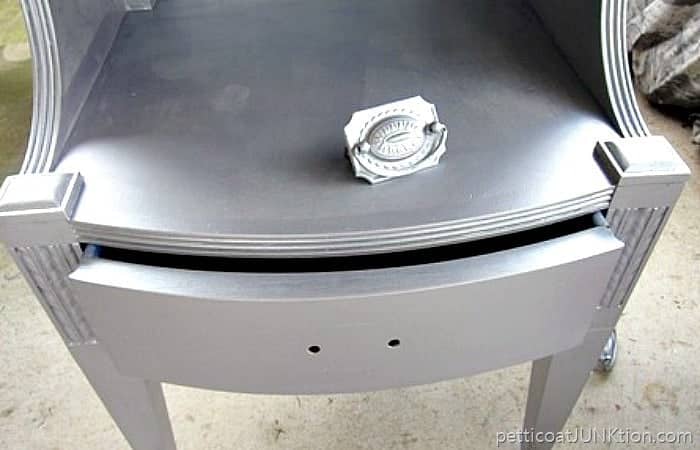 The silver was bright and shiny and everything I could ask for. But then, crazy me, I decided I wanted to age the silver.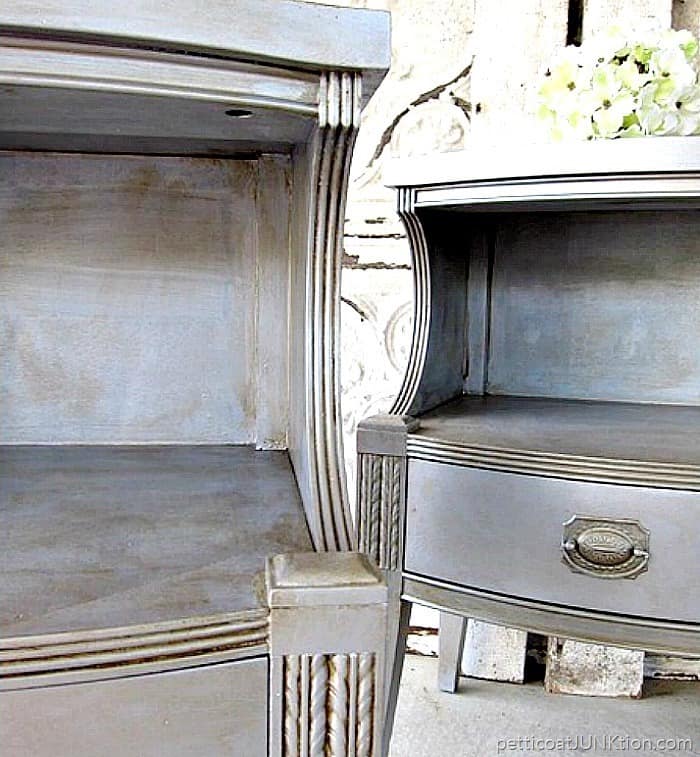 So I grabbed my Caromal Colours Toner and wiped it on then wiped off the excess. See how the toner seeped into the details of the nightstands?
The Martha Stewart Precious Metals paint is no longer available. I've tried the Modern Masters Metallic paint although not on furniture.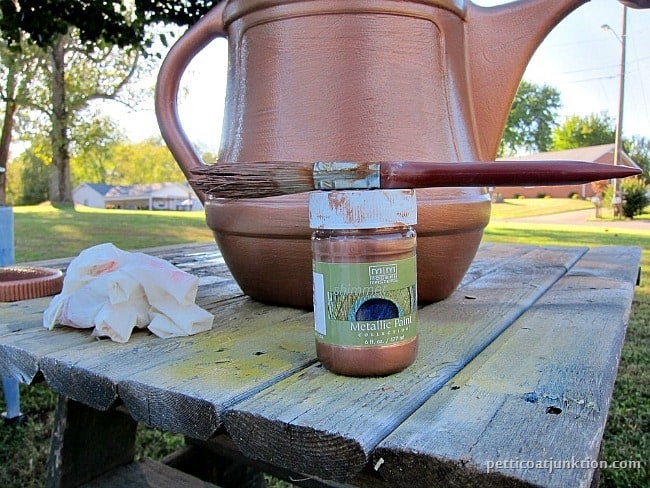 I was given a small bottle of the Modern Masters Metallic in Copper at the Haven blog conference. I painted this plastic watering can with the paint and was very happy with the results.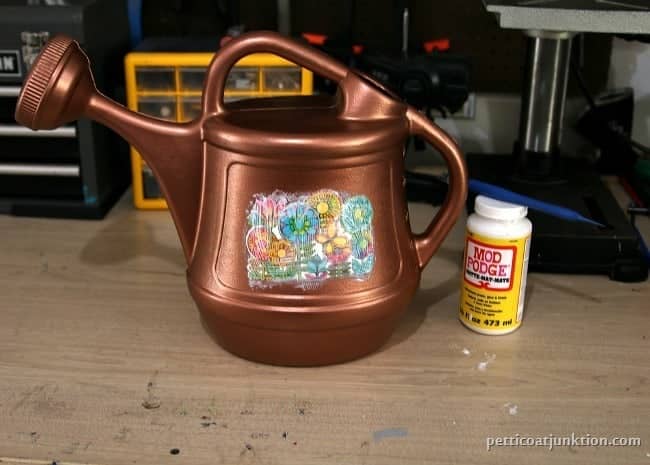 Mod Podge on Flower Decal
The paint covered that ugly plastic watering can in one coat. It stuck to the plastic without using a primer either. I would definitely recommend the Modern Masters Metallic Paint for furniture.
The Martha Stewart and the Modern Masters Metallics are latex or water-based. I try to steer clear of oil based paint. Too hard to clean up.
One thing I noticed about both brands of paint is that the paint needs to be stirred several times during the paint process. The paint tends to separate a little. Also when I painted the silver metallic pieces I always used a primer. I don't know if it was necessary but I did it anyway. I had the primer tinted gray and in most cases only needed one coat of metallic paint.
The paint does not have to be sealed. The only reason I would seal the paint is if it was on a dining room table. I always use a sealer on a dining room or kitchen table no matter what type of paint it is.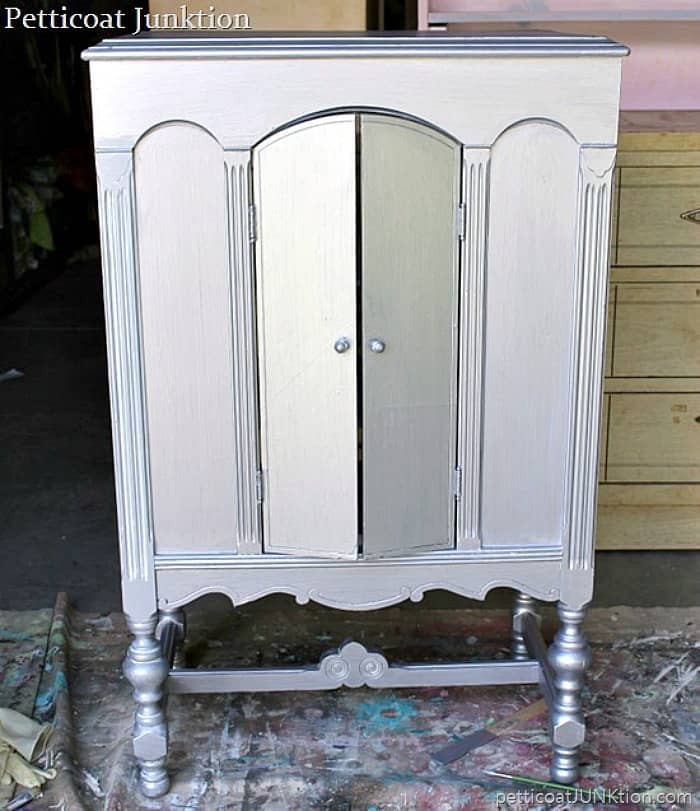 I also painted a sideboard, vintage radio cabinet, and buffet in metallic silver. (click any of the pink text links to see the projects with full tutorials)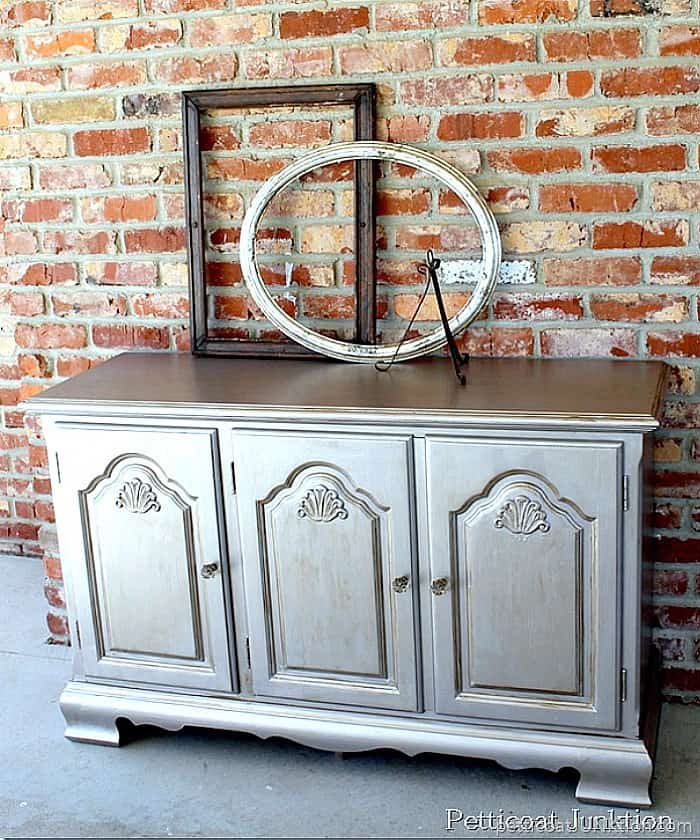 Sideboard in Aged Metallic Silver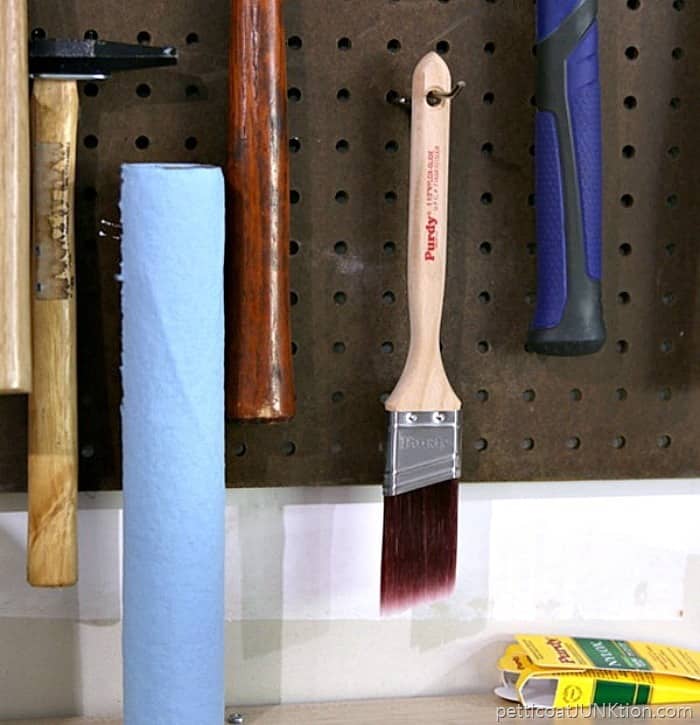 I recommend using a good quality two inch angle/sash brush or 2 inch straight bristle paint brush for all paint projects.
2. Metallic Spray Paint
If you had asked me a few years ago if I recommend painting furniture with spray paint I would have said a loud NO. Spray paint has definitely improved since then.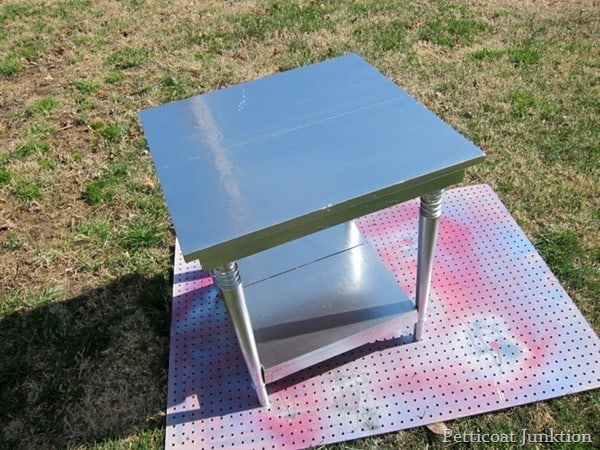 I primed this table with my favorite Glidden Gripper Primer tinted gray then spray painted the silver. The spray paint is my favorite silver color Rustoleum Bright Coat Metallic Finish. The spray paint flows so easily and evenly from the can. I just love it.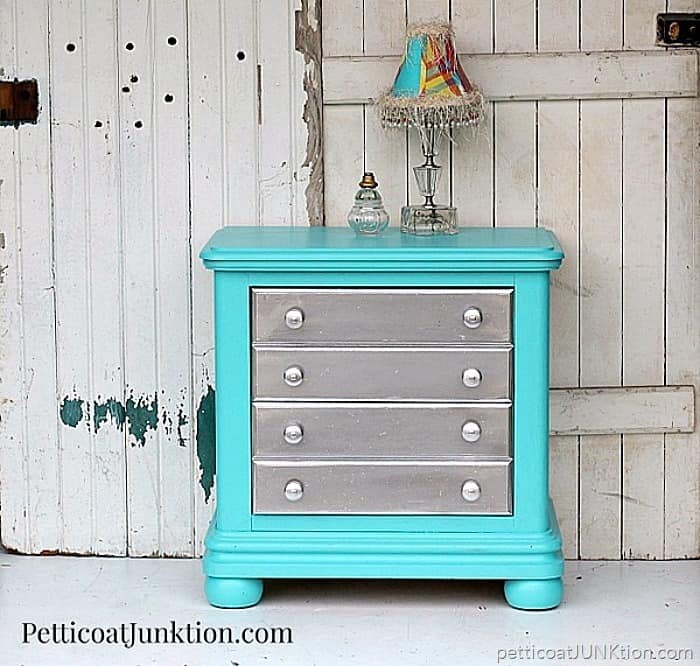 I used the same spray paint on the nightstand drawer fronts. The spray paint adheres very well and I had no problem with it chipping off or getting scratched. I did not seal the paint in any way.
Metallic spray paint is perfect for small décor items. I can spray paint several items in just minutes.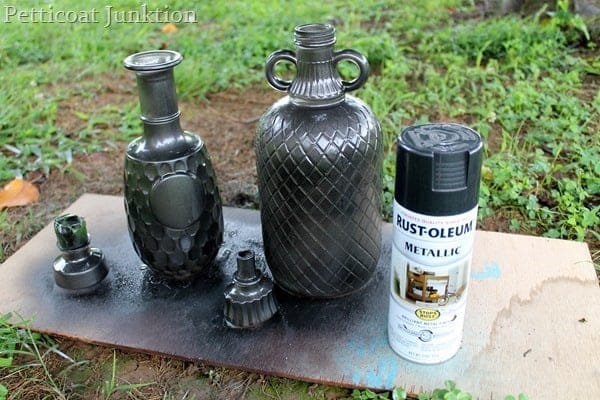 The Black Night Metallic Rustoleum paint is great for recycled bottles.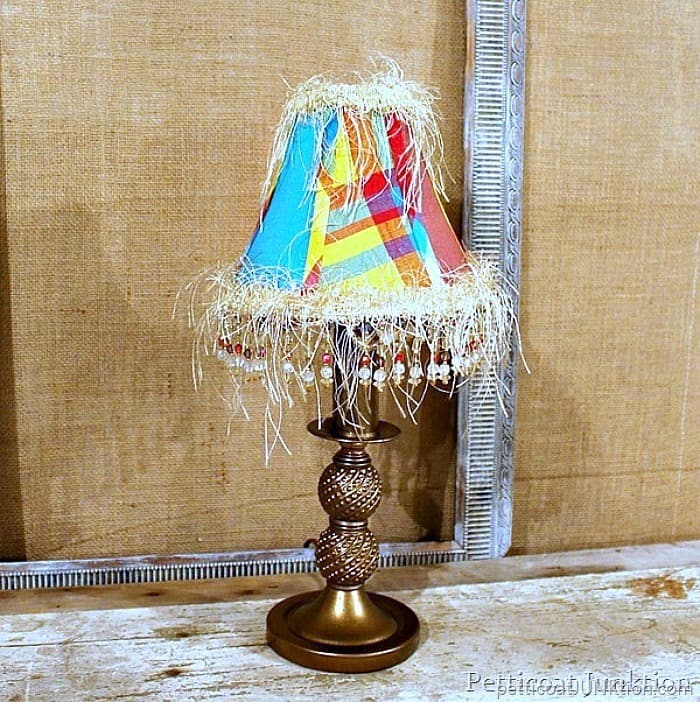 The lamp is painted with Rustoleum Antique Bronze. I don't work for Rustoleum but I do like their spray paint!
The hanging pendant lamp is painted with Kryon metallic paint. Can you imagine trying to paint wicker or cane with a paint brush. It's a mess. I've tried it.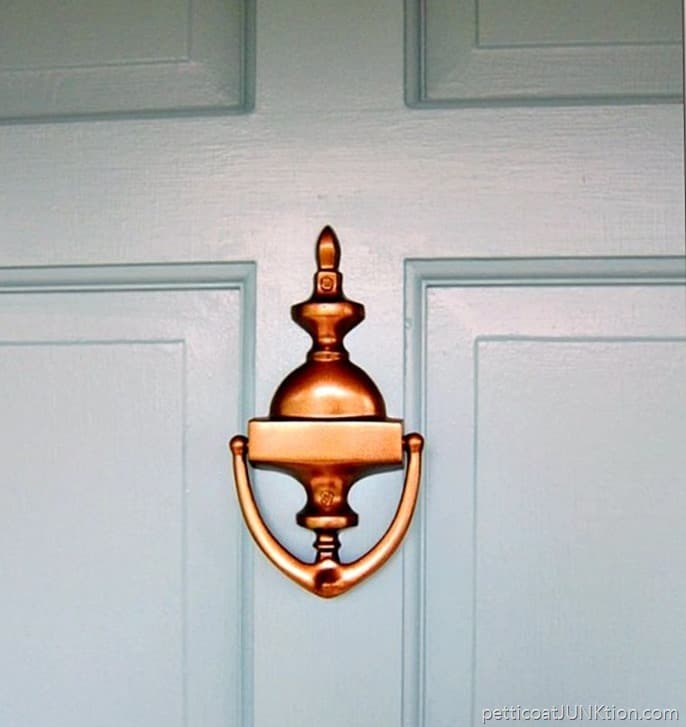 You can also spray paint the door knocker and kick plate. Just be sure to put the door knocker on right side up. Mine is still upside down.
So how do I feel about spray paint. I love it for picture frames, lamps, small chairs and stools, drawer fronts, table legs….I could go on. I never seal the spray paint and I sometimes distress it.
3. Acrylic Metallic Paints
Those little bottles of small acrylic metallic paints are perfect for small projects when spray paint want do the job.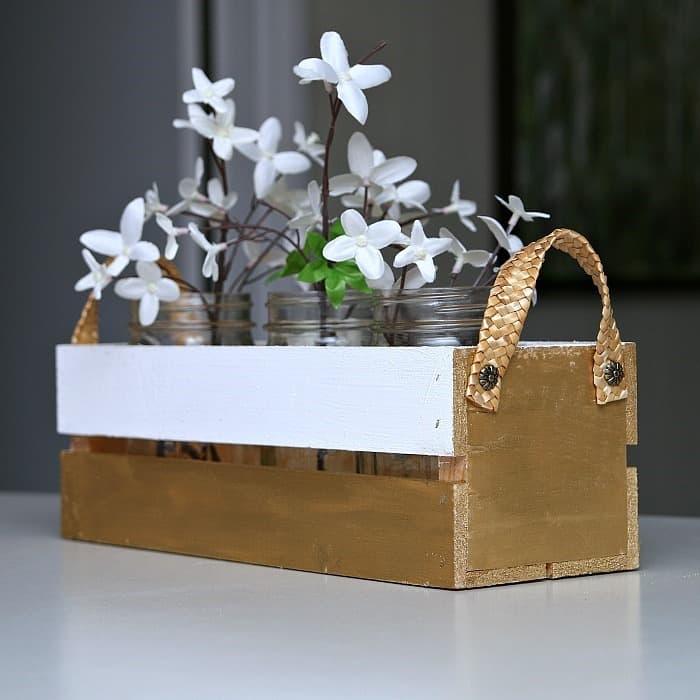 The crate is painted with Martha Stewart Metallic paint. You can buy the Martha Stewart metallic craft paint in a 6 ounce size.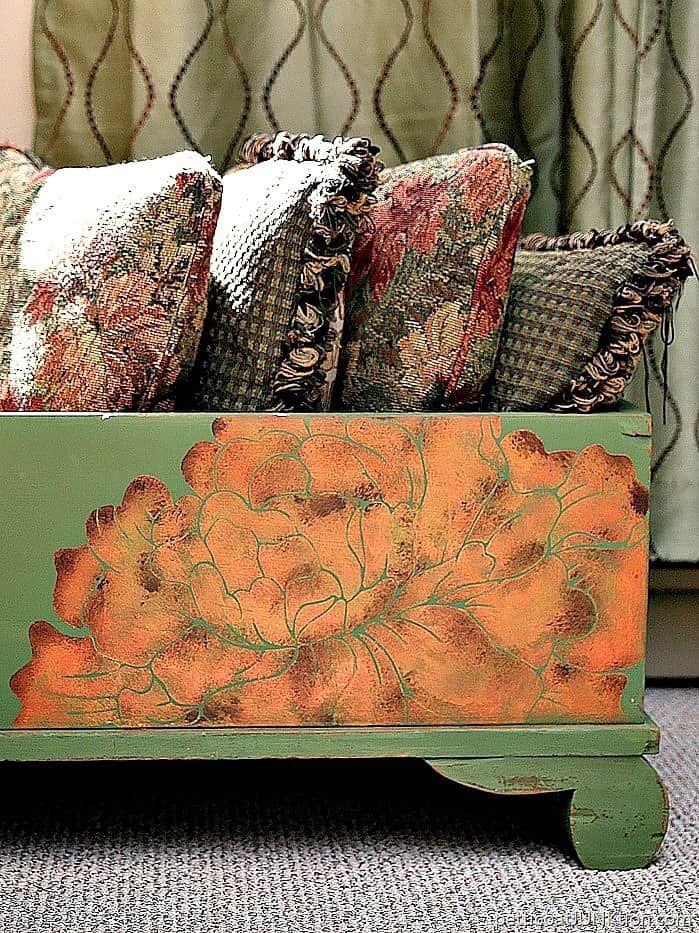 This stenciled flower has 3 different metallic paint colors. Adds dimension to the design.
4. Metallic Glazes
I don't know if you can buy metallic glaze but you can make your own.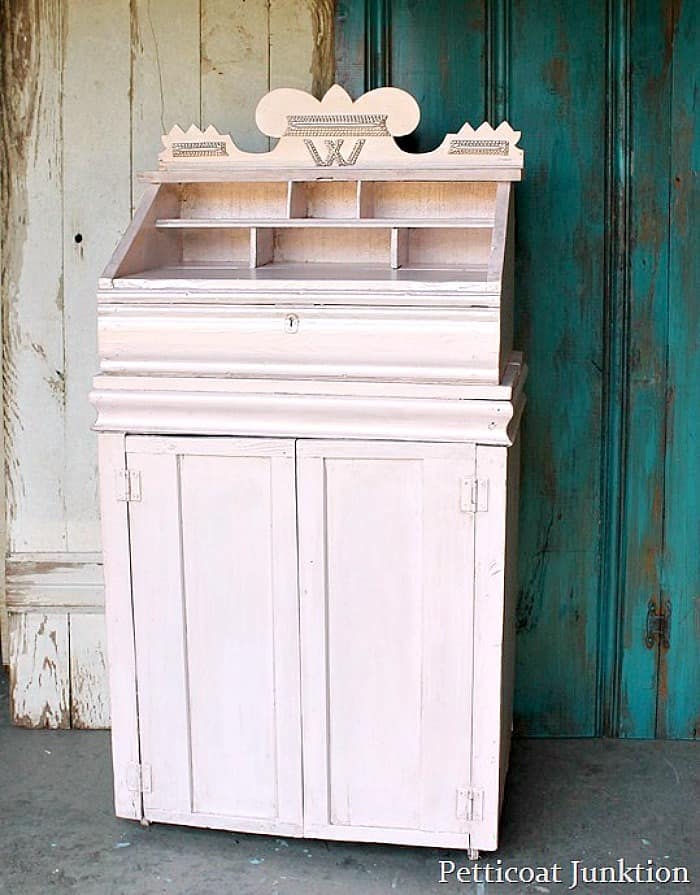 That's what I did for this project. The custom piece was for a bridal shop. I painted the antique desk pink and mixed a combo of silver and gold Martha Stewart metallic paints to make a glaze. The glaze added just enough shimmer to the desk to make it perfect for the bridal shop.
If I didn't answer all of your questions about using metallic paints please leave the question in the comments below. Have a great day guys and I'll see you tomorrow with a new project.
If you can't find these products in your area they are available to order online. (Amazon affiliate links for your convenience)
Shop For Project Supplies:
Modern Masters Metallic Paint
Martha Stewart 2 ounce Metallic Paint
Purdy Paint Brushes
Rustoleum Bright Coat Metallic Spray Paint
Caromal Colours Toner, Aging/Antiquing Product
FolkArt 2 ounce Acrylic Metallic Paints
Author: Kathy Owen (Petticoat Junktion)
Kathy is the founder of PetticoatJunktion.com, a home décor blog focused on repurposing and upcycling furniture, old hardware, rusty stuff, and thrifty finds into unique home décor. Kathy's projects have been featured on the Home Depot Blog, Plaid Crafts, Behr Designer Series, and in numerous magazines. Read more about Kathy here.