Replace A Drawer Bottom
We are going to replace a drawer bottom today. No, sorry, I didn't get that piece of furniture painted like I was supposed to. But I have some photos of work in progress at the end of this post, just to prove to you that I am painting furniture. We made some furniture repairs on another piece to prep it for painting.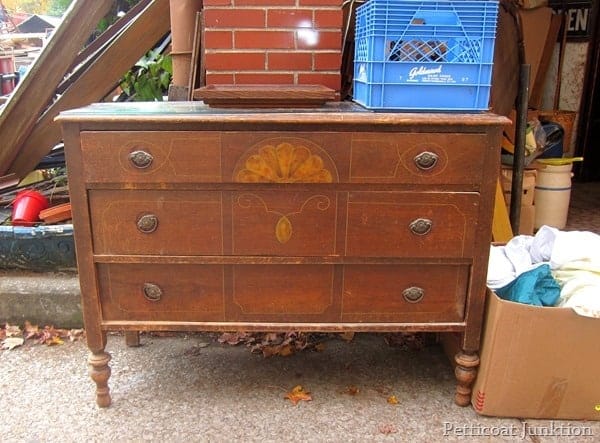 You got a little peak of this piece last week. I picked it up on the latest trip to My Favorite Junk Shop.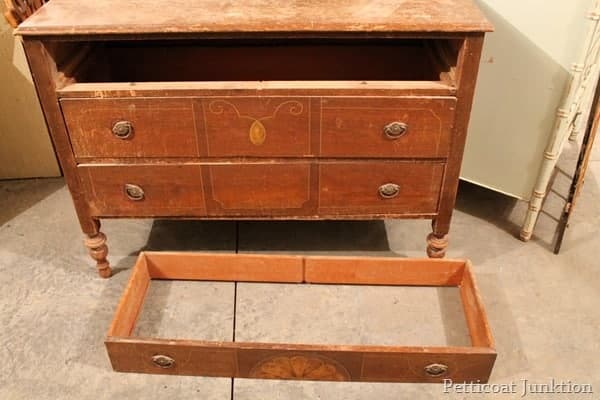 This is the part you didn't see. The top drawer and the bottom drawer were missing their bottoms. Very seldom do I buy a piece of furniture that doesn't need repairs of come kind.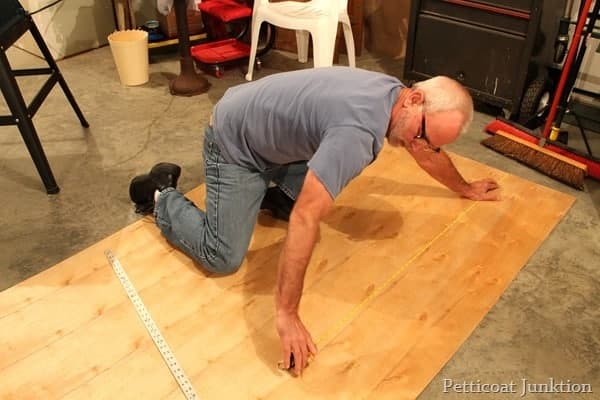 I knew the Junktion Technical Specialist (also known as my handy husband and the JTS) could repair the drawers for me. We made a trip to Home Depot because we were out of the wood we use for projects like this. We purchased a 5.0mm 4 x 8 sheet of underlayment for $15.97 plus tax. Here the JTS is marking the measurement for the drawer bottom.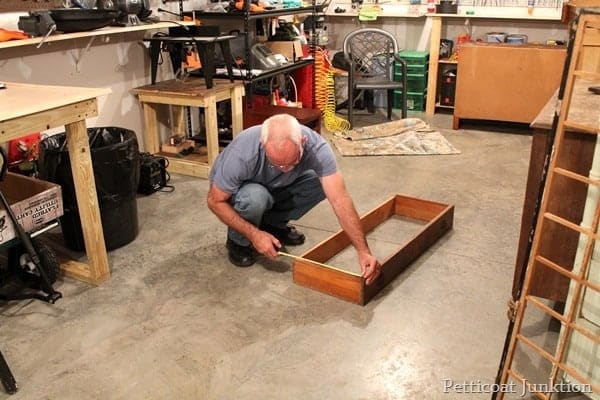 Pictures are out of order but this is where he measured the length and width of the drawer on the underside. If you've ever noticed most of the drawers have a grooved slot on three sides and you can slide the drawer bottom into the slotted grooves from the back side.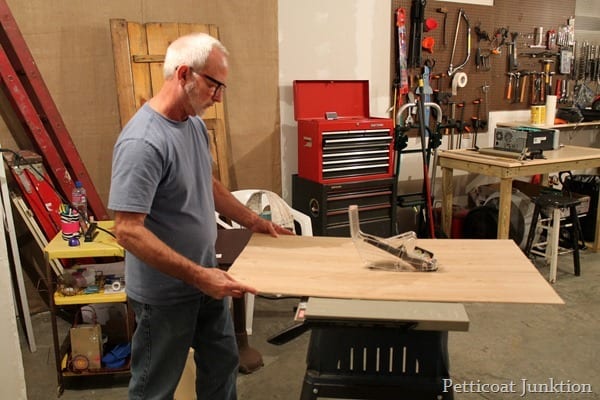 The JTS cutting the underlayment with the table saw. Don't call the safety police please. I always tell him to wear the safety goggles but he says his glasses are good enough. Not in my book.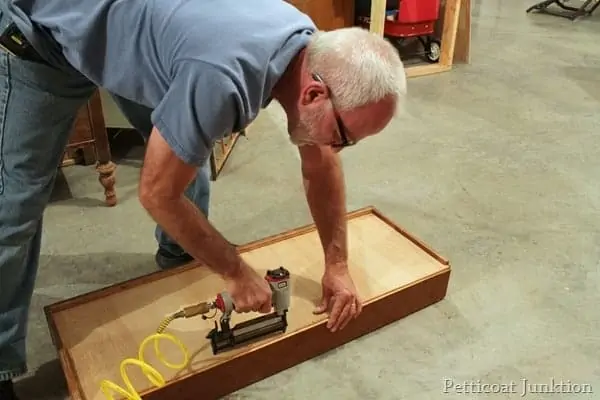 He slid the bottom into the slots and the fit was good the first time! Just to make sure the bottom stays in place he used the nail gun to secure it to the casing.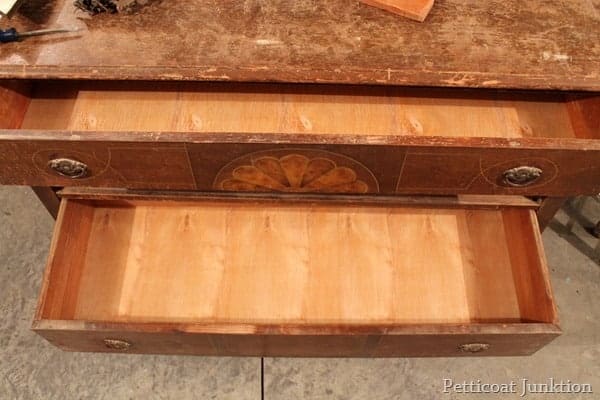 two nice new drawer bottoms
Did you know how to replace a drawer bottom?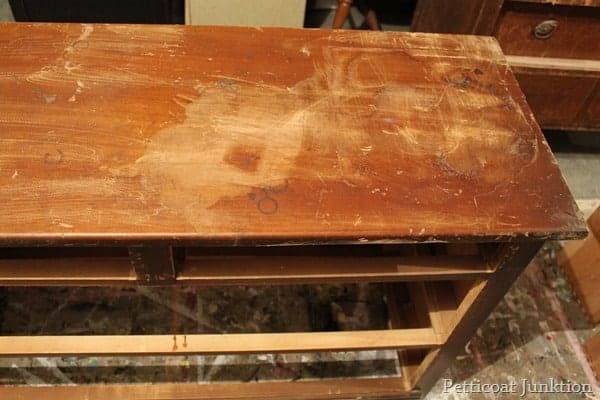 This is the piece I'm in the process of painting.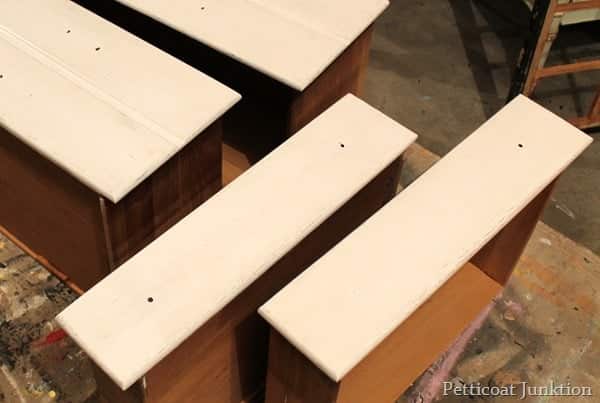 Yes it's white. But what other plans do I have for it?? You can leave me a note below. I love hearing from you. Thanks for stopping by and have a great week, Kathy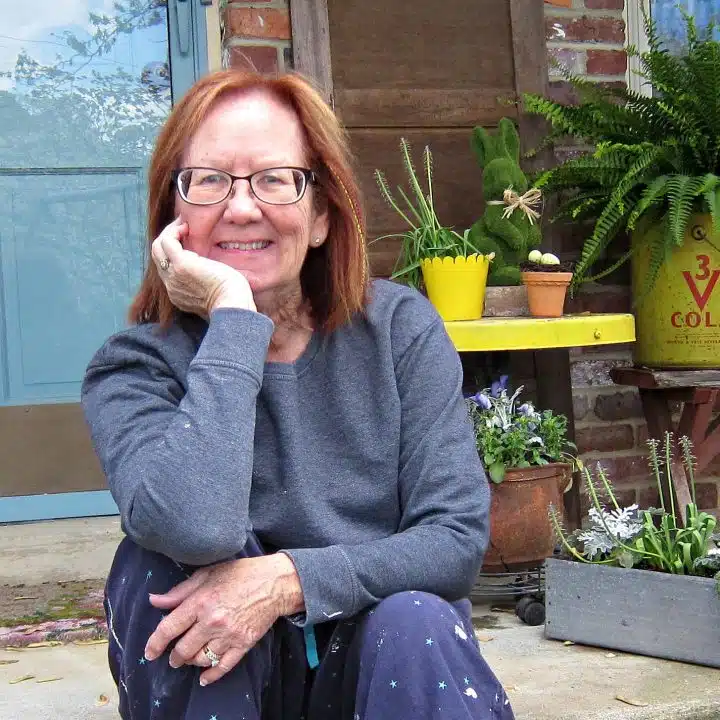 Author: Kathy Owen
Kathy Owen is the founder of the home decor blog Petticoat Junktion where she shares tutorials on painting furniture and upcycling thrifty finds into unique home décor. Her DIY projects have been featured on the Home Depot Blog, Plaid Crafts, Behr Designer Series, and in numerous magazines. Kathy's newest website is HappyHomeDIY.com