Do you like navy blue and in-you-face lime green? I sure hope so. The sun came out about 10 yesterday morning so after I got my hair all colored and cut I took photos of these beauties.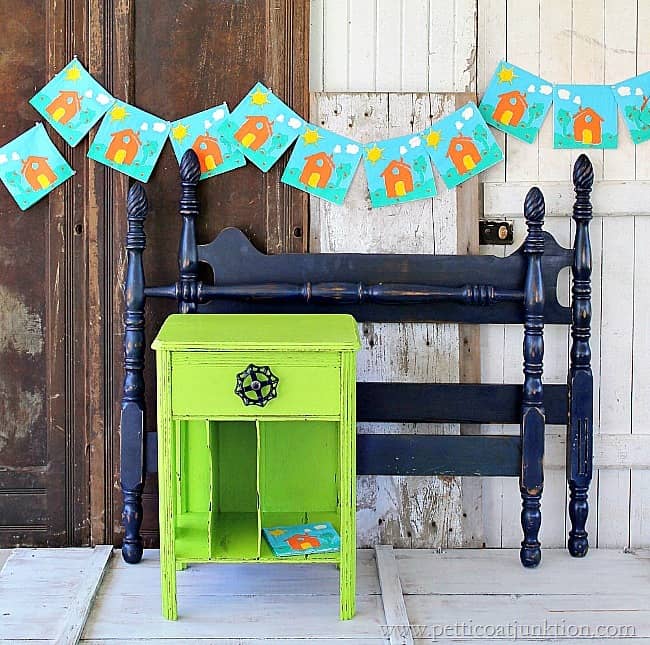 navy blue bed and lime green nightstand
Boy, you can't help but smile when you look at those beauties. Patting myself on the back.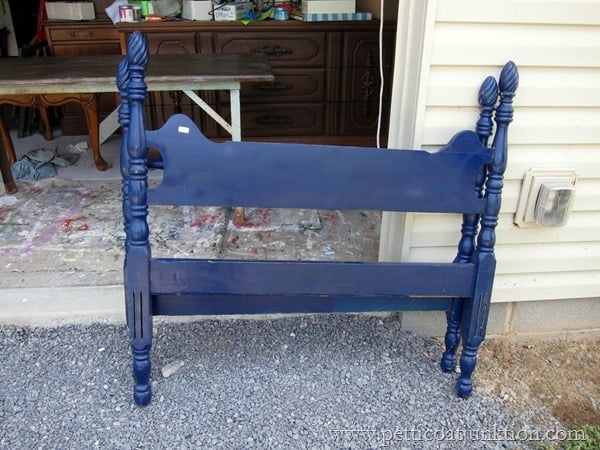 The twin headboard and foot board came from My Favorite Junk Shop. I dont' remember the price but I know it wasn't much. Maybe $20.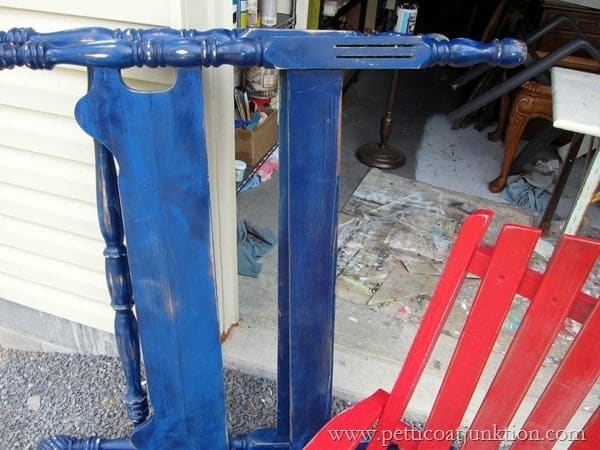 It was distressed already so I distressed it a little more. The color was really pretty so why paint it again? Next I applied a coat of dark wax that darkened the paint and also the raw wood.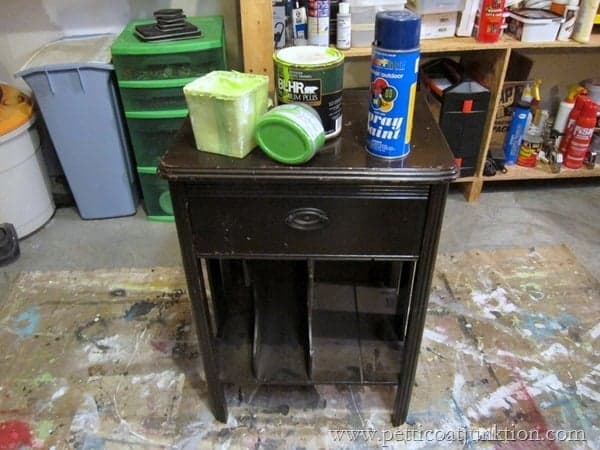 This is the nightstand I got on the 400 mile yard sale in June. I decided to paint it to go with the navy blue bed…but what color? Of course I could have gone with white, or yellow, or red, but lime green sounded so much better.
I pulled several green colors from my stash and decided on the Behr paint I purchased at Habitat Restore. When I popped the top on the can right after I brought the paint home, me and the JTS decided it was a really, really ugly color.
Then a few weeks later I used it as an accent color on the turquoise and green radio cabinet and it looked great. Sometimes colors look better after you paint them on a piece of furniture and let it dry. Don't make a hasty decision.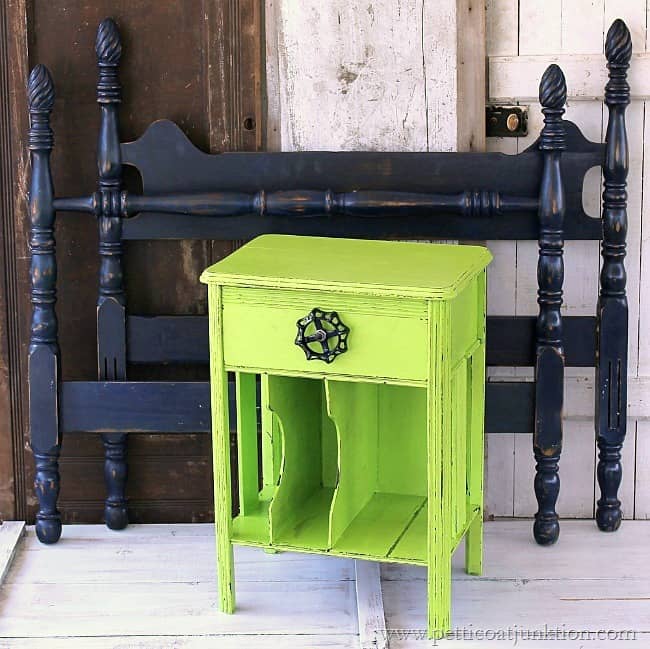 The banner is made of napkins I purchased at the Goodwill.I didn't know what I would do with them at the time but I loved the bright colors……surprise! I didn't actually make a banner…just tacked the napkins on the old doors.
Of course the loud color called for a special drawer pull. I intended to spray paint the original pull with navy paint….. how dull. I found the perfect garden spigot in my junk stash and found a bolt to secure it to the drawer front. It's a really fun touch and something unexpected.
And of course I distressed the nightstand. I actually waited until the paint was barely dry then used a rag dampened with Simple Green to wipe off the paint around the edges and the drawer details. The bed received a coat of dark wax to deepen the blue color and to darken the raw wood in the distressed areas.
If you enjoyed this bold project you will love this one....Turquoise and Metallic Silver Furniture.
What do you think??? I know you guys are anxious to hear how the JTS is doing. We are no longer sleeping together…..got you didn't I? He had a really hard time sleeping the first night home because of the medications and the pain…plus it was hard for him to get in and out of bed. (heart by-pass surgery if you are just now tuning in).
He found that the couch in our living room is a good temporary fix! He also called the nurse and she added a medication to help with the pain. We are both sleeping better now. He is in some pain and tires easily but that is to be expected.
Thanks again for your prayers…..as you can see…. we still need them. Leave me a note….please… have a great day, Kathy
Author: Kathy Owen (Petticoat Junktion)
Kathy is the founder of PetticoatJunktion.com, a home décor blog focused on repurposing and upcycling furniture, old hardware, rusty stuff, and thrifty finds into unique home décor. Kathy's projects have been featured on the Home Depot Blog, Plaid Crafts, Behr Designer Series, and in numerous magazines. Read more about Kathy here.