What are the craziest items thrift store employees have run across in donation boxes? You might be surprised. They sure were. Workers and shoppers at donation-based establishments have seen it all. Recently, a group of people with experience working at these stores revealed their craziest finds. Buckle in, everybody. It's about to get a little weird.
1. A Live Hand Grenade
Many people have served in the military over the years, but few still keep live ammunition in their homes decades after their tenure ended.
A co-worker found a live hand grenade," reveals a thrift store worker. "The bomb squad was called. Be careful when you donate Grandpa's stuff, people." As a grandchild whose grandfather served in the Vietnam War, I now feel like I need to have an investigative discussion with him, pronto!
2. A Live Hamster
Luckily, the poor little guy has a happy ending. The employee who recalls when someone donated a living, breathing hamster to his thrift store says that within hours, a fellow employee gave the critter a good home.
3. A Pleasant Surprise Hidden In a Wallet
Amidst the bizarre tales is a heartwarming tale of a little girl who desperately wanted a wallet when she was a kid. She found the perfect one at a thrift store, and because it was only $2, her mom could buy it for her.
As it turns out, it still had some money in it! "It was four $20 bills, a total of $80," the woman remembers. "I'll never forget the stunned yell and magical, gleeful laugh my mom let out.
My siblings and I joined in, and we didn't stop smiling and talking about it the whole way home. That $80 wasn't much, but it was everything to us on that day. Mom let me keep $20. I couldn't even tell you what I spent it on. But I still remember how that wallet smelled."
4. A Mom
What's the opposite of being responsible? I only ask because now my only goal is to avoid making the mistakes made by the man in this story. "One morning, we got a phone call from this gentleman saying, rather calmly, 'I think I accidentally donated my mom,' naturally I had no clue what that meant," says one ex-employee.
"As it turns out, the guy accidentally donated his mom's ashes - so he left his number in case we found it." Wow, talk about a son of the year candidate!
5. Designer Handbags With a Terrible Surprise Inside
I'm shocked by how many thrift store employees confess to receiving expensive designer handbags. Wait, let me rephrase that. I'm shocked by how many thrift store employees admit to receiving expensive designer handbags filled with vomit.
6. Authentic World War II Memorabilia
Although World War II documents and clothing aren't "crazy" per se, it's undoubtedly cool. Countless employees admit that seeing authentic uniforms, patches, and paperwork coming through their doors to be donated is one of the highlights of their day.
7. A Vintage Mickey Mouse Gas Mask
Please do yourself a favor and fight the urge to Google the above words. Trust me; it's nightmare fuel. One person remembers uncovering the gas mask and seeing it sell almost immediately. "We were not far from an antique dealer, and I later saw that mask in the center of the shop window," he remembers. "During World War II, these were made for kids - so they wouldn't cry if gassed." Oh.
8. An Artificial Wooden Leg
While it's sad that someone once donated a fake wooden leg to the thrift store, it's not necessarily that unusual. However, the fact that the wooden leg was nearly destroyed thanks to hundreds of dog bites raises a few eyebrows! So why wasn't this just thrown away?
9. A One-Of-a-Kind Art Find
Working at a thrift store isn't all about vomit and hand grenades! Sometimes, authentic pieces of art are donated. "We received a cool painting one day," says an employee.
"On the back of it was a list of all the galleries it had been to (mostly Dubai and Middle Eastern countries). So I looked up the artist when I got home, and his paintings sold for $5,000 - $20,000. So I quietly purchased it myself the next day."
10. A Cheesecake
You've been reading this article for a few minutes, so you should be able to fill in some blanks now. First, I will let you decide whether this cheesecake was fresh or several weeks old, with mold growing as the thrift store employees had never seen before. Then, I'll let you conclude whether all five employees who encountered the cake threw up immediately.
11. Thrift Store Junk Haul And $200 Auction Buys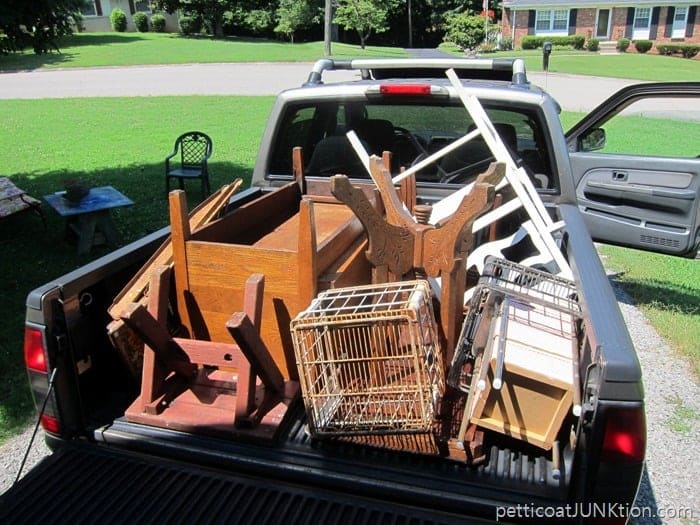 Of course, you can find good stuff at the thrift store too. See some Petticoat Junk hauls here.....I Spent $200 At An Auction And This Is What I bought.