Nautical Wall Decor
Well, I have to say this piece of nautical wall decor would look great in a kid's room or a men's study either one. It's definitely guy decor. Wait until you see how easy it was to  make.
Happy Birthday to Me, Happy Birthday to me…..that's right…..61 today. That is so darn had to believe. I don't feel 61. How did this happen? Seems like just yesterday I was graduating high school, ready to take on the world. Now here I am with a wonderful hubby, 2 great kids, and 4 awesome grandkids. Life is good.
But enough about me. How are you guys? Did you have a good 4th of July weekend? We're old folks( you did read the first paragraph) and we didn't shoot fireworks or go to any fireworks shows. We hung out at home.
I worked on this refunktion project…..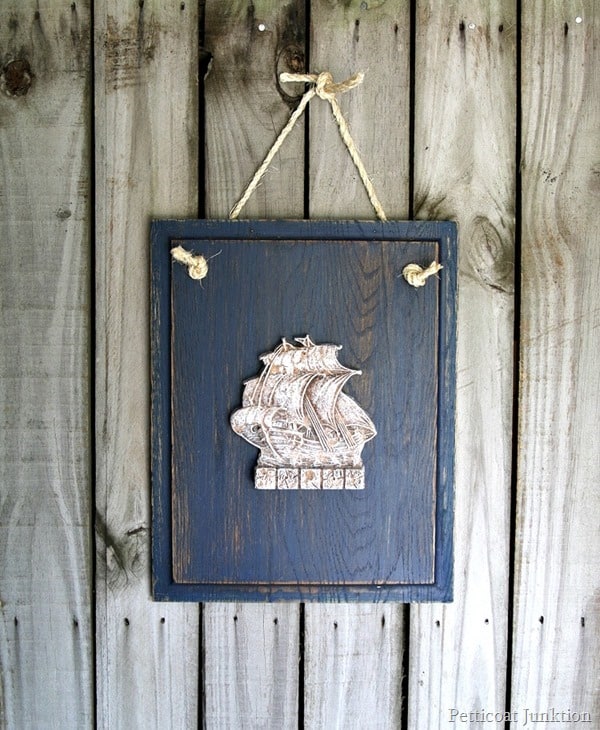 clipper ship nautical wall decor
The clipper ship was originally a book end. I bought it at My Favorite Junk Shop. It's been riding around in the floorboard of the truck under a bunch of tie downs. It's a good thing Sofi spotted it the other day.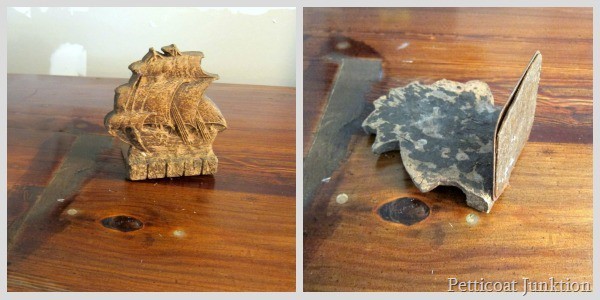 I forgot about buying it.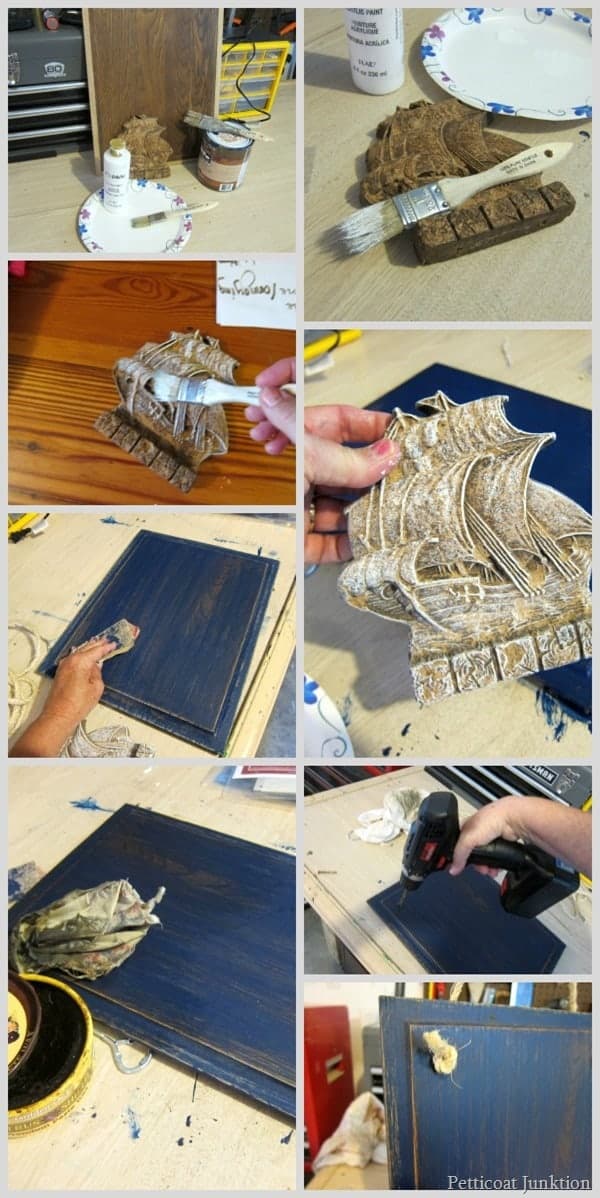 I knew you guys didn't want to look at a long post with tons of photos so I made a collage. The first thing I did was remove the flat base from the bookend. Then I grabbed a bottle of white paint and dry-brushed the ship. I painted a reclaimed door in royal blue and then distressed the paint with 80 grit sandpaper. I used Howard's Wax in golden oak to darken the paint and add a little patina. I drilled a couple of holes and added sisal rope for a hanger.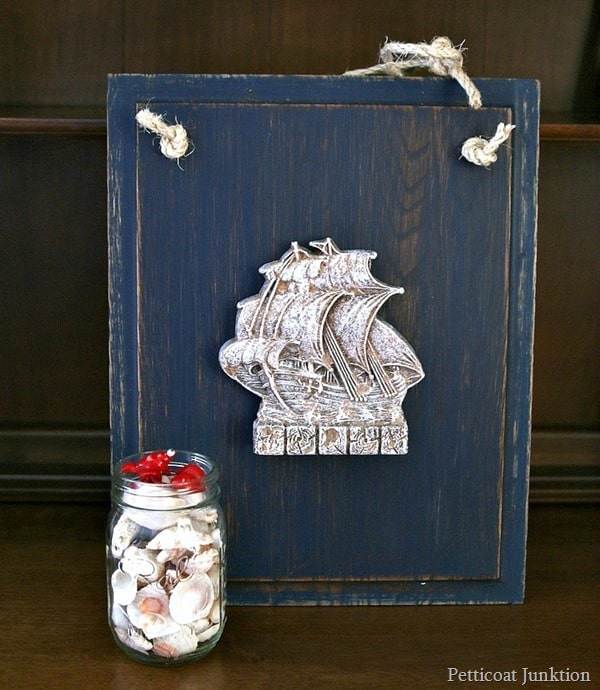 I hot-glued the clipper ship to the board.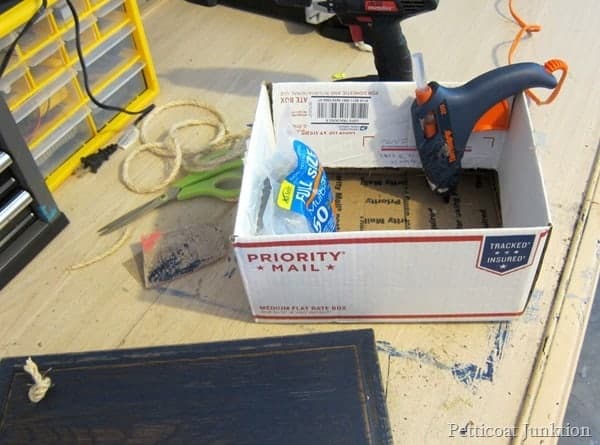 I keep the glue gun and glue sticks in a handy dandy box. Everything is together and I can stand the glue gun up in the box while it's heating. I bought a fancy expensive glue gun a few years ago but I like my cheap one the best. You can tell it's been used a little bi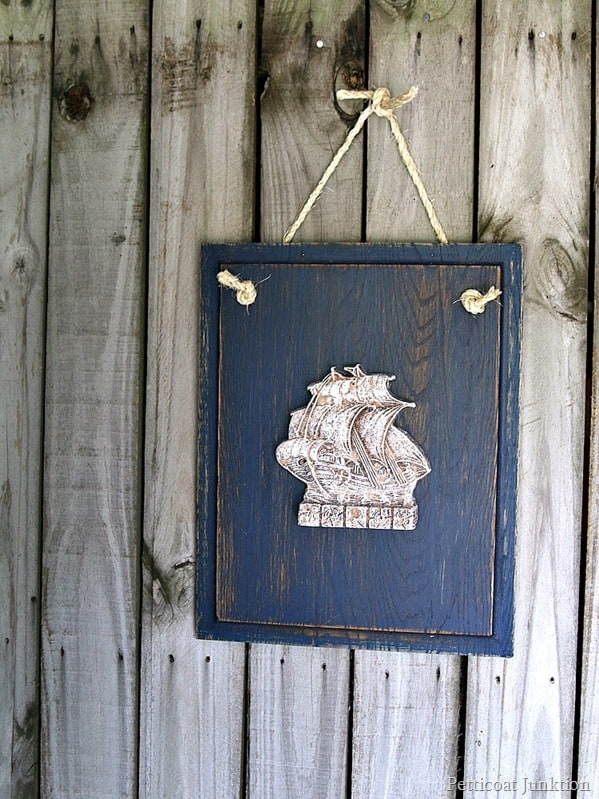 t.
That's it! What do you guys think?
How about a few pieces of nautical furniture? Here are a couple of makeovers you have to see...... Red Striped Nautical Chest ......... and.........Stenciled Number Blue and White Chest.
I have to tell you what my hubby ( the JTS or Junktion Technical Specialist) said to me. Last week I told him I would be 61 pretty soon. He said "Sweetheart if you turn that around you're still 16"…..ahhhhh.
Tomorrow is the tutorial on the Antiqued Red Cedar Chest.
See you then, Kathy
Author: Kathy Owen (Petticoat Junktion)
Kathy is the founder of PetticoatJunktion.com, a home décor blog focused on repurposing and upcycling furniture, old hardware, rusty stuff, and thrifty finds into unique home décor. Kathy's projects have been featured on the Home Depot Blog, Plaid Crafts, Behr Designer Series, and in numerous magazines. Read more about Kathy here.