Painted Bedroom Furniture
I have a real showstopper for you today. The bedroom furniture painted for the granddaughter of a friend of mine is bold and vibrant. Perfect for a teen girl. I hope she loves it as much as I do. Not that I'm patting myself on the back or anything.
The granddaughter's name is Toni. Her grandmother is a sweet friend of mine and asked if I would paint these pieces. I never say no when I get a chance to paint something bright and colorful and girly.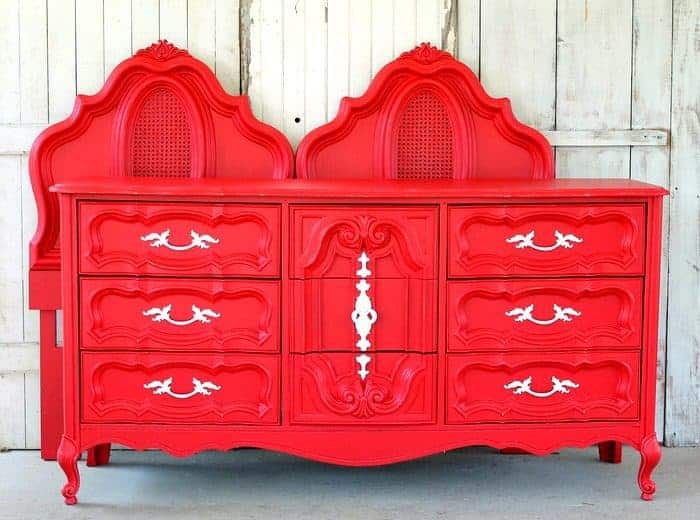 Bedroom Furniture Paint Frosted Pomegranate Color
The furniture style is over-the-top with swirls and curls. The dresser and headboard are beautiful now but they were sure a mess before the makeover.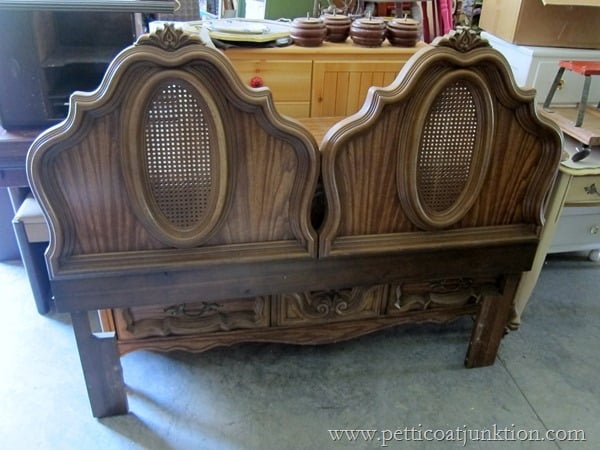 headboard before
Petticoat Junktion is a participant in the Amazon Services LLC Associates Program. As an Amazon Associate I earn from qualifying purchases.
The furniture is old style 1960's or later. The front panels are plastic and a bit over the top. The lines on this bedroom set definitely work if you go with a feminine look. I actually like the plastic fake cane back inserts. They look great painted. I've painted several sets of chairs with the faux cane back and love the look.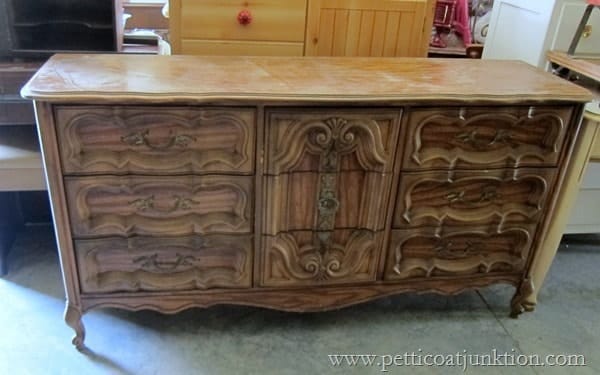 dresser before
The dresser has feet similar to French Provincial furniture. But that's where the similarity ends. This is too curvy and detailed.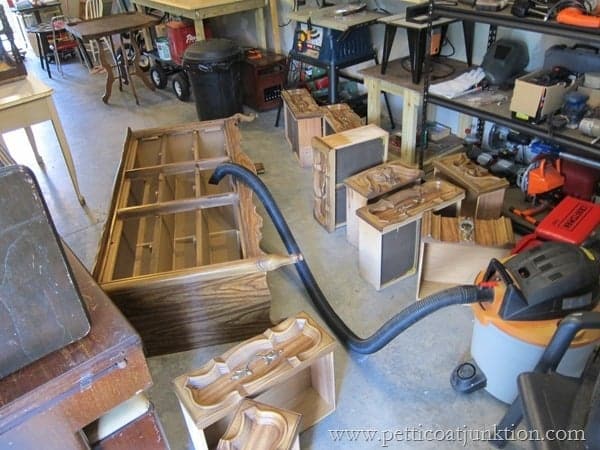 Both pieces had been sitting on the front porch of a house for a while. There were dust bunnies, and dirt dauber nests, and a few dead bugs, and other things I couldn't identify.
I vacuumed the pieces then cleaned them with Simple Green. You guys have heard me talk about furniture prep. It's the hardest part of a furniture makeover. The actual painting is easy and takes no time at all. If you prep properly the final product will show it.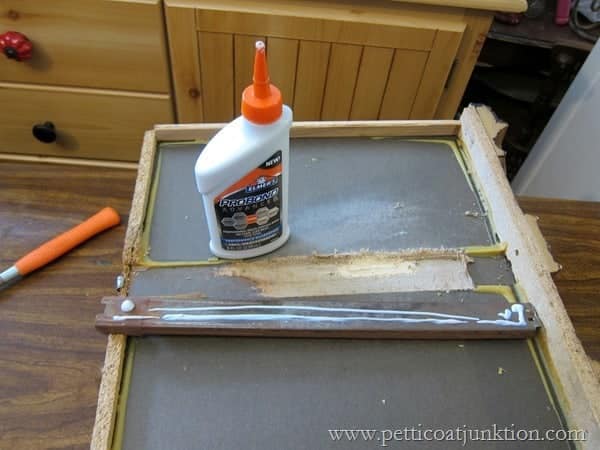 The runner had came off of this drawer so I used a little ProBond Advanced to glue it back on. No nails or screws needed. The Probond holds tight.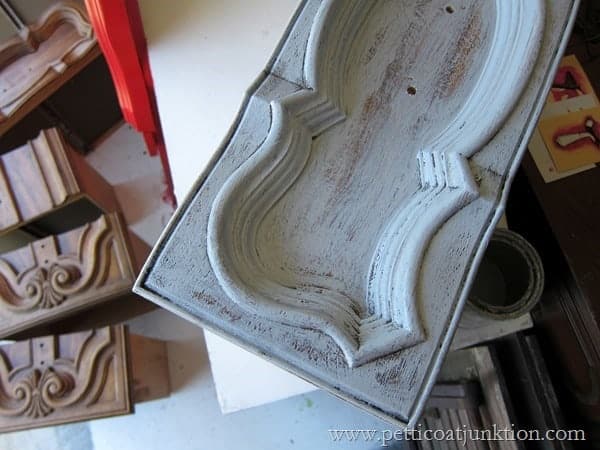 I applied a coat of my favorite primer…Glidden Grey Gripper. I wasn't sure about the plastic and the slick finish so I thought it best to prime first. The primer also gives me a solid color base to work with.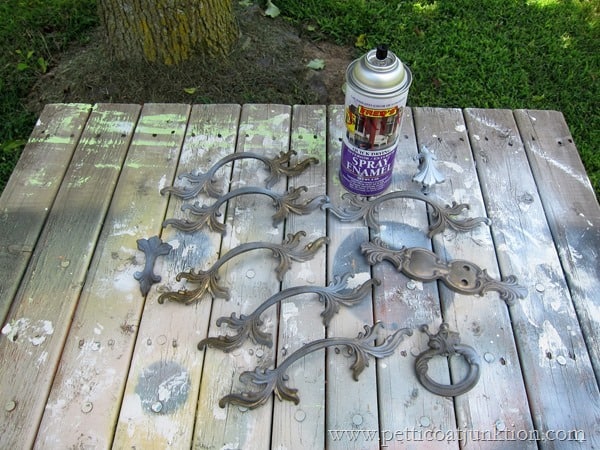 The original hardware was all there, so that made my job a lot easier. I spray painted it all white-white-white.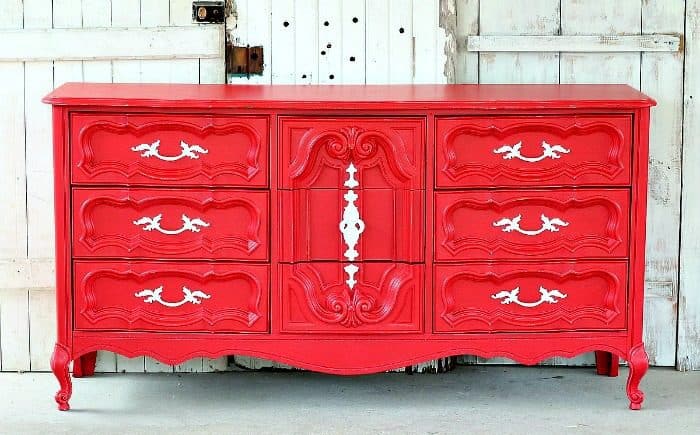 The paint is Behr paint and primer all in one and the color is "frosted pomegranate". I applied three coats of the pomegranate. I find red colors often don't cover as well as neutral colors.
As I mentioned there's not much real wood here. But it doesn't have to be the best made furniture in the world to look nice! See what a little paint can do? What do you think?
I have more girly projects here…..Coral Bedroom Furniture.… and ……..Coral White Wash Furniture.
Find the Elmer's Probond and all my favorite DIY Products and Tools on the Petticoat Junktion Amazon Page. 
Thanks for stopping by and have a great week,  Kathy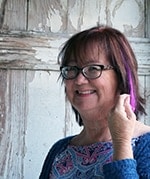 Kathy Owen is the creative guru, content creator, photographer, and worker bee behind the popular Home Décor DIY Blog Petticoat Junktion. She focuses on reinventing found treasures and decorating her home Get all the nitty gritty on Kathy here.