Spray paint mesh metal outdoor patio furniture. It's easy with Rustoleum spray paint, color oil rubbed bronze. A good quality spray paint works wonders. We have a set of outdoor furniture that includes a large round table and two of the original four swivel rocking chairs. The set is 20+ years old and it was pretty expensive when new back in the early 90's….it was made to last. The metal frames are heavy and that's a plus.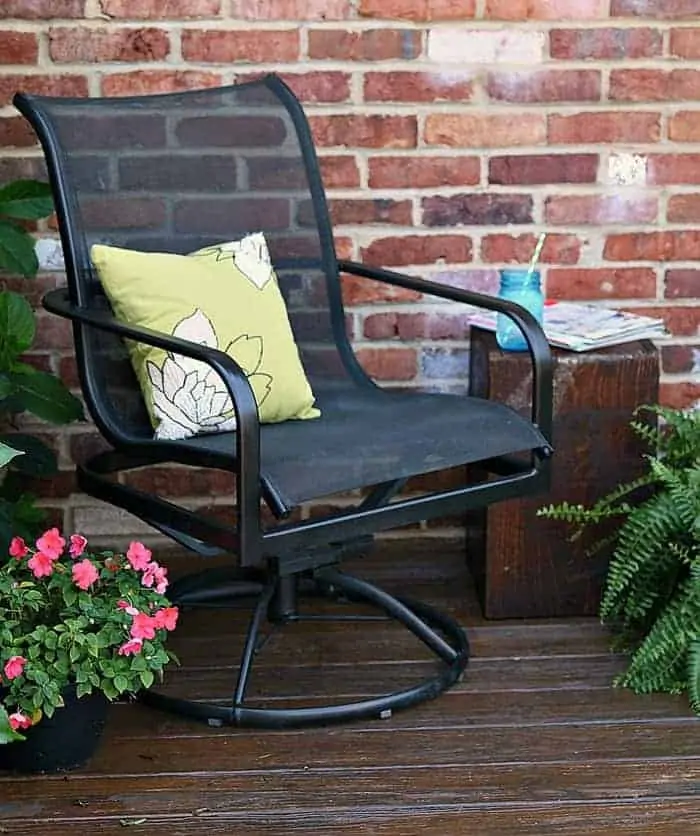 Paint Mesh Metal Outdoor Patio Furniture
Today is themed furniture day and the theme is "outdoor furniture". Not only is my project super simple…..it's budget friendly. Gotta love that.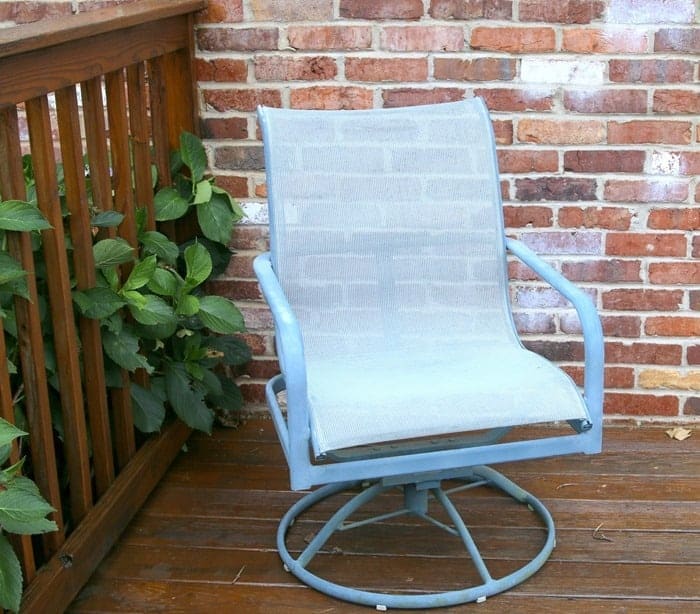 The chairs are super comfortable and they swivel and rock. The original mesh in the seats gave out several years ago. At the time I decided to redo the seats. Boy was that a job. I searched the fabric stores for outdoor fabric to match the 90's blue color of the frame. I found one design at the time and when I looked for similar fabric recently I didn't have any luck.
Removing the original fabric from the tubing and replacing it with the new fabric was very, very, difficult. I'm sure there is a special tool just for this type project but I love doing things the hard way. Once…..never again.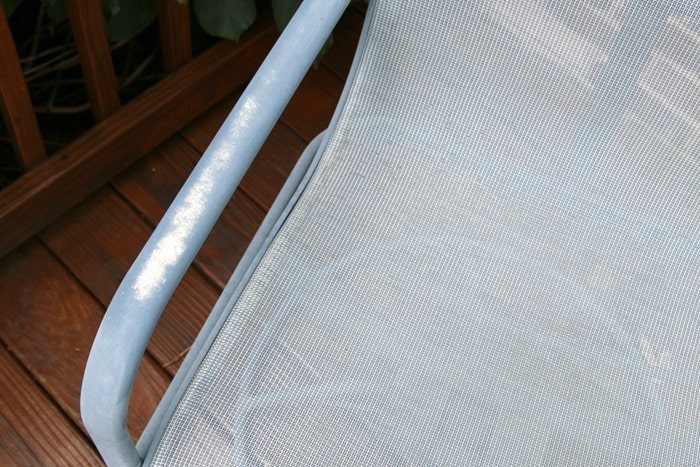 When the replacement fabric on two of the chairs gave out we tossed the chairs. I know…..bad. Sometimes you just have to say I'm done.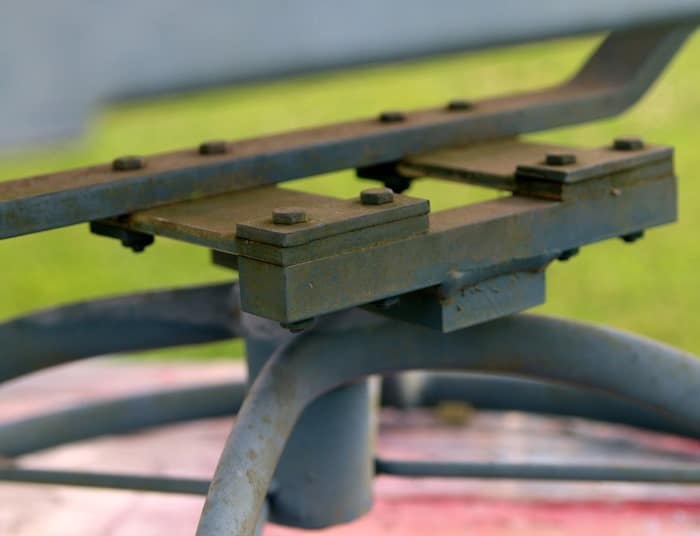 The paint on the chairs and table is faded and a little grungy. Well, guess what….I painted over it all….no cleaning…..who has time for that. You would never know all that grunge is under the new coat of paint.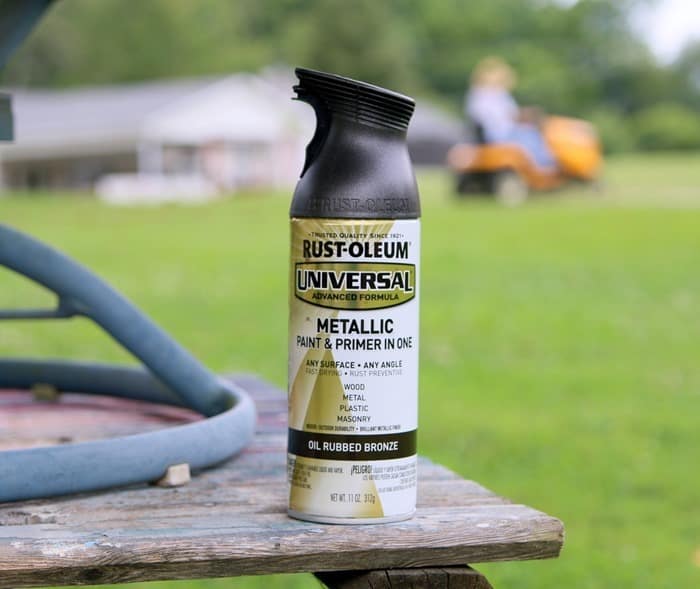 The miracle worker is RustOleum Metallic Spray Paint. It's a paint and primer in one and the color is Oil Rubbed Bronze (Amazon affiliate link, read the disclosure here).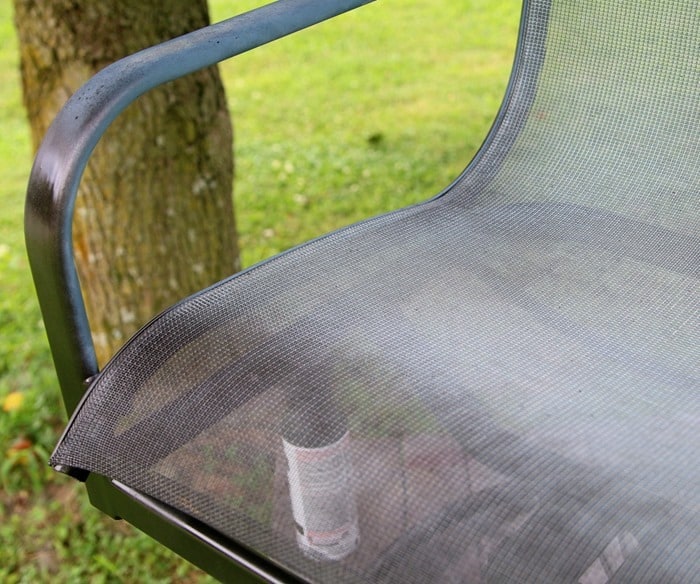 Project - Paint Metal Patio Furniture
I tested the paint on the fabric to be sure it was fabric friendly and wouldn't become hard or flake off. The fabric is plastic or Teflon coated.... or something. I checked the fabric the next day and the paint adhered just fine and it didn't make the fabric feel funny. I decided the project was a go.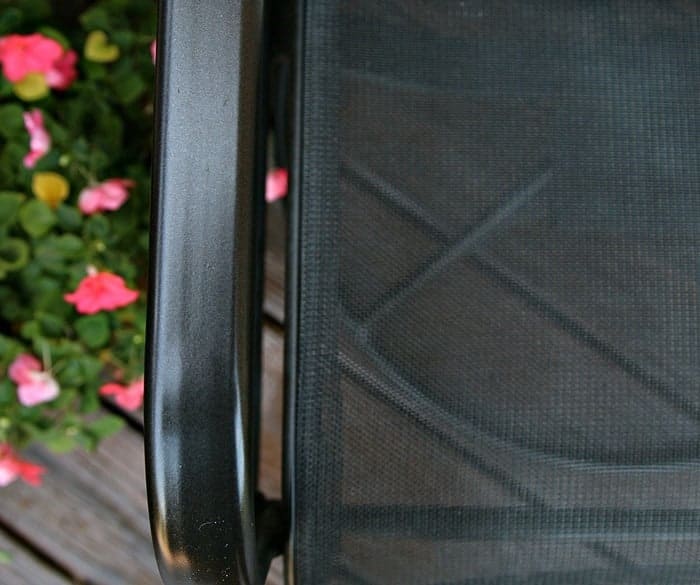 The chair turned out beautifully. I love RustOleum spray paint. It sprays evenly and covers so well. I had that chair painted in about 15 minutes, top to bottom and back to front!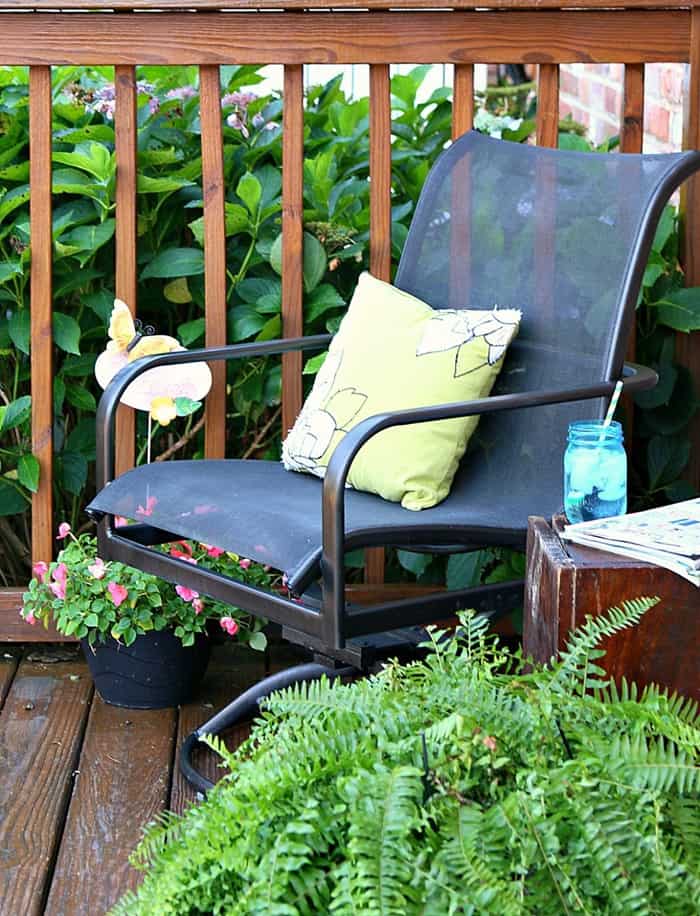 It took one can of spray paint to cover the chair. You may be able to get by with less. I tend to go a little nuts with spray paint….overkill for sure. Since replacement chairs cost much more than a can of spray paint, it's a win-win.
Now I need to paint the other chair and the table. We have two hard plastic outdoor chairs that are a really dark gray/black and the oil rubbed bronze color matches those chairs pretty well. So we have a set of four chairs for the table.
Bonus outdoor chair makeover in this post! I bought new outdoor cushions for my chairs and now I needed to paint them, right. I even had spray paint in my stash that matched the new floral cushion fabric. How perfect is that.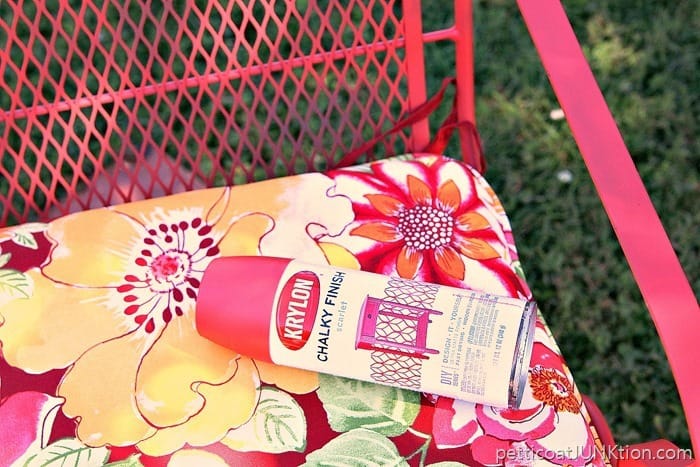 spray paint and outdoor cushions
The cushions have a variety of colors and I could have gone in several different directions but I love the paint I finally decided on. The spray paint is by Krylon and the color is Scarlet. The finish is chalky so it doesn't have an in-your-face shine to it.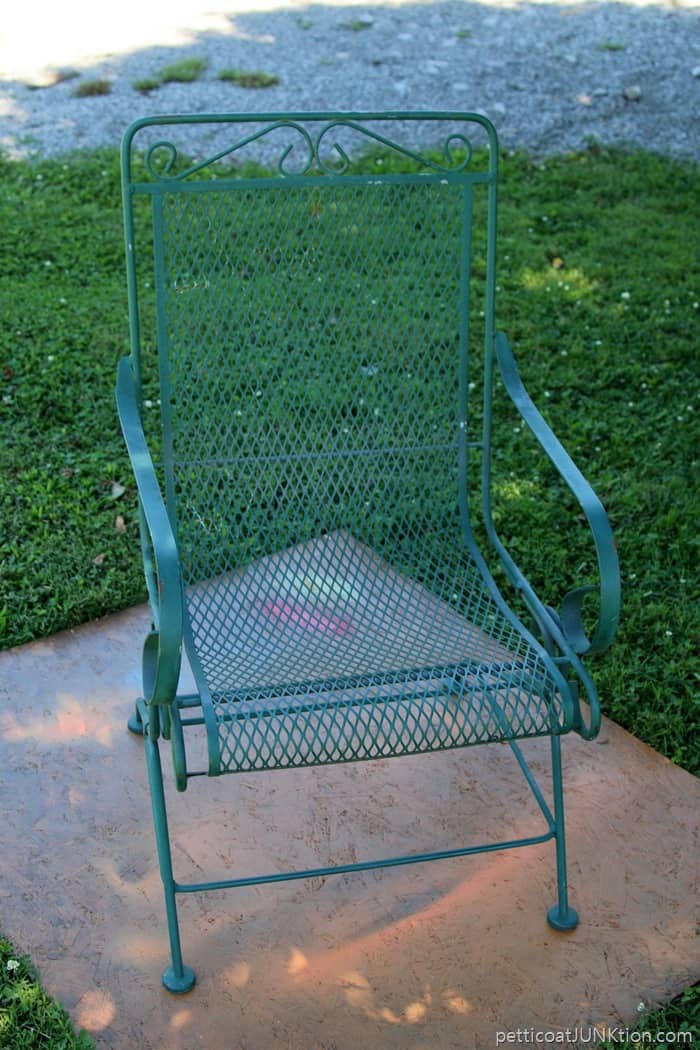 I started with just one chair and may paint the remaining furniture a different color. Who knows. The green wrought iron chair came from my favorite junk shop.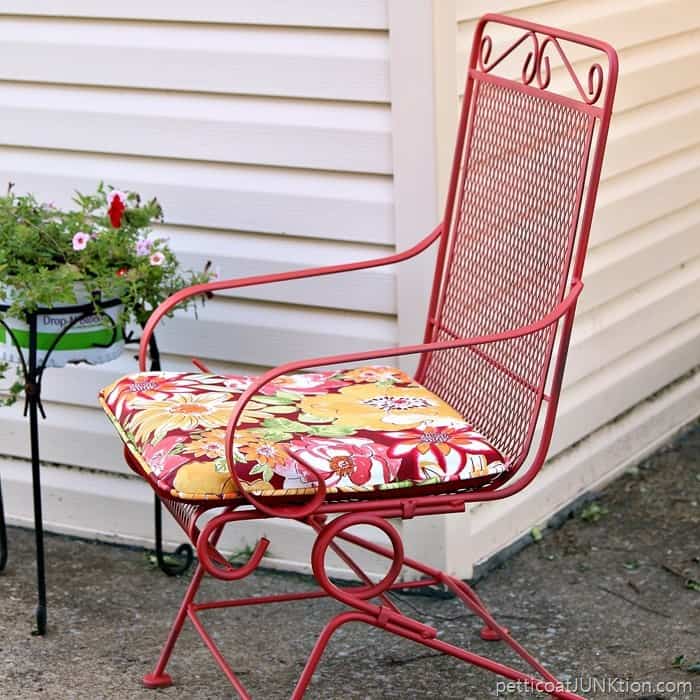 How pretty is that fabric? You just have to smile. I didn't get any photos of me spray painting the chair. I can tell you it was a simple process and took less than an hour. That's counting drying time on each side so I could turn the chair upside down and sideways!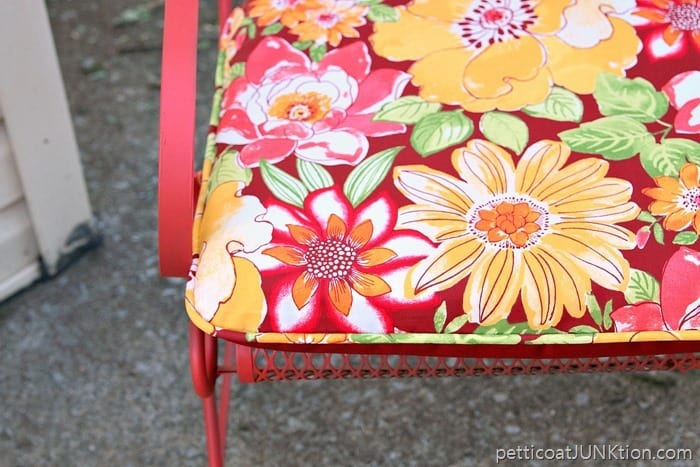 The spray paint dries really, really fast. The name of the color is scarlet but it's more coral than red. I always think of scarlet as being red. And that's it for outdoor chair number two!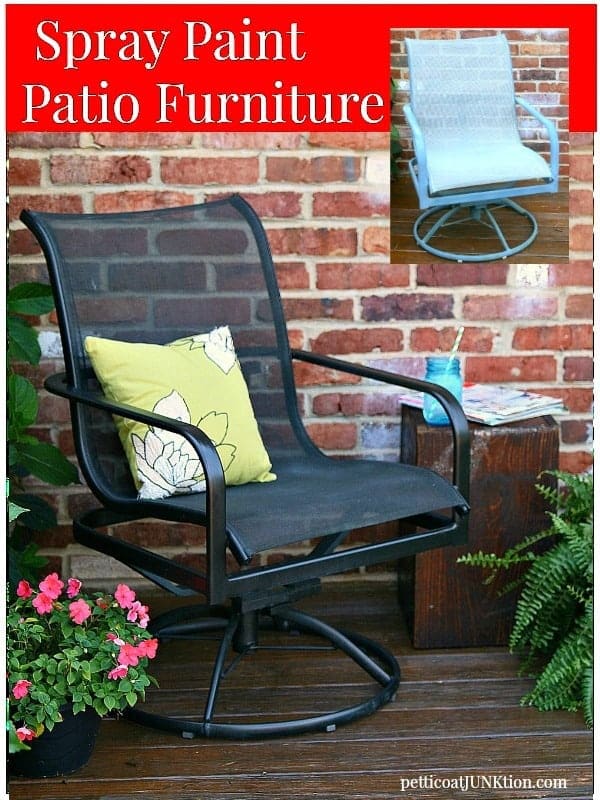 Do you have wood furniture to paint? My video tutorial below has all the details on priming furniture for painting....
Furniture Priming Tutorial
I painted a vintage glider recently. You have to see it and the color I chose. Click here....Vintage Metal Glider.
Find my favorite Rustoleum Metallic Paint Colors Here.
Time to take the "Outdoor" tour. Click the photos below. Let me know which is your fav makeover. Have a great day and I'll see you next week!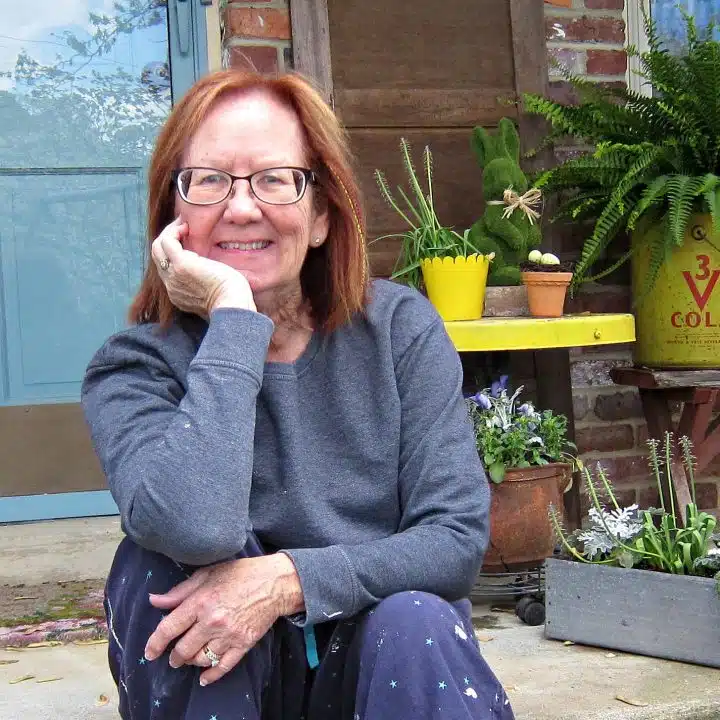 Author: Kathy Owen
Kathy Owen is the founder of the home decor blog Petticoat Junktion where she shares tutorials on painting furniture and upcycling thrifty finds into unique home décor. Her DIY projects have been featured on the Home Depot Blog, Plaid Crafts, Behr Designer Series, and in numerous magazines. Kathy's newest website is HappyHomeDIY.com