Colorful Stamped Kids Pillow
This project is simple and would be a fun craft to do with the kids or grand kids.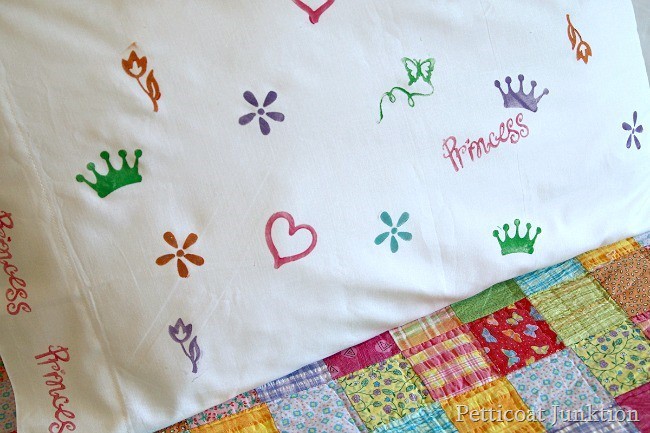 Fun Kids Sleepover Pillow
Many years ago I took a handful of foam stamps and made a cute pillowcase for my granddaughter.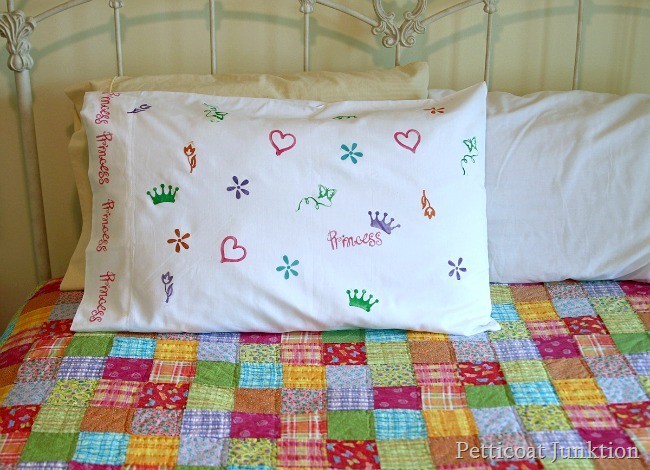 Now I have another granddaughter and she needs a special pillowcase too!
I went through my linen closet (the everything closet) and the only white pillowcases I had were getting threadbare.
I went to Wal-Mart and bought a pair of standard size white pillowcases….the cheapest they had….$5.47.
They're a little thin but the next quality up was $16.00 a pair.
Call me cheap.
I gathered all my supplies…iron…acrylic paints…foam stamps….stencil brushes.
I didn't wash the pillowcases first.
I think that's recommended before any painting on fabrics.
But I always take shortcuts…too impatient.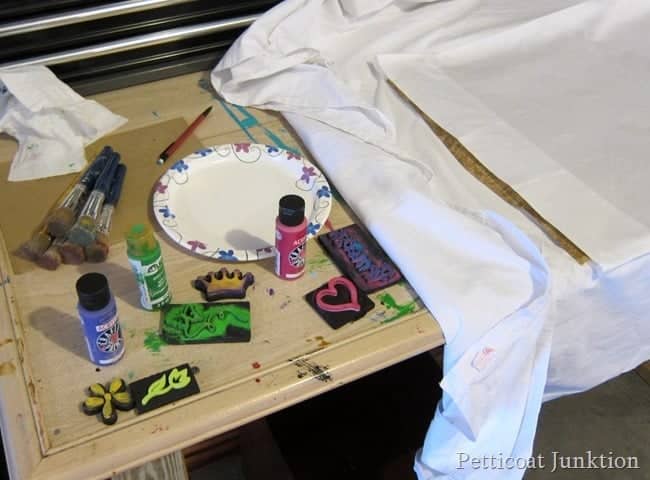 I ironed all the creases out of the pillowcase and cut a strip of wall paper to fit inside so the paint wouldn't soak through to the other side.
Live and learn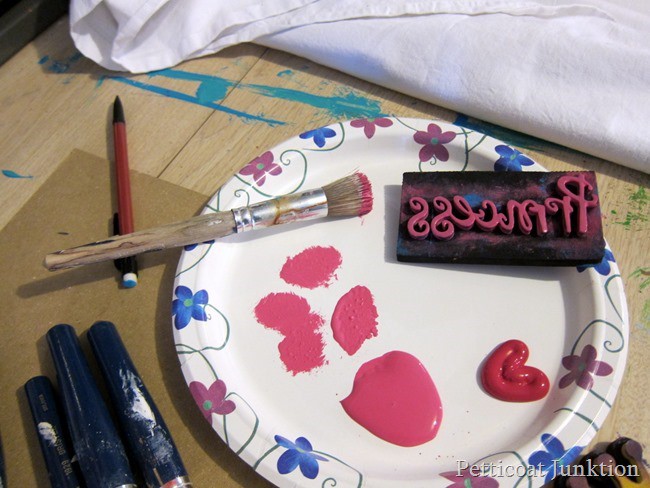 Next I poured a little of each paint onto paper plates.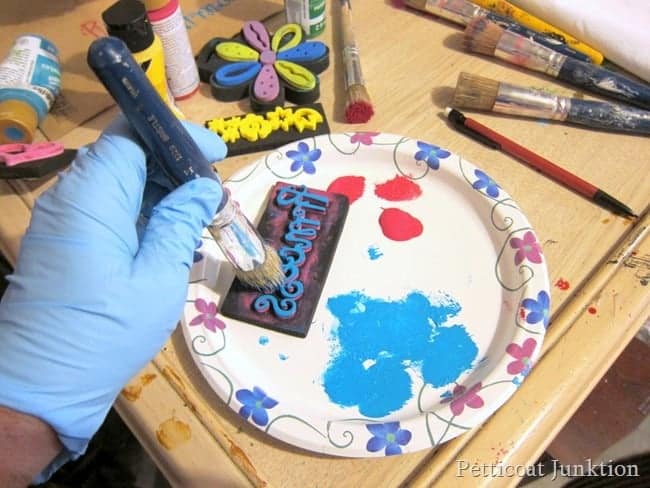 I used a stencil brush to cover the stamp with paint…foam brushes work great too.
Wipe the excess paint from the brush or you will get globs of paint in between the letters (raised areas} on the stamp…not good.
If you try this project you may want to practice using the stamps on a piece of cardboard or plain paper first.
Just a suggestion.
Finally…..stamp the pillowcase.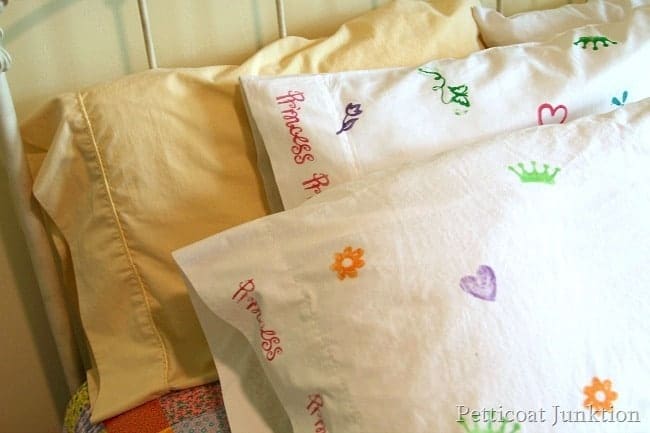 The stamped pillowcase in the front is the one I made about 8 years ago.
You can imagine how many times it's been washed.
The paint is a little faded but overall it held up really well.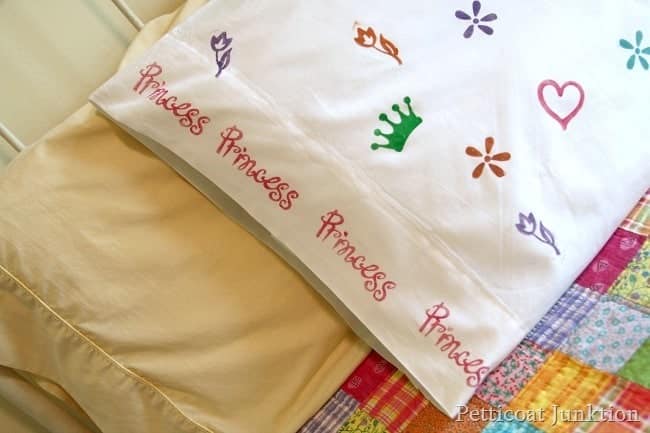 I think I purchased the stamps at Hobby Lobby but just about any craft place will have them.
I stamped both sides of the case but I guess it's only necessary to do one side.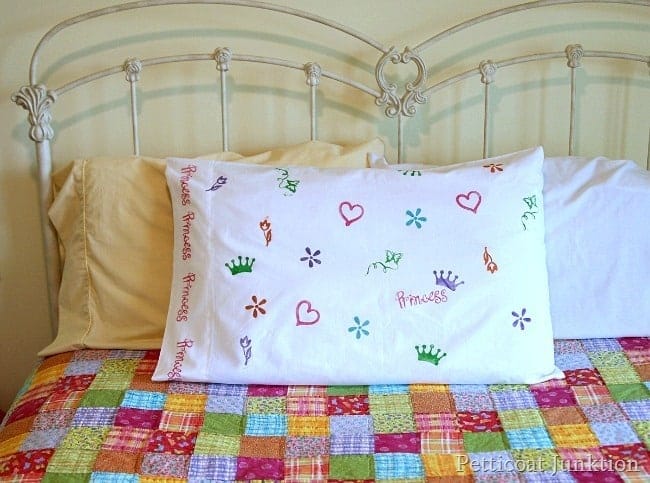 Did ya'll notice I only stamped one pillowcase?
I'm doing the other one soon.
It will be a more grown up version for Tenley who is 11 now…..hard to believe.
I hope Sofi likes her pillowcase.
If you like this pillow you will love the chalkboard idea here.......Turquoise Chalkboard Hanger.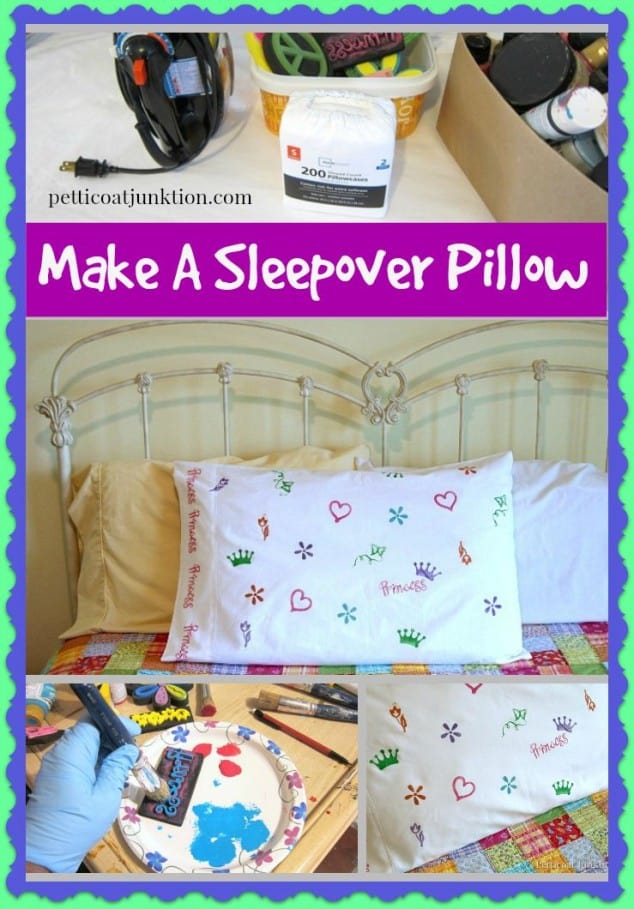 These are great for the kids especially to take on sleepovers or in the car on long trips.
Something special just for them.
What do you guys think?
Going to try this?
Let me know.
Have a great day,
Kathy