Glam Coffee Can Flower Vase
Don't throw away those metal coffee cans. You can make a glam coffee can flower vase just like mine. The simple Springtime project took less than 90 minutes and it brought two of my favorite things together, paint and recycling.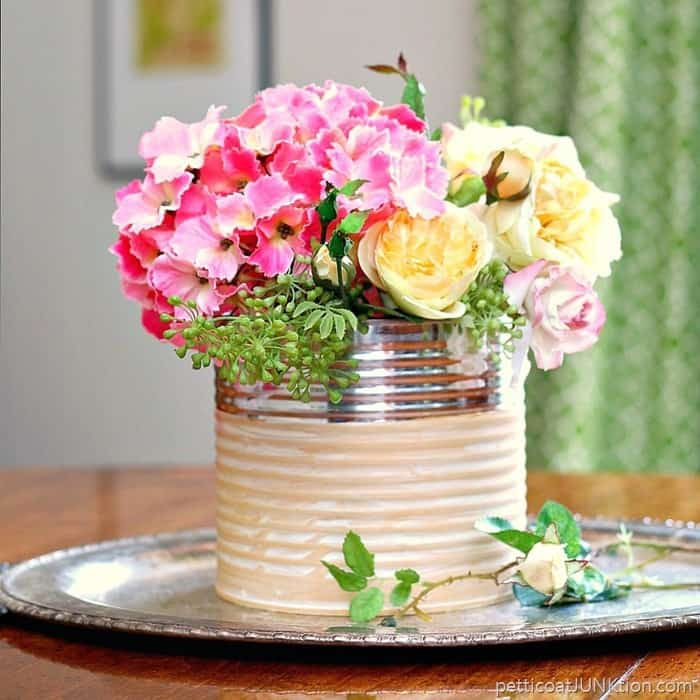 Glam Coffee Can Flower Vase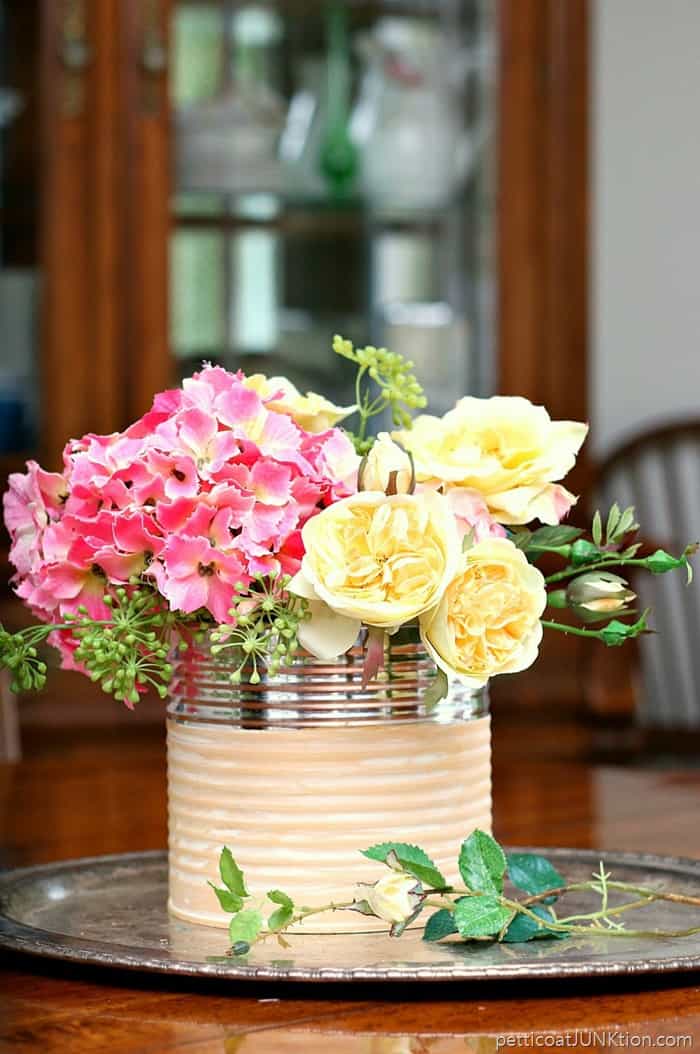 Nothing makes me smile like a display of pretty flowers. The flowers are brightening up our dining room table. (Pssst…..they're not real)
The JTS and I drink coffee every morning and we have a lot of recycled coffee cans in the workshop. This coffee can held a stash of furniture knobs. It's moving on to bigger and better things.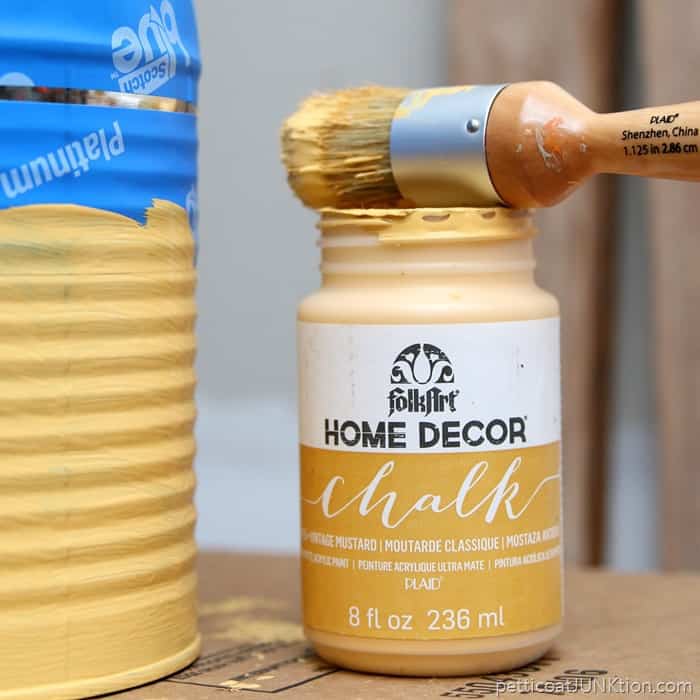 The paint I chose for the project is FolkArt® Home Decor Chalk Paint, color Mustard. The paint adheres to all sorts of things including metal and I don't have to rough up (sand) or prime anything. Yea! It also has a flat matte finish which makes it easy to distress, wax, layer, etc.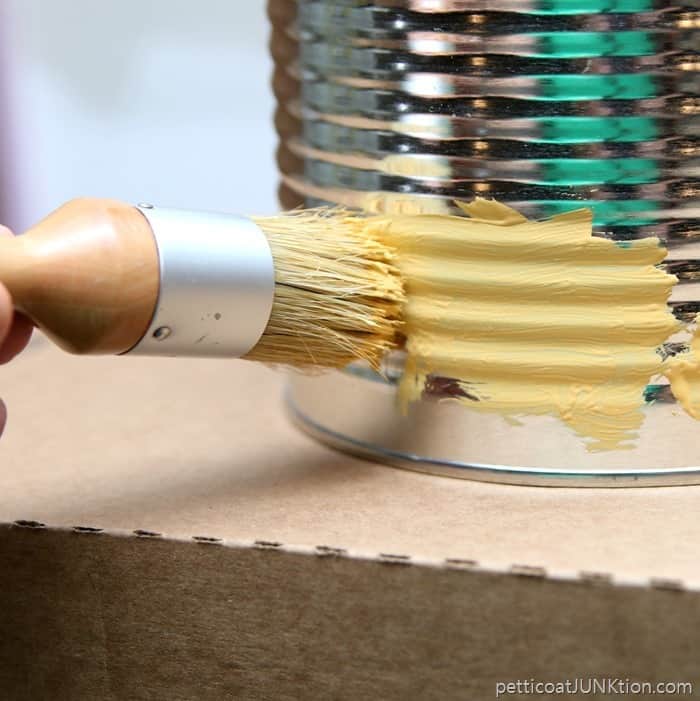 I applied the paint using a small chalk paint brush.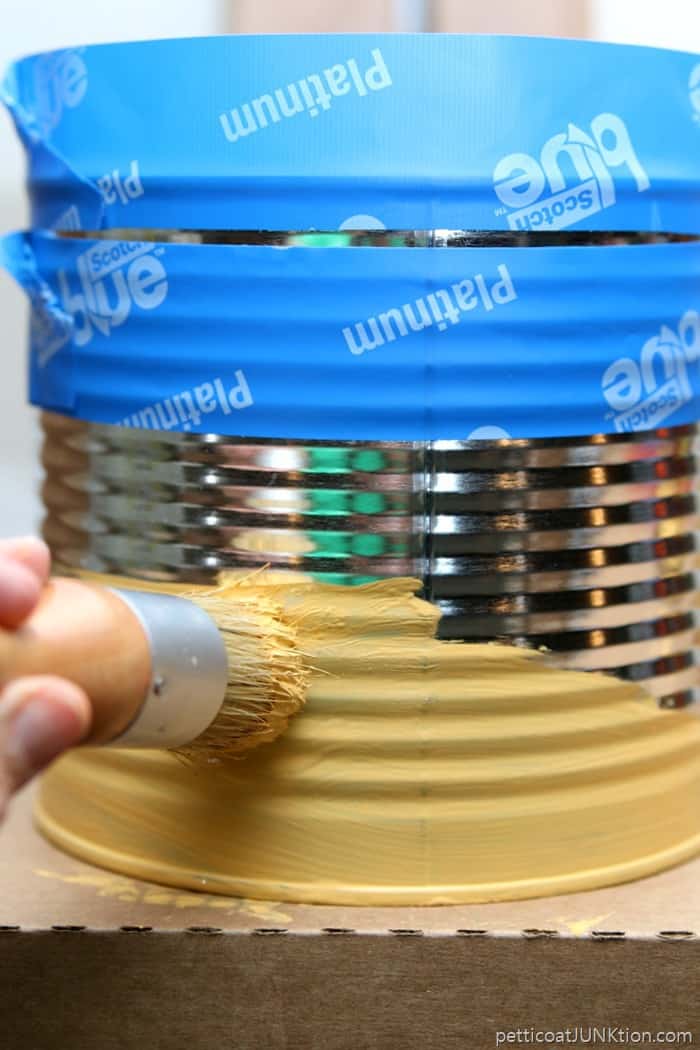 The paint covered really well with one coat but I applied a second coat just for fun. The second coat was really just to cover areas I didn't hit well the first time. The first coat of paint dried in less than an hour. The instructions recommend two hours dry time before applying a second coat of paint. You guys know I have no patience.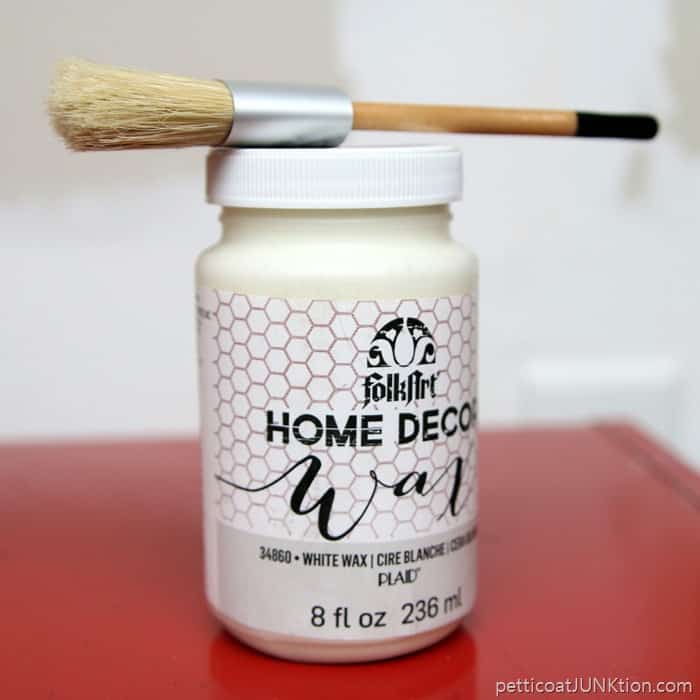 To achieve a soft dreamy finish I applied FolkArt® Home Decor Wax, color white.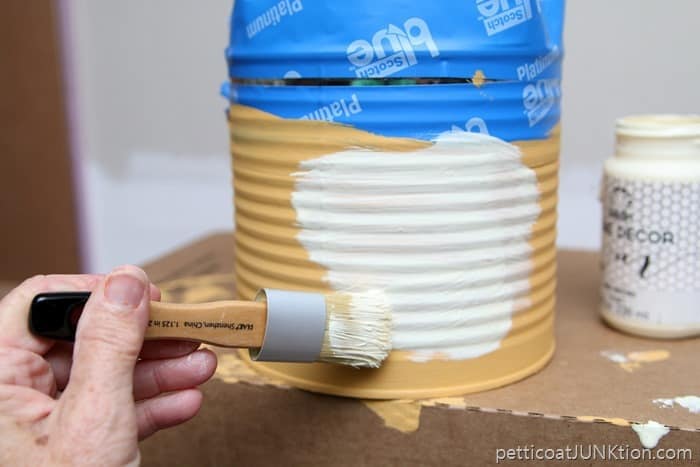 The wax is simple to use. Just brush it on….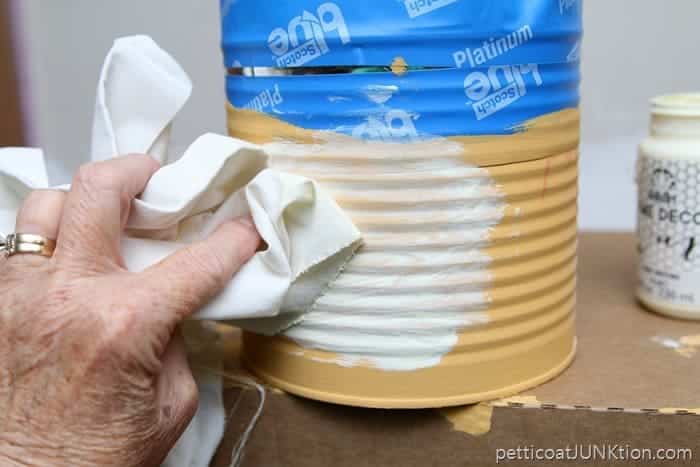 ….and wipe it off. Wipe the wax back with a soft lint free cloth leaving some of the wax in the details. Once it dries take a clean lint free cloth and shine it up. The wax gives the matte chalk paint just a bit of sheen, not too shiny.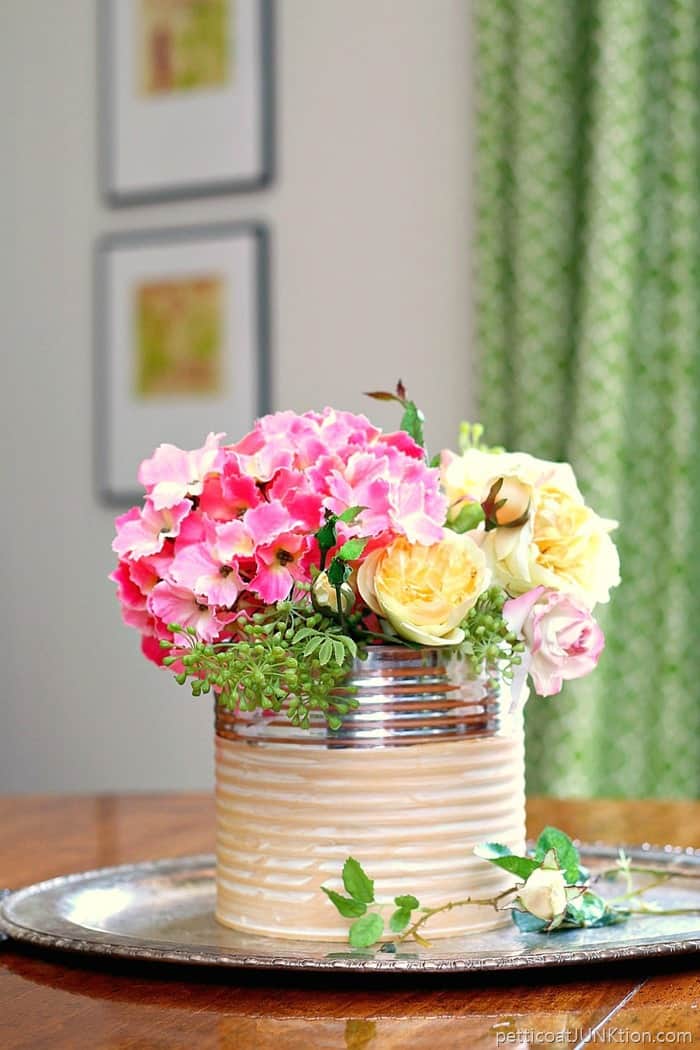 I like how the white wax softens the paint color. Just the look I was going for.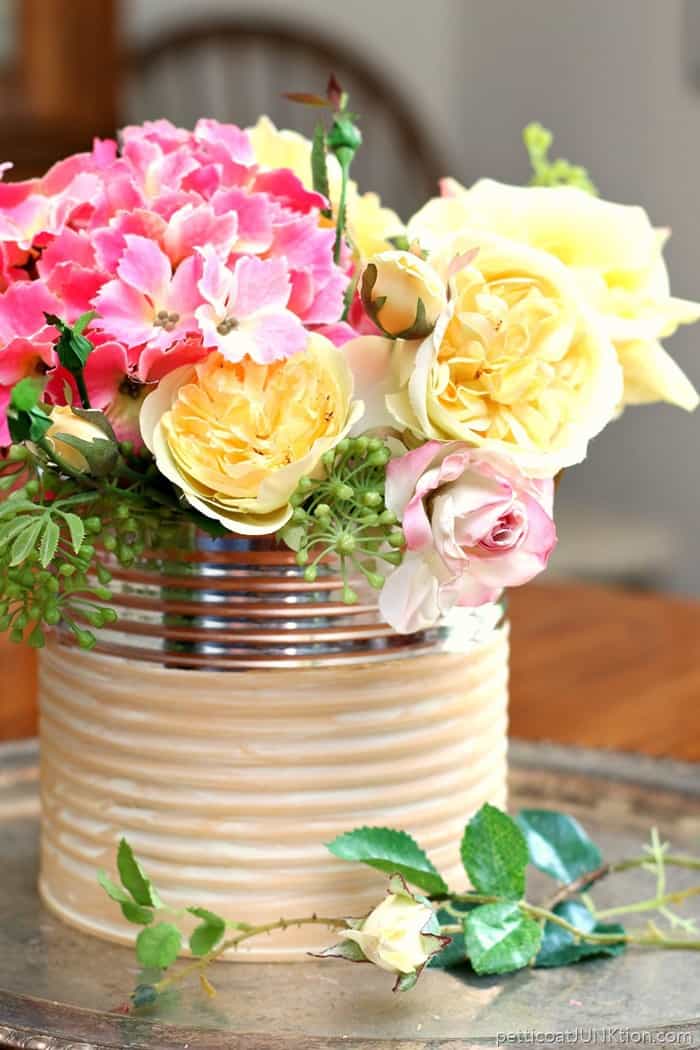 I filled the now glam coffee can with faux flower stems from my stash. I don't buy new stuff if I have good junk stuff to work with.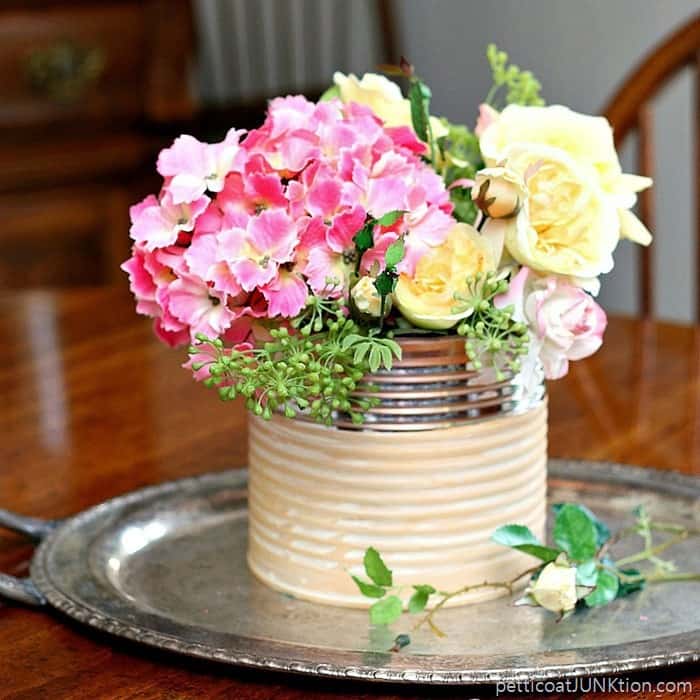 The new flower vase is sitting on a silver plated serving tray (junk treasure) on our dining room table. The glam vase with flowers brings a smile to my face every time I walk by the table.
The home décor chalk paint comes in 41 colors and a variety of sizes from 2 oz. to 32 oz. It's also water-based. I can clean up any mess I make with soap and water and I am messy. The paint is for indoor use only and is made right here in the U.S.A.
My next project with the paint is going to involve pink flamingos. I loooove pink flamingos.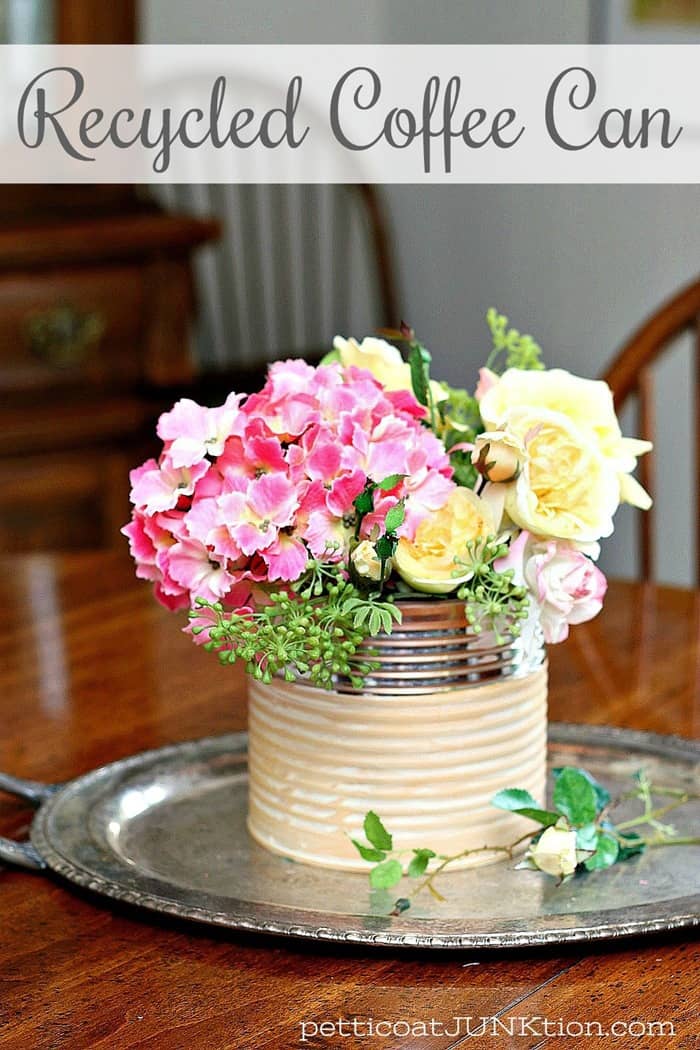 Glam Coffee Can Flower Vase
For more information on the FolkArt Home Décor Chalk Paint, Wax, and brushes click here. Sign up for the Plaid Newsletter and follow Plaid on Facebook and Pinterest for the latest ideas and trends.
Disclosure: This post is sponsored by Plaid Crafts. All words, project ideas and photographs are 100% my own.