This rustic garden decor project came about because I had a piece of vintage metal art in my booth that I could not sell. It was in my booth for years. No exaggeration.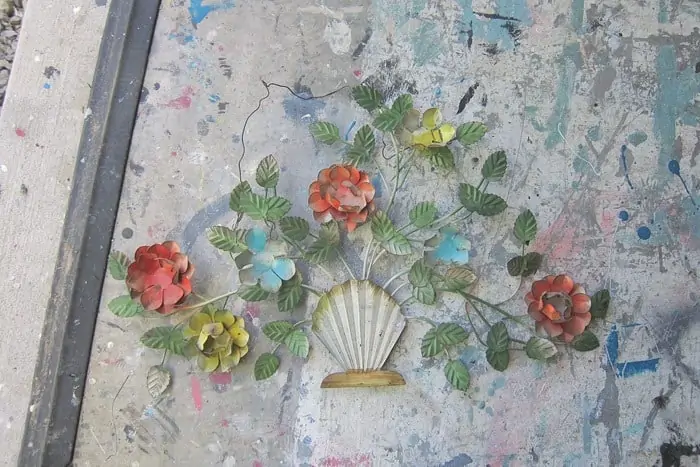 I bought the colorful metal flower wall art when we lived in Florida. It moved back to Tennessee with us and I hung it in the house for a while. Then I got tired of it and took it to the booth. The price was only $28 and sometimes it was even on sale. What's wrong with it??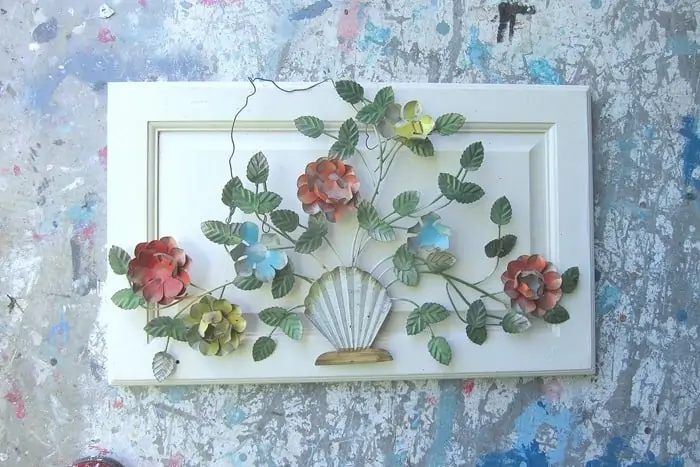 Well, I brought it home and it's been in the workshop for a few weeks. I decided to put it on a piece of wood and maybe it would sell that way. I first laid it on a reclaimed white cabinet door. That didn't do a thing for me. Too blah or too sterile looking.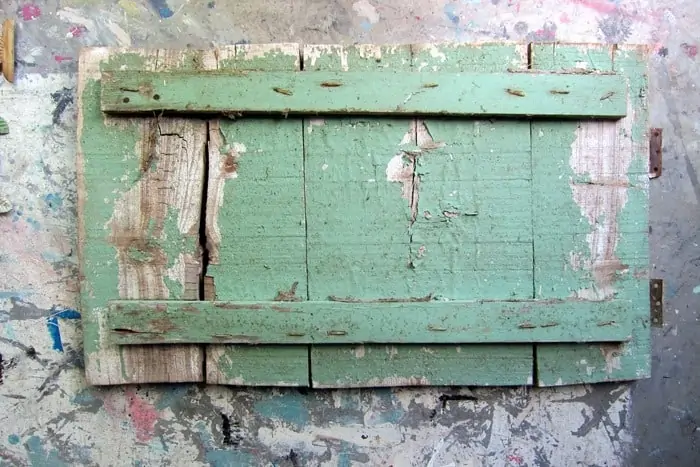 That's when I remembered this really old, rustic looking, (probably antique) wood cabinet door that has been in my stash forever. So it was probably meant to be. I had the metal flowers forever too.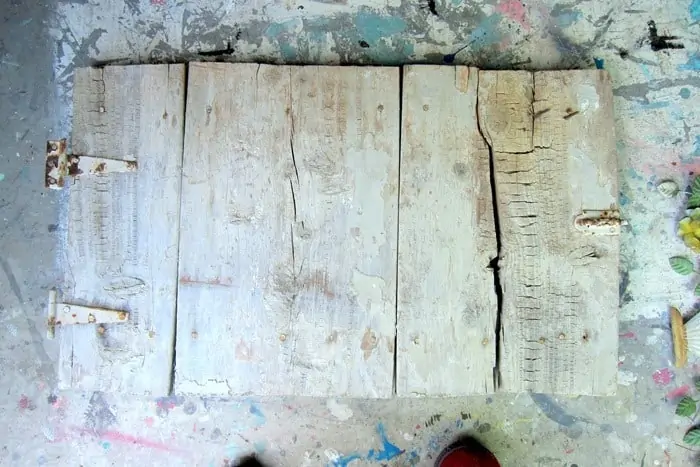 The other side of the door was antique white and has hinges and a door latch still attached. You can see where the wood has dried and split in places.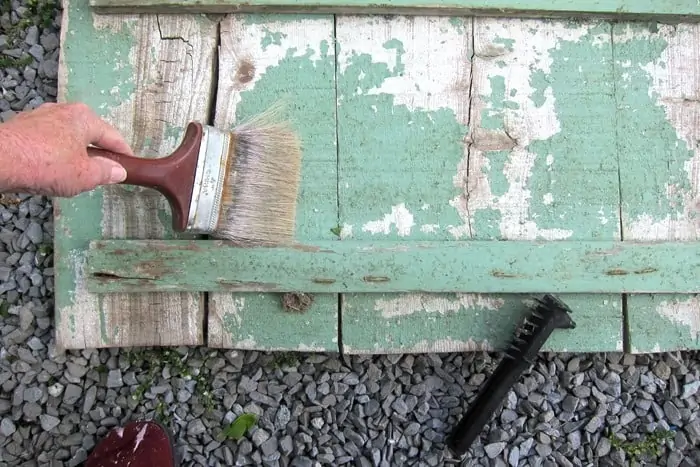 The green paint was really chippy and I used a stiff bristle brush to scrub off the loose pieces then finished brushing it off with a large paint brush. Then I used a little Simple Green to clean the door.
The green painted side of the door was the prettiest and the flowers looked best against the green so that's the side of the door I attached them to. The top of the metal flower art had a loop for hanging so I just used a drill and screw to secure the top in place.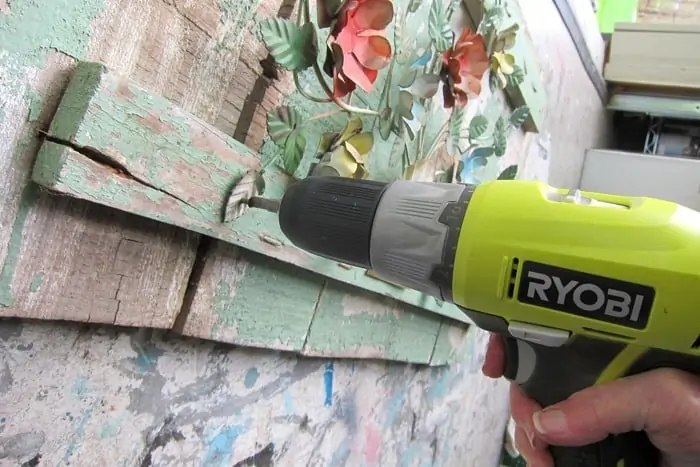 On each side at the bottom I used the drill and screws to attach a leaf to the board. Two screws, two leaves.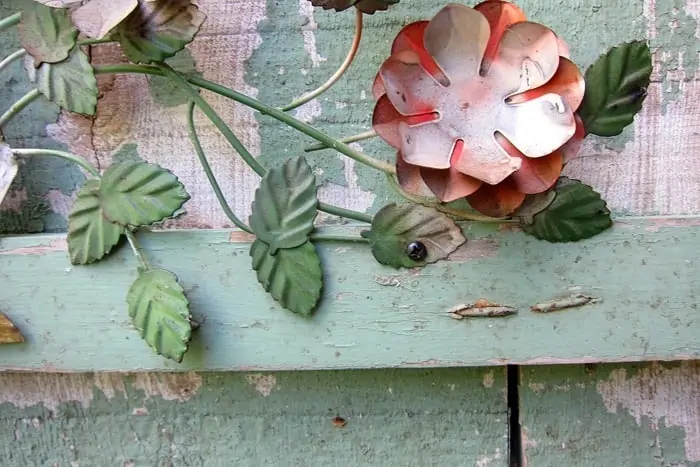 The screws are hardly noticeable and it took me about 3 minutes to attach the flowers to the wood. Cleaning the antique wood and putting the garden decor "art" together took about 20 minutes. A SIY project doesn't have to be difficult or time consuming.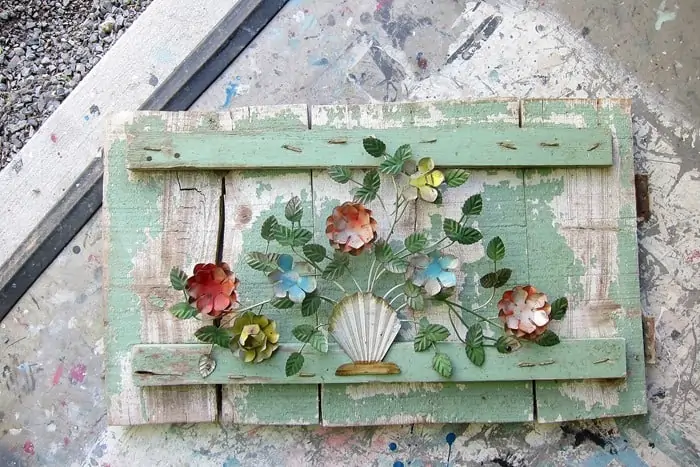 The two pieces look like they were meant for each other. A marriage made in Heaven. It's funny that neither of the pieces were great by themselves but put them together and they really make a statement. It's kind of like when I put those two metal hamburger and hot dog signs on a piece of painted wood, what a difference. You can see that piece here……DIY Kitchen Sign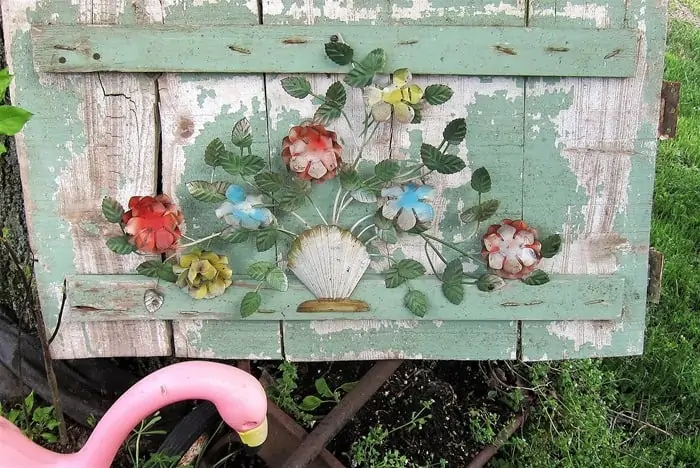 This piece would look pretty hanging on a porch or in a sunroom. It would also look nice in a garden or maybe a spot on the lawn.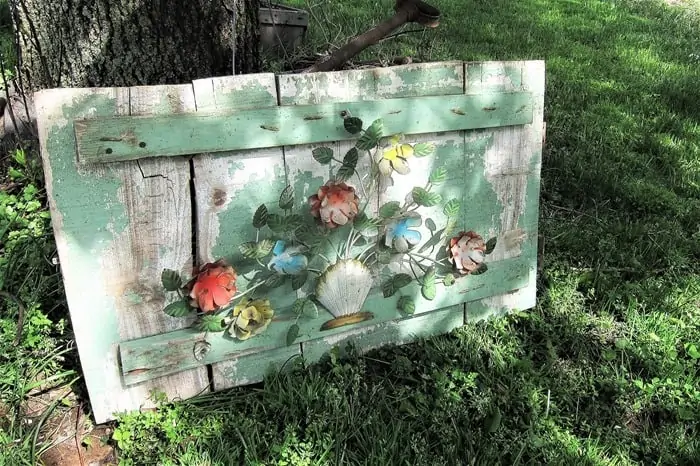 Or you could lean it against a tree like I did for this photo. I moved it all over the place to take a few photos for you guys.
This piece will be going to the booth to sell. Do you think it will sell  now? The price is going to be a lot more and if it doesn't sell this time I guess I'm meant to keep it.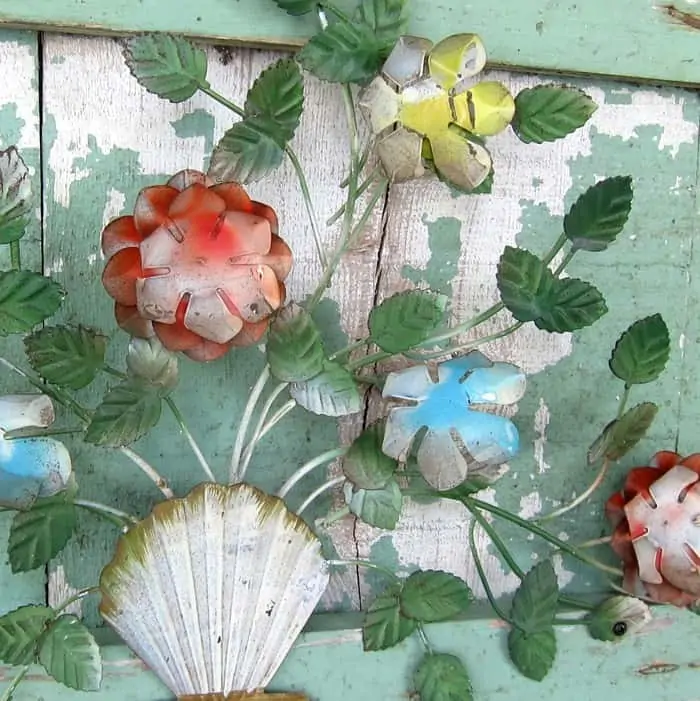 That's okay because I really love the new look. I've always liked the metal flower hanging but I replaced it with other decor in the house.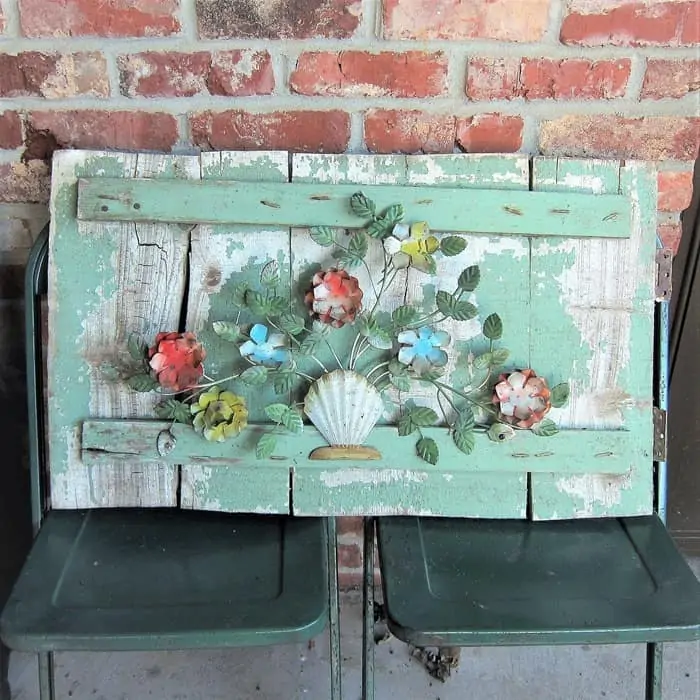 That's all it took to make this unique rustic garden decor. What do you think? Should I keep it or sell it. Not sure where I would put it but those are my colors!
If you liked this project I promise you will love my recycled movie reels. Watch the video tutorial below....
Making Succulent Flower Displays
Leave a note if you have a few extra minutes. Have a great day, Kathy
Author: Kathy Owen (Petticoat Junktion)
Kathy is the founder of PetticoatJunktion.com, a home décor blog focused on repurposing and upcycling furniture, old hardware, rusty stuff, and thrifty finds into unique home décor. Kathy's projects have been featured on the Home Depot Blog, Plaid Crafts, Behr Designer Series, and in numerous magazines. Read more about Kathy here.