Find a few cool finds at the thrift store and you can put together inexpensive wall decor for your home.
This is one of those projects where I was patting myself on the back and celebrating with chocolate. It's just too darn cute and everything came together so easy. It was almost too easy.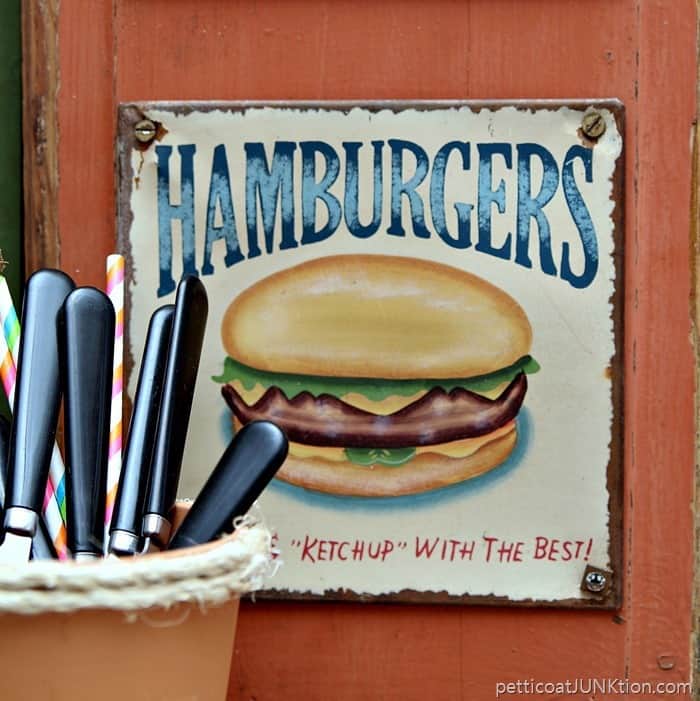 I found the tin Hamburger and Hot Dog signs at the local thrift store.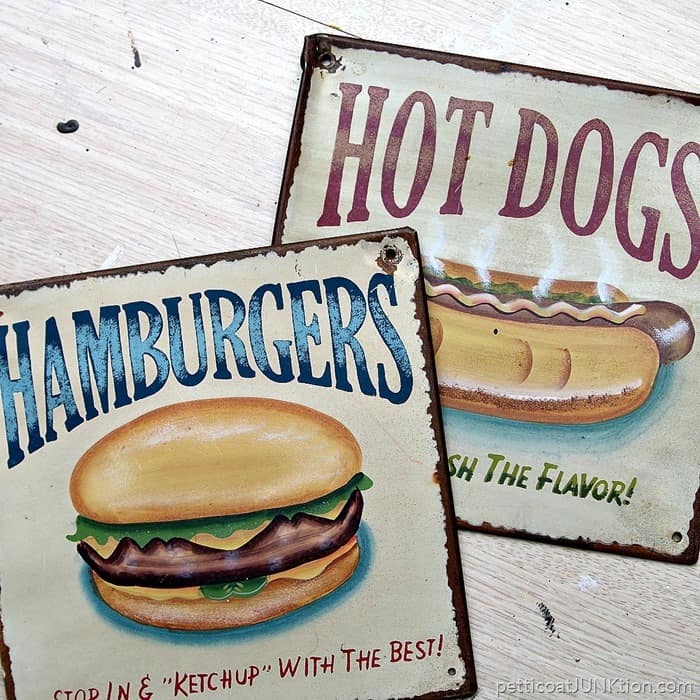 The pair cost me $2. I'm not sure if they were used as wall hangings or what but there is a tag on the back of each so I know they weren't attached to a board or anything originally.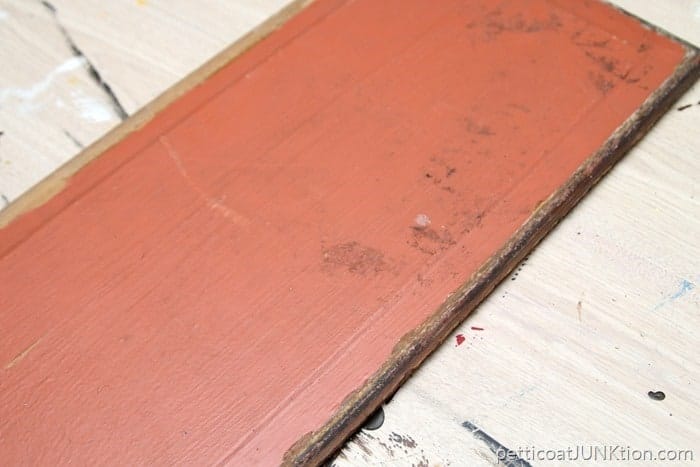 The day I purchased them I went straight home and down to the workshop. I knew there was a reclaimed door panel in my stash that might work for the project I had in mind. The color couldn't be more perfect. I'm not sure what the color is but it looks like a cross between rusty orange and dark coral.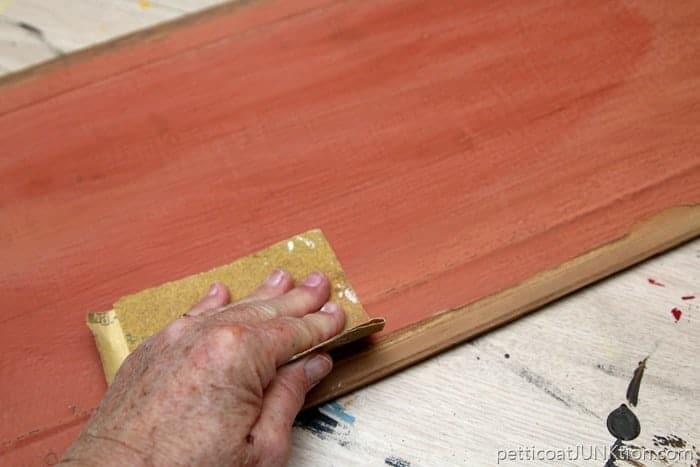 I sanded the door panel, cleaned it up, and applied a coat of Howard's Wax in Golden Oak.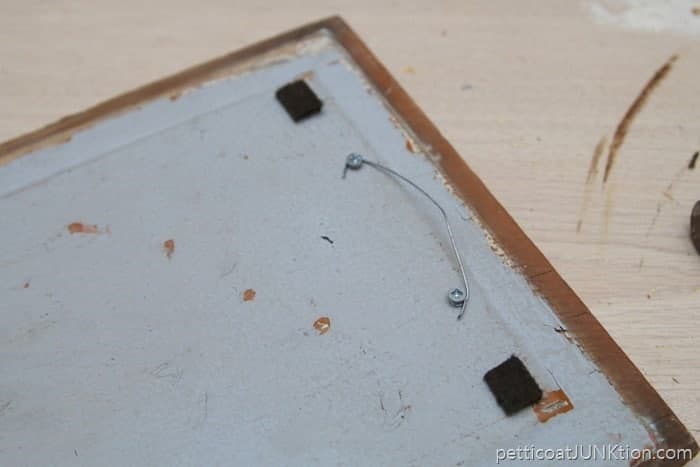 On the back of the panel I added a wire hanger and pad wall protectors to the four edges.
Petticoat Junktion is a participant in the Amazon Services LLC Associates Program. As an Amazon Associate I earn from qualifying purchases.
I found eight short screws to attach the tins to the board and ta-dah……kitchen wall decor. The project was completed in under an hour. The photo above shows the sign hanging in our dining area. I use this wall a lot to photograph finished wall hangings. The white wall makes a nice backdrop.
Most of the projects I make are to sell in my booth but I like to take photos showing them displayed in the house. This sign is so cute I make keep it for myself. At least for a little while.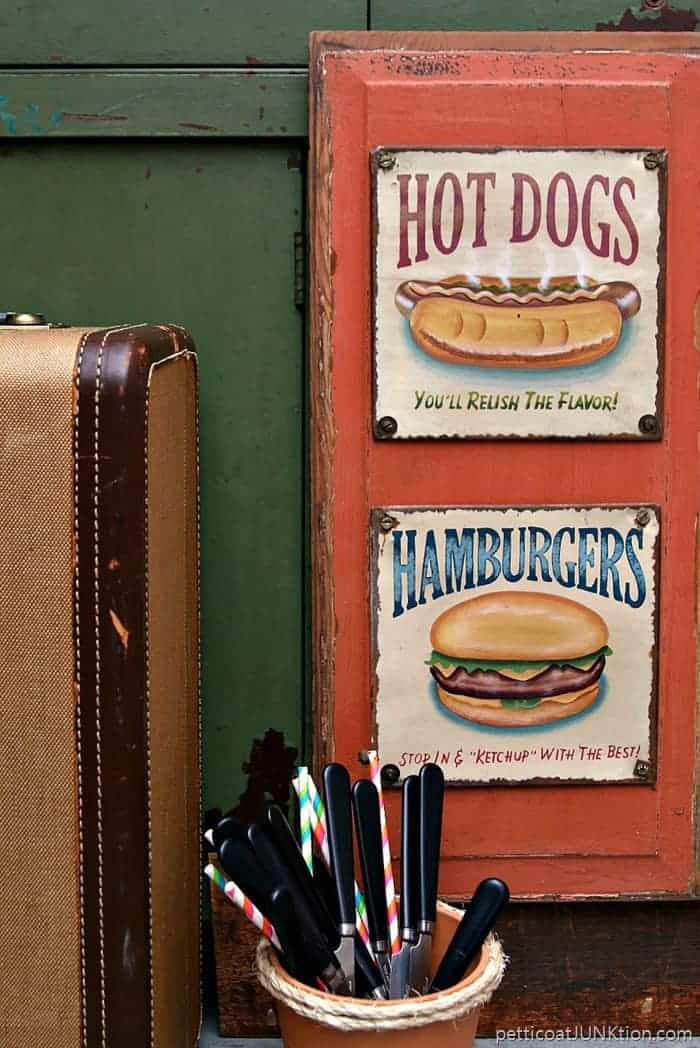 About the photos. Sometimes I set up little vignettes if the project doesn't fit with my home colors/decor. You would not believe some of the crazy things us bloggers do to get a nice photo for the blog and for Pinterest. Take this photo for example. The Hamburger/Hot Dog sign looks great against the green doesn't it. Let me show you how I staged the photo.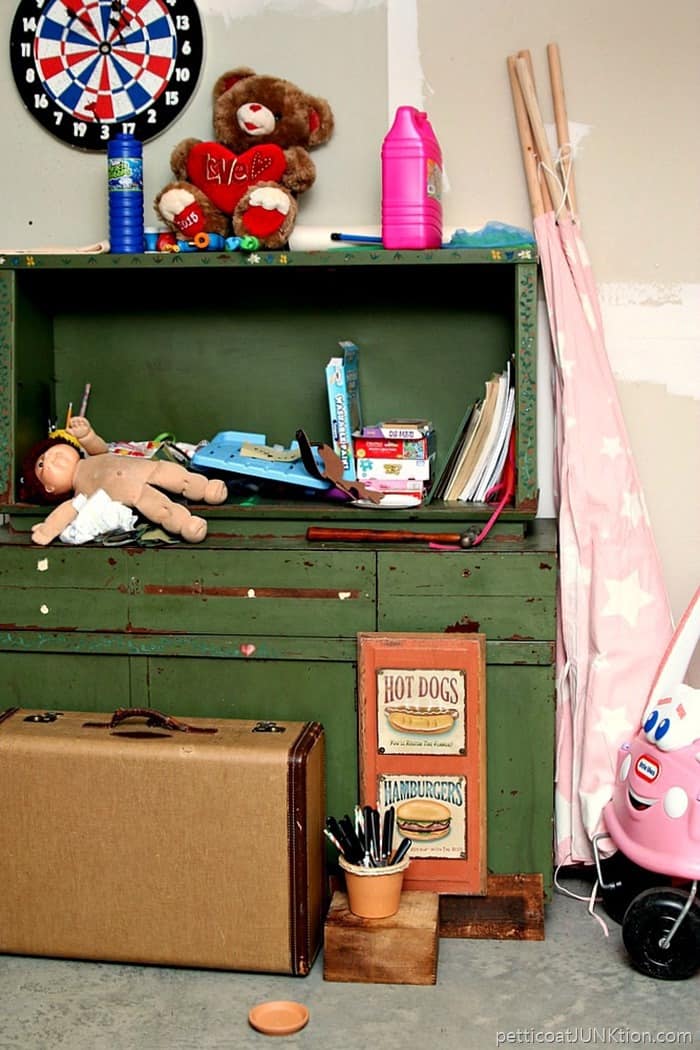 Don't go yet….this is just a bit of my thrift store finds and makeovers. See more here ……70 Thrifty Makeovers Anyone Can Do.
This is the area of the workshop where we store Sofi's play things. I hung the sign on the green cabinet and staged the luggage and other things around the sign. Then I set on the floor and took photos. See…..bloggers are crazy. The end.