It was a simple task to put this DIY wall sign together using two small metal signs I found at the thrift store and an old door panel.
This is one of those projects where I was patting myself on the back and celebrating with chocolate. It's just too darn cute and everything came together so easy. It was almost too easy.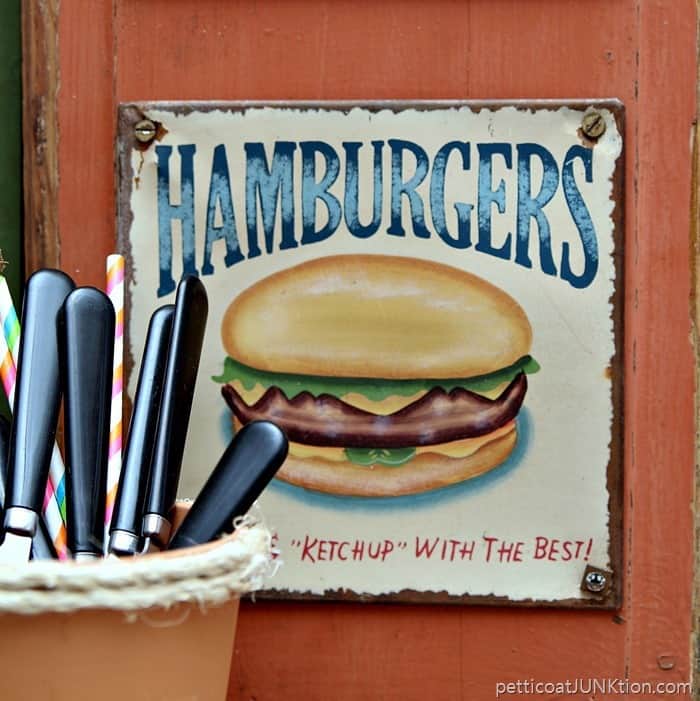 The colors in the metal signs are what grabbed my attention at the thrift store. Also the vintage look of the signs although they are not vintage.
Today is Thrift Store Decor Day. It's one of my favorite share days and I know you guys enjoy the thrifty makeover ideas too. Be sure and take the tour after reading this post!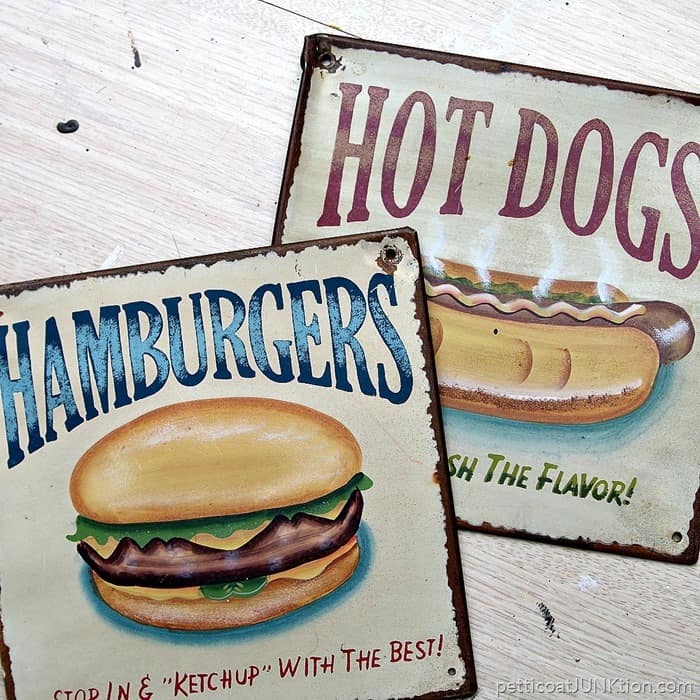 The pair of metal signs cost $2. I'm not sure if they were used as wall hangings or what but there is a tag on the back of each so I know they weren't attached to a board or anything originally.
I wanted to make a bigger impact with the small signs and I came up with a way to combine the two in one large sign.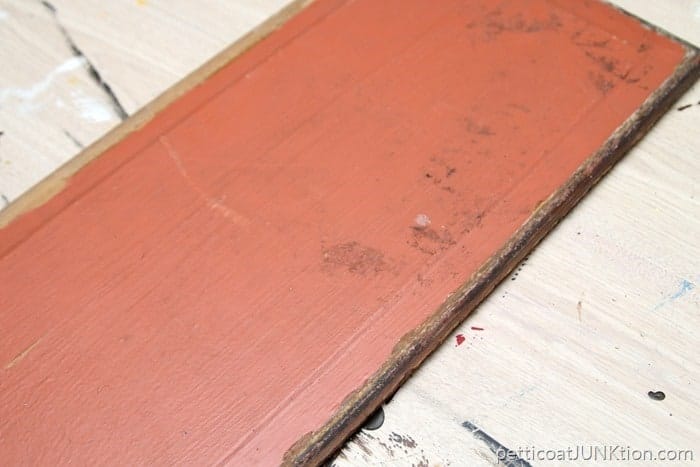 The day I purchased them I went straight home and down to the workshop. I knew there was a reclaimed door panel in my stash that might work for the project I had in mind. I was right. The color couldn't be more perfect. I'm not sure what the color is but it looks like a cross between rusty orange and dark coral.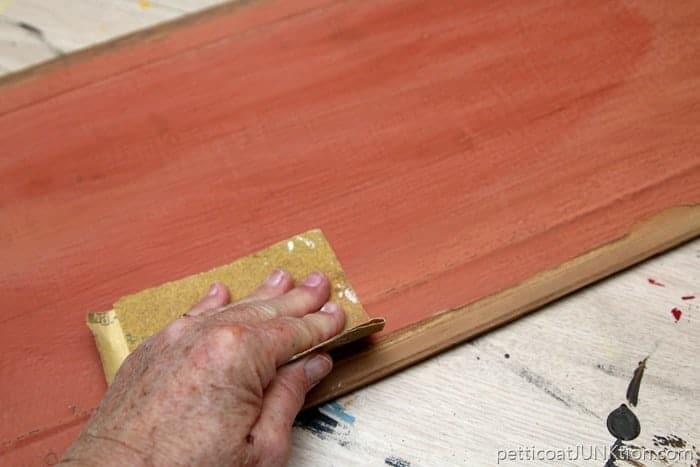 The piece is part of a wood panel door. At the junk store where I shop Mr. Butler takes apart the doors that are not in good shape and that's how I ended up with this panel. I sanded it real good, cleaned it up, and applied a coat of Howard's Wax.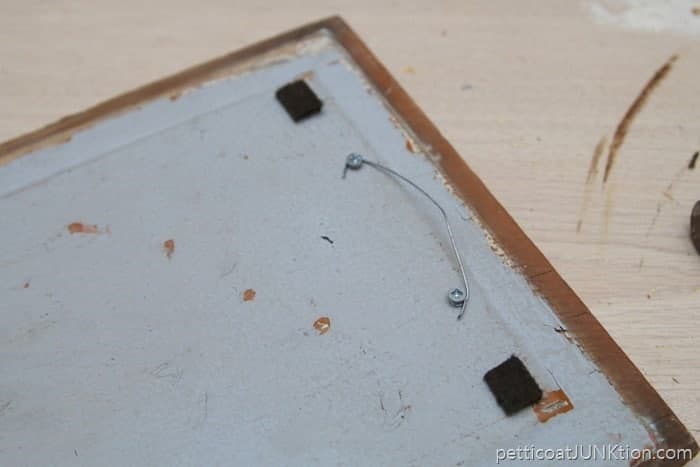 On the back of the panel I added a wire hanger attached by two small screws and felt wall protectors to the four edges. Always add wall protectors to your wall signs, mirrors, or anything hanging on the wall.
I found eight short screws to attach the tins to the board and ta-dah……a DIY kitchen wall sign. And I completed this project in under an hour. The photo above shows the sign hanging in our dining area. I use this wall a lot to photograph finished wall hangings. The white wall makes a nice backdrop. The sign is the perfect piece to hang on a kitchen wall.
Most of the projects I make are to sell in my booth but I like to take photos showing them displayed in the house. This thrifty sign is so cute I may keep it for myself. At least for a little while.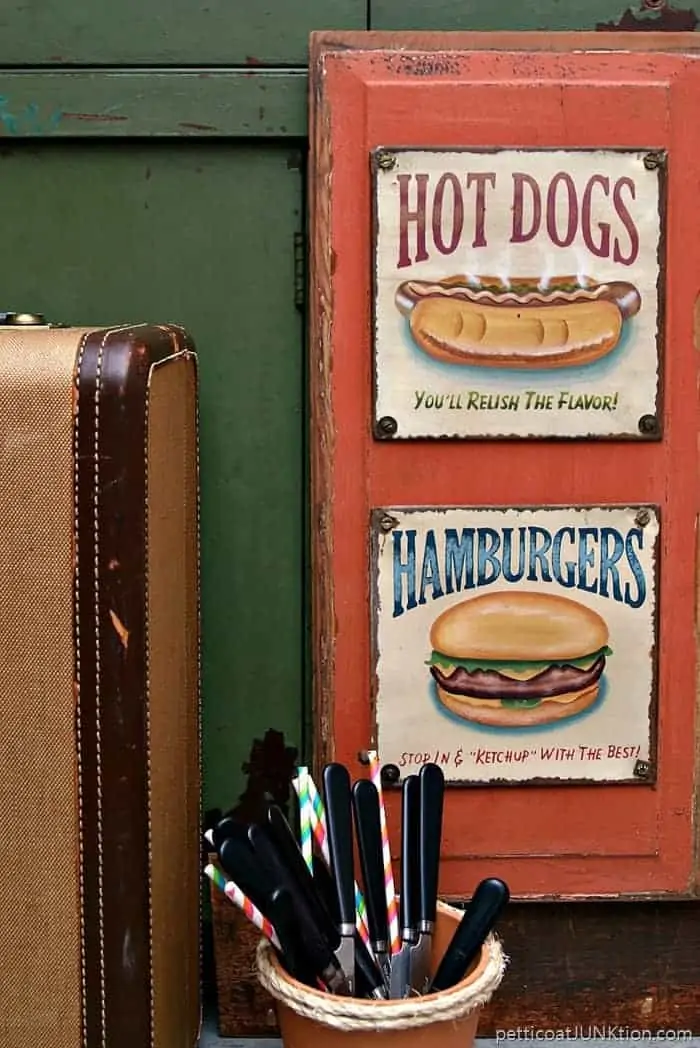 About the photos. Sometimes I set up little vignettes if the project doesn't fit with my home colors/decor. You would not believe some of the crazy things us bloggers do to get a nice photo for the blog and for Pinterest. Take this photo for example. The Hamburger/Hot Dog sign looks great against the green. Let me show you how I staged the photo......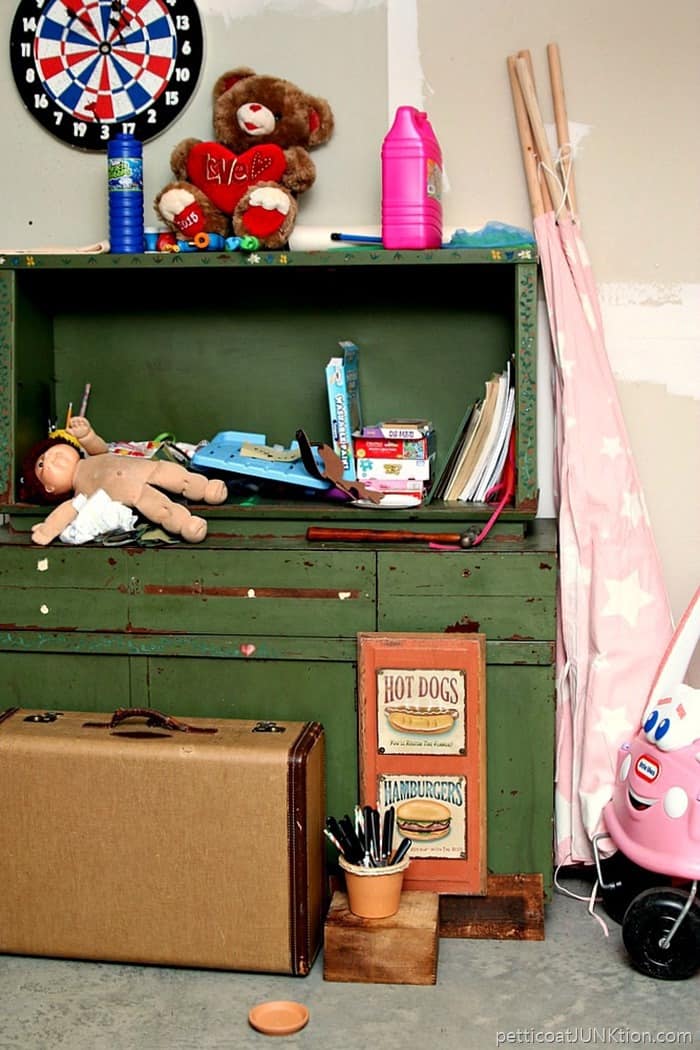 This is the area of the workshop where we store Sofi's play things. I hung the sign on the green cabinet and staged the luggage and other things around the sign. Then I set on the floor, laid on the floor, etc., and took photos. See…..bloggers are crazy.
You can find my Rooster Kitchen Wall Decor here.
Time to see what my thrifty friends put together this month. Just click the pink text links below the "before makeover" photo collage below. Before rushing off leave a quick comment if you have time. I would love to know what you think of the kitchen Hamburger Hotdog wall sign!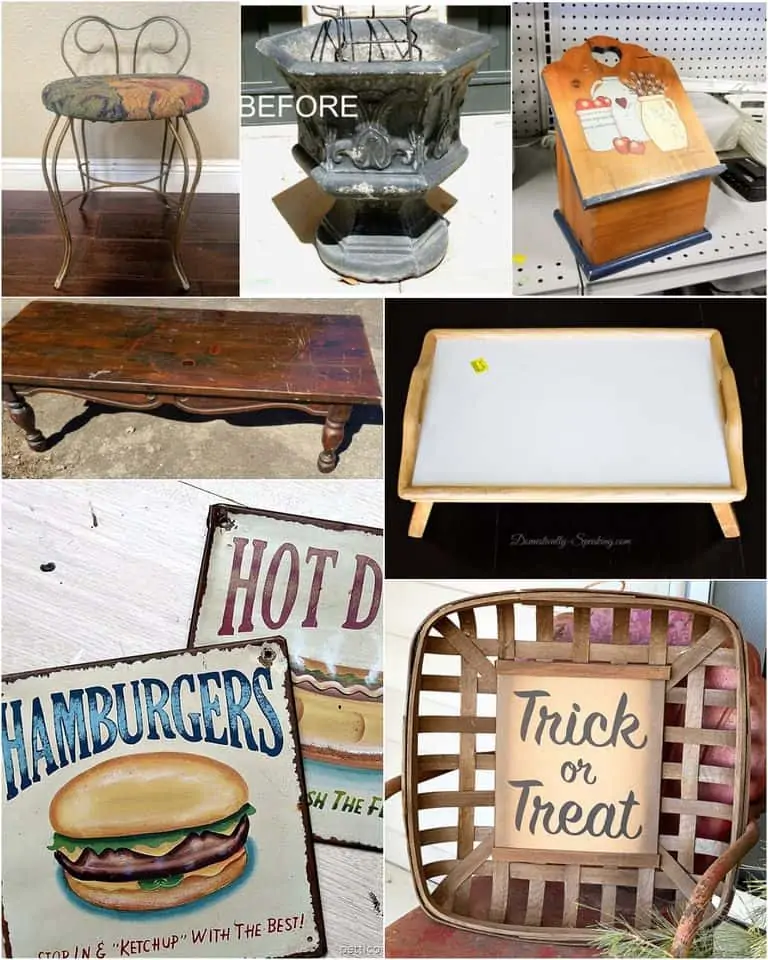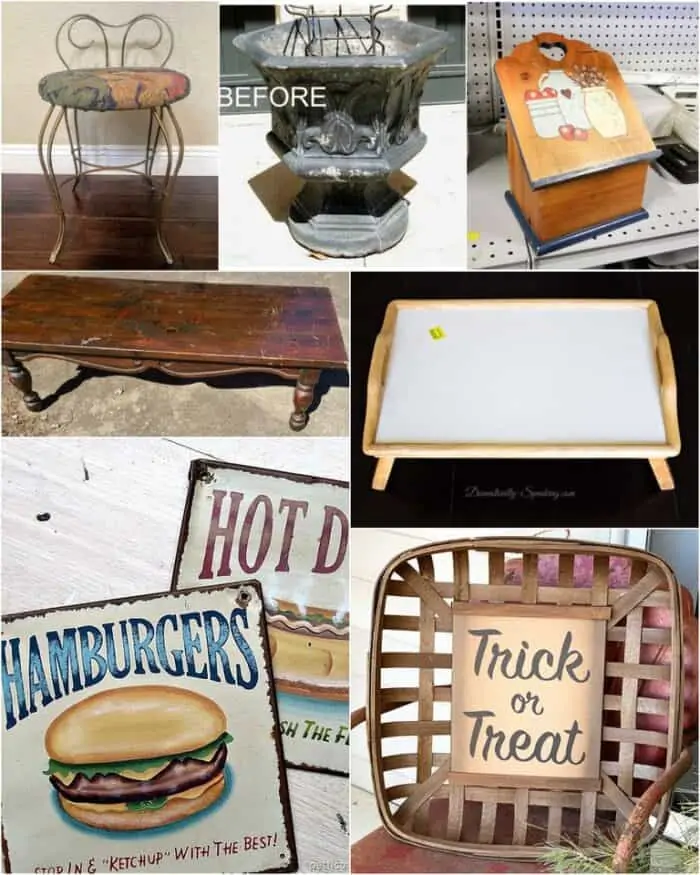 TV Tray Makeover - Domestically Speaking
Thrift Store Coffee Table Makeover - My Repurposed Life
DIY Kitchen Wall Sign - Petticoat Junktion
Concrete Planter Makeover - Our Southern Home
Vintage Vanity Stool Makeover - My Uncommon Slice of Suburbia
Seed Storage Box From A Wooden Recipe Holder - Sadie Seasongoods
Repurposed Tobacco Basket Project - House of Hawthornes
As always, thanks for being here, Kathy
Author: Kathy Owen (Petticoat Junktion)
Kathy is the founder of PetticoatJunktion.com, a home décor blog focused on repurposing and upcycling furniture, old hardware, rusty stuff, and thrifty finds into unique home décor. Kathy's projects have been featured on the Home Depot Blog, Plaid Crafts, Behr Designer Series, and in numerous magazines. Read more about Kathy here.