Today I'm sharing finds from two junk shopping trips and also a few photos from my booth at Warehouse 41 Vintage Market.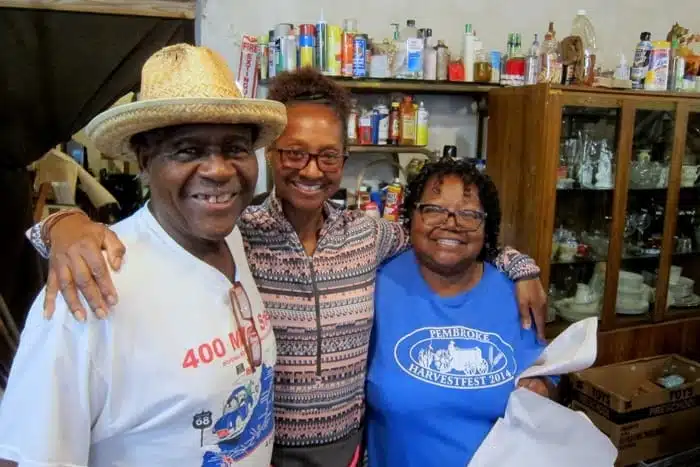 The photo above shows Mr. Raymond Butler of My Favorite Junk Shop fame and two of his sisters, Suzette and Francis. I always enjoy talking with them at the junk shop. Sometimes there are more family members at the shop. On my last shopping trip Suzette's daughter and grandchildren were there.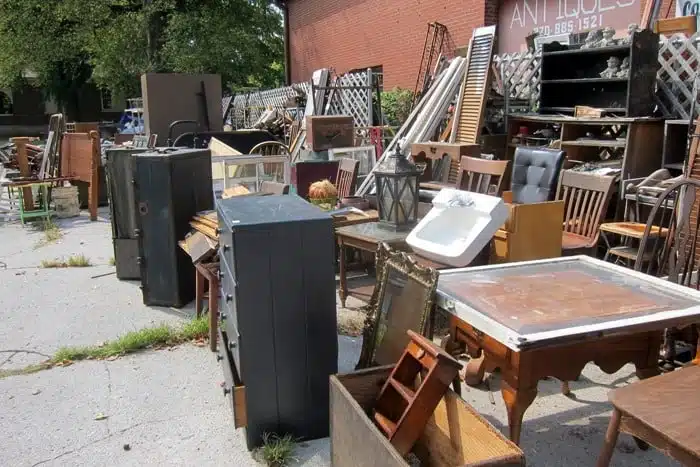 A small view of the outside of the junk shop in Hopkinsville, Kentucky.
This black cast iron cooking pot with cracks in the side and bottom will make the perfect flower pot. I paid $5 and already sold it at the shop for $12. I guess I priced it too low. I have several of the pots and didn't need another.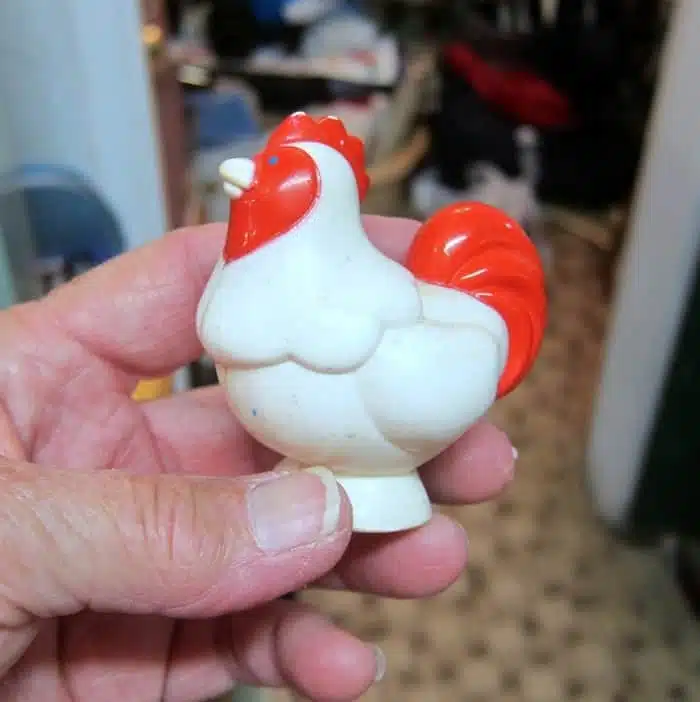 Cute little plastic chicken I couldn't resist.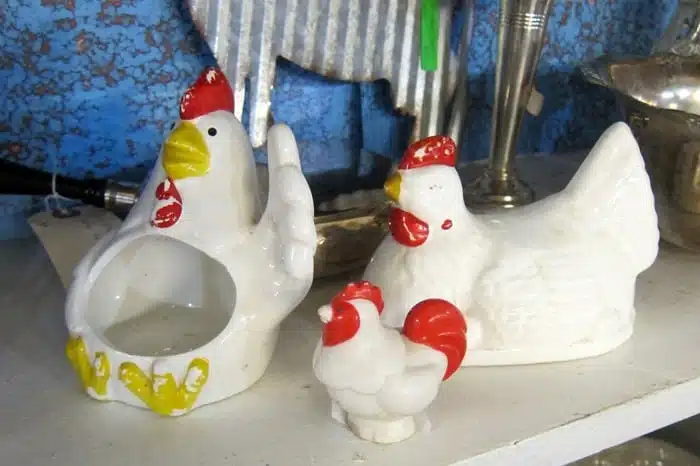 I bought two ceramic roosters the same day and this is a display at my booth.
I don't know what kind of tin this is but I loved the color combo.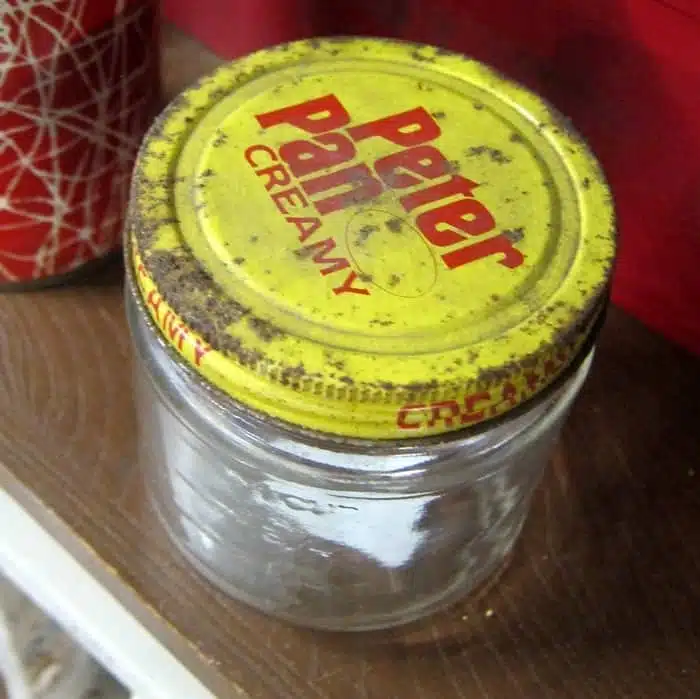 Who can resist an old peanut butter jar. This one was to be used as a measuring cup after you ate all the peanut butter. You can see the measurement lines on the side.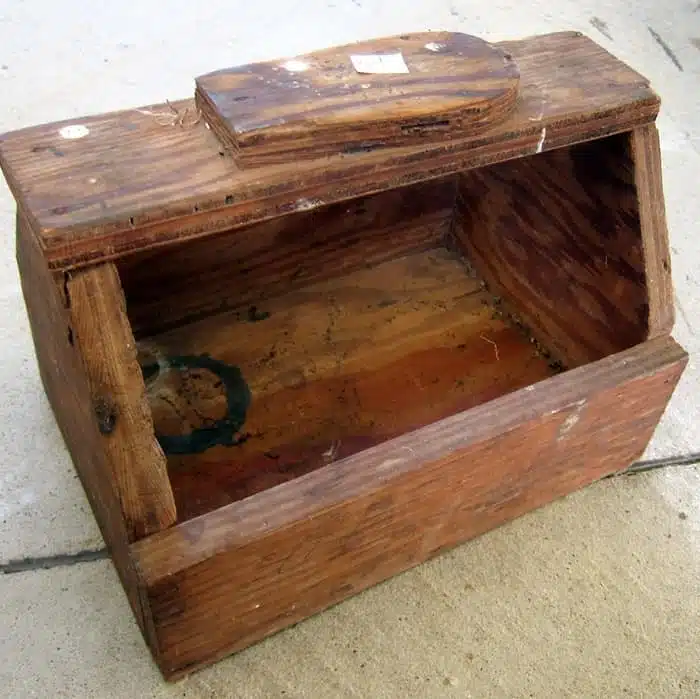 On the second junk shopping trip I bought the old cobblers tote for $5. I can see it dry brushed with white paint.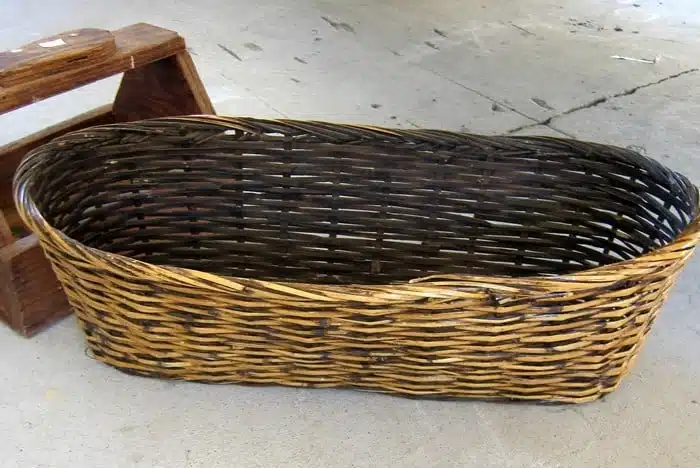 I'm also going to dry brush the big basket.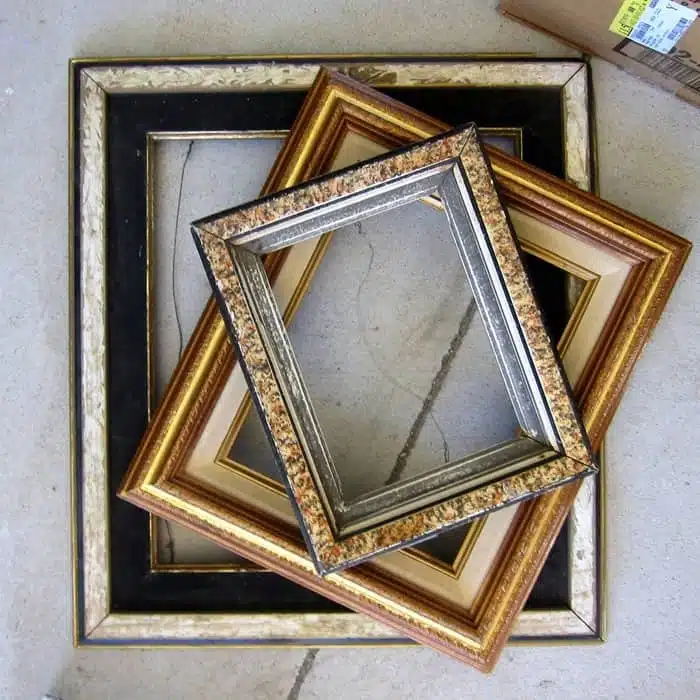 I bought three different size frames and plan to paint them white.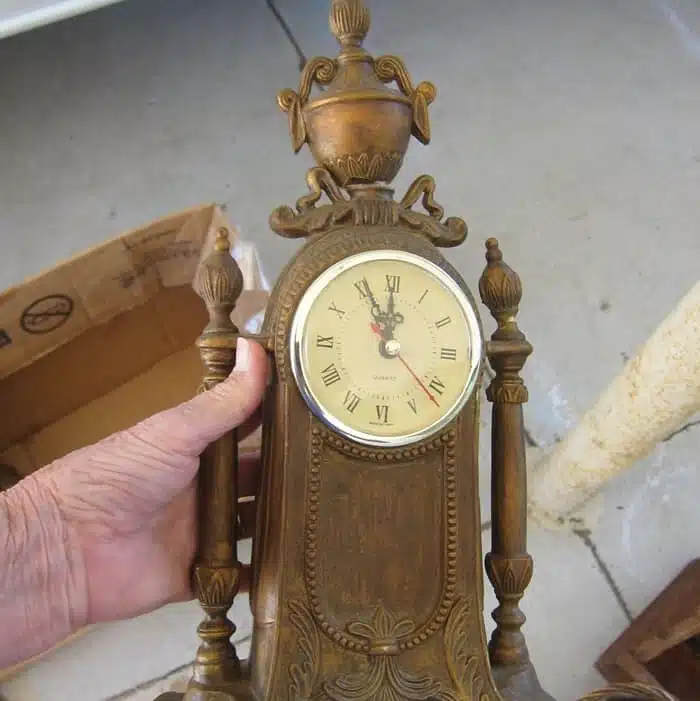 This clock has a broken top and I hope to glue it together and fill the hole.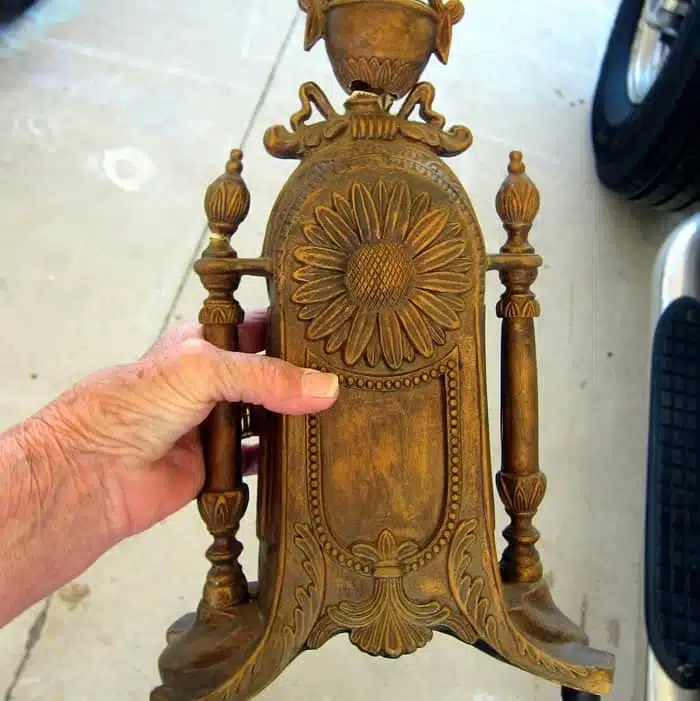 Then I'm going to paint it white and distress it because the back is soooo pretty. I don't care if the clock works or not. I plan to display the backside.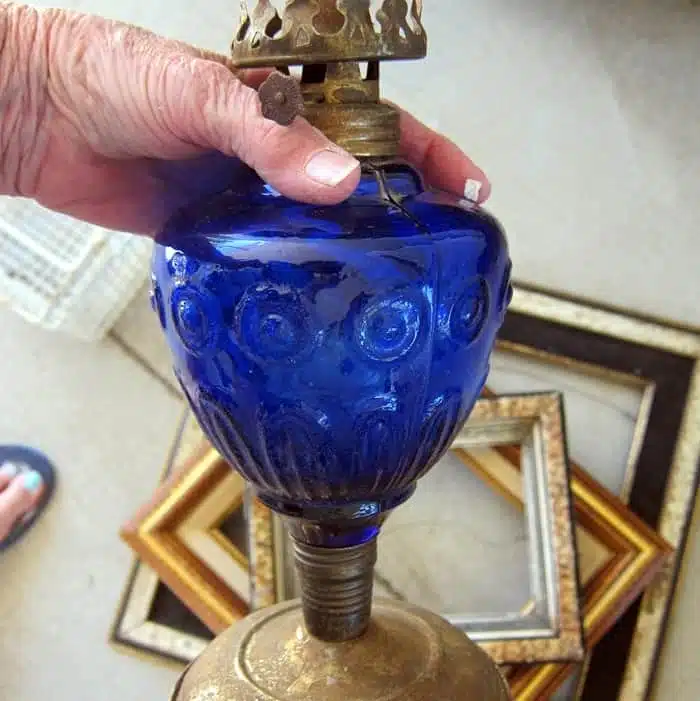 I bought the blue lamp base to use as a vase.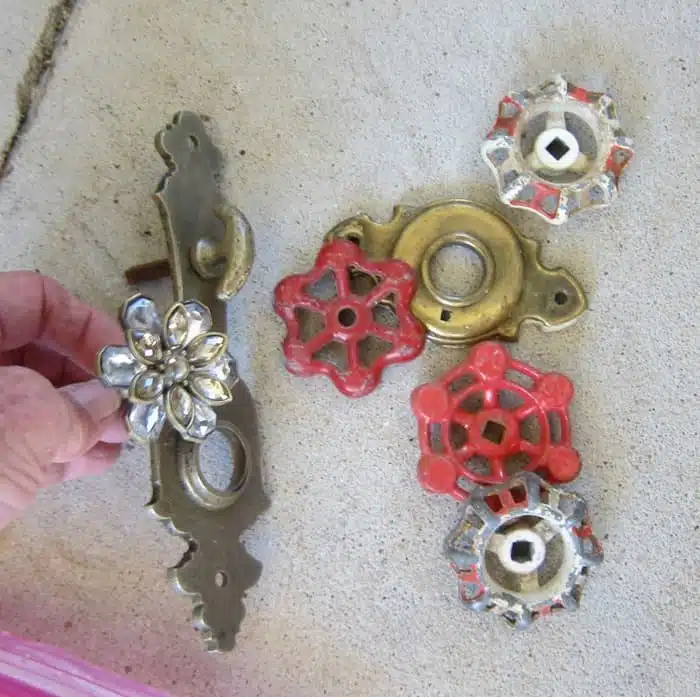 I found a bag of garden spigots and odds and ends. These are great to have around for crafting.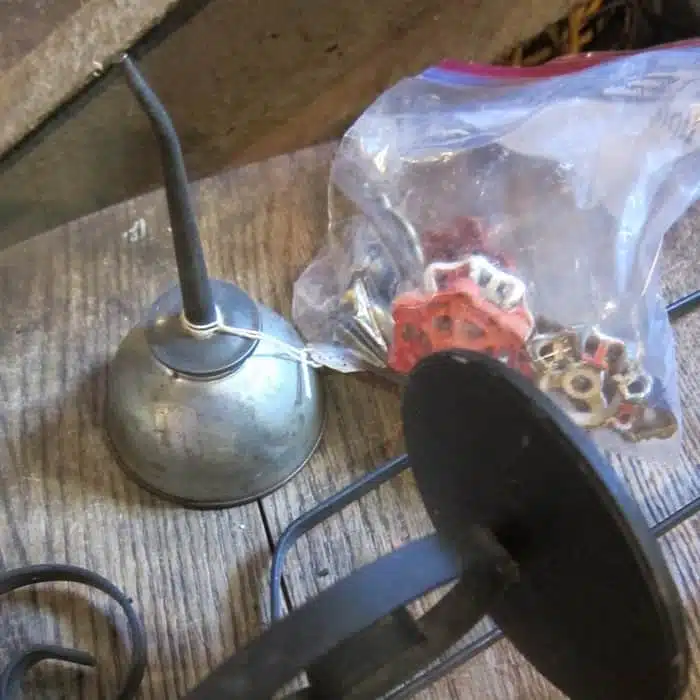 Oil cans are big sellers at the shop.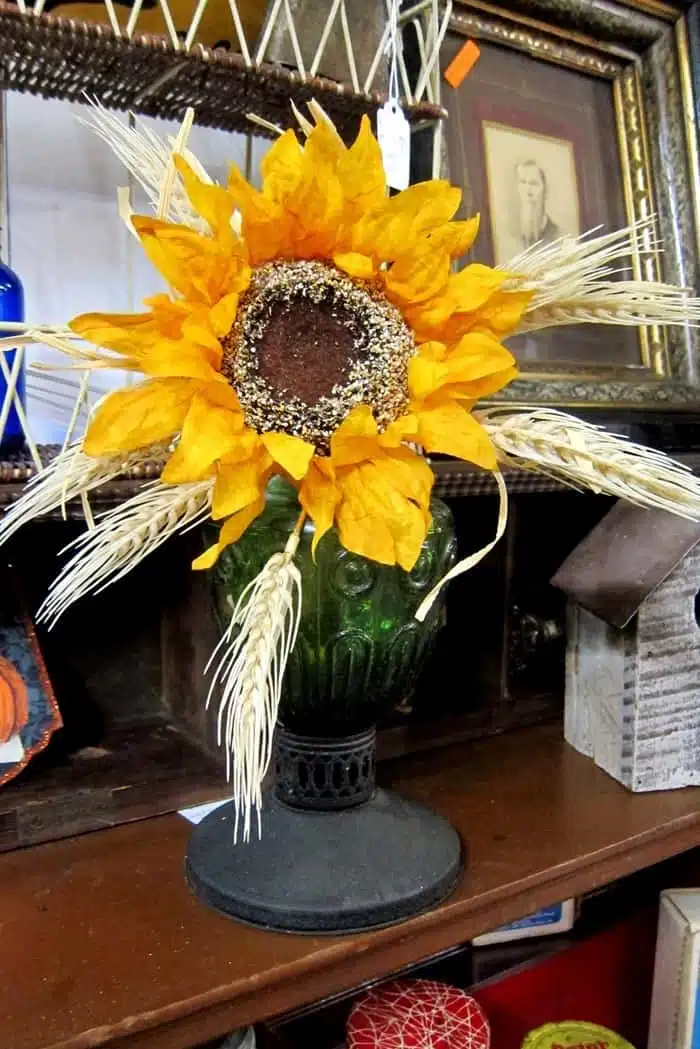 Next are a few photos from my booth. I stuck the large artificial sunflower in an old green coal oil lamp base. Perfect!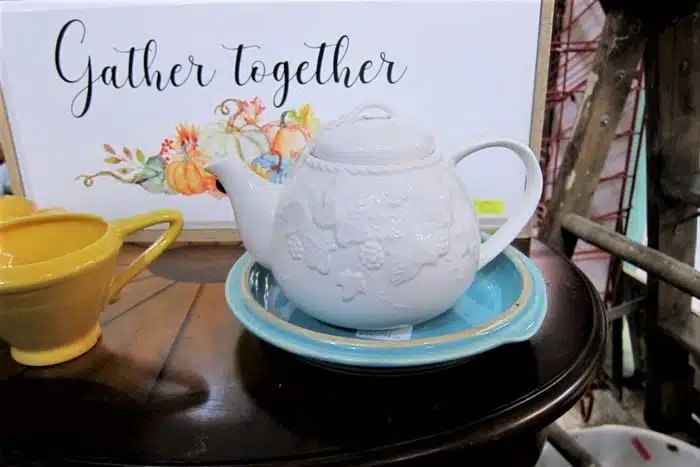 I bought this teapot and the blue piece on this junking trip too.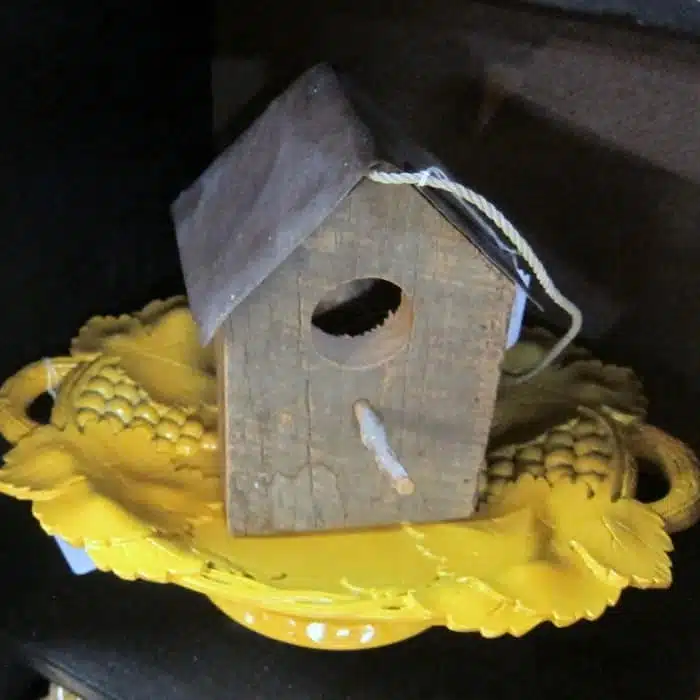 The fruit bowl is one I bought at the Nashville Flea Market and I spray painted it a bold yellow.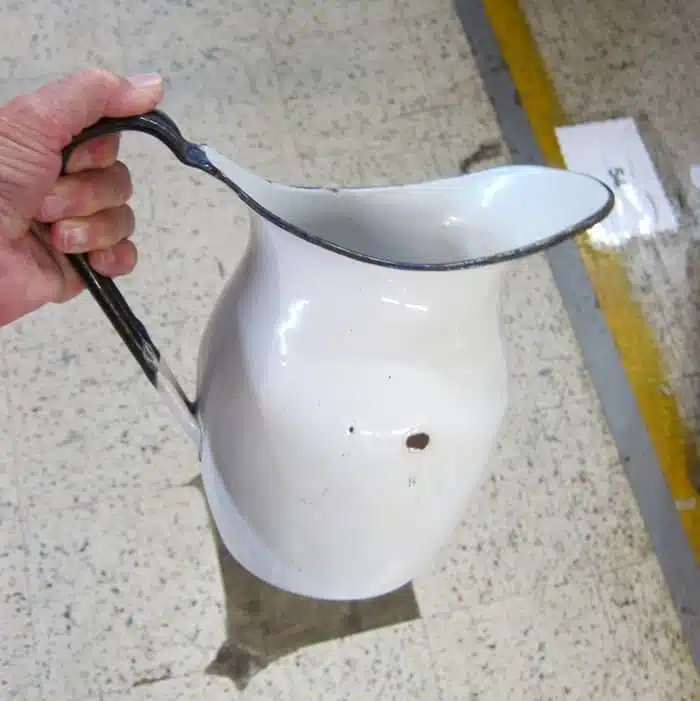 The white enamel pitcher came from the Goodwill for $5.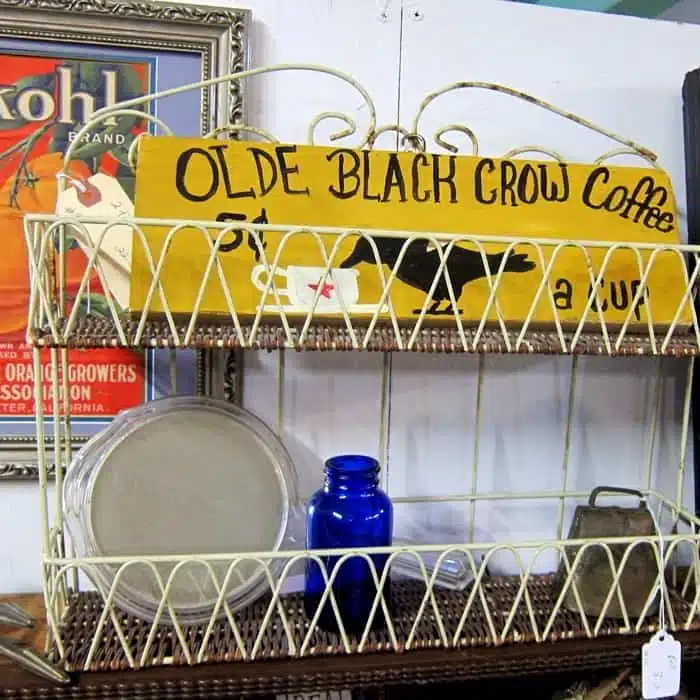 A simple display at my booth. I sold the Olde Crow sign I got at a yard sale this week.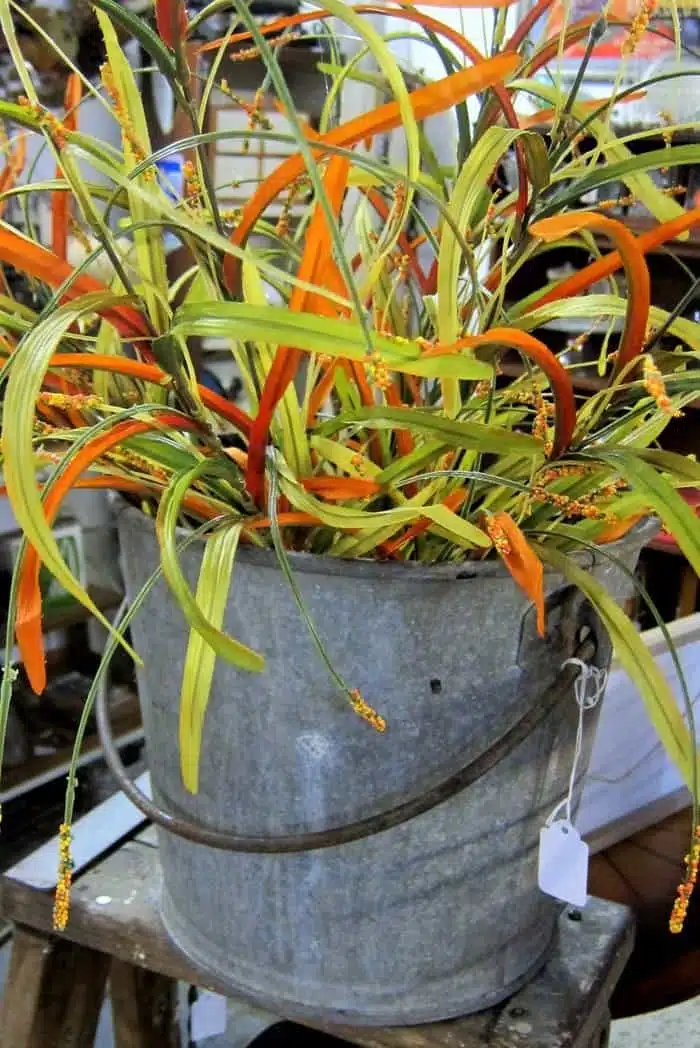 A big metal bucket full of faux Fall greenery.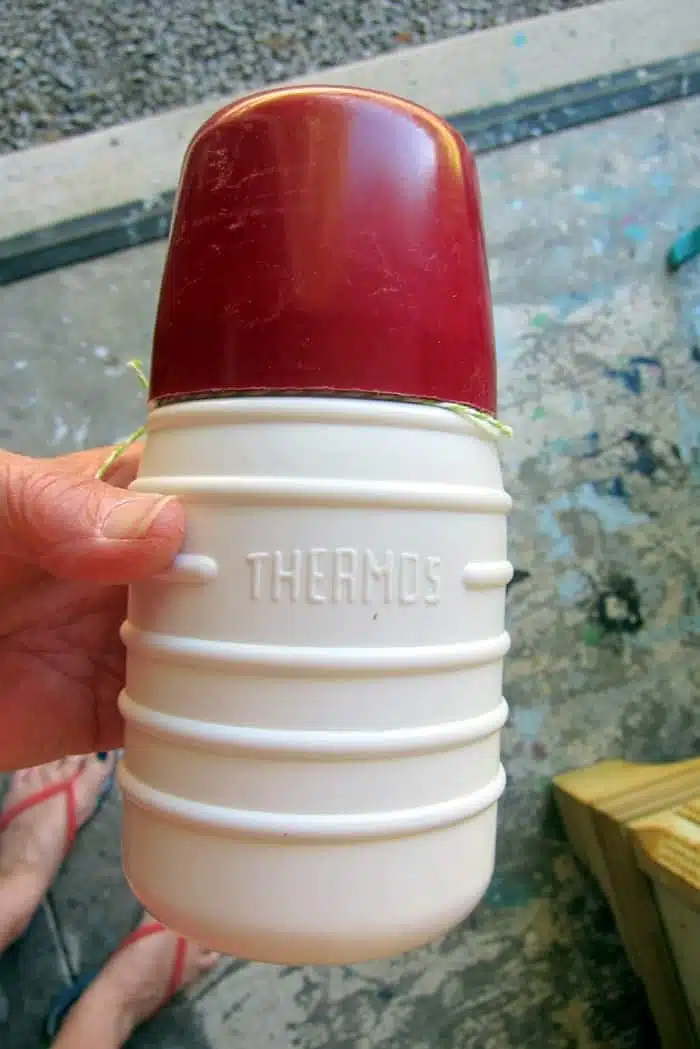 I have a thing for thermoses and red and white.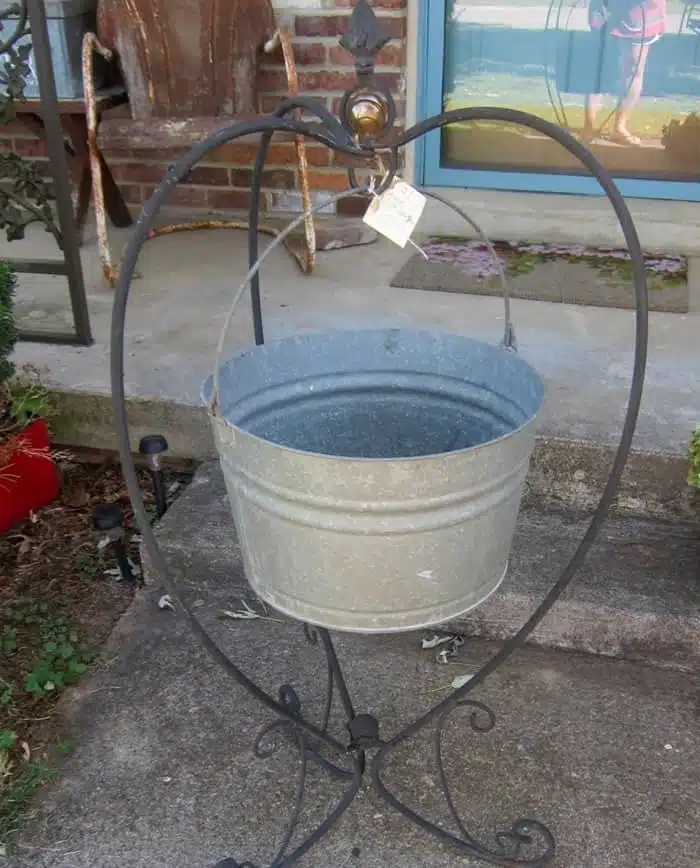 I found the black metal stand for $7 and I already had the tin tub. Watch for them in my upcoming Fall porch decor post.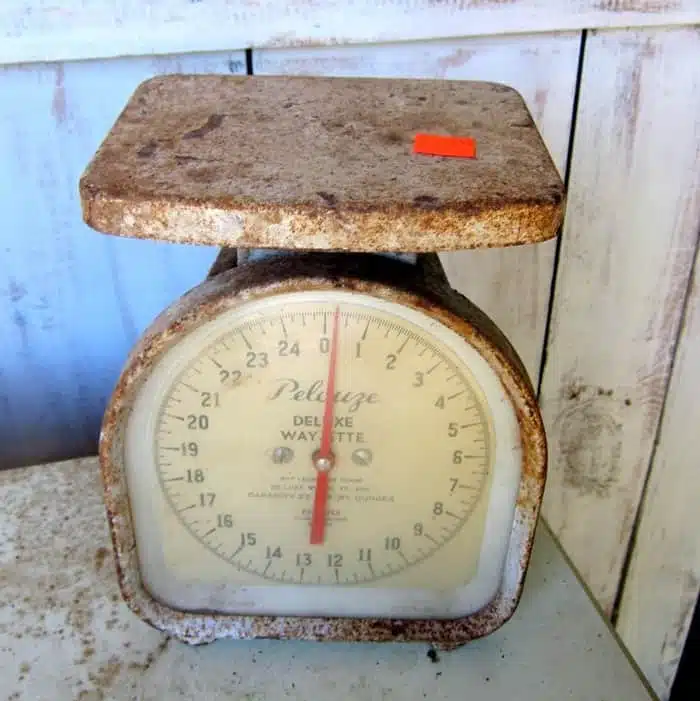 I got the scale from an online auction.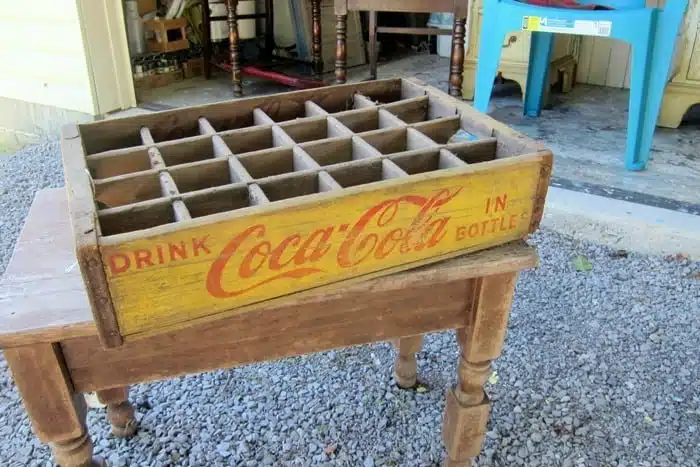 I paid $24 for the Coke crate at a local furniture/flea market shop. I paid more than I usually would but I saw a photo on Pinterest where a similar crate was used to display Christmas ornaments. This crate was in almost perfect condition as far as the wood sections so I went ahead and went over budget. It will make a showing in my Christmas decor this year.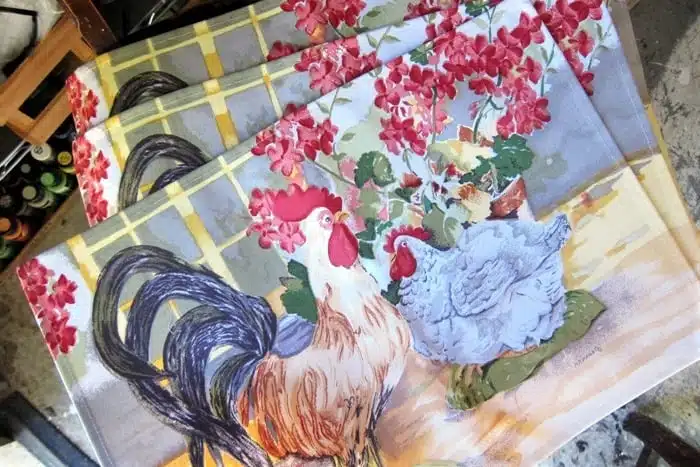 The rooster placemats were so pretty. I bought them to frame and sell!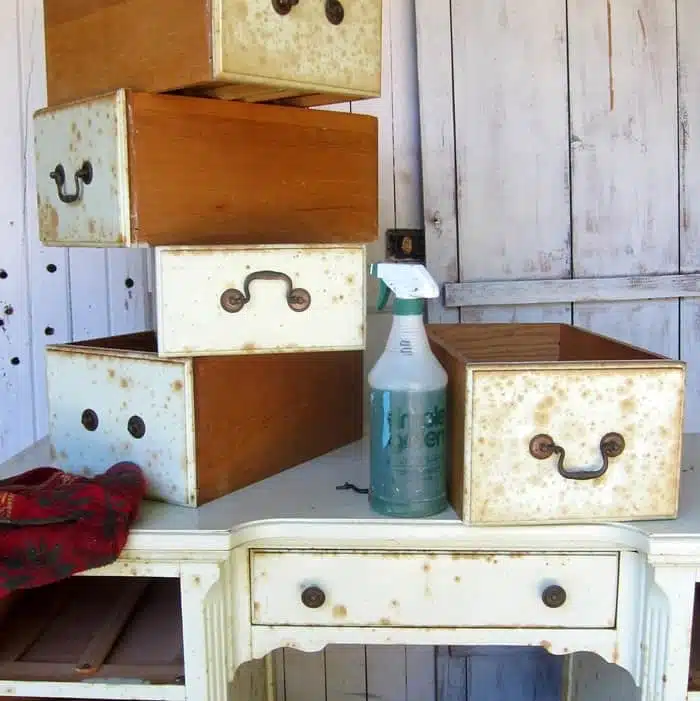 And last but not least is what I have been working on for several days. My neighbor gave me the desk/vanity dresser and it is a mess. It was stored in a basement for a long time and I have been cleaning on it for a long time.
That's it for today. Any thoughts on my finds? Leave a note if you have time and thanks for being here, Kathy
Video from the junk shop..
Butler's Antiques in Hopkinsville, KY
Author: Kathy Owen (Petticoat Junktion)
Kathy is the founder of PetticoatJunktion.com, a home décor blog focused on repurposing and upcycling furniture, old hardware, rusty stuff, and thrifty finds into unique home décor. Kathy's projects have been featured on the Home Depot Blog, Plaid Crafts, Behr Designer Series, and in numerous magazines. Read more about Kathy here.