Cece Caldwell Paint
No frames and mirrors today.
I know ya'll are sad about that.
I actually finished a piece of furniture today.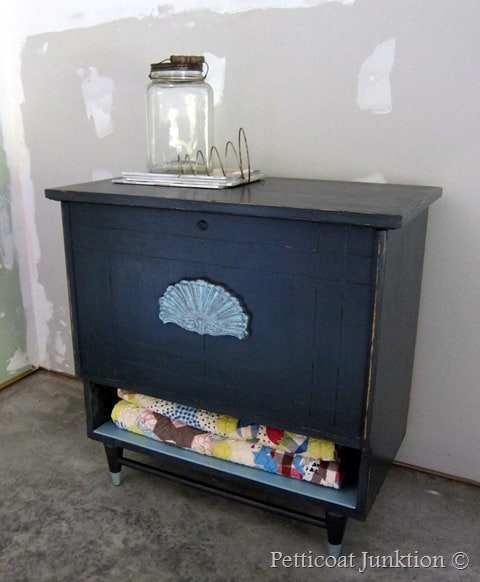 Do you know what this is?
It's a Lane Cedar Chest! I've never seen one in this style. Isn't it cute.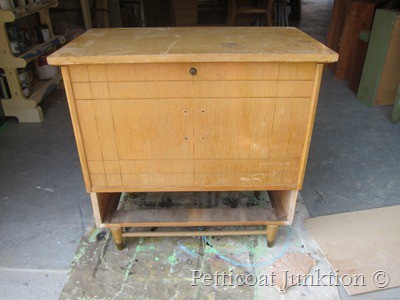 I picked it up at the Nashville Flea Market in June. It was pretty beat up and missing the drawer at the bottom.
I could choose to cut a board and cover the drawer space or have my Technical Specialist (aka hubby) cut a piece of board for a shelf. I went with the shelf. I also wanted to add a little detail to the front so I added this wood applique.
We are now carrying CeCe Caldwell's Chalk/Clay Paint at You Never Know and the paint is so easy to work with. I choose the Vermont Slate and the Memphis Blue.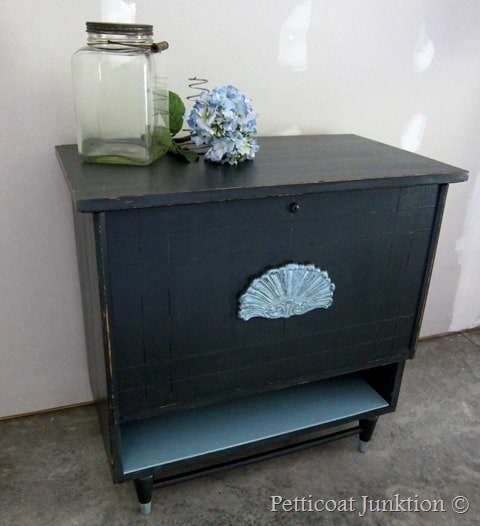 I painted the shelf and then had my hubby nail it in for me. I hate painting shelves and bookcases. Ugh!
I painted the shell applique with the gray, painted the blue over the top and distressed it.
I did a light distressing job over the whole chest.
Cassie at Primitive and Proper has been doing what she calls the dipped leg look. I've been crazy to try it and I thought these legs would be perfect. Only problem with round legs is you can't tape them off. Go ahead try it. It doesn't work. I don't know all that geometry or math stuff but it is impossible because of the curvature. I'm glad the legs had those little gold caps but it was still hard to paint a nice straight line!!!!! I'm going to share this makeover at Debbiedoo's Copy Cat Challenge. Head on over and check out the entries. Debbie loves visitors.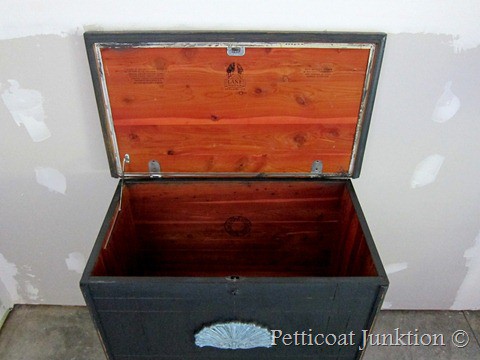 The inside was in excellent condition and very roomy. Great storage!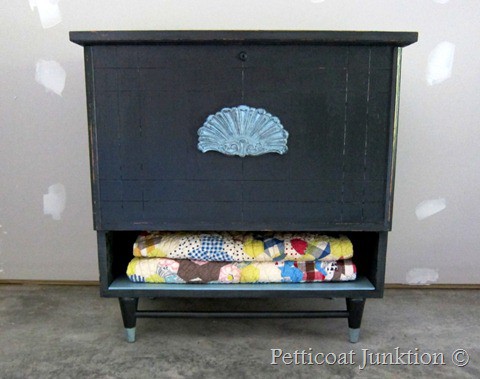 What do you think?
This is a safety alert from Lane.....Since many of our cedar chest products have withstood the test of time and have been in homes for decades, there have been cases where children have climbed inside chests with old style latching mechanisms and locked themselves in, and there have been incidences of suffocation inside chests. As a result of this important and urgent safety concern, Lane has launched numerous successful programs since 1987, all concentrating on lock replacement. However, based on our best records, there are still an estimated 6 million chests owned by consumers that may require the new lock upgrade. Please click here for more information
Oh, I had to use my new quilt in the photo shoot. It's a nice vintage handmade quilt and I fell in love with it. The colors are awesome. I picked it up at the July Nashville Flea Market. I will be sharing pictures from that trip in the next few days.
Thanks for stopping by, Kathy