It's easy to paint bedroom furniture with Miss Lillian's No-Wax Chock Paint which is a chalk finish paint type (not the same as chalk paint, but better). The paint goes on well and dries fast and you have to love the no-wax part. I happen to know the creative lady behind the paint. Her name is Marilyn and she sells the paint line at the shop where I have a booth.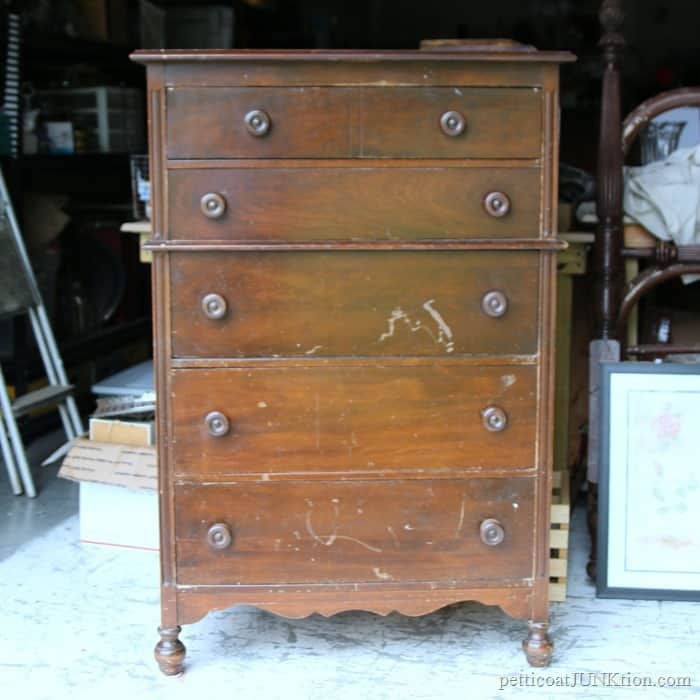 I paid more for the chest of drawers than I normally would but I simply love the feet and the knobs. I don't know what it is about those wood knobs but they get me every time. And I looked at this piece several times over the course of a few weeks before I bit the bullet and bought it. The cost was $75.
I painted the chest of drawers with a pink color then did a lighter pink wash over the top and I absolutely love how it turned out. I think one of the things that makes it so pretty is the wood knobs. Patting myself on the back and doing the happy dance.
Today is Furniture Fixer Upper day and my friends have some fabulous projects to show off. Links at the bottom of the post. Let's talk about my project first.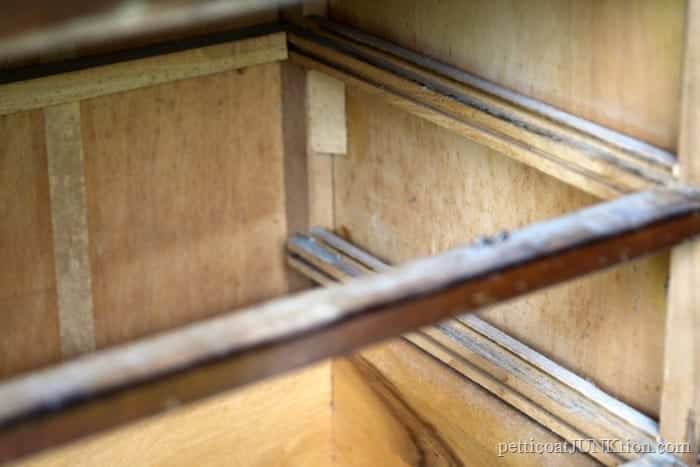 The chest of drawers needed a bit of work too. Plus it was really dirty. When cleaning furniture it's important to clean it inside and out top to bottom. I used the shop vac to remove what I could of the dust then I used a wet rag and Simple Green to finish the job.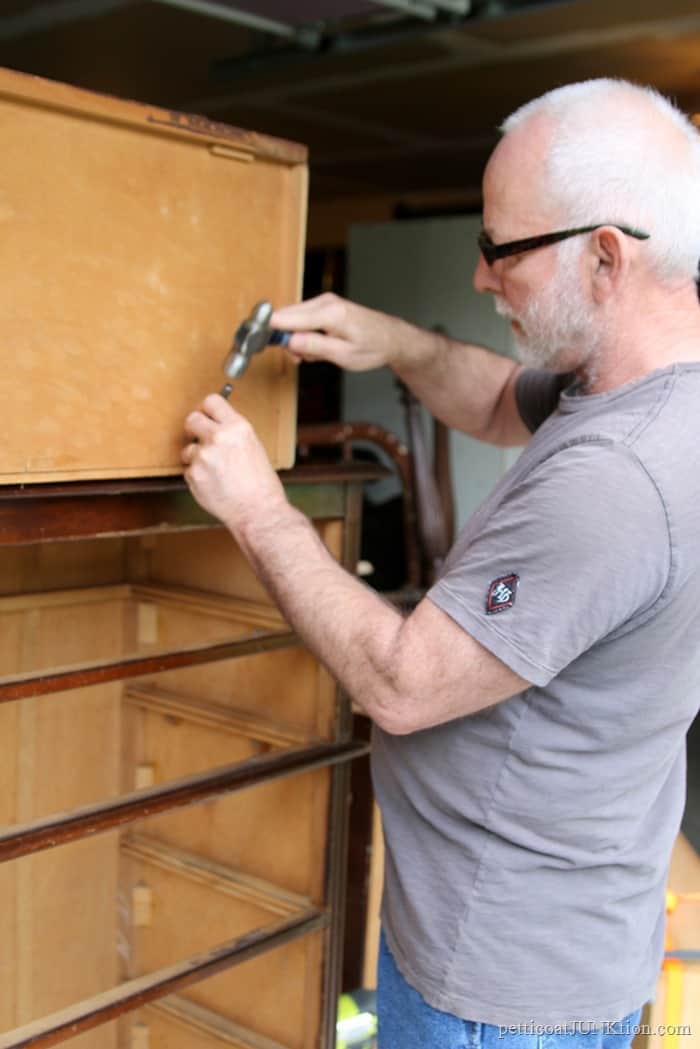 Some of the drawer bottoms were out of alignment and were held in place by an abundance of nails. The JTS fixed everything up for me. Most times it takes longer to make the furniture repairs than paint the furniture.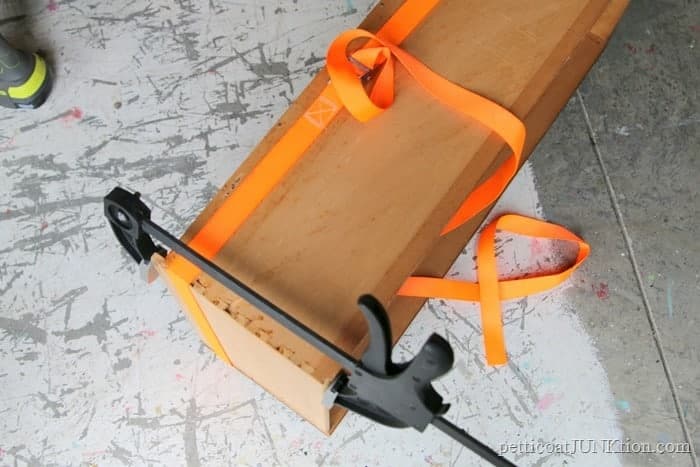 A few of the drawer joints were loose and we used wood glue and clamps to fix those up. It's usually best to let the glue dry for several hours or over night.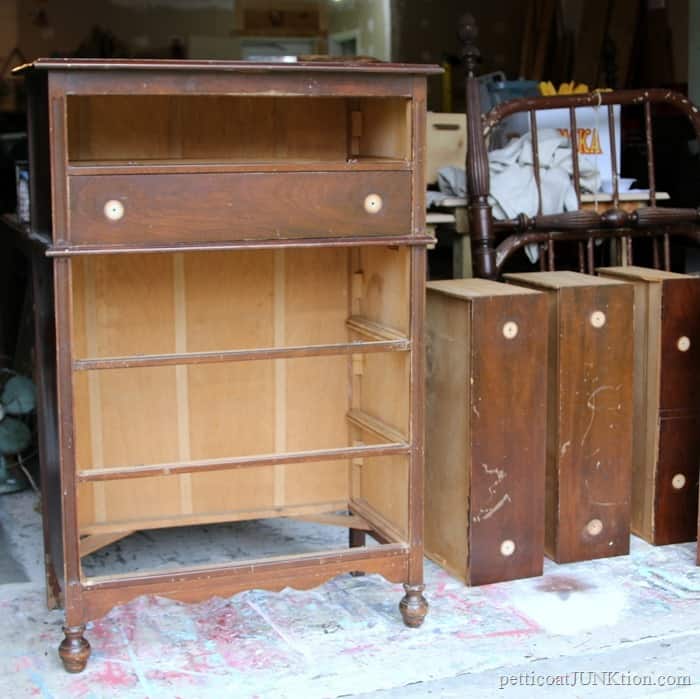 Once all of the repairs were made I removed the wood knobs and set the pieces on a drop cloth…..ready for paint. Once the knobs are removed I place a bit of painter's tape over the screw hole on the inside of the drawer so paint won't leak inside.
The two colors of Chock Paint I used for the makeover are Blushing Cheeks (the darker color) and Spun Sugar. When I was in the shop I couldn't decide what color I wanted so I bought both and it worked out great.
Shake the jar vigorously
Open the jar and stir well
Apply several THIN coats of paint
Allow paint to dry thoroughly between coats. Drying time is fast, but varies depending on weather conditions such as humidity, etc.
For high traffic surfaces such as kitchen tables ,we recommend extra protection by applying one of our Luster Topcoats.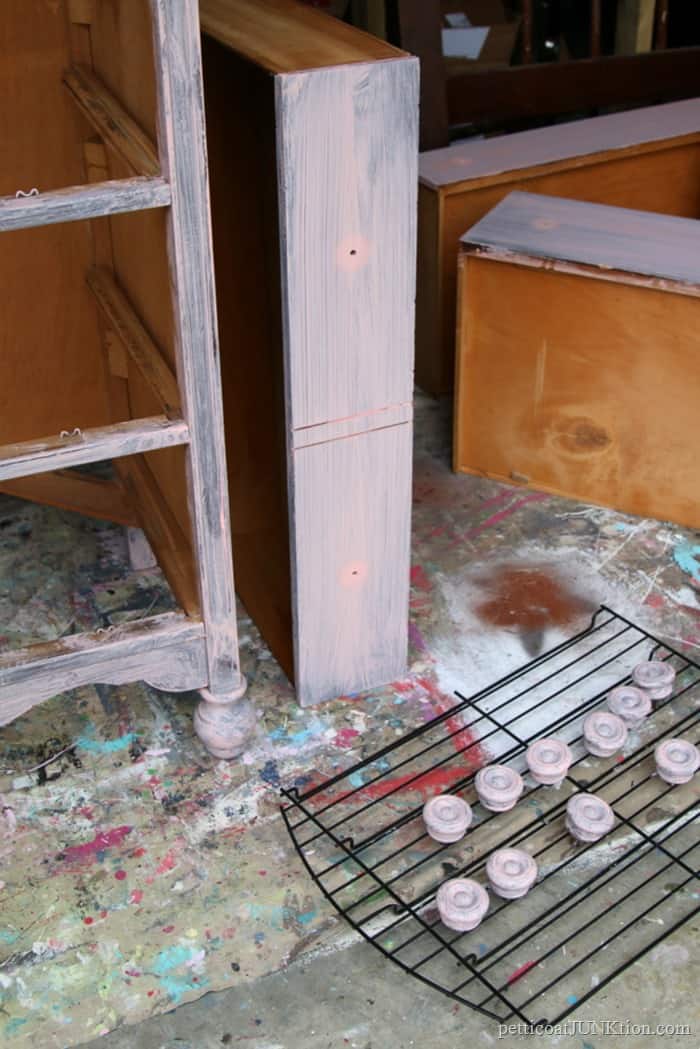 This is how everything looked after one coat of chock paint. I've found that usually pinks and sometimes reds don't cover very well. For this makeover, I had to use 3 coats of paint to cover the dark wood. I made the decision to paint the knobs the same color instead of white.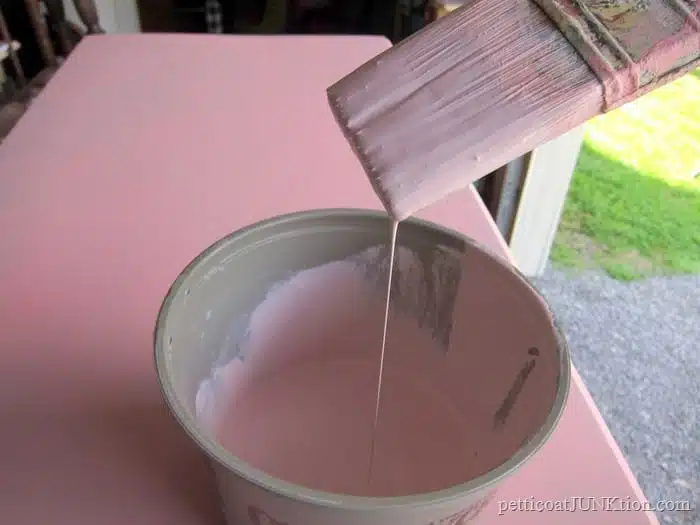 I thought the pink was a little dark and too one note for me so what to do now? How about a light color wash similar to a whitewash? I added water to the Spun Sugar color…..ratio of water to paint was about 1:3. I didn't really use the mixture as a wash, which would be much thinner. I wanted to heavily dry brush the Spun Sugar over the Blushing Cheeks color.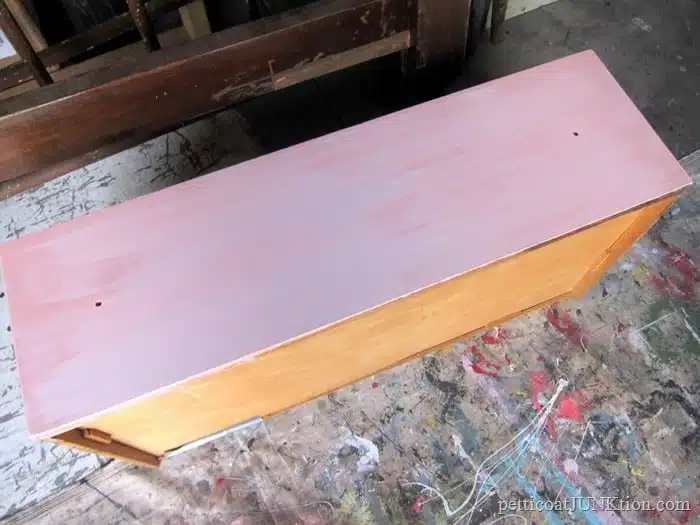 I brushed lightly over the darker color not painting over the entire surface. You can see what I mean in the above photo. The Spun Sugar was still wet in this photo. It dried darker and blended in.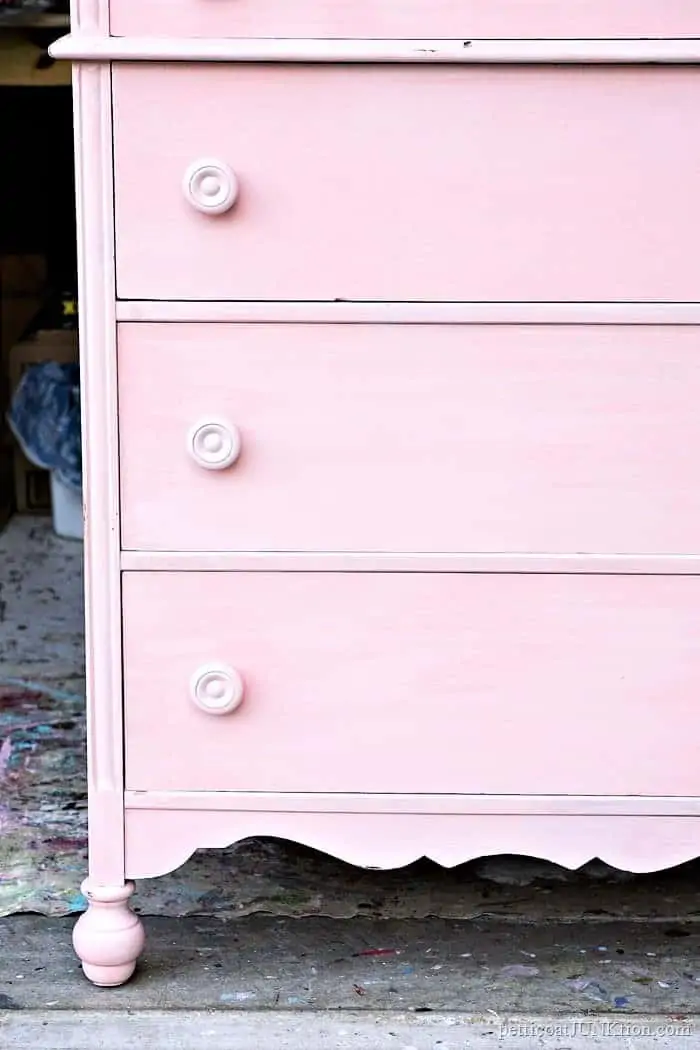 I used a heavier coat of Spun Sugar on the knobs to make them lighter and for better contrast between them and the chest. I really love those knobs.
The pretty girly chest of drawers called for some bold scrapbook drawer liner……found at Hobby Lobby. It's always nice to add little touches like this. When a buyer or owner opens the drawer they just have to smile.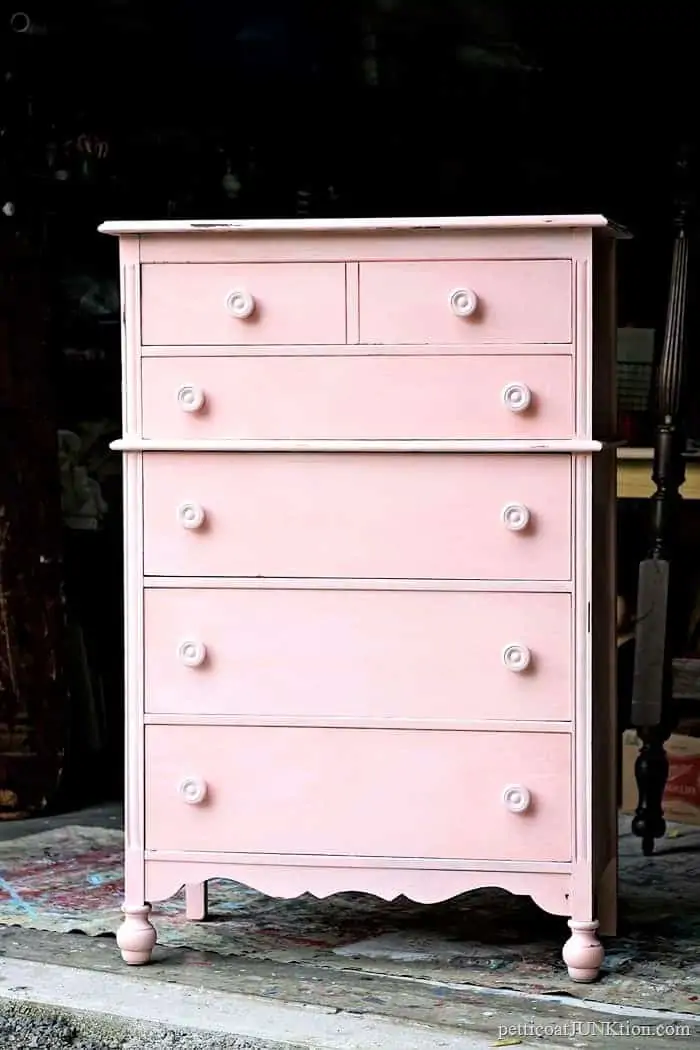 You might notice that I did a very little bit of distressing. I mean just a tiny tiny bit. Just a few areas here and there. I couldn't resist. You guys know I'm not called "The Queen of Distressing" for nothing.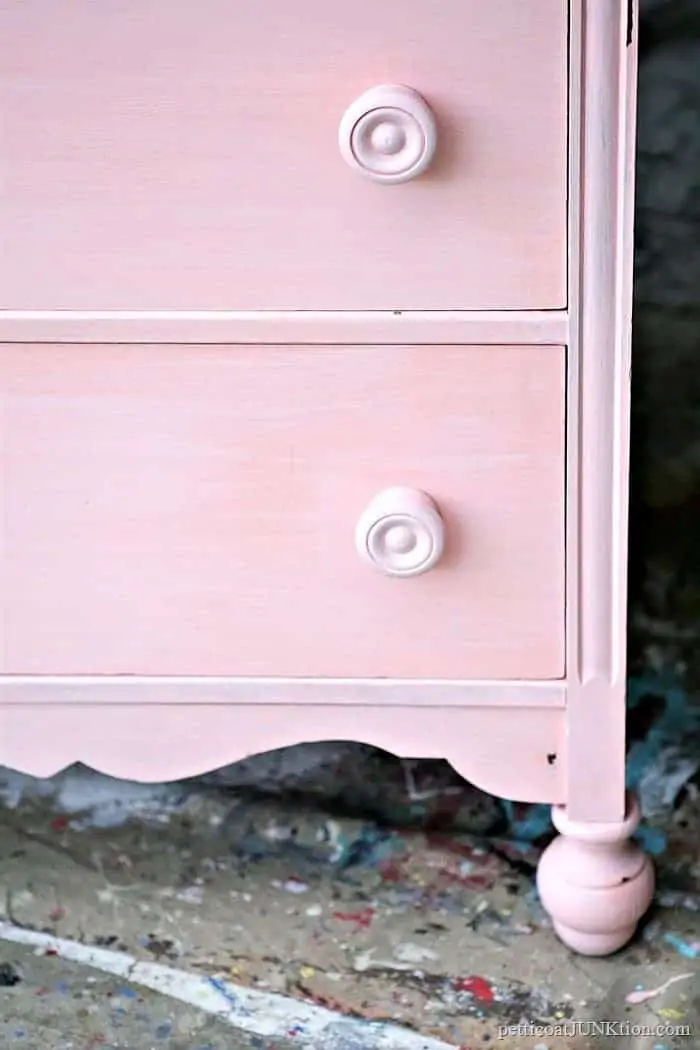 I can't tell you guys how happy I am with this makeover. It isn't over-the-top gorgeous or an outstanding piece of furniture…..I just like it. Pink is one of my favorite soft colors.
I have a video showing how to whitewash furniture below......
How To Whitewash Furniture
I like this paint. I didn't use a primer and the paint didn't need it. The sheen is not flat and not satin. Kind of in between I guess. And as the name says…..no waxing. Gotta love that. Let me know what you think of the project and take the Furniture Fixer Upper Tour by clicking the pink text links under the "before makeover" photo.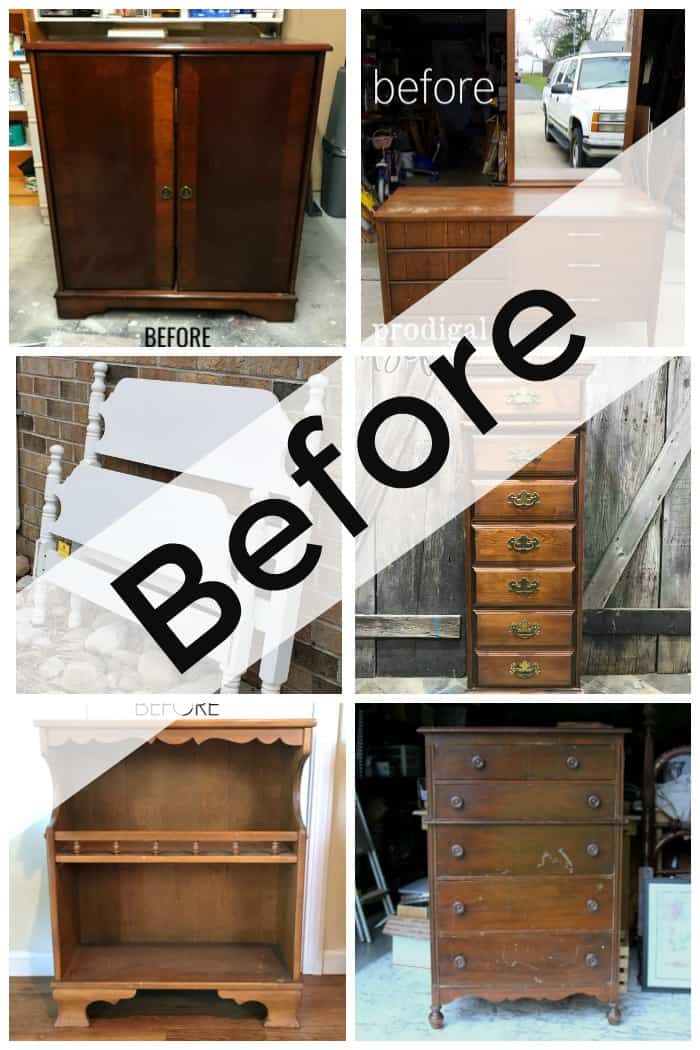 Tall Lingerie - Just The Woods
Mid-Century Modern Dresser - Prodigal Pieces
Bar Cabinet - Interior Frugalista
Thrifty Headboard Bench - Confessions of a Serial Diyer
Floral Decoupage Bookcase - Girl In The Garage
Chock Paint Project - Petticoat Junktion (you are here)
Thanks for being here and have a great weekend, Kathy
Author: Kathy Owen (Petticoat Junktion)
Kathy is the founder of PetticoatJunktion.com, a home décor blog focused on repurposing and upcycling furniture, old hardware, rusty stuff, and thrifty finds into unique home décor. Kathy's projects have been featured on the Home Depot Blog, Plaid Crafts, Behr Designer Series, and in numerous magazines. Read more about Kathy here.