Think twice before picking up certain items at the thrift store. Nothing beats finding a hidden gem, but you can waste your money on a bad purchase if you don't think it through first. Recently, savvy shoppers converged in an online discussion to discuss the items you should never — under any circumstances — buy from a secondhand or thrift store!
1. Stuffed Animals
The number one guideline for purchasing items at thrift stores is to make sure whatever you buy is clean - or at least can be easily cleaned. For this reason, stuffed animals aren't worth your time. "I tend to avoid stuffed animals," confesses one woman. "They are hard to wash and, assuming they belonged to children, have God knows what on them (or worse, soaked into them)."
2. Sports Equipment
For your health's sake, avoid any sports equipment someone has sweated in or on. Items like baseball gloves, masks, uniforms, boxing gloves, and other athletic clothing are just a few things you should avoid. If it smells funky, it probably is funky!
3. Electronics
Many thrift stores don't have the workforce or time to test every piece of electronics that gets donated. With that in mind, all electronics have the strong possibility that they won't even turn on when you take them home. Exceptions exist, however - but it's best to play it safe.
4. Anything That Smells Like Mildew
Mildew is a unique smell that is difficult to eliminate, so if you smell mildew on any items, that's a sign that you should not buy. "You should never purchase a moldy book or magazine, or one that smells of mildew, or smells like anything except a book," advises one shopper. "It will not get better."
5. Undergarments
Please don't buy underwear from a thrift store. If you want reasons, keep reading. "Underwear is cheap enough to get at the store, and I just can't wear used ones," confesses one woman. "Even if they're clean, I couldn't. Bras are expensive, but I'd rather be forced to spend the $50 than get it used for the same reason."
6. Upholstered Furniture
There are stories from countless thrift store workers reminiscing about instances when mattresses and other upholstered furniture were dropped off, only to infest the store with bed bugs. So I'll happily spell it out for you: stay away from upholstered anything the next time you visit your local thrift store, and thank me later.
7. Car Seats
Recalls affect many products, and some car seats are notorious for going through many recalls over their lifespan. So save yourself serious headaches and anxiety by not buying car seats from a thrift store. After all, if there's one area you shouldn't skimp on, it's your children's health and safety.
8. Pet Products
Full-priced retail pet products are expensive, and common sense says serious savings are found in purchasing secondhand. Think again. "Whether this is a gently used litter box for Kitty or a new-to-you toy for Fido, you'd be well advised to leave it on the shelf," says one woman.
"You have no way of knowing what its previous user has been doing, and while we might take care to sanitize children's things, pet owners might not think to do that when donating their pet's old things. Our pets have a much tougher immune system than we do but are not invincible."
9. Jigsaw Puzzles
I can't imagine a worse fate than coming close to finishing your thrift store puzzle only to realize some pieces are missing. Oh my God, I'd go crazy. Remember, there's no way for store employees to know if all the puzzle pieces are in the box when they put it on sale!
10. Any Food Item
If you find yourself shopping for food at the thrift store, I recommend switching gears and visiting your local dollar store. One person explains why. "Stay away from food, especially if it has a foreign language on the packaging," reveals one man.
"Those items were produced here, shipped to Europe, not purchased by anyone there, shipped back here, and given to the thrift stores to be sold to unsuspecting residents who think they are getting a bargain."
10 Most Horrifying Finds From Thrift Stores
Some customers find truly terrifying or bizarre items on their forays into the thrift store world, and they are sharing them in an online forum. Here are ten weird and woeful discoveries from the thread. 10 Horrifying Finds From Thrift Stores
Coolest Things People Found At The Thrift Store
Join the league of thrift store lovers who have found the coolest things in the most unforgettable of thrift marketplaces. Rare paintings, vintage clothing, and Renaissance-era furniture have been found in thrift racks, and here are a few thrift store finds by real people that will make your jaw drop. 10 Coolest Things People Found in Thrift Stores
Do Buy Metal Or Plastic Furniture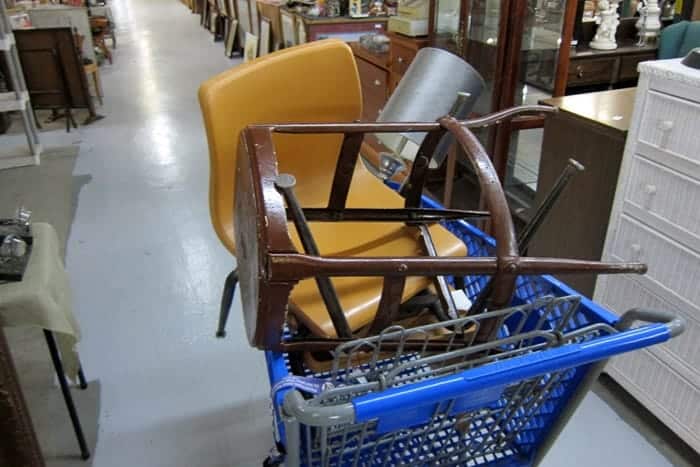 Metal or iron furniture like stools and chairs, even though they may not be in the best shape, can be painted and given a new life. The Best Way To Paint Outdoor Metal Furniture