Hey Guys! I have a super easy and fun project today. My Summer hat wreath starring the colors red, white and blue almost didn't get made in time for the holiday. But I got busy yesterday and it only took me 10 minutes (maybe 5) to put the hat wreath together.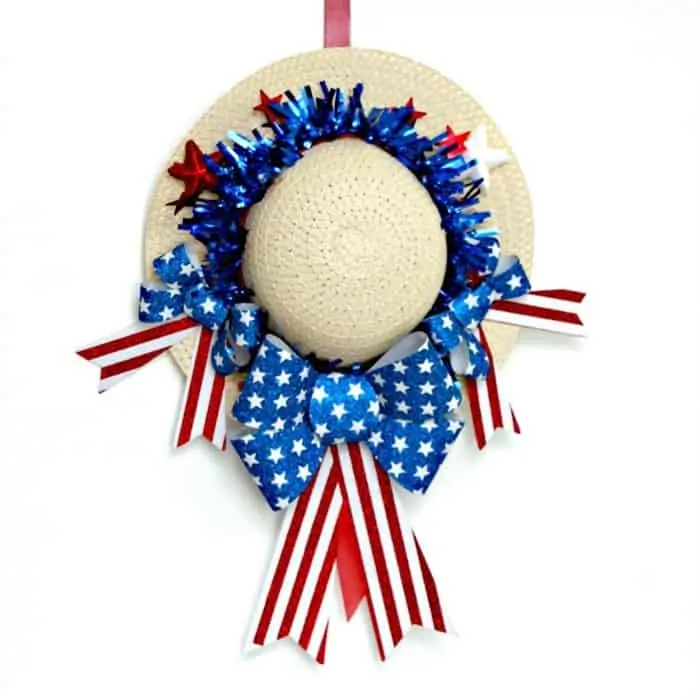 Isn't it fabulous. I know, patting myself on the back. This color combo is one of my favorites. And I love the hat idea. You know you can make wreaths or door hangings out of just about anything. I've used rusty rake heads, purses, wood shutters, chair backs, and more! What have you used that's a bit different?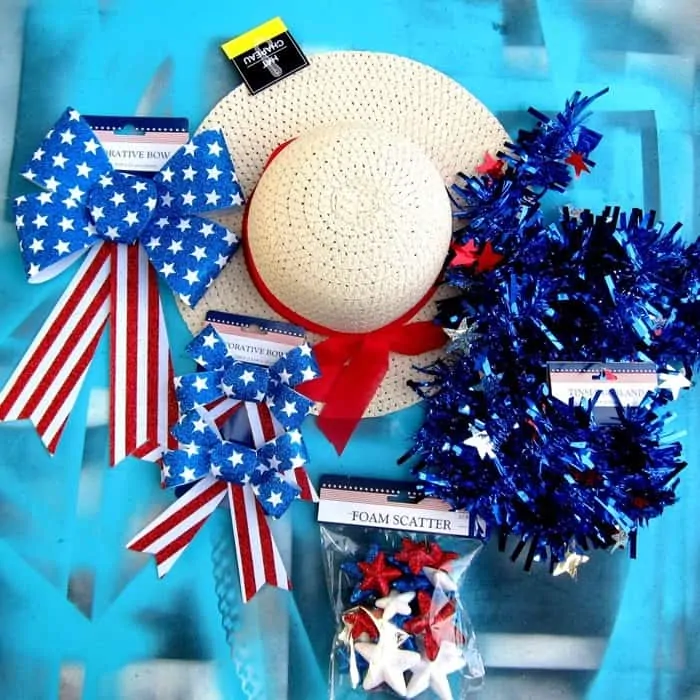 I found all the supplies to make the patriotic wreath at the Dollar Tree. I know some of you don't have a huge junk stash to go through when you get ready to put a project together. It's easy to just go to the store and buy inexpensive items to make your project. That's what I did this time.
Also it's nice not to always work with rusty junk! Putting together projects from thrifty finds or junk stuff can be a little trying. Things in my junk stash are definitely not in perfect condition.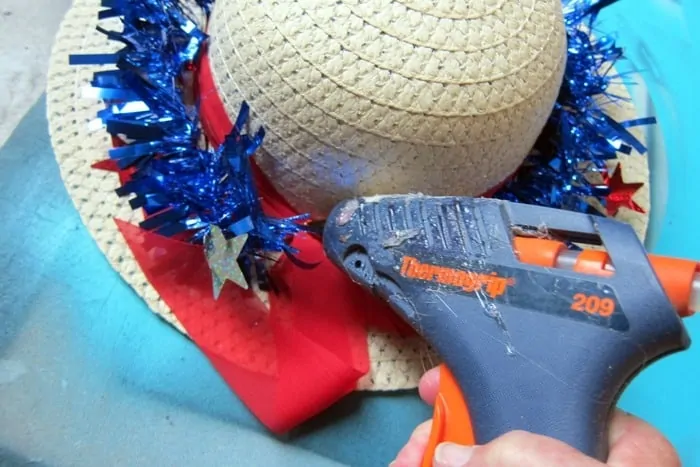 First thing I did to put the red white and blue wreath together was to heat up my unsightly hot glue gun. Then I wrapped the sparkly blue garland around the hat, trimmed it to size, and used a couple of dabs of hot glue to hold it in place.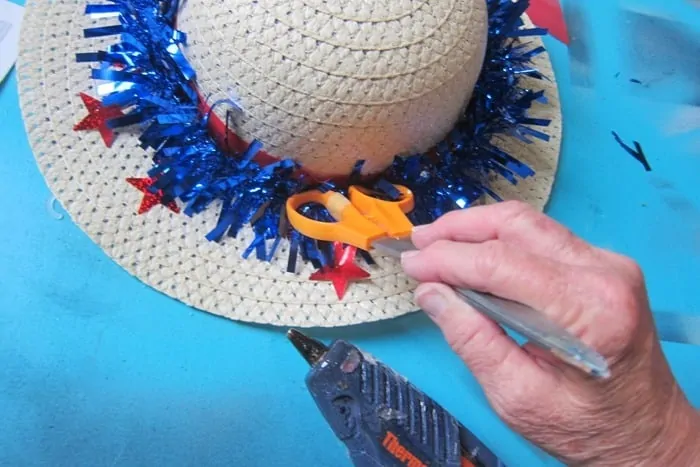 TIP: Use  a pair of tweezers, a wooden stick, just about anything including a pair of scissors, to hold the two hot glued surfaces together until the glue sets. It will save your fingerprints.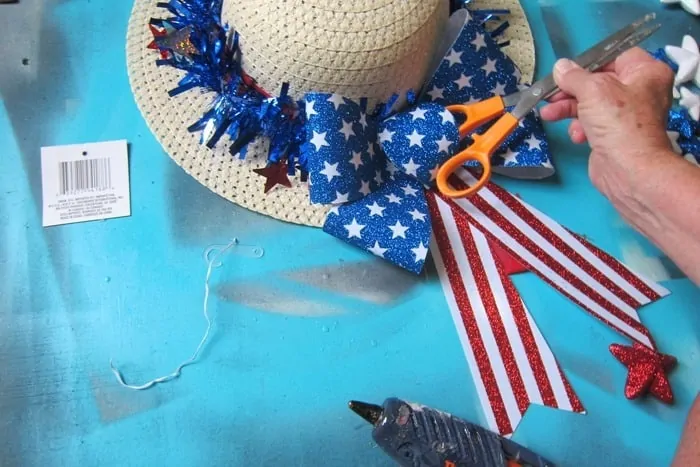 Every wreath needs a bow. I used hot glue to adhere the big bow to the base of the hat.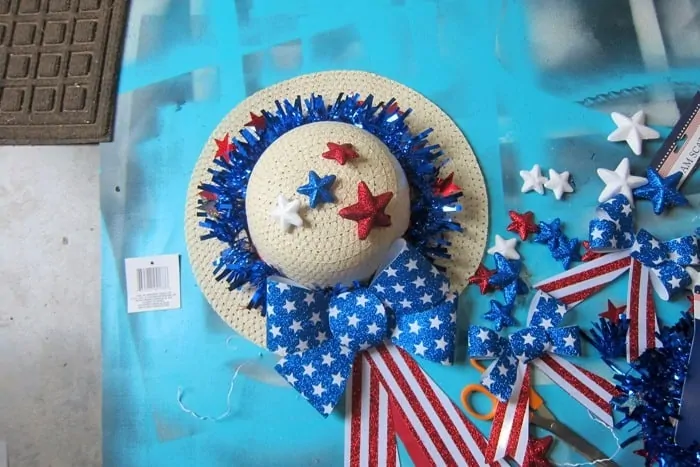 This is the point where I couldn't decide what else to add to the wreath. Do I put a few stars on the crown of the hat? No, I didn't really like that idea.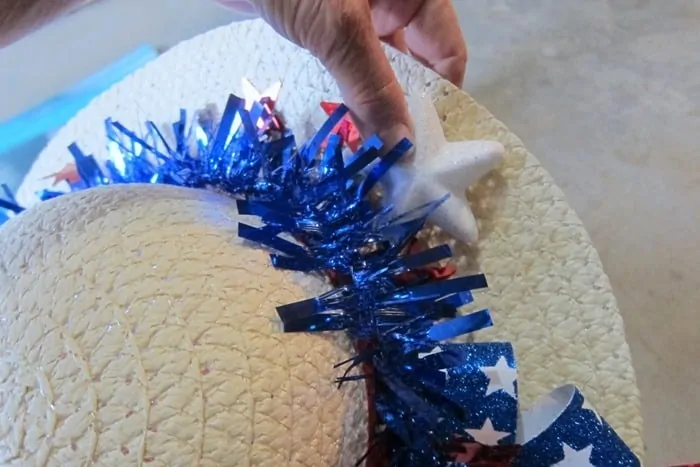 I decided to just add a couple of stars to the brim in random places. The garland included red stars and I didn't want to overdo it.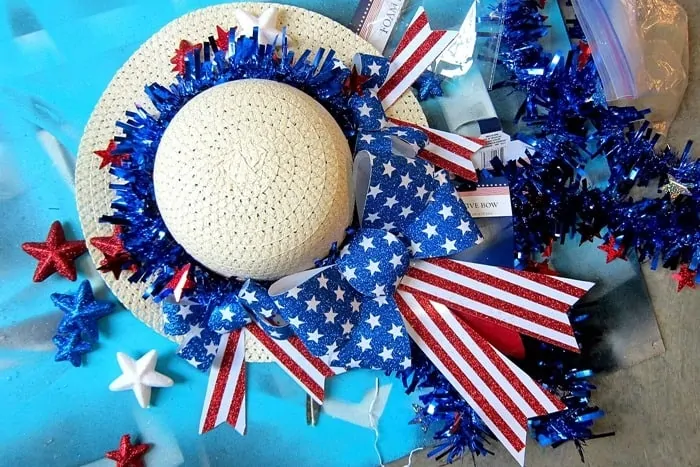 That still didn't do the trick so I decided if one bow was good then three bows was better. I added the two small bows from the Dollar Tree to either side of the big bow. When I was doing my shopping I wasn't sure if a  big bow or a small bow would look best on the wreath so I bought both. See, it worked out.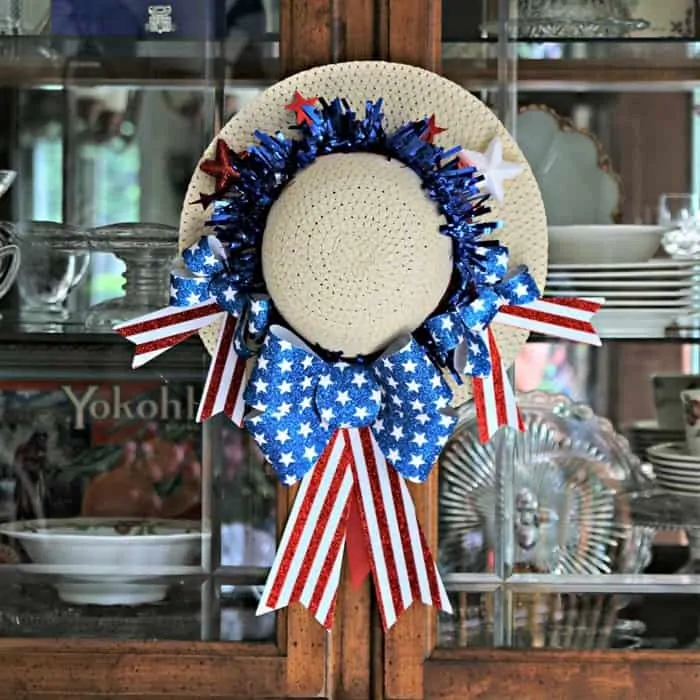 Did you know there are other places to hang a wreath besides on the door? I like to hang wreaths from the two cabinet door knobs on my China cabinet. They look nice hanging on the front of the glass China cabinet doors.
This wreath looks pretty good hanging on the foot board in the guest bedroom with the navy and red color scheme. You guys know we've painted 3 bedrooms and totally redecorated them over the past year right?
Well, I do still need that one piece for the master bedroom and I think I found it. Not what I had in mind but I think it's going to end up being perfect. I'm working on the makeover now so stay tuned.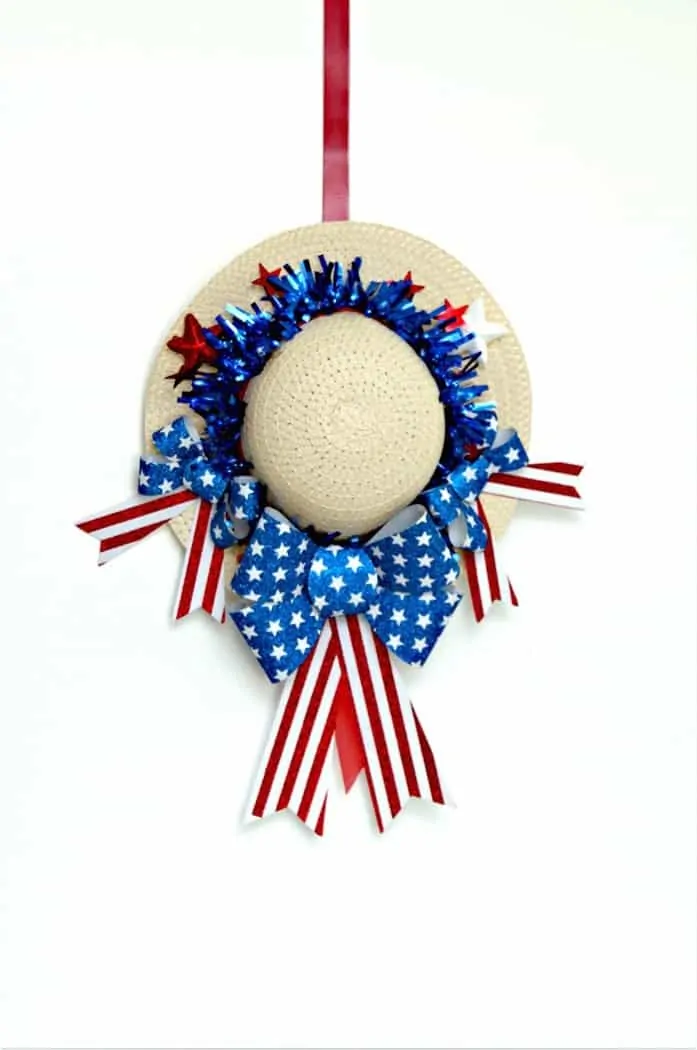 Of course the wreath also looks great hanging on a white door. The wreath is budget friendly. All of the supplies were $5 plus tax and of course I had some supplies left over. Best thing is the wreath will be easy to take apart when the holidays are over (maybe after Labor Day) and I can reuse everything.
What do you guys think? Leave a note if you have time and be here tomorrow for a budget makeover on my bar stool and a diy wall decor. Thanks, Kathy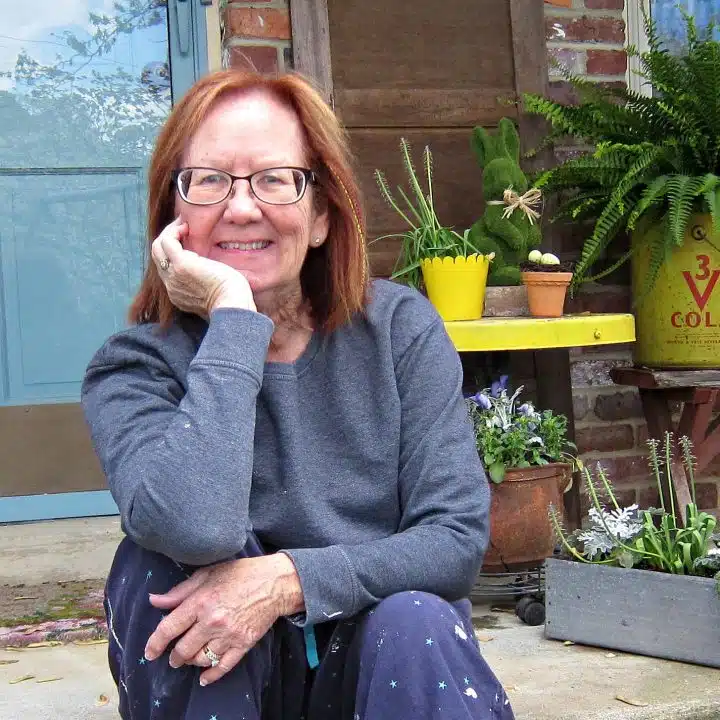 Author: Kathy Owen
Kathy Owen is the founder of the home decor blog Petticoat Junktion where she shares tutorials on painting furniture and upcycling thrifty finds into unique home décor. Her DIY projects have been featured on the Home Depot Blog, Plaid Crafts, Behr Designer Series, and in numerous magazines. Kathy's newest website is HappyHomeDIY.com