Put On Your Big Girl Panties (or Big Boy Boxers)
Yep, I said it. Time to put on your big girl panties. I'm putting mine on and challenging myself to be in front of the camera more and to make "in the moment" furniture painting videos. I think these would be a big help to the beginning furniture painter. I just need to bite the bullet and do it.
I challenge you to challenge yourself too. It doesn't have to be painting furniture, it can be anything. What have you been putting off or wanting to do but were afraid to do?? I started to title this post "Put On Your Big Girl Panties' but I didn't want the email to get sent to your spam folder.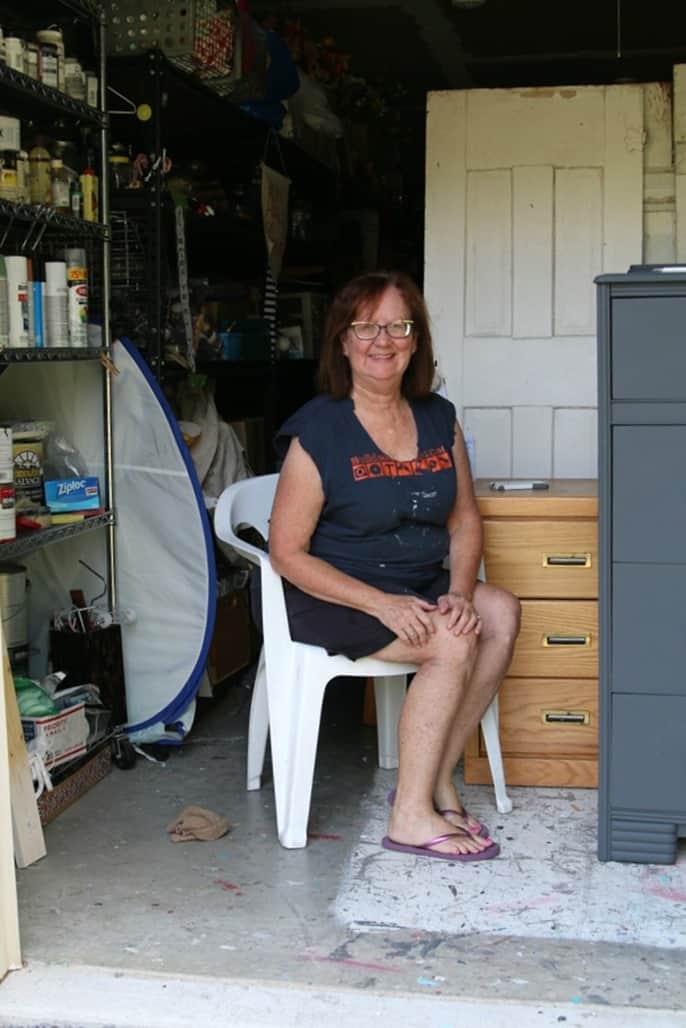 Challenge
Here I am in front of the camera. I have on my paint clothes. I take the scissors to my work clothes quite often. I turned this short sleeve crew neck t-shirt into a sleeveless v-neck. The shorts were once long loose cotton pants. Now they're shorts. Call it ………..Scissor Stylin'.
I returned home from 9 days in Arkansas and went straight to the workshop after unpacking. I needed some DIY time. This post is going to cover several random subjects……a furniture paint project, auction buys, why this challenge is just the first of many to come for me, private thoughts, family stuff, etc.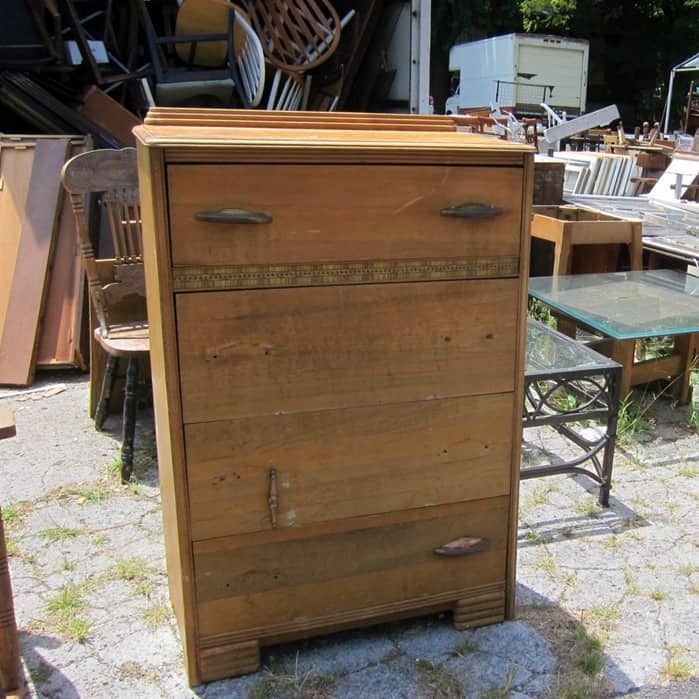 I bought this sad piece at my fav junk shop. You may have seen it in my post from last week. The price was $25.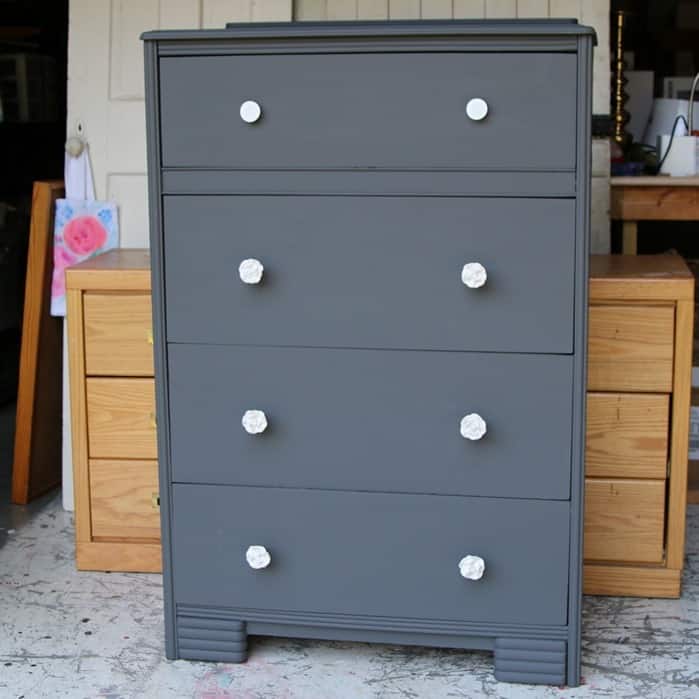 I painted it gray and added the new white knobs. The chest of drawers was finished before I went to Arkansas. I didn't like the look then and I didn't like it when I came home. It's in the process of being repainted. I may not like the new color, who knows. Don't be afraid of paint. It is the easiest thing to change.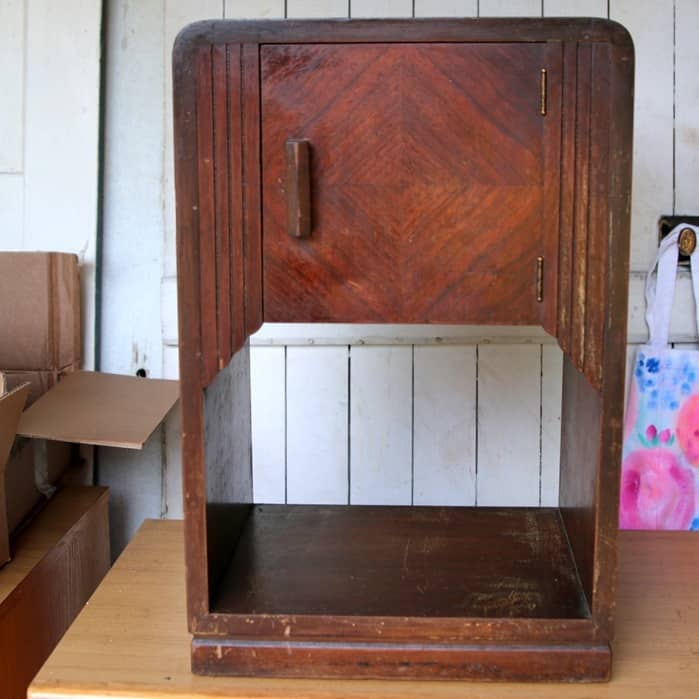 I bought the Art Deco nightstand at the auction for $12. The makeover is all done. What do you think I did with it? Refurbish or Paint?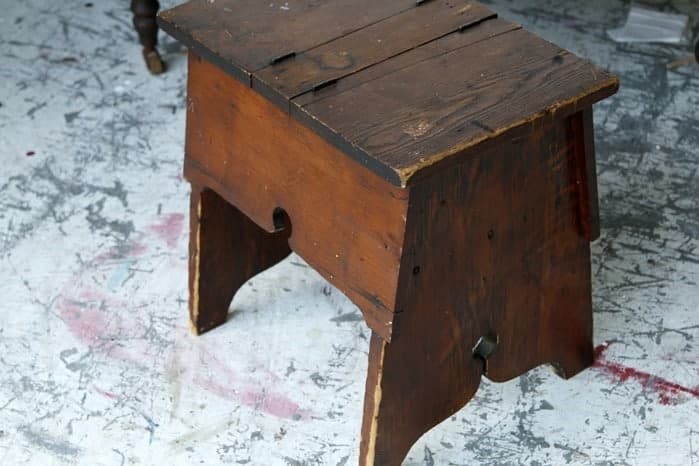 I bought the vintage wood shoe shine box at the auction too but it cost me $30 including the auction fees. I bought it to keep for myself. Want to guess weather I painted or refurbished?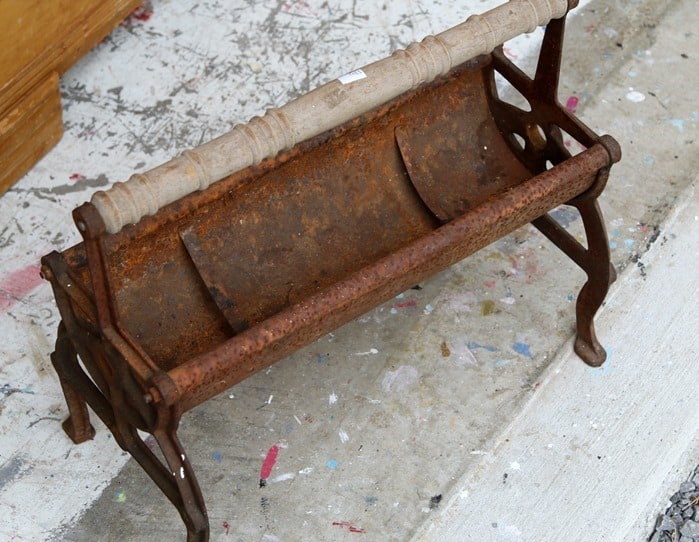 The rustic cast iron paper log roller (missing the center part) was too cool to pass up. I bought it at auction but can't remember the price.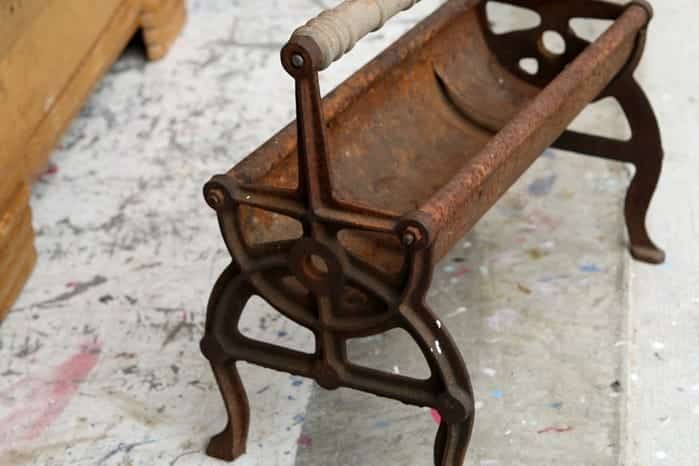 Look at all that iron and wood goodness. I plan to clean it up and maybe display little white pumpkins in the Fall. It's definitely a keeper.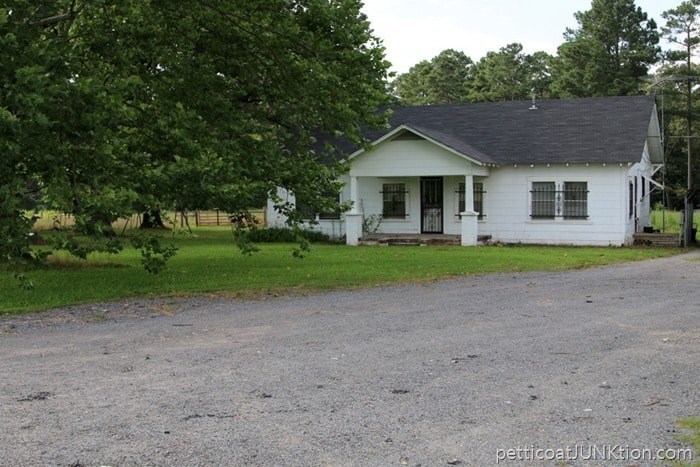 The photo above shows my Grandparent's home. It belongs to my cousin now and she is in the process of remodeling it for her son.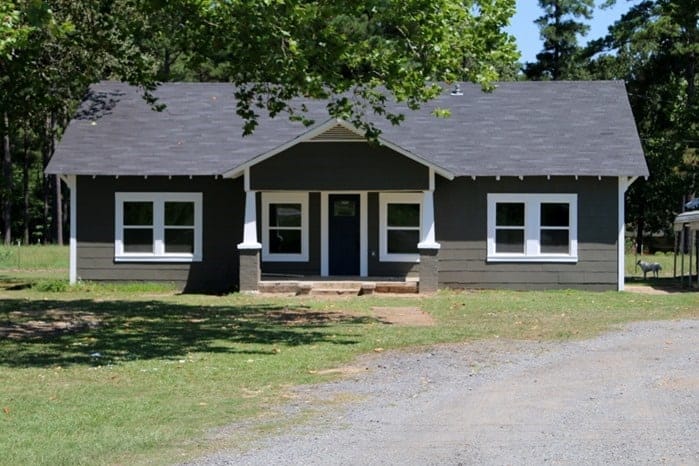 The house is still a work in progress but the outside is almost completed. I will share a few photos I took inside the house maybe next week. I don't think my cousin with mind. I'm so glad she is breathing new life into the house.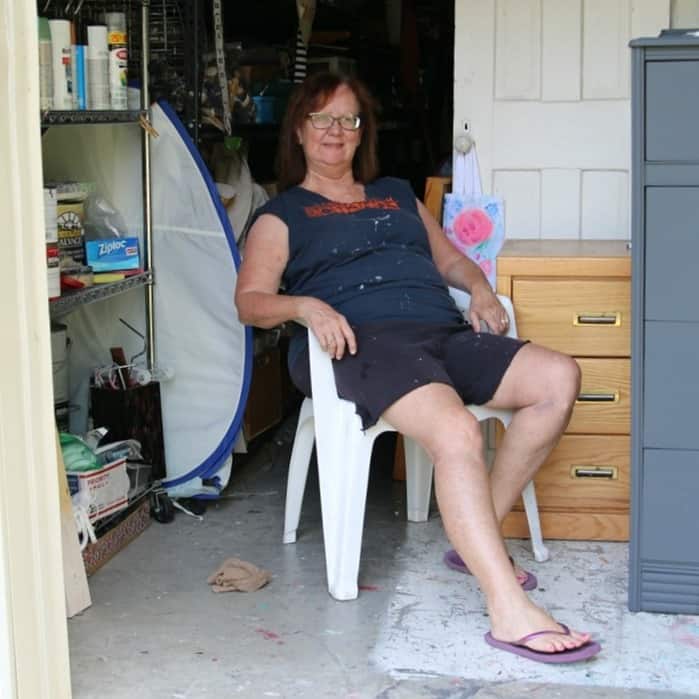 Another photo of me chillin' in the workshop. This morning I have a long overdue hair appointment. I think I'm going short….and the pink will be back.
This past year or so the projects and blog posts have been a little longer in coming. You guys have probably noticed. Life got in the way. You know that my Mom has Alzheimer's and my Dad had surgery for a ruptured appendix in February. I spend as much time with them as I can. What you don't know is that our family has lost loved ones this past year. The heartbreaking stories are personal and not mine to tell.
I'm spending time with family, saying no, saying yes, helping others, trying to be better, new goals, updated bucket list. Time is short. Put on your big girl panties and take the first step in your challenge weather it is something small or something earth shattering. Don't wait.
If you're new around here you can find out more about me and my family here....Kathy, Petticoat Junktion.
See you guys tomorrow. Thanks for being here and have a great day, Kathy