Farm Fresh Wood Chest
My farm fresh stencil finally saw some action. I've been looking for the perfect piece and finally found it. Now I have a yellow farm fresh wood chest that makes a great flower display.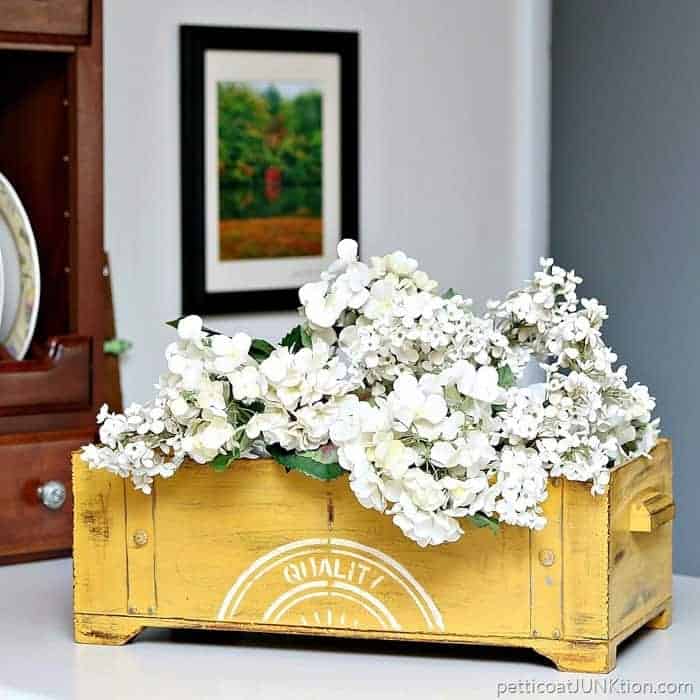 Farm Fresh Wood Chest
I stenciled  "Quality"  on one side of the little topless wood chest and "Farm Fresh" on the opposite side. The chest was a thrifty find and today is Thrift Store Decor Day.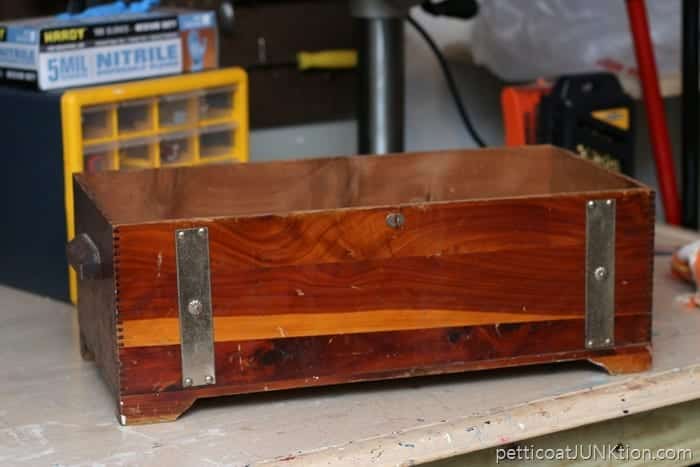 Some of you may give me a hard time for painting the cedar. I've had the chest for a while and used it in various displays around the house. I tried to sell in in my booth but apparently no one wanted it. I even put it on sale. Still no bites. Time to paint.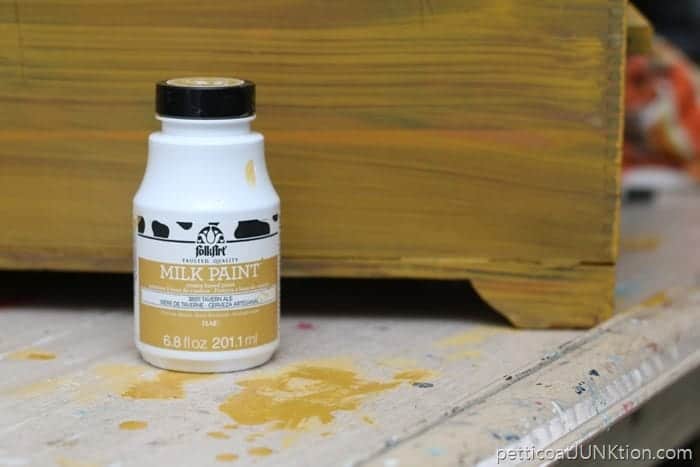 I used FolkArt Milk Paint in Tavern Ale for the finish. This photo shows one coat of paint.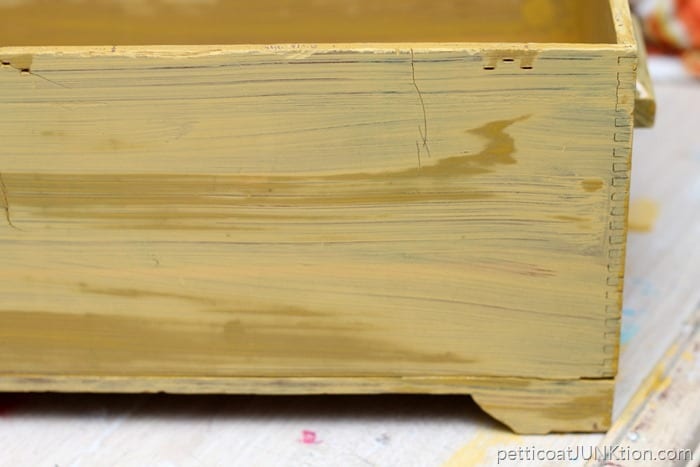 Two coats of paint. The darker areas is where the paint is still wet.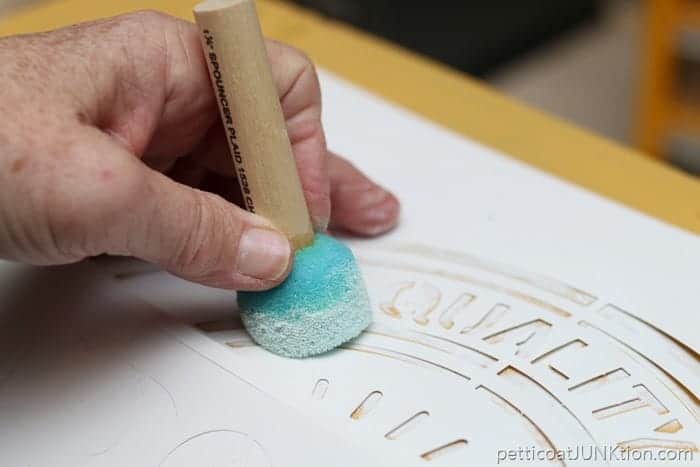 Once the paint was dry I used FolkArt Wicker White acrylic paint and a foam pouncer to stencil the designs.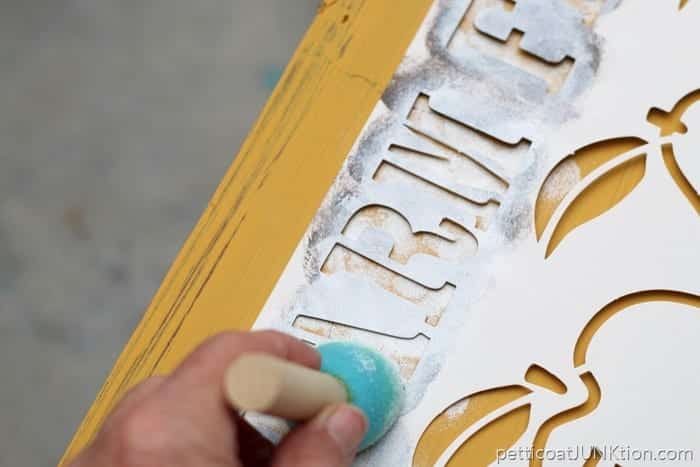 Stenciling is sooooo easy. Just remember to use a really, really, dry brush.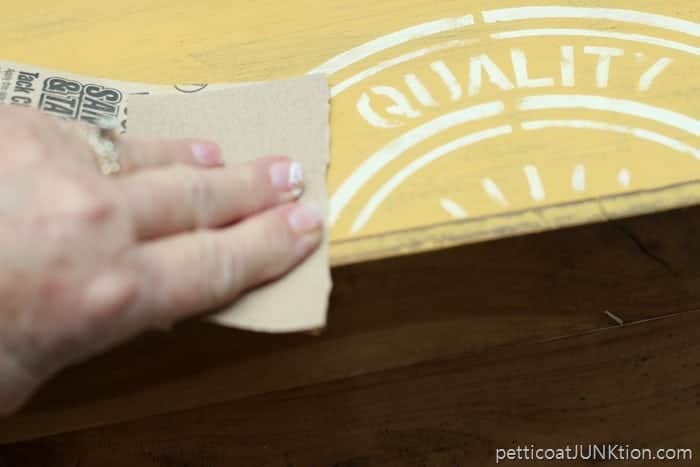 A little light distressing over the stencil and the whole chest makes the look perfectly imperfect.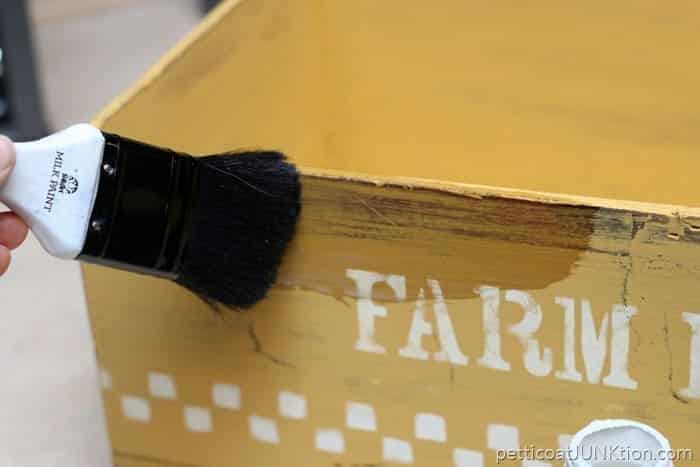 The milk paint  can be left flat or sealed. I decided to seal the finish. The FolkArt Bonding/Sealer gives the paint a deeper, richer look.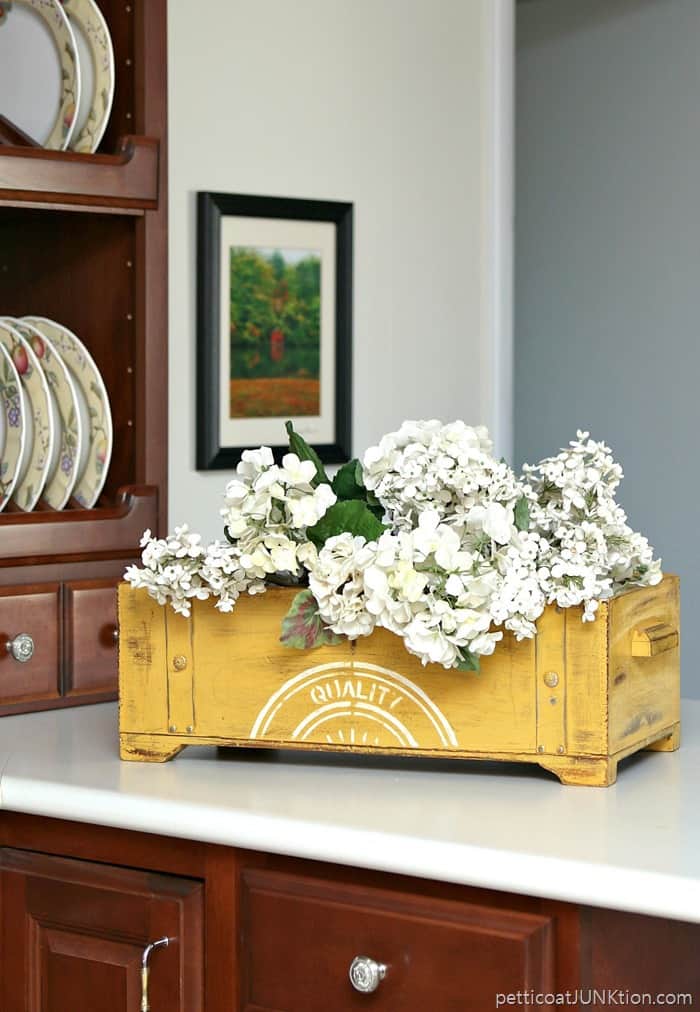 I added  faux Hydrangea stems to the chest. I'm soooooo ready for Spring.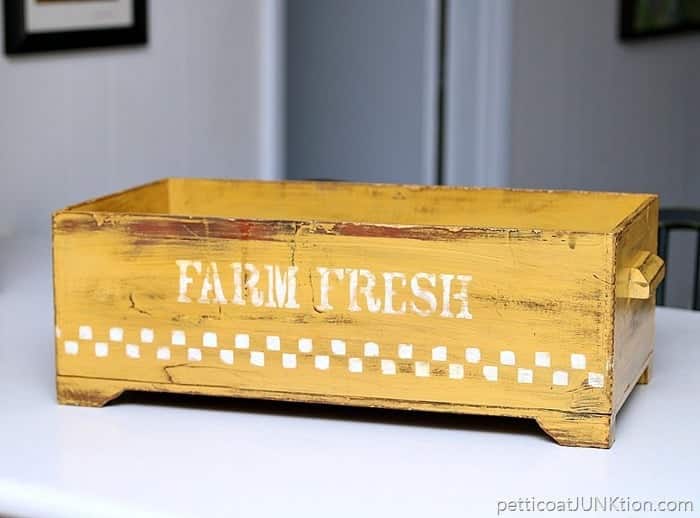 Farm Fresh Stencil Project
I bet you thought I was teasing about the Farm Fresh. It's on the opposite side of the chest. The border below the words was the finishing touch.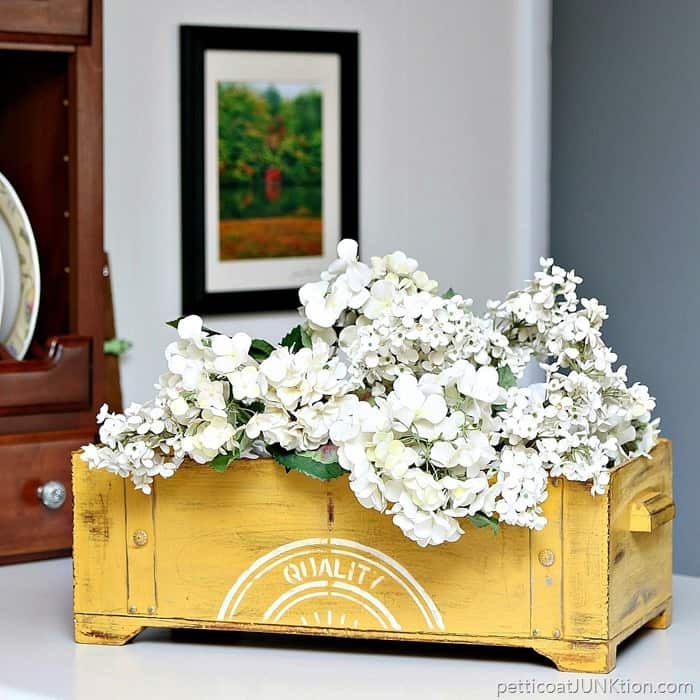 The yellow chest full of flowers makes me smile. I'm glad the chest didn't sell.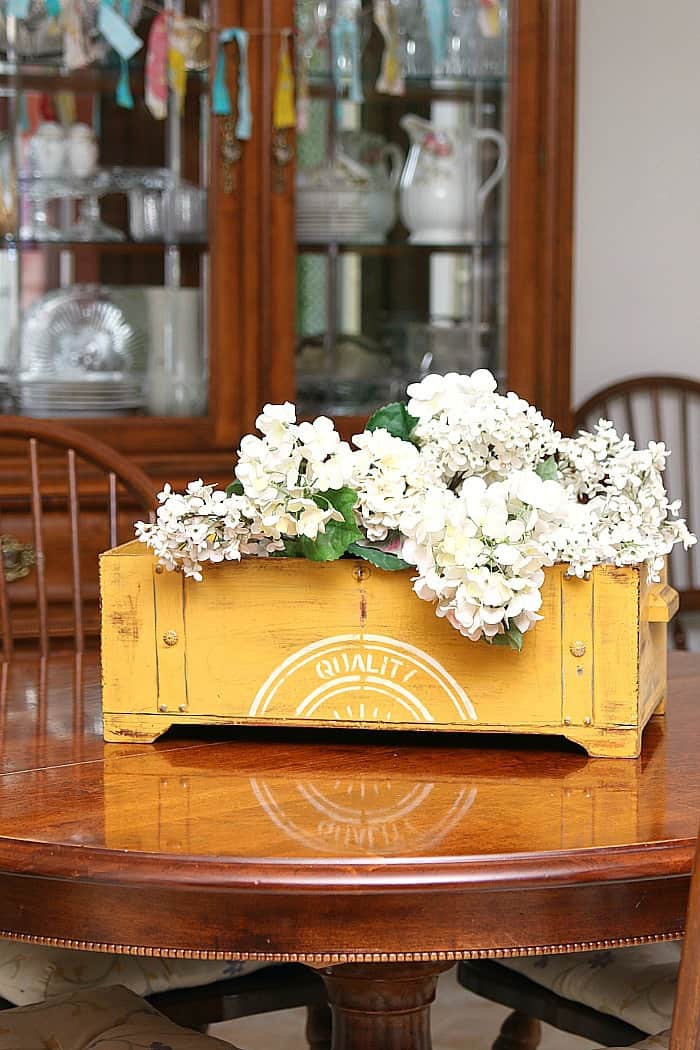 I'm going to hold on to it for a while. The flowers and stenciled chest look great on the dining room table.
Products used in this project:
FolkArt Milk Paint – Tavern Ale
FolkArt Bonding/Sealer
26 Piece Stencil Pack
Wicker White Paint
Foam Pouncer
Products unavailable in your area can found on Amazon. (Affiliate links are for your convenience)
Now you have to see my Farm Fresh Stenciled Cow by clicking here!
You guys ready to take the Thrift Store Decor Tour? Click the pink text links below the collage of before photos to see the finished projects.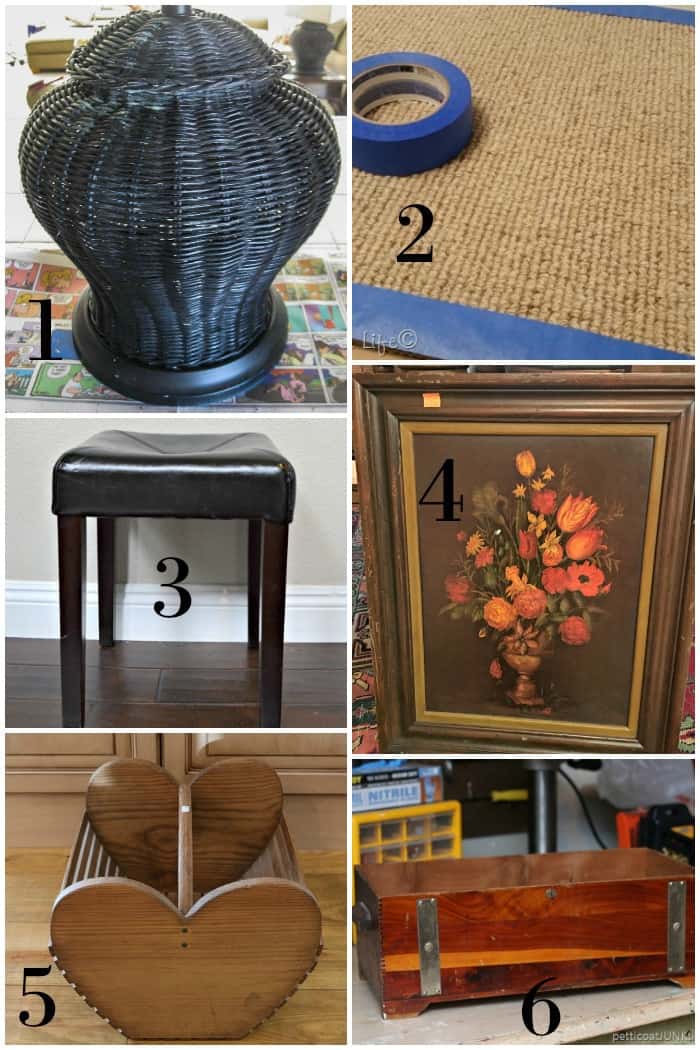 1. Rattan Lamps – Domestically Speaking
2. Easy Spray Paint Welcome Mat – My Repurposed Life
3. Painted And Upholstered Stool – My Uncommon Slice of Suburbia
4. Chalkboard Wall Art – Our Southern Home
5. Repurposed Farmhouse Tote – Refresh Restyle
6. Stenciled Wood Chest – Me
Be sure and check the post on Sunday. A few of my blogging friends are joining me in a craft supply giveaway. Yea! Have a great day.