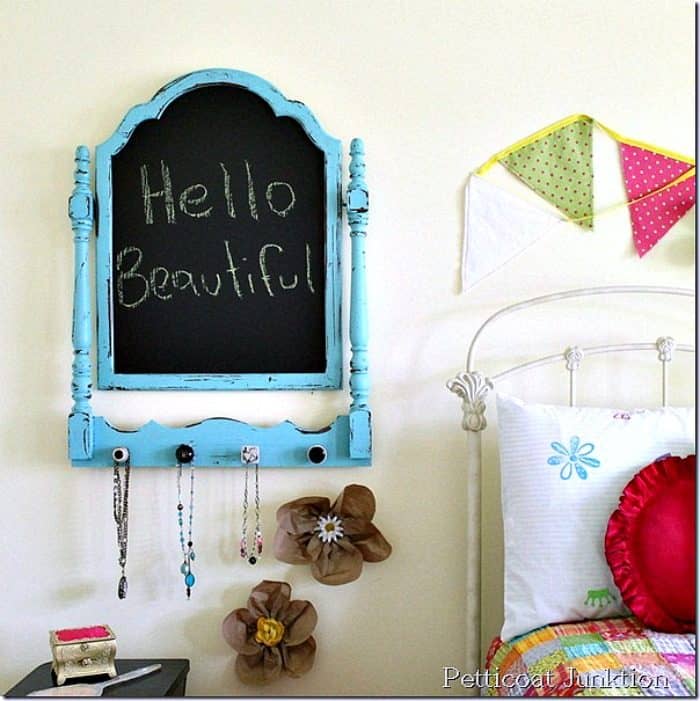 Turquoise Chalkboard Craft Project
You can't go wrong with Turquoise. I mean, turquoise goes with just about everything.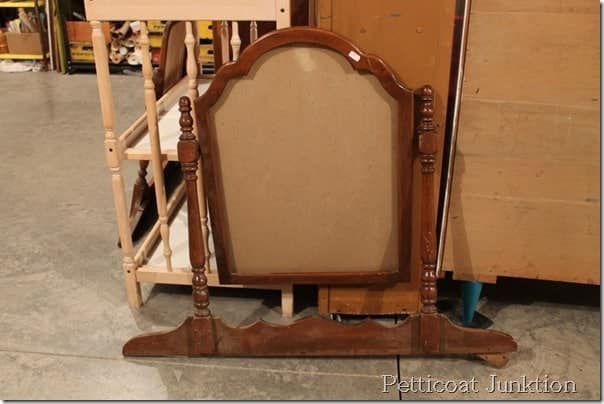 This vintage mirror dresser topper came from My Favorite Junk Shop. It had the cardboard backing but the mirror was gone.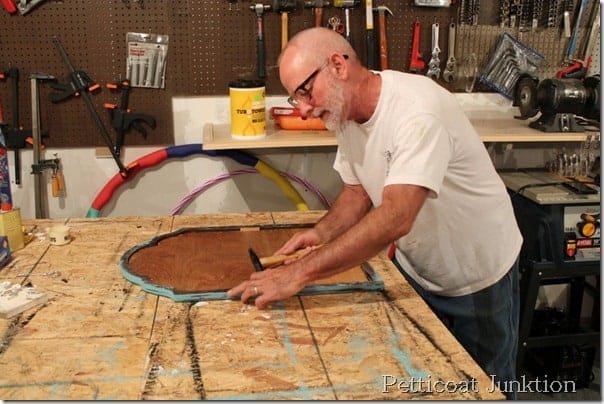 The Junktion Technical Specialist(aka hubby, aka The JTS)  cut a piece of board to replace the mirror and he also cut the two long ends off the mirror stand.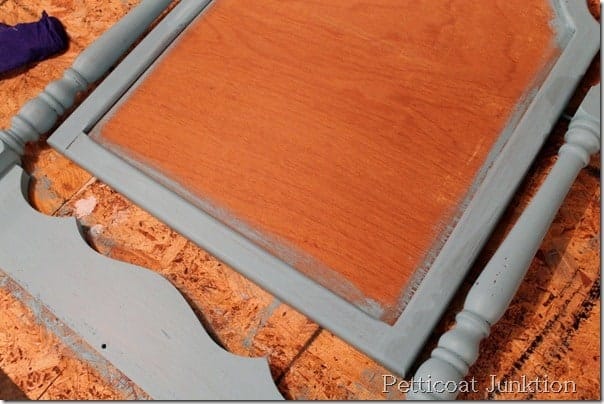 I painted the frame with turquoise paint that I mixed myself. I love combining paint colors I have on hand to make a brand new never before seen color!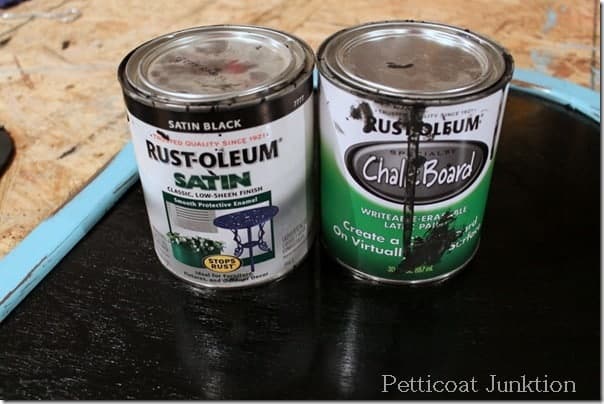 Now for my duh moment. This is the project I was preparing for Salvage Saturday but it wasn't ready in time to take pictures and do the post. Here's why….. I painted a thick coat of chalkboard paint on the wood Friday morning and waited for it to dry, but it stayed tacky for hours and hours! So the next day it was dry but it was really shiny, hum. We decided to have a fun day Saturday so the JTS and I drove up into Kentucky. You know, sometimes in the back of your mind….maybe in your subconscious….a little bell goes off…..ding,ding,ding. I wonder if I used oil based black paint instead of chalkboard paint? When we returned from our day trip I went out to the workshop and sure enough I had used black oil based paint instead of the chalkboard paint, duh! That's what happens when you just grab and go. See the picture above, the cans do look similar. I haven't used that can of oil based paint in years but I guess when I re-organized the workshop it got shifted to the front.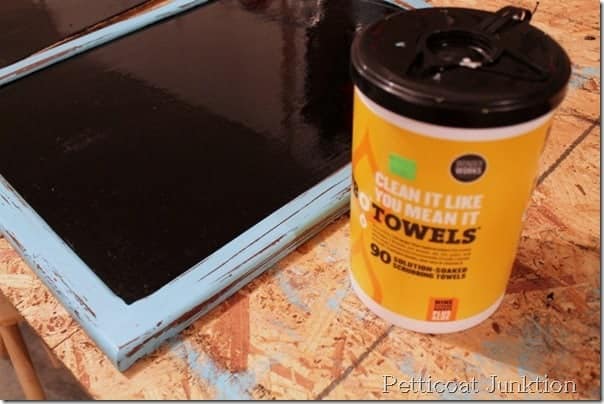 I repainted with the chalkboard paint and then I distressed the turquoise frame by the wet method. I used the wet shop towels and rubbed the paint off. You have to do this just after the paint dries. Don't wait too long.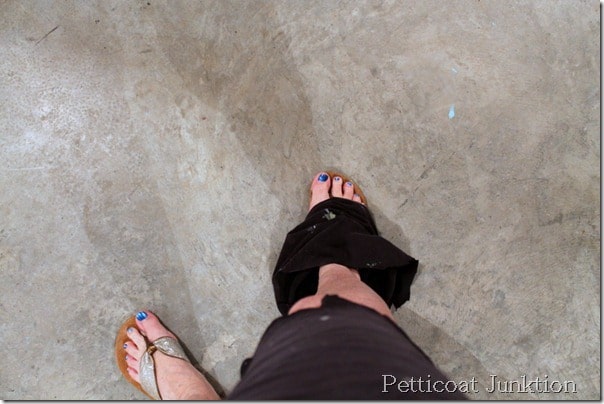 This is what happens in the workshop when I break into a sweat from hard work. I take a pair of scissors and attack my work pants. That's one way to cool off. The JTS just looked at me like I was crazy.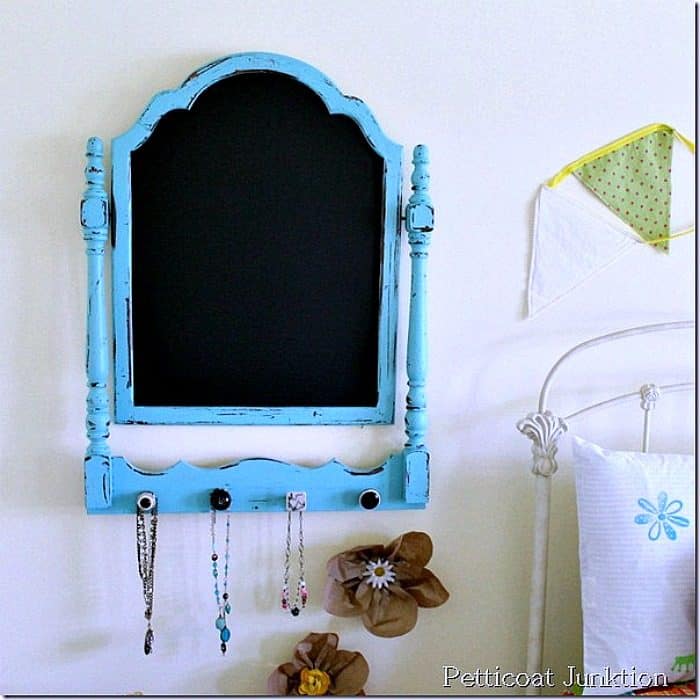 The turquoise chalkboard craft project is hanging in the granddaughters bedroom at our house. Looks great with those cute little necklaces hanging from the knobs.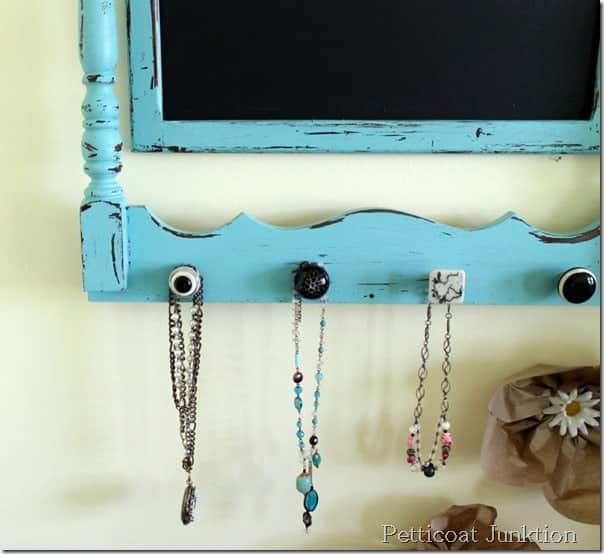 The cute little knobs for hangers came from Hobby Lobby. I drilled holes in the frame for the knobs. Easy.
This craft project is really simple, and quick, if you don't mess up and use the wrong paint. Have you had a similar "duh" moment. Please tell me it's not just me!