I gathered a few junky stuff from my hoard and turned a paddle ball racket into a Rudolph The Red Nosed Reindeer Christmas Wreath. Mod Podge Extreme Glitter is responsible for making the wreath all sparkly.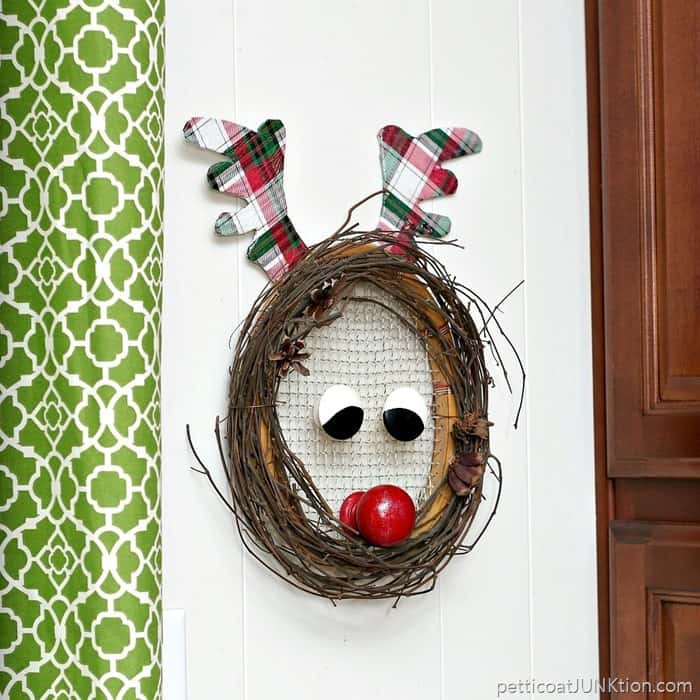 Rudolph The Red Nosed Reindeer Christmas Wreath
Isn't he just the cutest. Rudolph was fun to put together. The eyes are wood furniture knobs and the nose is a finial. You just never know when parts and pieces are going to come in handy.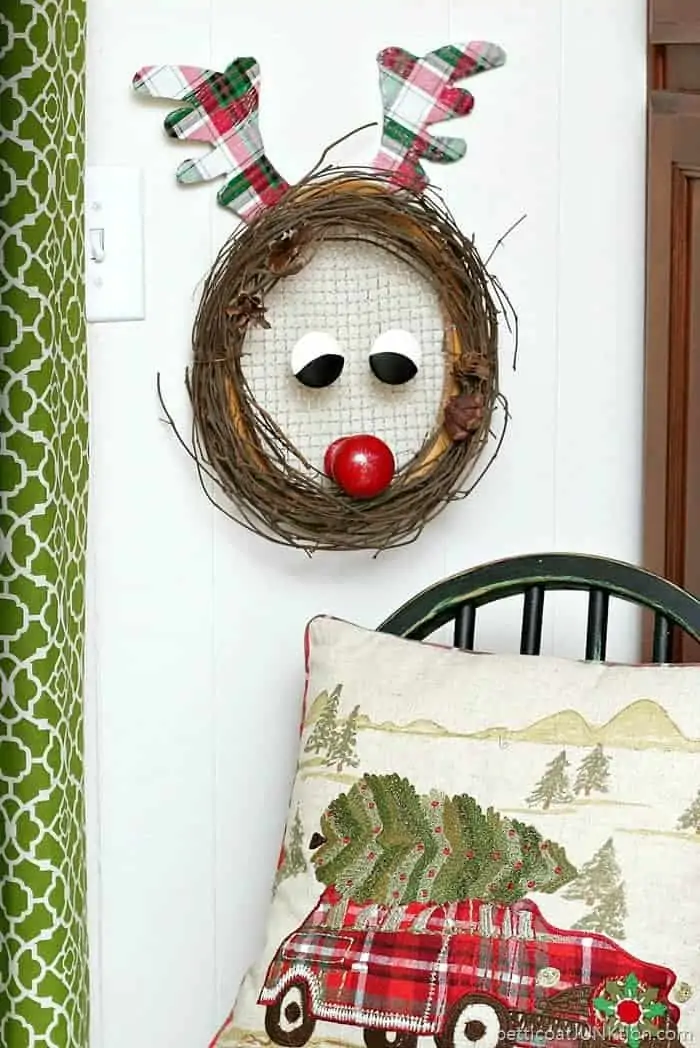 The horns are made of decorative paper mod podged onto cardboard.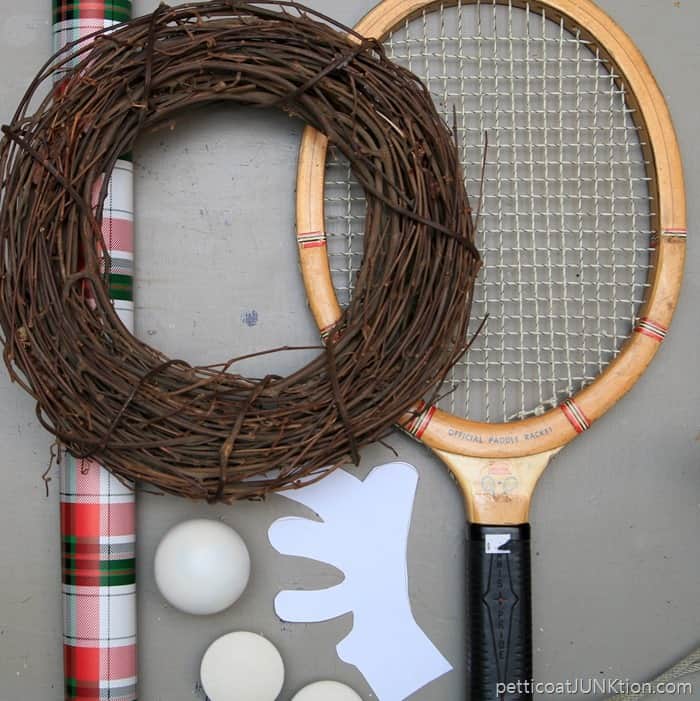 Wreath Supplies
How To Make A Reindeer Christmas Wreath
All the parts for the wreath were in my junk stash except for the roll of plaid paper. It came from the $1 bin at Michael's. I bought the paper a few months ago with no particular project in mind. The colors and design were calling my name.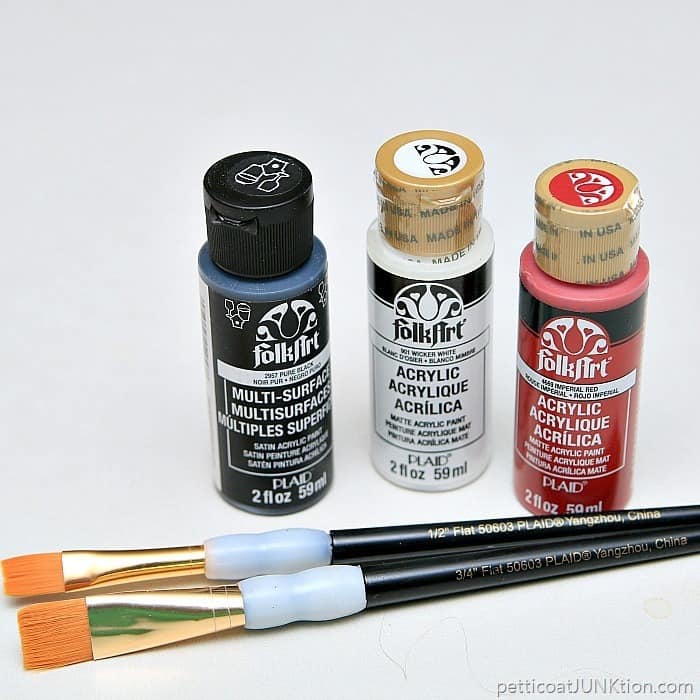 FolkArt Acrylic Paints and FolkArt Brushes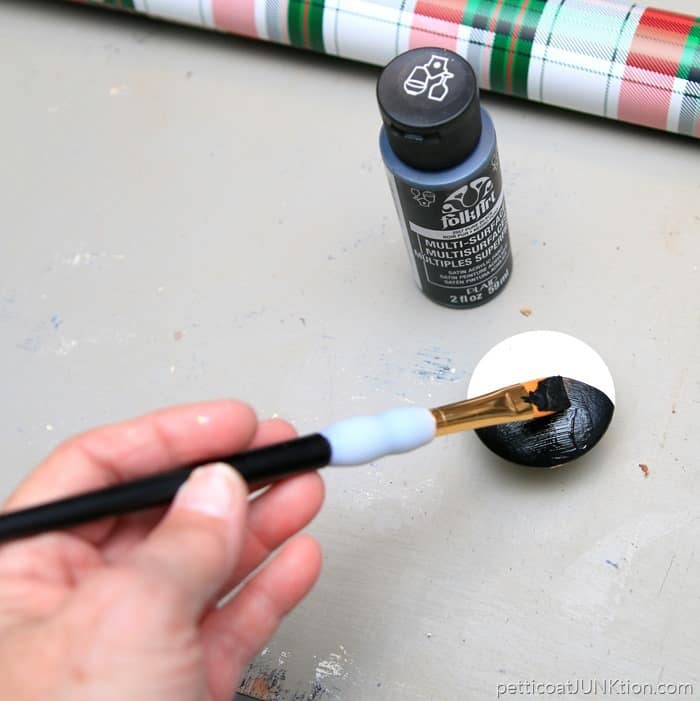 I painted the wood knobs with FolkArt Acrylic paint, color Wicker White. The eyeball color is Pure Black.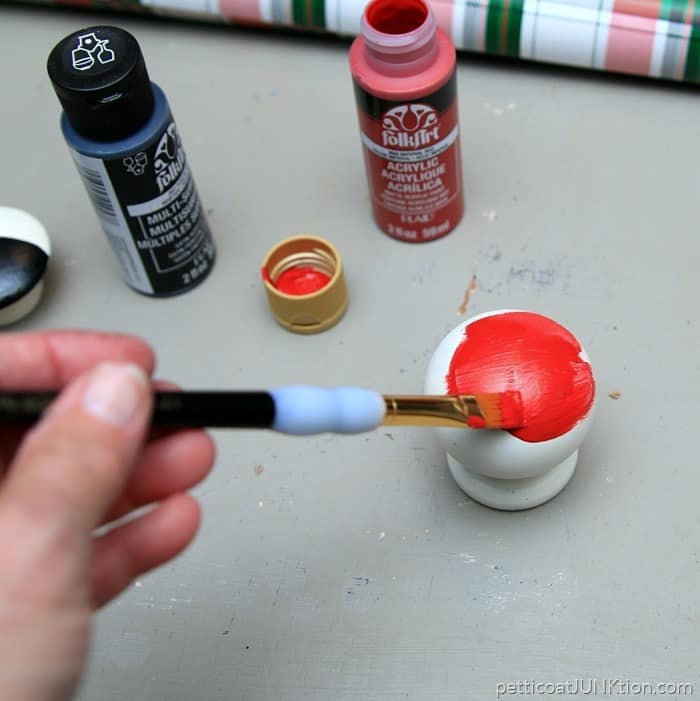 Rudolph's nose is Imperial Red.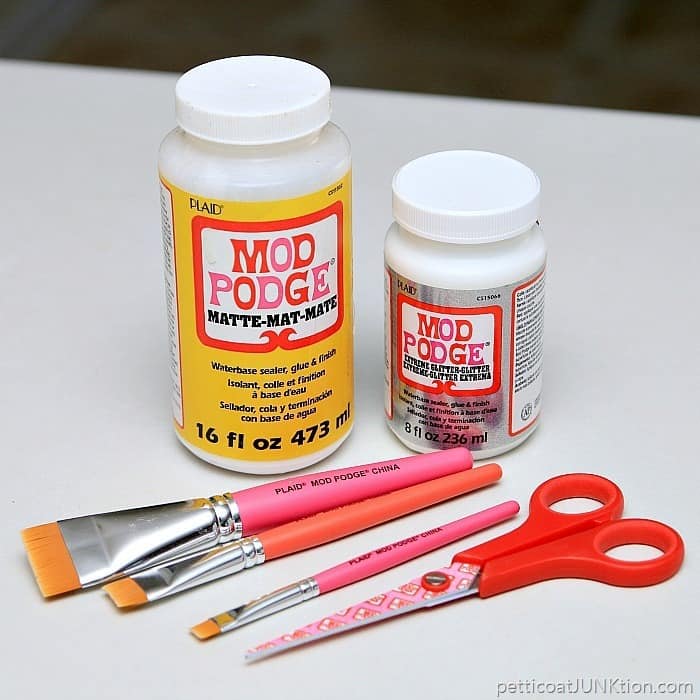 Mod Podge Matte and Extreme Glitter Formulas and Mod Podge Tools
Next comes the sparkly part. Did you know Mod Podge comes in an Extreme Glitter formula? Right up my alley. The Mod Podge brand color combination is so pretty…..orange and pink…..hello….Petticoat Junktion colors.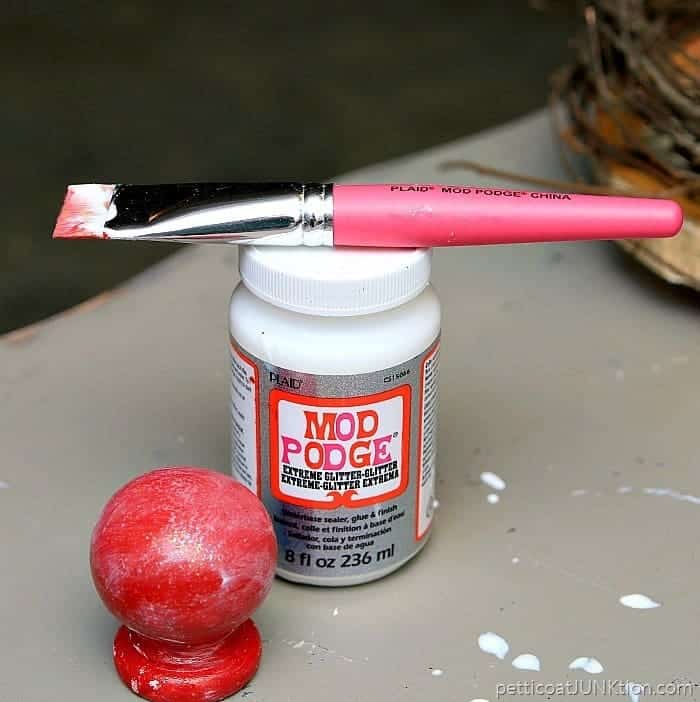 I applied one heavy coat of Extreme Glitter Mod Podge to Rudolph's nose.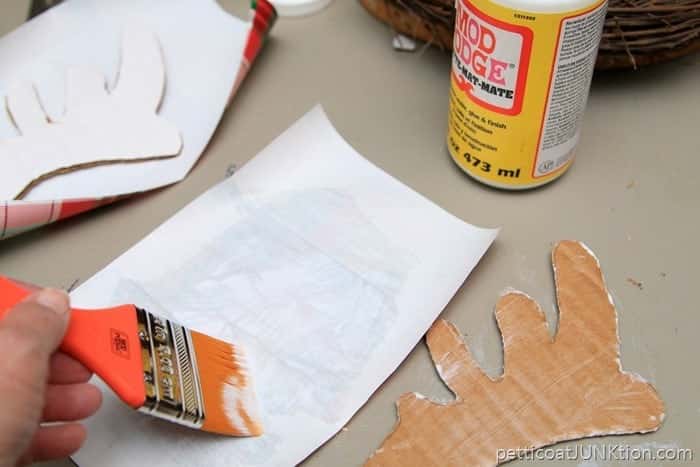 I made a template for the horns and cut two horns from cardboard. Next time I'll do things a little differently. I should have Mod Podged the plaid paper to the cardboard then cut out the horns. Instead I cut the horns out and adhered the paper to the cardboard using Matte Mod Podge….then trimmed the paper around the horns. In other words, I did the job the hard way.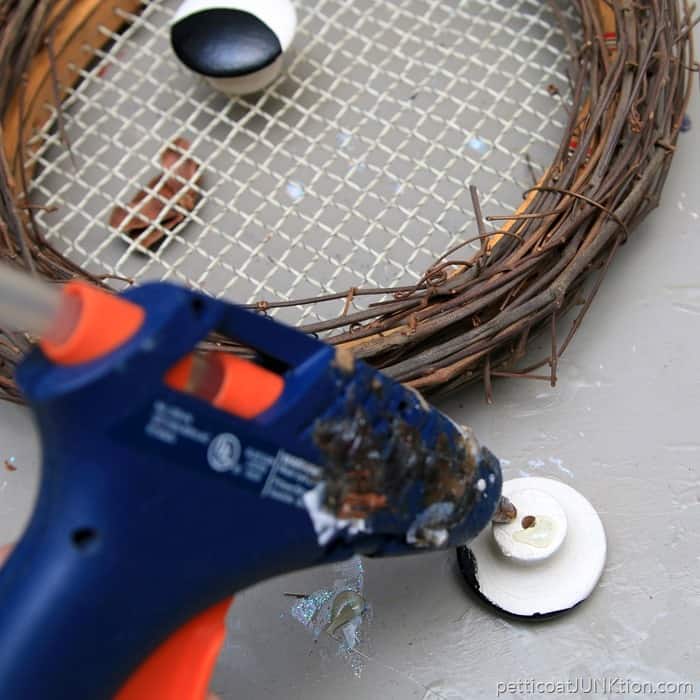 The JTS (aka Junktion Technical Specialist, aka hubby) cut the handle off of the paddle ball racket for me. He's sooooo handy.
The grapevine wreath was wrapped really tightly. I cut the outer vine holding the wreath together then pulled and stretched on the vines until they fit the shape of the racket. I used wire to attach the grapevine to the racket. After the painted and Mod Podged parts were dry I hot glued them in place.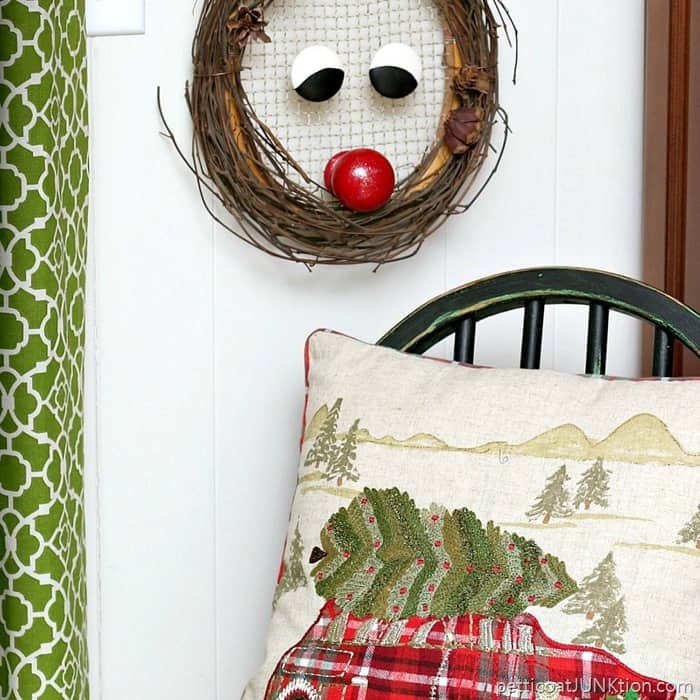 He's so darn cute. I'll move Rudolph to the mantel when I start decorating for the holidays.
Rudolph The Red Nosed Reindeer Christmas Wreath
Supplies used in the Rudolph project:
Mod Podge - Matte and Extreme Glitter Formulas
Mod Podge brushes
FolkArt Acrylic Paints - Imperial Red, Pure Black, Wicker White
FolkArt paint brushes
Plaid Design paper from Michaels
Racket, Grapevine, Recycled Items
Check out my Nutcracker Soldier made from Vintage Wallpaper here.
See the repurposed Gumball Machine here....Gumball Winter Snow Scene
What do you think of Rudolph? I can't wait for Sofi to see him. Kids are so much fun, especially during the holidays.