I don't do much decorating for Easter but a vintage globe light fixture inspired me to create a cute little Easter display. I also upcycled mason jars into candleholders decorated with ribbon and filled with shredded Easter grass and LED lights. And for those of you who like to work with new craft supplies just wait until you see the stenciled terra cotta pot filled with Easter stuff that makes a really cute centerpiece.
Easter Projects
Use these ideas and make them your own. Maybe you have similar items to work with at home or can pick a few things up at the thrift store or junk shop.
Upcycled Light Fixture Easter Projects Centerpiece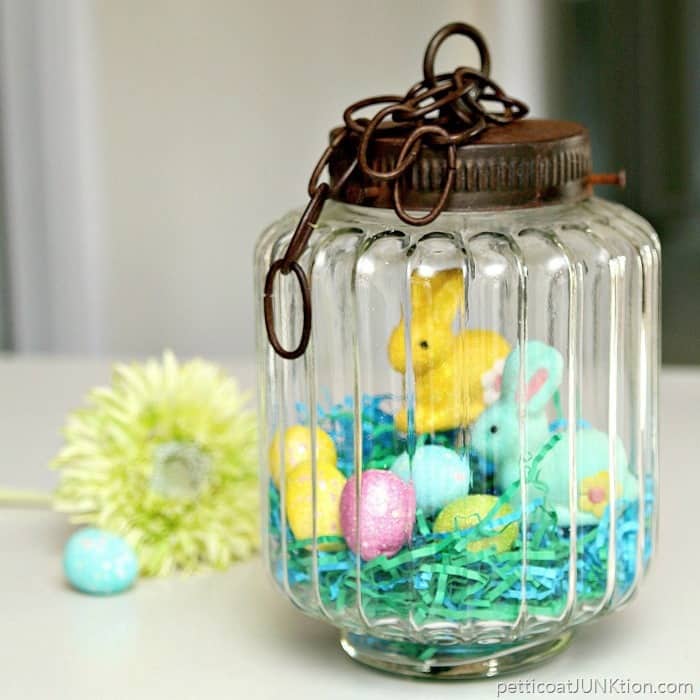 How about all that color and a bit of sparkle too. The shredded grass, eggs, and bunnies definitely say Easter but you could also toss other things into the old light fixture when Easter is over. The display ideas are endless.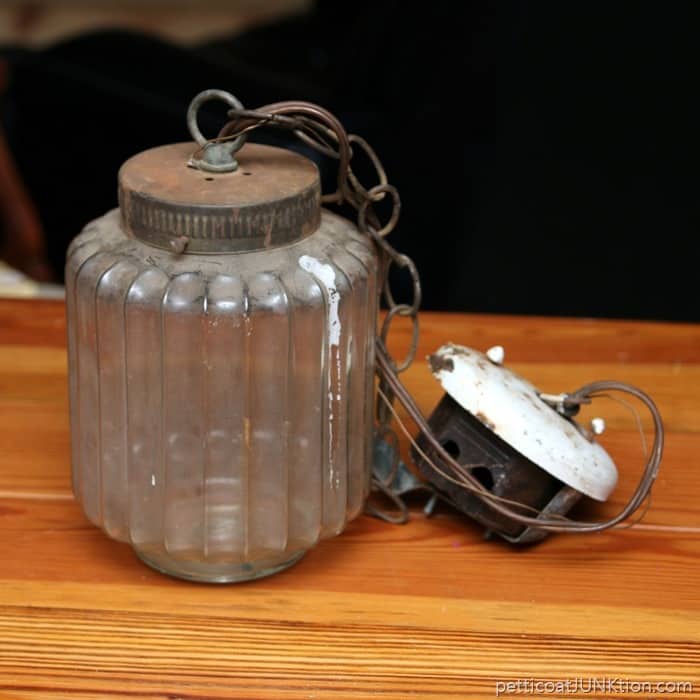 I found the hanging light fixture at a new thrift/junk shop a few months ago. At least the shop is new to me. It could have been there for a while because it is in an area of town I don't frequent very often.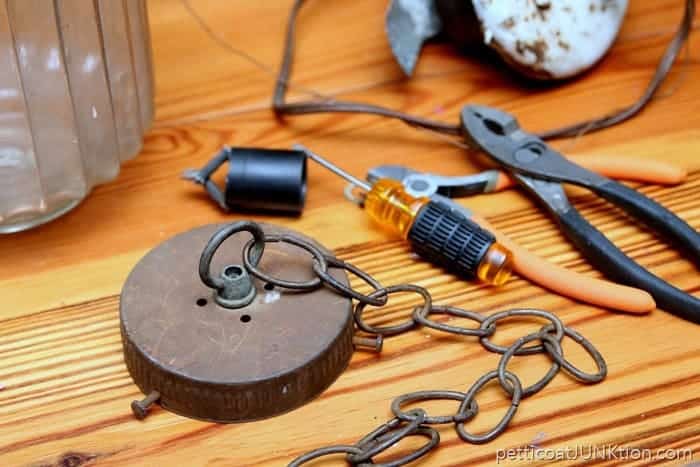 The fixture cost $5 and I thought that was a good deal. I was perusing the junk shelves in my workshop looking for a small project to work on and came up with the fixture. I removed all of the electrical parts from the light fixture using wire cutters and a screwdriver.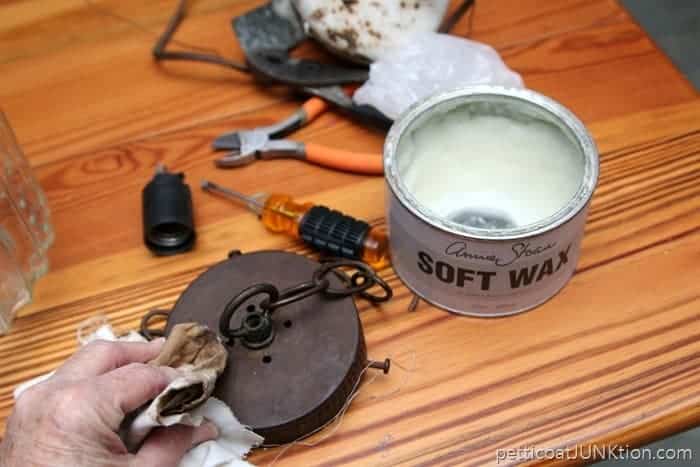 Then I washed the dirty glass globe and applied clear wax to the rusty top and chain. The wax keeps the rusty stuff from coming off on your hands and gives a little shine to the top. I use wax on all kinds of stuff. You need to keep a can in your cabinet. Any brand.
Decorating the Globe
The only thing left to do was fill the globe with colorful shredded paper and a few Easter decorations. I had the rabbits and sparkly eggs left over from the terracotta pot transformation coming up next. Oh yeah, I put a small piece of cork in the bottom hole of the fixture to keep the paper from falling out. I guess the hole once contained a finial? Not sure what they call the decorative piece on the bottom of lights……anyone?
Can you see this reclaimed light fixture holding a solar light? How about a tiny white house and picket fence.
2. Stenciled Terra Cotta Pot Easter  Centerpiece
I spotted the flower pot idea when thumbing through a craft booklet at  Michaels. It was so cute I wanted to make my own. But as happens I veered from the plan in the brochure.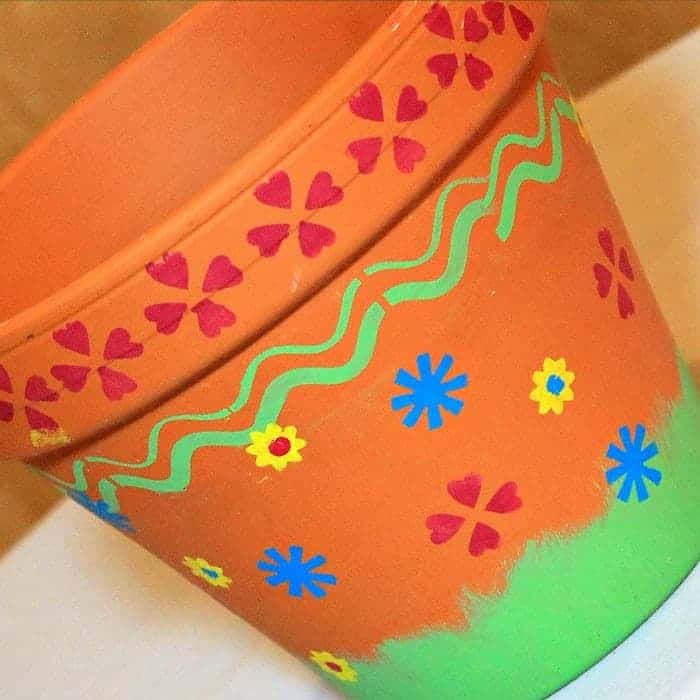 The cool thing about crafting…you can make the project "your own". Get the basic idea from Pinterest, a magazine, me, whatever, and go from there.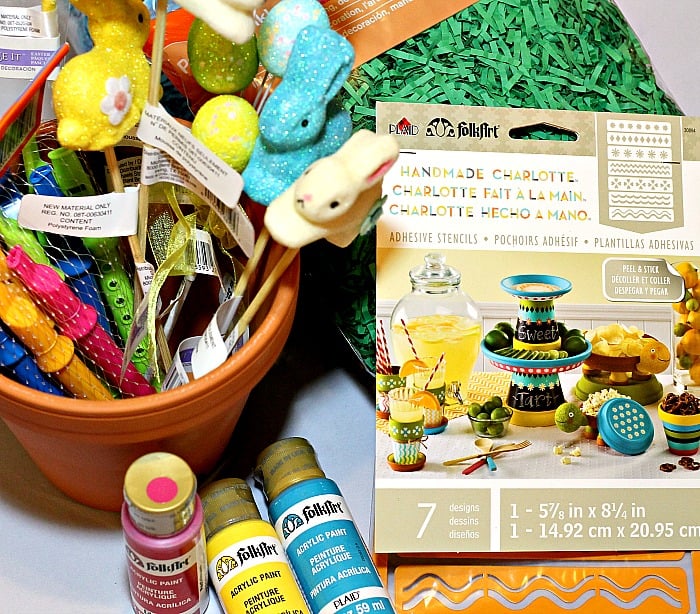 I picked out a medium size clay (or terra cotta)  pot, an adhesive stencil that had smallish flowers and graphic designs, and three bold acrylic paint colors. While wandering around the store looking at stencils and paint supplies I noticed all of the Easter stuff. That's when I decided to do my own spin on the flower pot. I picked out all kinds of things to fill my "Easter Centerpiece Display". I thought Sofi and friends would get a kick out of it.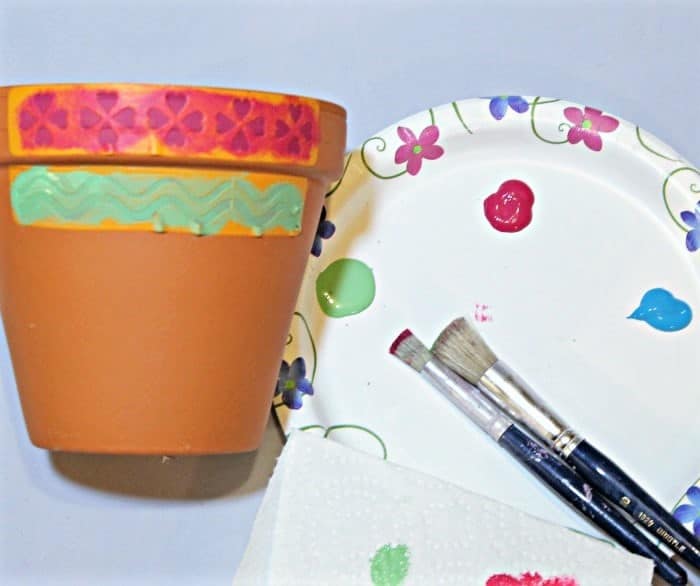 Stenciling The Pot
I half way planned out a design and started applying the adhesive stencils. I poured a small amount of each paint color onto a paper plate and found some stencil brushes in my stash. Time to stencil. The best technique for stenciling is to…..dip the stencil brush ends into the paint…..wipe off most of the paint on a paper towel….make little circles on your stencil to transfer the paint.
When your stencil brush is relatively dry you don't get globs of paint under the stencil. I just hate that! The secret to stenciling is a dry brush.....very, very dry. You can find a complete tutorial on how to stencil like a pro by layering multiple colors here.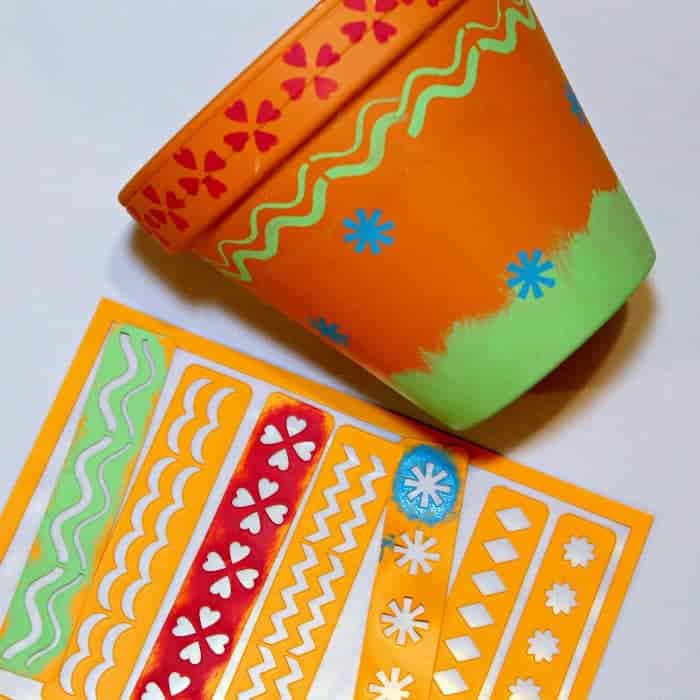 I looked at the pot at this point and decided I needed more flowers. I  didn't want to use the flower design I put around the top of the pot so I decided on the small flower shapes on the bottom of the stencil. To finish off the small flowers I found a pencil with a small round tip and dunked it in paint to add a center to the flowers. (similar stencil here)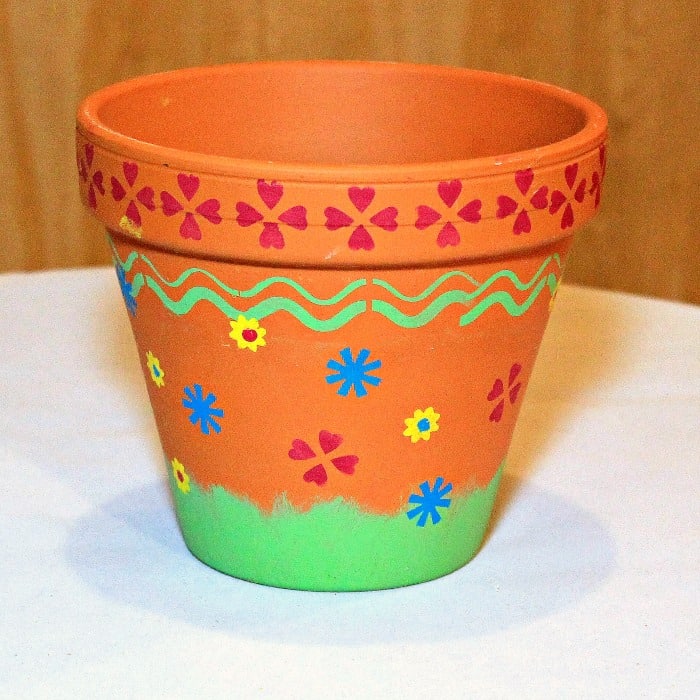 See how nice those little yellow flowers look! I picked out different colors for the flower centers instead of making them all alike. I did add just a few more of the fuchsia flowers as filler. Now the stenciled designs are perfectly random but spaced out nicely. Next I decorated the pot to use as an Easter Centerpiece but when Easter is over I will put a pretty potted flower in it.
Adding The Easter Decorations To The Pot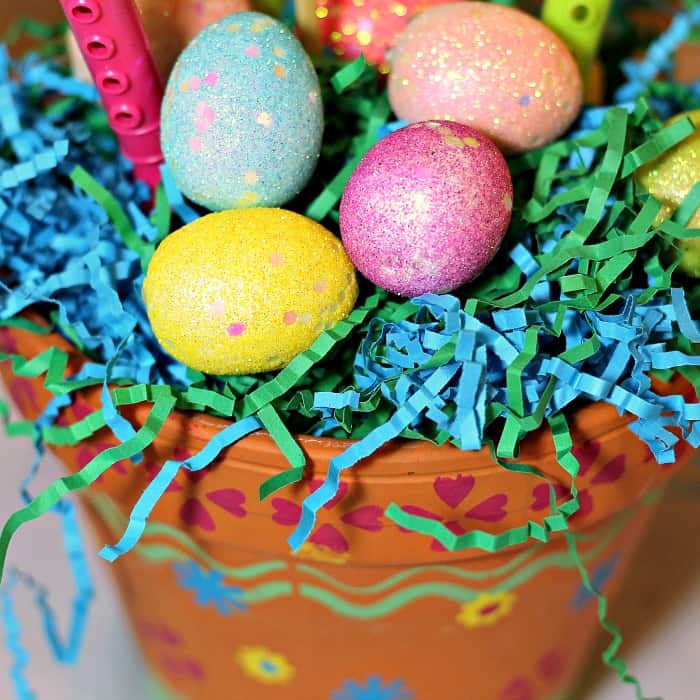 I glued green floral foam to the inside bottom of the terra cotta pot then started placing the Easter decorations.
I started with the paper "grass" mixing the blue and green paper together. Next I placed the  rabbit picks and the kids toy flutes. Then I added the foam eggs all willy nilly. It sure came out cute. Patting myself on the back. All of that color makes me do the happy dance. I completed the project in under two hours. Have you got an old pot around the house you can paint? If not you can buy a new clay pot pretty cheap.
3. Easter Craft: Upcycled Mason Jar Candle Holders
These candle holders are super cute and the kids can help you put it together. They might need some supervision using the glue gun. I have burned my fingertips so may times using hot glue. I don't think I have any fingerprints left.
If one is good, three is even better right. Turquoise and green are an awesome color combination….makes me think of Spring.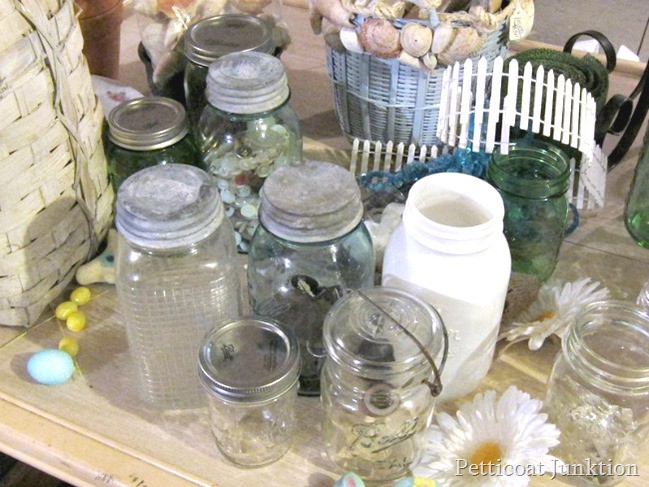 I went through the junk in my workshop gathering mason jars, ball jars, and things I thought might work for a Spring project.
Decorating The Mason Jars
This is what I selected to work with. I always think of Easter baskets when I see colorful shredded paper. The blue sparkly trim matches the blue shredded paper and will look pretty around the top of the jars.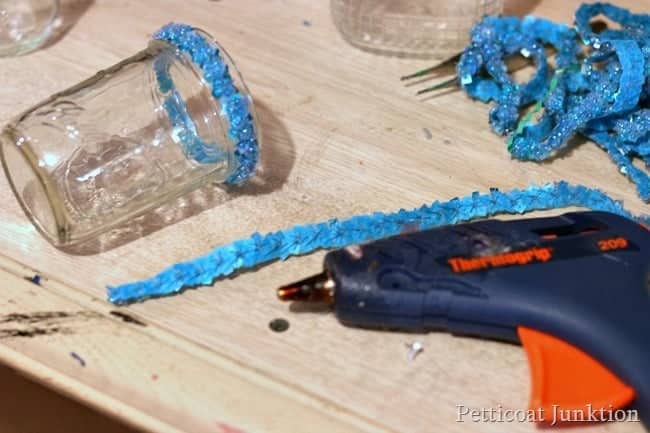 I used a glue gun to adhere the glittery trim to each jar and that was all I had to do except fill the jars part way full with the shredded paper and throw in an LED tealight.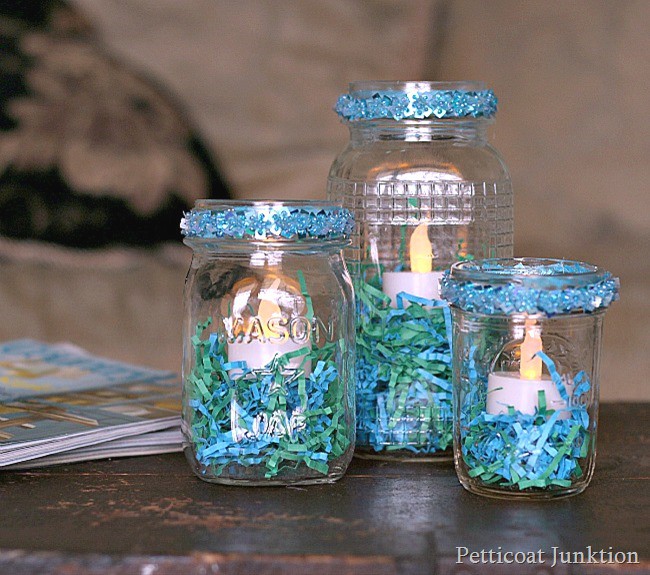 Real candles make me nervous. The led lights don't get hot so they work wonderfully with the paper grass. Do you decorate for Easter? How about decorating Easter eggs? I still decorate eggs. I'm just a big kid at heart. I remember my Dad helping me put the design transfers onto the dyed eggs. One of my favorite memories. Thanks for stopping by and have a great week, Kathy