My Mom is now in the nursing home. The past few weeks have been emotional, stressful, mentally taxing… …I was out of town for a few weeks and some of you emailed to ask about me. You guys are the best. Have I ever told you that?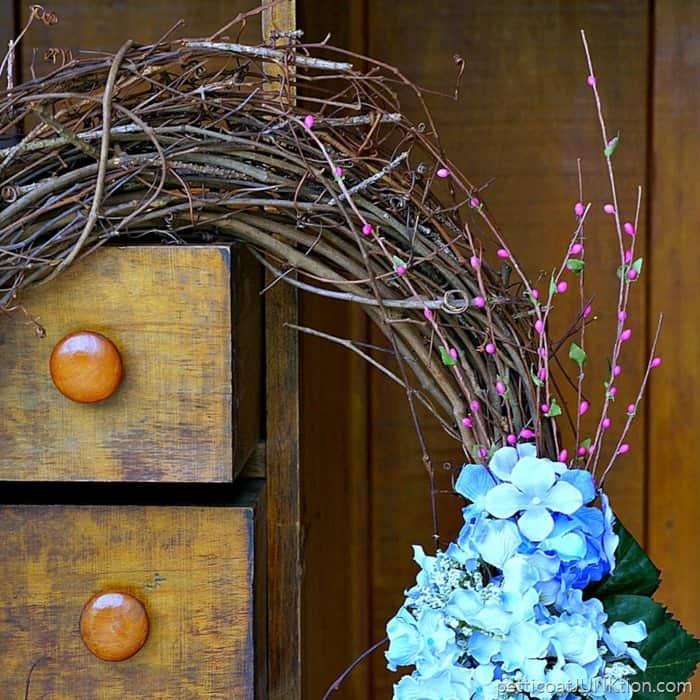 I made the Hydrangea Grapevine Wreath for Mom's room door.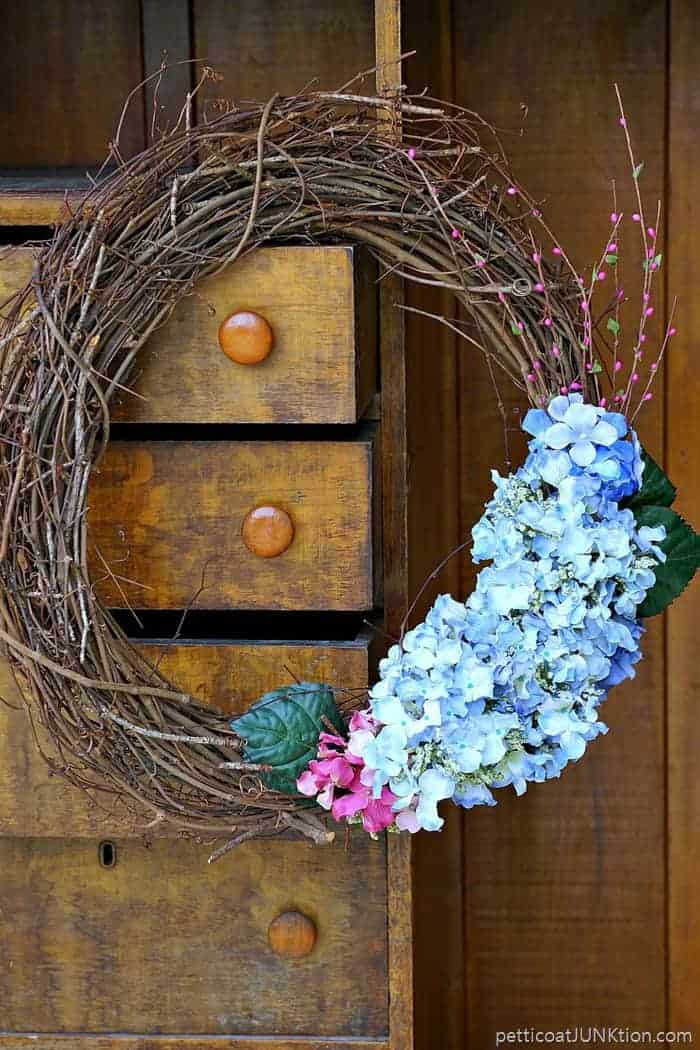 Hydrangea Grapevine Wreath
I'm not real happy with the finished look but I'm sure I'll make it over when the seasons change.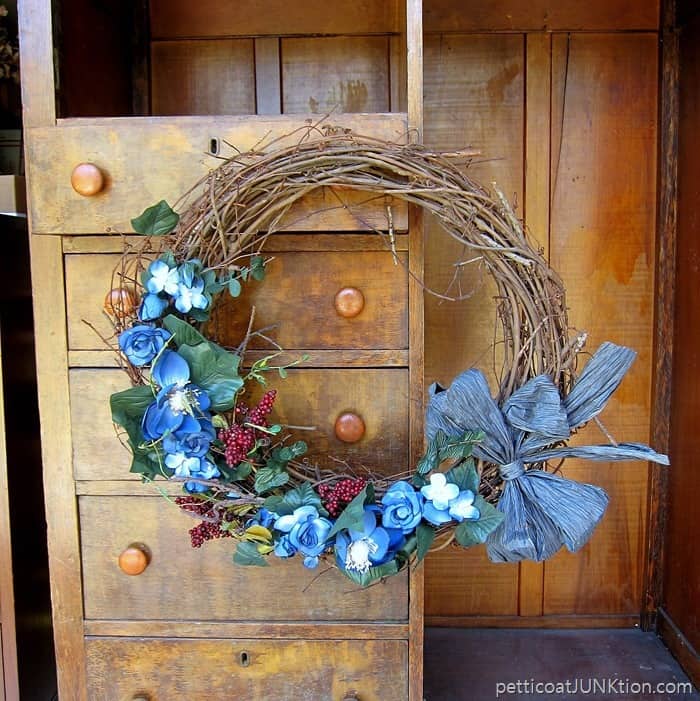 I will say it looks better than it did. My sister Stacey found the wreath in the "Clark Building". We call the metal shed the "Clark Building" because it has a metal company tag on the front that says "Clark".
Anyway, the wreath came from Mom's décor stash. Obviously several years old with the raffia ribbon and the magnolia flower sprigs. Stacey put me in charge of making it over. Actually she said "Here, take this home and fix it for Mom's door". Right.....I'm on it.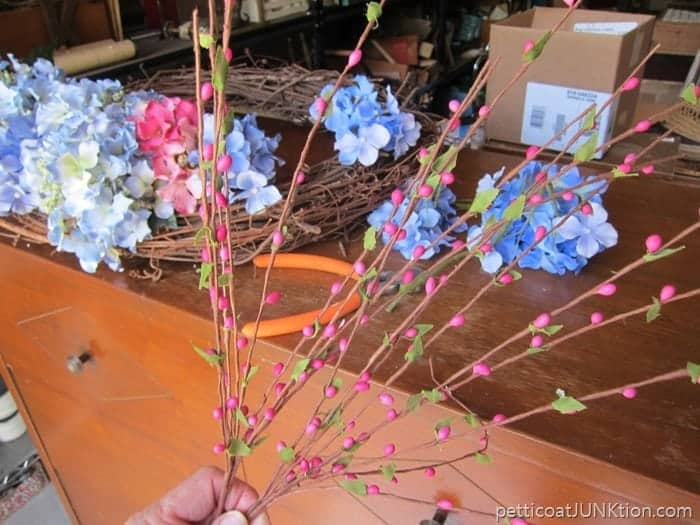 I gathered some things from my flower stash to work with. The pink stems came from Mom's stash.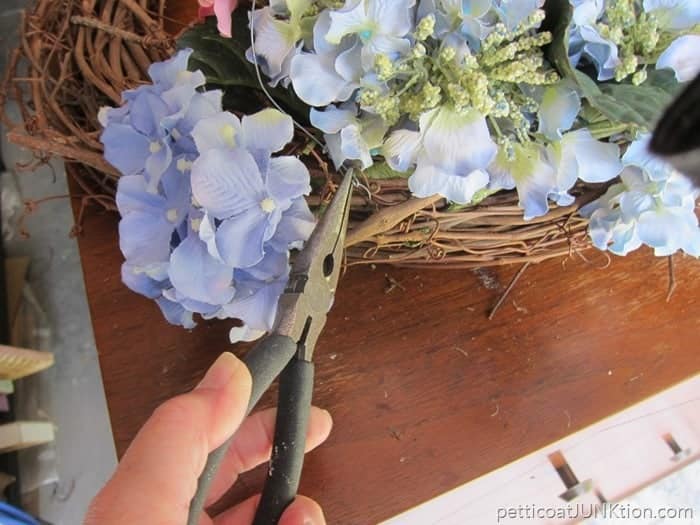 I wired most of the hydrangea stems to the grapevine wreath. I know I have floral wire somewhere but couldn't find it. Surprise.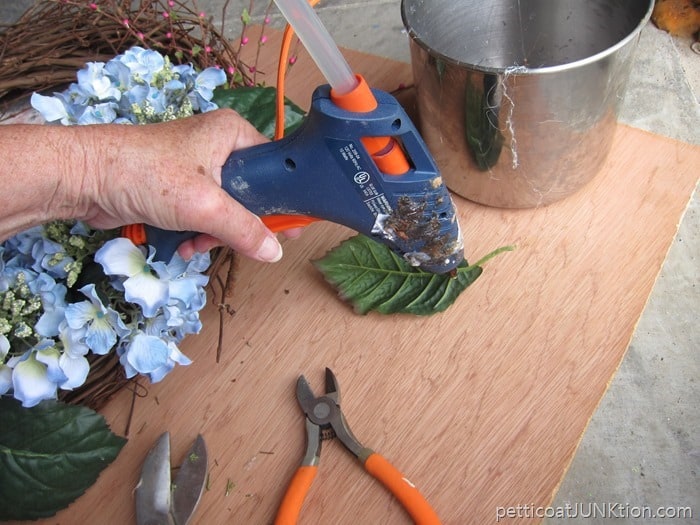 Hot glue is my go to for attaching stuff to wreaths. The wire is hard to work with and the hot glue is hot and messy. I've also lost a few layers of skin working with the hot glue.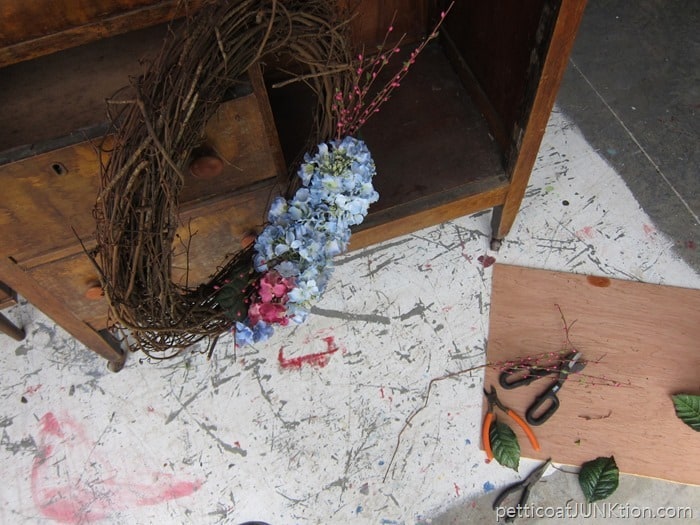 Once most of the flowers were in place I hung the wreath up so I could see what else needed to be done.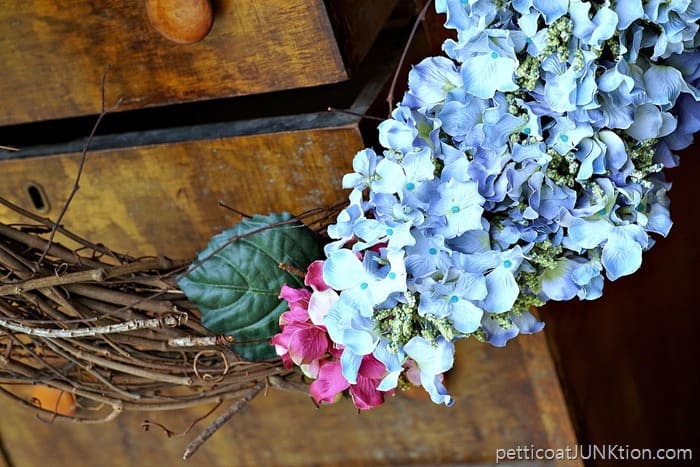 Just a hint of pink hydrangea. I did have to edit the wreath during the process. I started taking photos and the camera tells the true story. I removed a few hydrangea stems and tweaked the wreath here and there. I still think I have too many hydrangeas. The flower area looks too poufy. That's the way it's staying for now.
If you're wondering about the wardrobe the wreath is hanging on.....it's a find from my favorite junk shop. I might post about it tomorrow.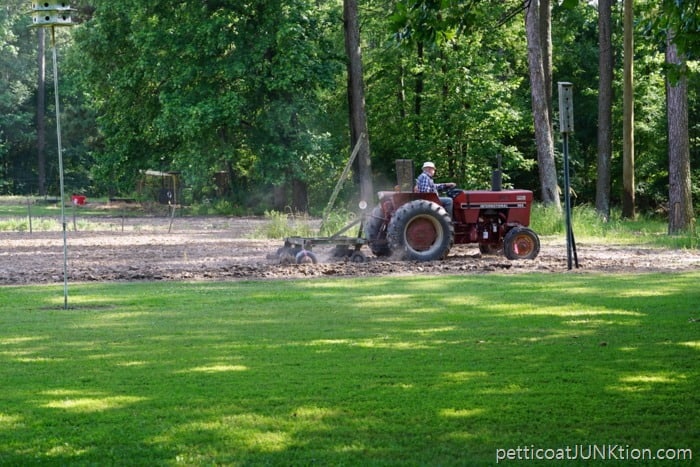 Dad Plowing His Garden
I'll be going to Arkansas again very soon because Dad's birthday is next week. He will be 87. Too old to care for someone with Alzheimer's but he's done a fantastic job. The time just came when we couldn't do it anymore.
Mom seems content in her room at the nursing home and we know she is being well cared for. I also know that my Dad feels a great load has been lifted. He had another bout of bronchitis during this time and he also fell and has hairline fractures in 3 ribs. He beat the bronchitis and now he's plowing the garden again.
To read the Alzheimer's/Arkansas story from the beginning click here….Getting Personal.
What do you guys think of the hydrangea grapevine wreath?? Too may hydrangeas? Leave a note please.
Don't forget to enter the craft giveaway. Just click here….May craft giveaway.