I'm ecstatic over my latest junkin' finds. I found the most amazing rusty metal glider. It's a vintage glider and it belonged to Mr. Butler, the owner of my favorite junk place.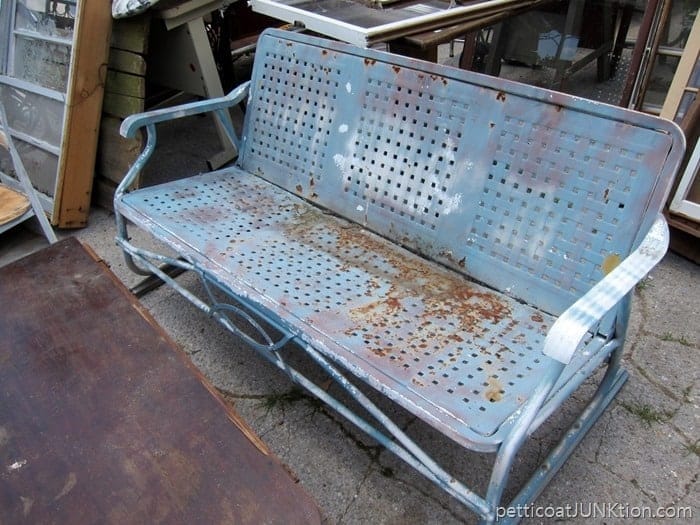 rusty metal glider
He told me he's downsizing and just bought the glider up to the shop about 20 minutes before I got there. I have perfect timing. It was only $25. I said "sold" immediately and glad I did. Two ladies came up 5 minutes later and wanted the glider. Too bad.
It doesn't glide any more. It is missing that part. At least I'm thinking it was a glider. It will be staying at my house. Not for sell.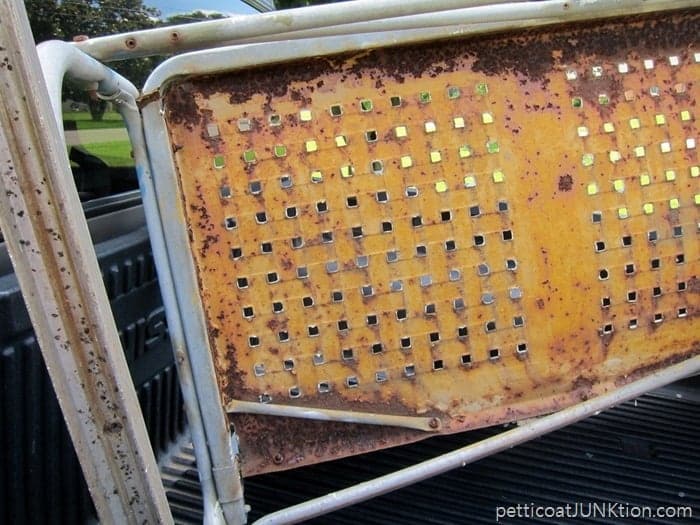 When I got it home and looked at the bottom of the glider as we were unloading it I noticed the color. I bet the yellow is the original color. It must have been a beauty in it's prime. I was thinking to just brush off the loose rust and loose paint and apply a sealer. Now I'm thinking about painting it. Maybe a mustard yellow or turquoise or red or coral???
I found similar metal gliders like this one on Pinterest but none of them had the bottom detail this glider has. They were all straight metal plates.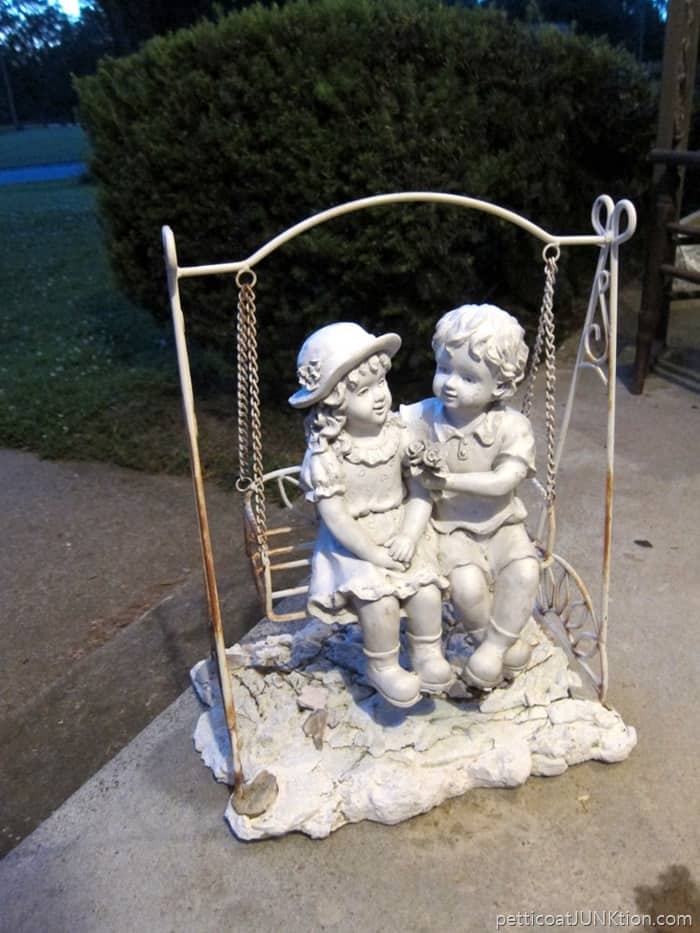 Moving on to my other junkin' finds for the day. Isn't this just the sweetest! For $6 I had to have the plaster/ceramic/resin/whatever boy and girl figures. They are sitting on my front porch right now waiting to be part of the porch update.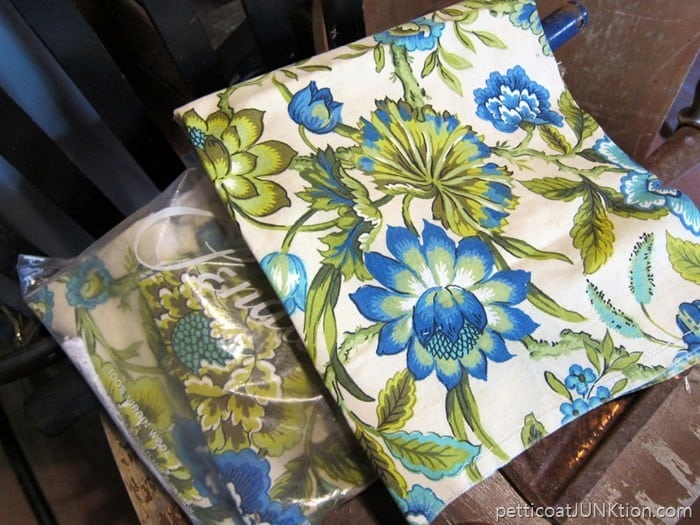 I also found a bag of fabric pieces. Isn't the design divine! I haven't looked at all of the pieces but I know one of them is large enough to cover a chair seat.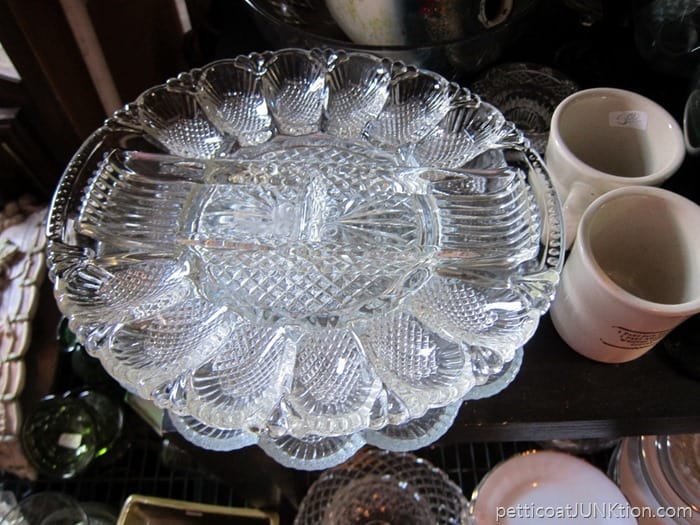 I found a deviled egg dish just like I bought for my sister a couple of months ago. Only $8. I needed one with the relish part in the middle.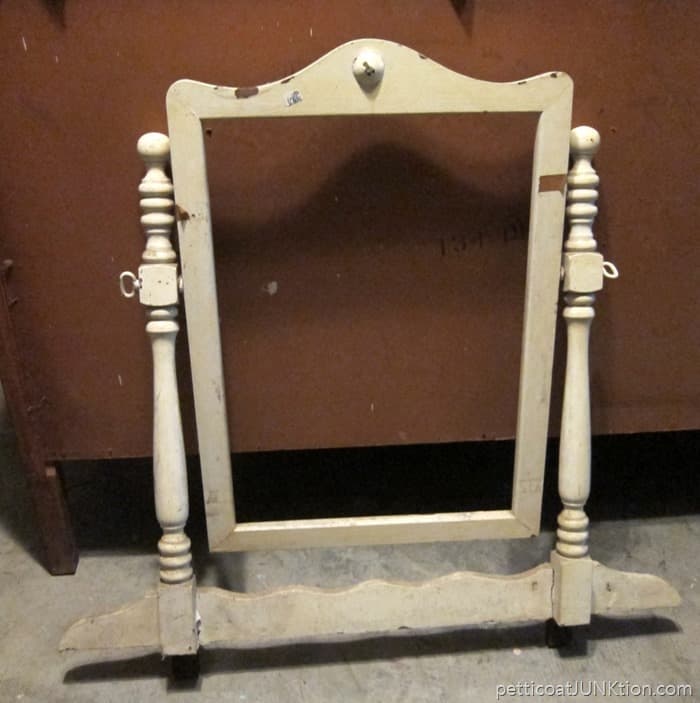 The vintage dresser mirror frame was a must have for $3. The JTS is going to help me make a chalboard/jewelry hanger out of it like we did on the project you can find here.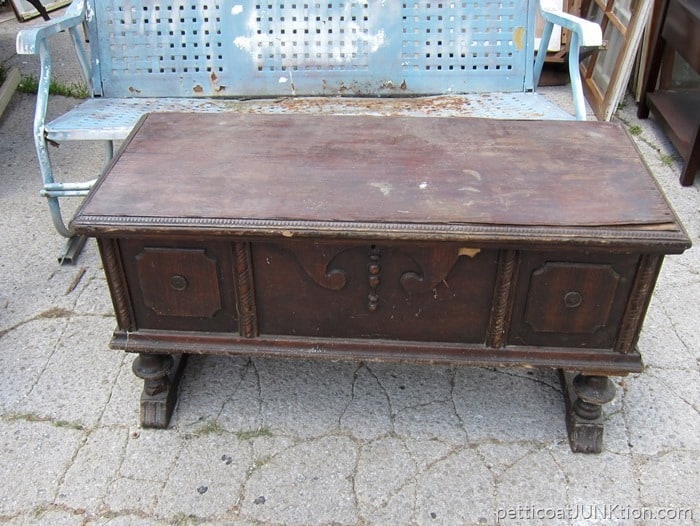 I passed on this chest. It had lovely details but was a mess.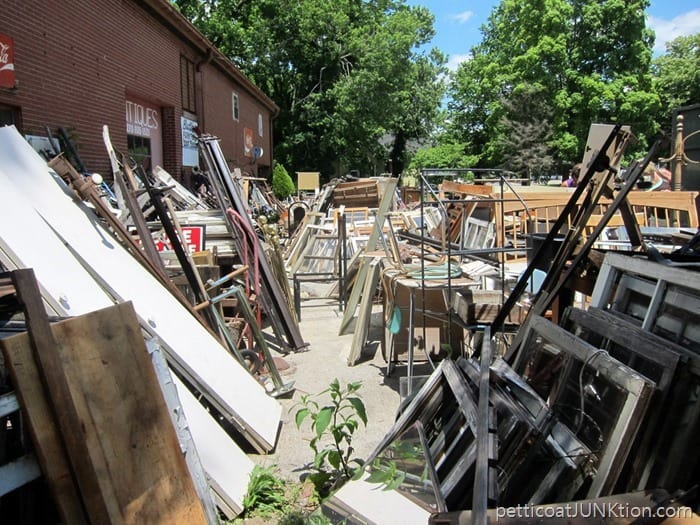 A look at the outside of the junk shop. Below is the info for the shop as requested by so many of you.
Where you can find my favorite shop…..Butler's Antiques, 17th and Walnut Street, Hopkinsville KY 42240, phone no. (270)885-1521
Butlers is about 40 minutes from my home in the Clarksville area. From downtown Nashville the drive is about 1½ hours Store hours are Monday- Saturday, 9-5 or 6 depending on daylight hours and how busy the shop is. The shop is closed every 4th weekend from Thursday-Sunday. Butler's Antiques sets up at the Nashville Flea Market on these weekends and no one is at the shop. At the flea market they are located outside in the walkway in front of the milk barn and down from the café. Just ask any vendor and they can probably tell you how to find them. Hope this info helps. Don't buy all the good stuff!
You guys have a great weekend and I'll see you Monday.