Do you guys have rooms that are cluttered and disorganized or do you have it totally together? Are your walls covered with framed prints, mirrors, Chinese Checker boards, etc.? Can you see your walls? I'm tired of all the "stuff". Getting it in gear around here in 2017.
I still have that one room to declutter and organize. It's the biggest and the badest. Two January's ago I started the junk purge.
No, I'm not talking about my junk treasures. I'm talking about clothes we don't wear, home décor I don't use, boxes of papers, "stuff I may use one day", etc. I did a great job of decluttering all of the rooms except the den. I've put it off for two years, but no longer.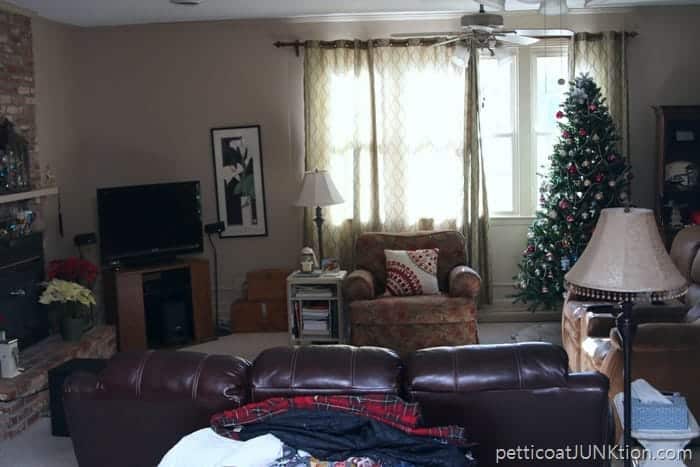 I took these photos the day after Christmas. The tree looks sad without presents under it. I didn't pick up anything or try to clean before taking the photos. This is how we live. Jackets thrown on a cedar chest instead of hanging on hooks made for that purpose.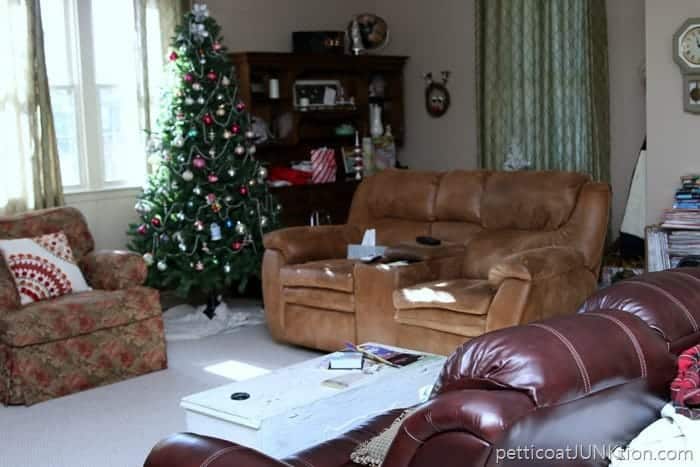 Paper work scattered around and Christmas décor leftovers on the hutch.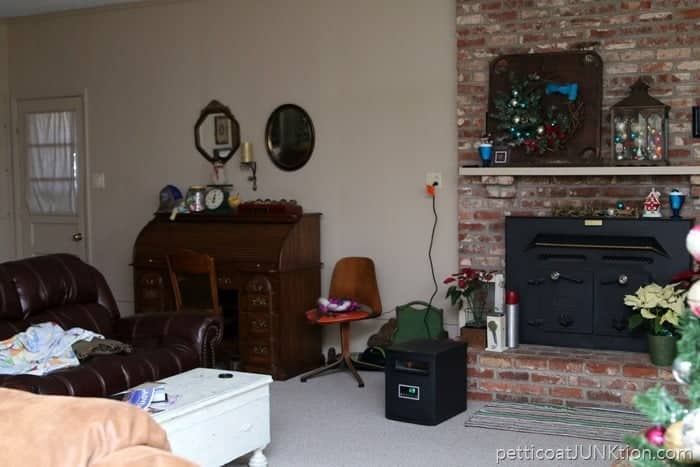 Too much junk on the floor beside the fireplace. I drop things there and think they look good. No.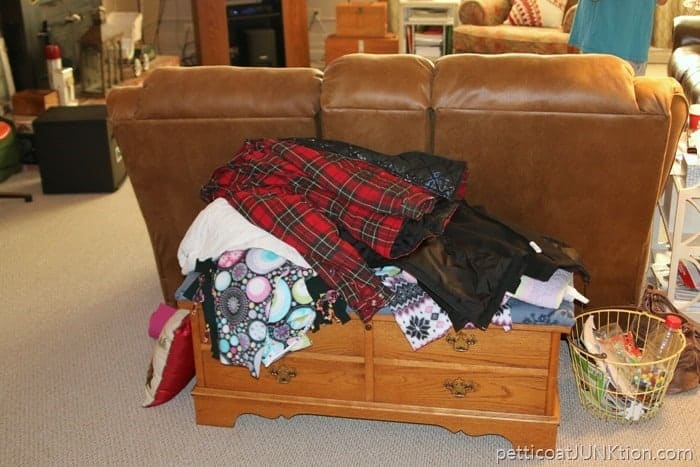 I like my yellow egg basket from our years in Florida but the books in it are going elsewhere.
The following photos were taken after Christmas was packed away and the decluttering and organization kicked in gear.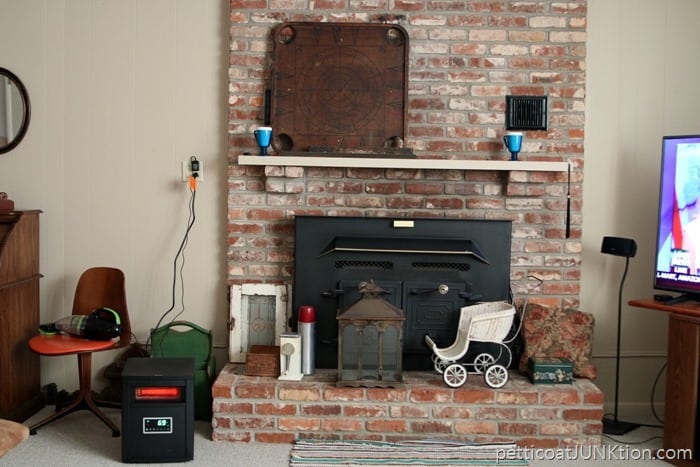 The fireplace mantel and hearth are going to get a new look for Winter and Spring….when I decide what that will be.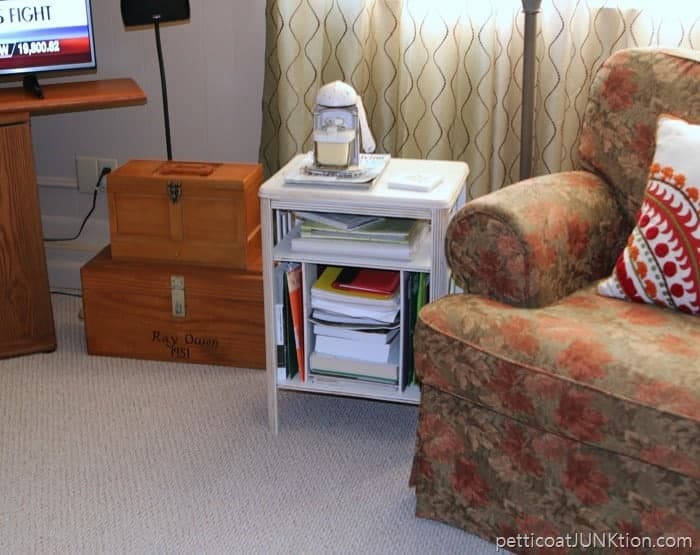 The books in the table are going. The JTS got a new bigger TV for Christmas and you can see in the upper left corner of the photo where we had to piece things together for a TV stand. The one we had wasn't big enough for the new TV. On the hunt for a vintage sideboard or buffet to repurpose.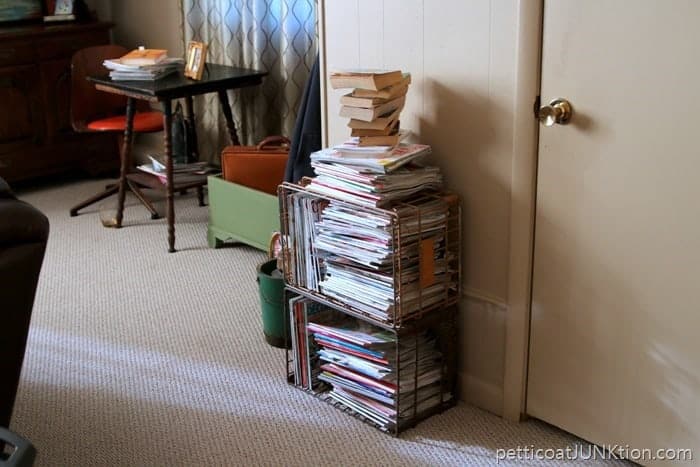 Well, what can I say about the magazine and book mess. I don't know why I ever thought all the walls needed to be lined with furniture or junk.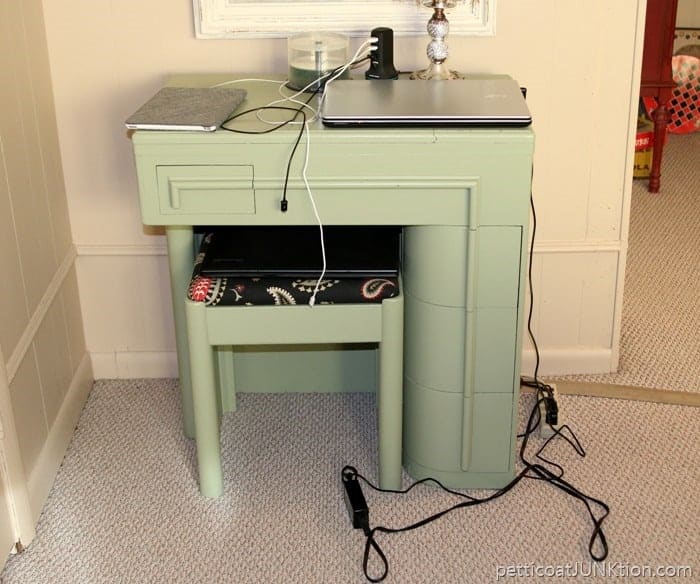 I painted the desk and cut holes in the back and top to help with the cord issues but obviously that isn't working.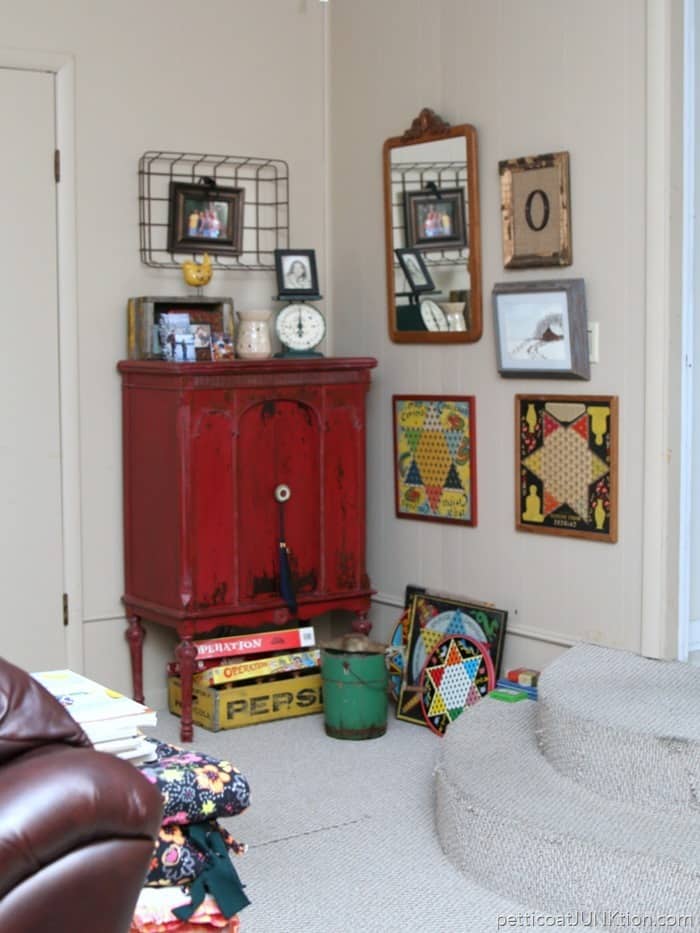 I forgot to take a photo of this corner area with all the Chinese Checker boards so I pulled an old photo from the file. The checker boards are going too.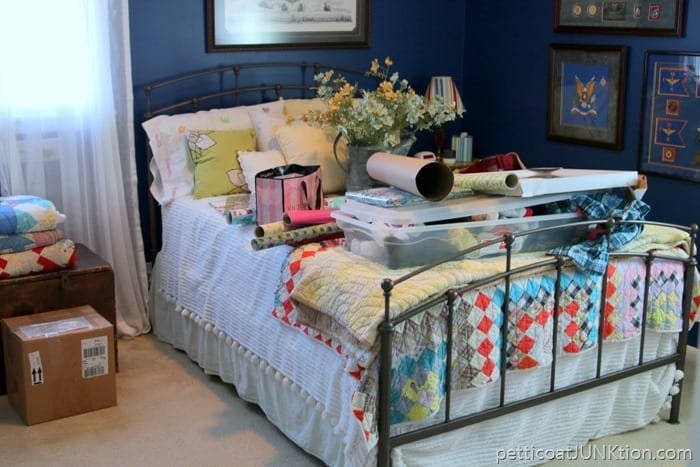 Before I go I thought I would show you a photo of the back bedroom. This is the room that seems to gather all the clutter between seasons or decorating binges. I took this photo a week ago and the room still looks like this.
I think my hankering for less is more comes from the time I've been spending at my parent's home. They built the house they live in when I was about 3 so the home has almost 60 years of living stored there. I forgot to mention to you in my last Alzheimer's/Arkansas post that my parents celebrated 63 years of marriage on December 5th. That's a long time and a lot of love. My grandparents celebrated 73 years of marriage before they passed away.
I plan to have the Den decluttered and organized in two or three weeks. I'm excited to get started. Of course, I'll share the after photos.
This book helped me when I got the urge to purge (haha) two years ago…The Life Changing Magic of Tidying Up. The title is an Amazon affiliate link you can click to see info about the book. If you click and buy the book I will earn a small fee (approximately 60 cents). I'm sure you've noticed I sometimes have a list of products used in a project post. I often get emails asking where you can find certain products. I only promote products I believe in and use myself. I just wanted to share this info in case you wondered about the Amazon thing or how bloggers cover blogging expenses. Affiliate links are one way we generate income. Read my affiliate disclosure here.
On Sunday I'm teaming up with 4 more bloggers to bring you guys another craft supply giveaway. The giveaways are my small way of saying Thank You for being here. This time there will be 10 – 12 boxes of goodies up for grabs. You don't want to miss it!
I'm looking forward to 2017. How about you?