This buffet had it all at one time.
Now the buffet is missing a bit of veneer…and I don't do veneer. It also has a couple of other issues.
My trip to the junk shop last week was fun. I was out of town for one thing or another most of the month of October and I needed my junk shop fix.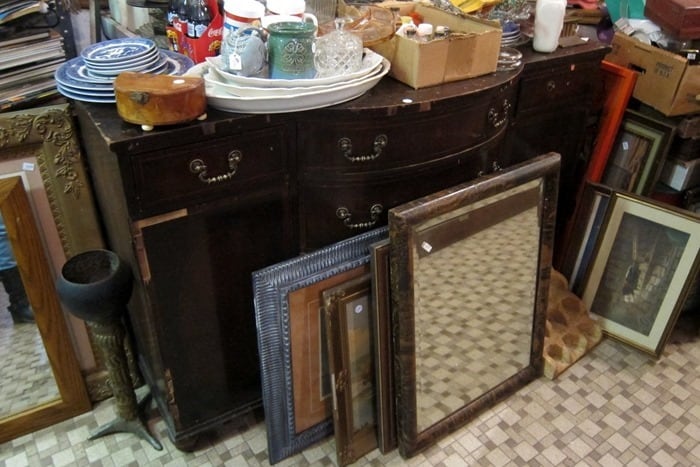 I spotted the buffet inside the shop although it was almost hidden. Stuff on top and stuff in front. We moved a few things and I opened drawers.
I sometimes forget what real furniture from the old days is like. The drawers are so heavy because they are made of thick wood, front, back, bottom, and sides.
And, I'm so sorry I don't have any photos of the inside of the buffet or what the drawers look like. We took all the drawers out to load the piece and then when we unloaded it in the workshop we stood the buffet on it's side because one leg came off and the wood was split where the leg goes. Drawers are sitting on the floor all around the buffet.
The buffet was $75. It wasn't a steal but these pieces are sooooo hard to find. Mr. Butler said someone came in earlier that day and told him his prices were too high. They thought the buffet should be $40. I disagree.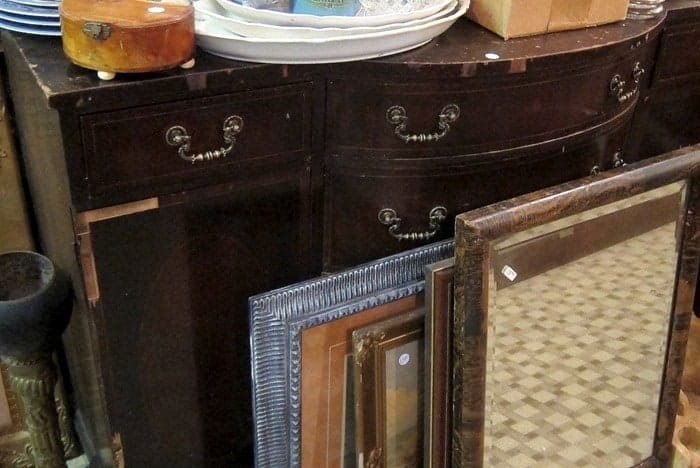 Petticoat Junktion is a participant in the Amazon Services LLC Associates Program. As an Amazon Associate I earn from qualifying purchases.
Maybe we can get the leg fixed and get her on her feet next week. Then we'll go from there. Can you see the pretty rounded drawer fronts in the photo above? Also the missing veneer.
I will probably just pull the veneer off the one door completely. The piece will be painted so it won't matter if I take off the veneer…..I don't think.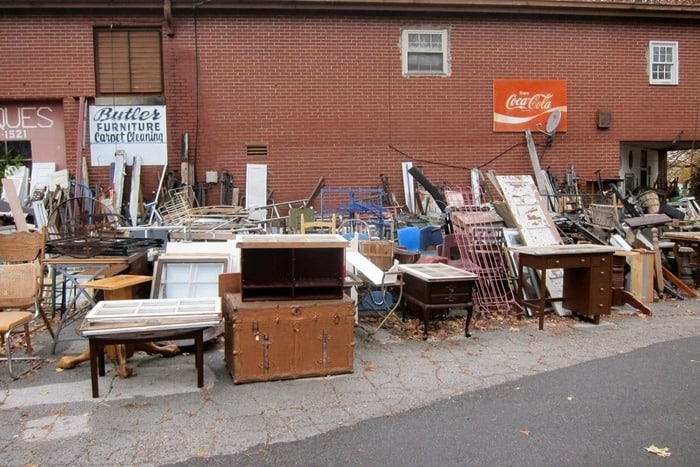 Looking at the outside of the famous junk shop in Hopkinsville, Kentucky, Butler's Antiques. I've been shopping here for years.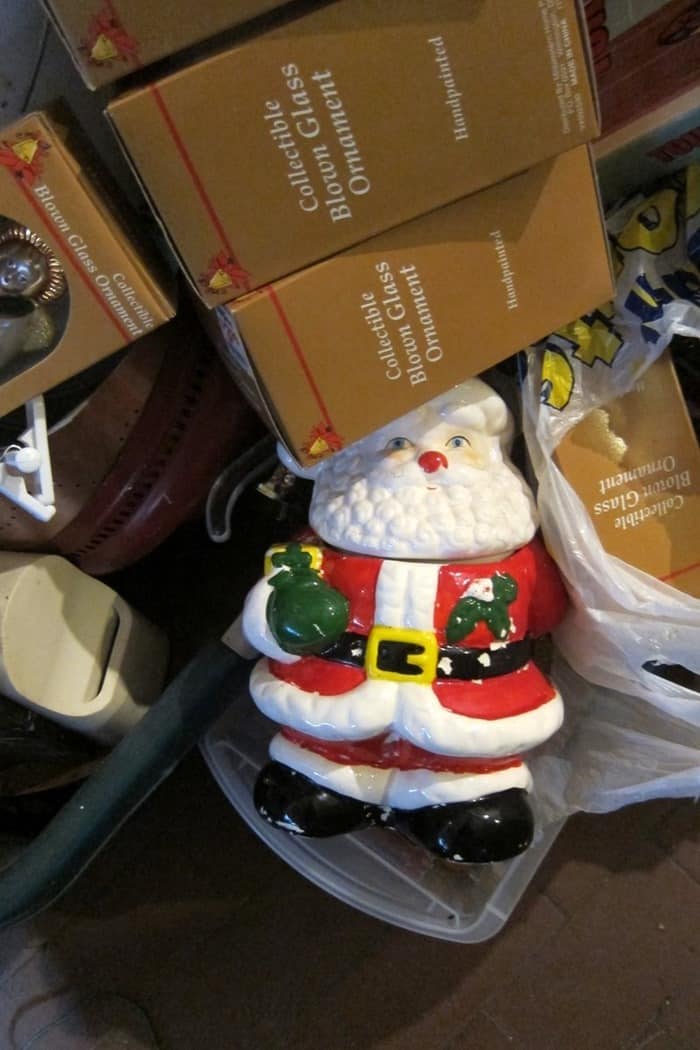 I found the Santa Claus cookie jar in the very back room of the shop. No chips that I could find but a lot of chipped off paint. Santa will appear in my Christmas décor after Thanksgiving. No decorating for Christmas until after Thanksgiving.
All the Best Beds in a Box. Lowest Prices Guaranteed. Get Your Favorite Brands Like Nectar, Lull, Purple and Tuft & Needle Shipped to Your Door for Free. Shop Now at MattressFirm.com!
I take you on a short video tour of my favorite junk shop below…..
Butler's Antiques Hopkinsville Ky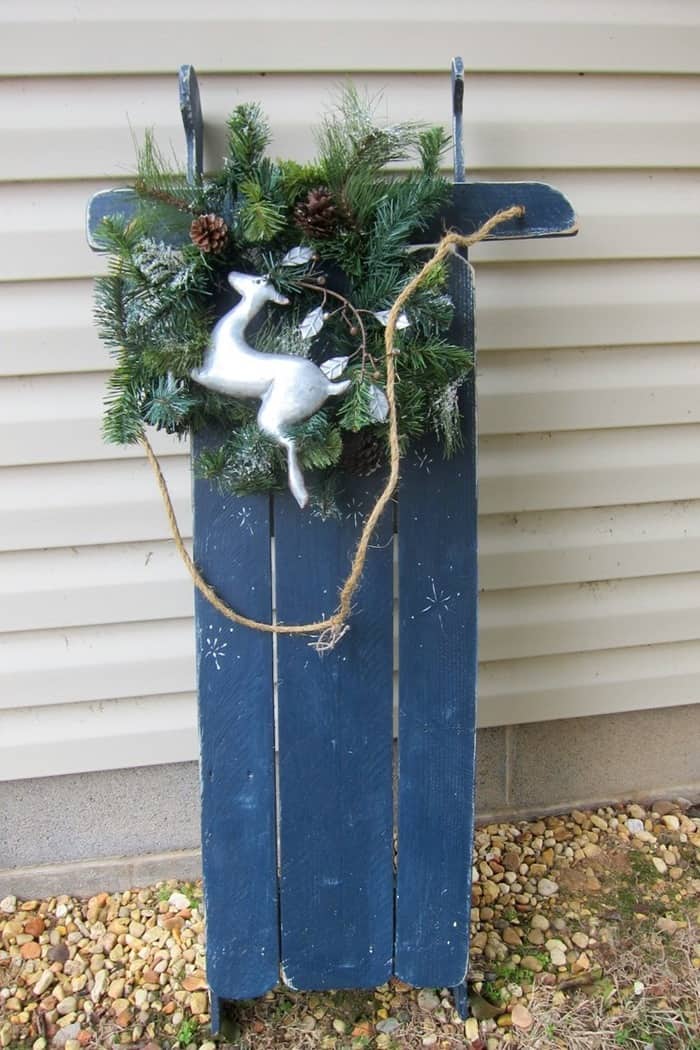 I bought the sleigh at a local furniture/flea market store. It is handmade and cost me $24. I was thinking about painting it red but couldn't decide on spending the money and  actually left the shop without it.
Then I was online….somewhere…..and saw a pretty white room with a sleigh very much like this one painted white. It was leaning against the wall and was oh so pretty.
I can't find that inspiration photo anywhere. Anyway, I made another trip to the shop and bought the sleigh. It's going to be white.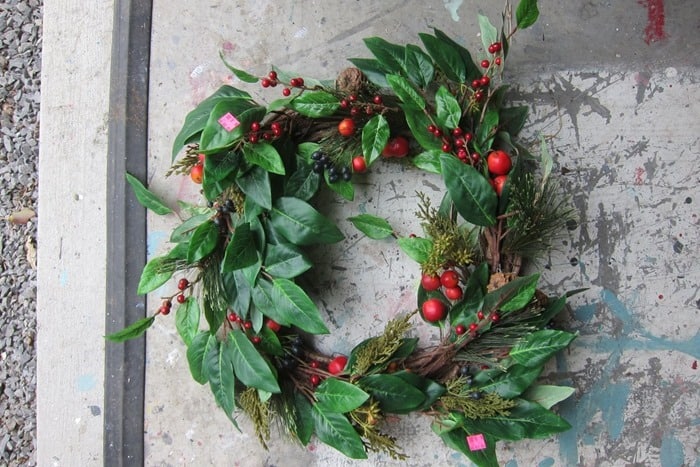 I got the wreath at The Salvation Army store for $8. It will be really pretty once I remove the red apples, plump the greenery up and add a black and white buffalo check bow. What do you guys think?
Did you enjoy looking at my finds? To see more of my junk shop visits and finds click here.
Find out more about me and how I started my diy journey here.
That's all of my photos and thoughts for today. Be here tomorrow for the Furniture Fixer Upper tour. 'Till then, Kathy