Yep, You heard me. The name of one of the vendors at the Nashville Flea Market is "Dead People's Things".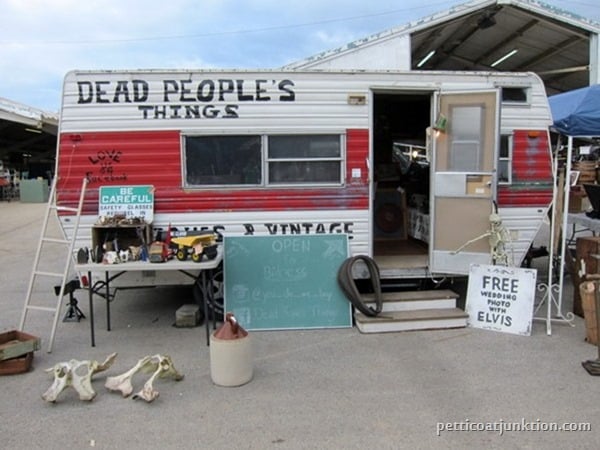 Here's their trailer/shop. How cools is that! What a cute set-up. At first I wasn't sure about the name….then realized that it's probably fitting.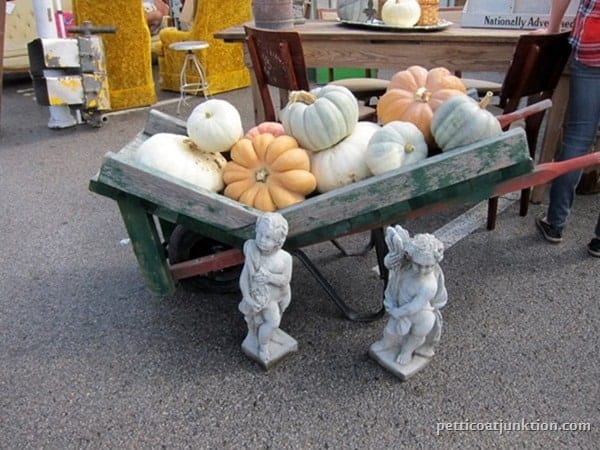 It was an interesting market in September. I got to the flea market late…around 2…. because of the granddaughter's ball game. That was okay though because I was told I just missed a big rainstorm. The hubby wasn't with me because he was at the estate auction with a friend. I told him the weather was perfect for the market. Usually, we are either burning up or freezing to death. The day was overcast and the temp was just right. I wandered around and took tons of photos.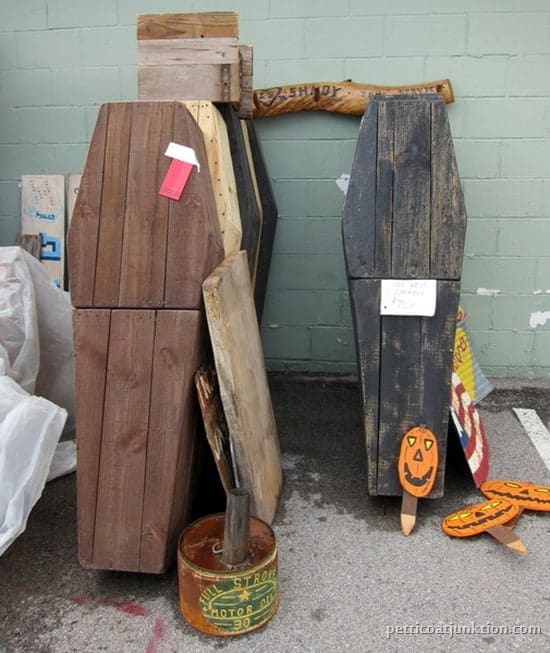 As I said it was a strange market…..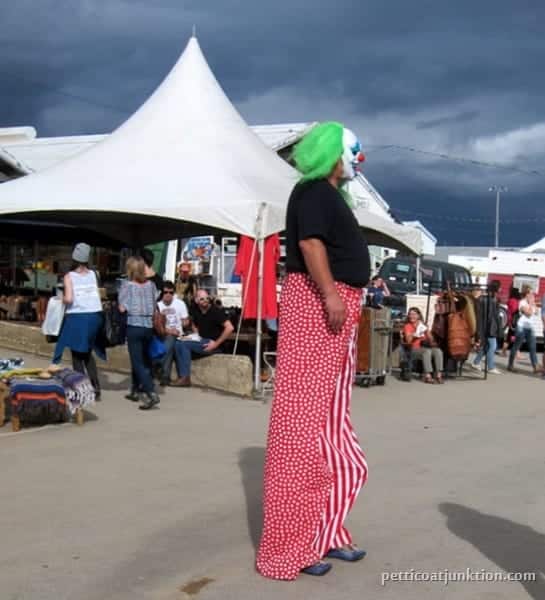 …..and it got stranger. This guy was promoting 4 different haunted houses in the Nashville area. I'm scared of heights so I couldn't walk on those stilts….really.
Debbie and Jimbo with the Goblin/Haunted House guy. Debbie is a phenomenal furniture painter and Jimbo is a wonder at metal garden/yard art. I've come to know them since shopping the market. It's not just about shopping the flea market, it's a social experience.
What did you think of the Dead People's Things "shop"? Leave a note if you have time. Thanks for being here, Kathy
Author: Kathy Owen (Petticoat Junktion)
Kathy is the founder of PetticoatJunktion.com, a home décor blog focused on repurposing and upcycling furniture, old hardware, rusty stuff, and thrifty finds into unique home décor. Kathy's projects have been featured on the Home Depot Blog, Plaid Crafts, Behr Designer Series, and in numerous magazines. Read more about Kathy here.