Silver Metallic Furniture Paint
I love this silver metallic furniture paint. Talk about shimmer and shine. The finish is just perfect and the buffet is gorgeous now.

I found this piece at the Goodwill several months ago. It's been stored in the back of the shop, the very back. So it was hard to get to. The easy to get to pieces are the ones that get beautified first. That's just how I roll, the easy way. So what does that tell you? Yep, my furniture stash is getting low.
For the makeover I selected Martha Stewart Special Metals in Tin and Caromal Colours Licorice. The piece has a foundation of Glidden Gripper Gray. Wouldn't want anything chipping off!
For the final touch I rubbed on a little Caromal Colours Toner  to which I added CC Licorice to make  a black toner.
I used the original hardware spruced up with the Gripper Gray and dabs of Licorice.

What do you think of the metallic paint? What about the two-tone look?
update December 22, 2015: Martha Stewart Metallic Paints are no longer available. I use Modern Masters Metallics.
 See more of my metallic painted furniture with full tutorials by clicking the photos below.
Petticoat Junktion is a participant in the Amazon Services LLC Associates Program. As an Amazon Associate I earn from qualifying purchases.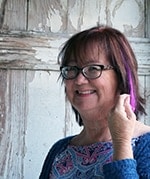 Kathy Owen is the creative guru, content creator, photographer, and worker bee behind the popular Home Décor DIY Blog Petticoat Junktion. She focuses on reinventing found treasures and decorating her home Get all the nitty gritty on Kathy here.