Custom mix turquoise paint is the secret to this sweet French Provincial furniture makeover.
I've heard people say they wouldn't paint French Provincial furniture but I would paint it in a heartbeat. French Provincial is one of my favorite furniture styles. The white furniture with gold trimmed white drawer pulls was pretty it it's day. But for today, it needs an update.
The feminine style calls for a soft girly paint color. The drawer pulls need to be painted too. For this French Provincial furniture makeover I mixed a bunch of colors together to get the perfect shade of turquoise.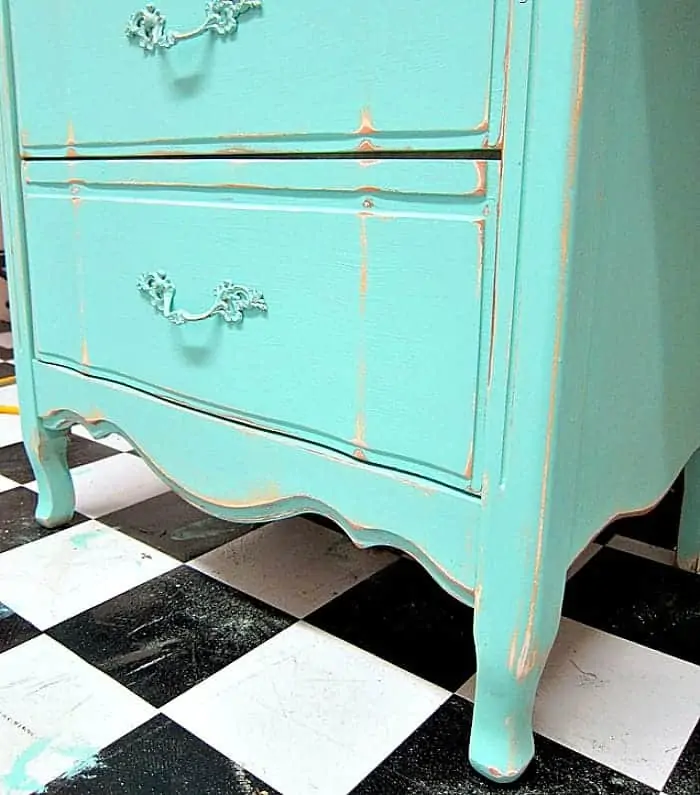 The Perfect Paint Color
I did good on the color didn't I? You'll notice the distressed areas too, couldn't resist.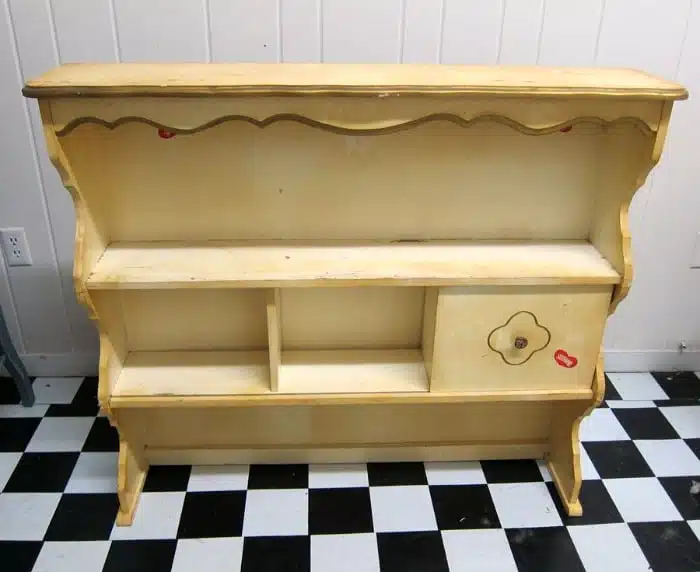 The before is kind of sad huh. French Provincial furniture of this style was manufactured in the 50's and 60's. I remember this furniture. I sighed over it as a little girl. I wanted it.
The furniture was either real wood, part wood and part mdf, or all mdf, depending on the maker. The real wood stuff is the hardest to come by.
When I got married to the JTS I was blessed with a daughter. One of the first things I did was go out and buy her a set of quality girly furniture. Two short chests, each with a hutch, a desk, and a bed.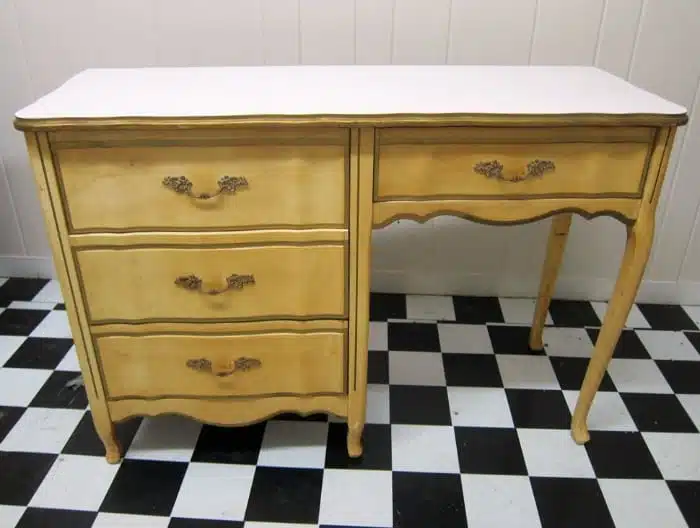 Sometimes Painting Old Furniture Is The Answer
You can tell from the photos how the finish on this desk and hutch has yellowed. Not very pretty. The desk and hutch was brought in by a client for a custom paint job. I was excited because I knew I could make them shine!
I mixed paints together to get the shade of turquoise the customer was looking for. I used Beyond Paint in Bright White as the base and acrylic paints (those small bottles) in blues and greens to make this lovely color. I forgot to write down the names of the acrylic colors. Sorry.
One of the reasons I like Beyond paint is it mixes well with acrylic paints and I can make custom colors using the Bright White as a base.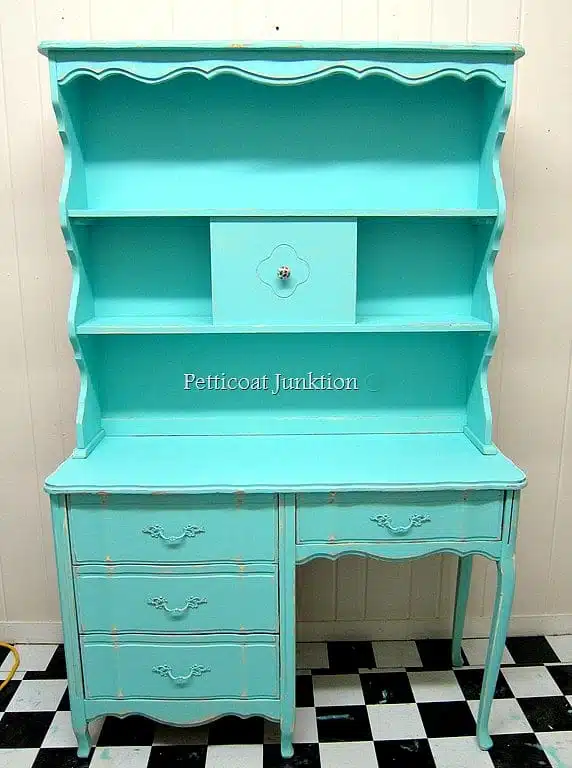 Painted French Provincial Furniture
The turquoise color looks great on the desk and hutch. I distressed the edges of the drawer fronts and all of the curvy details by hand using 60 grit sandpaper.
I thought about not painting the drawer pulls but when I put the first pull back on the desk it just didn't look right. So I painted the pulls with the same paint as the desk.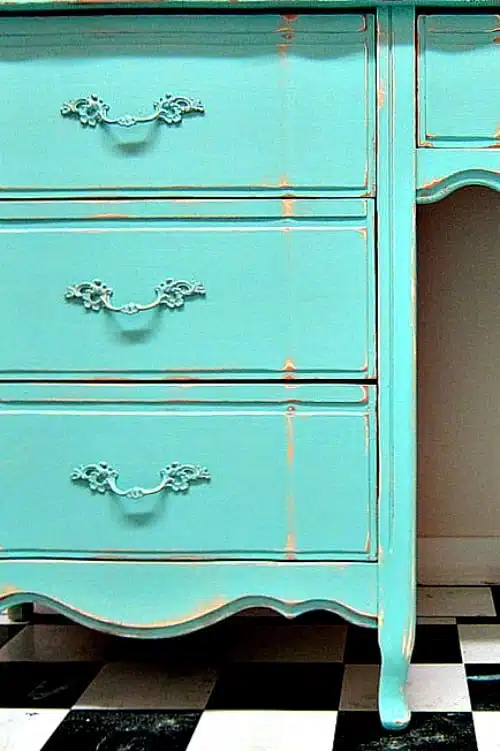 I distressed the pulls very lightly. A touch of gold paint here and there on the pulls would have looked good too.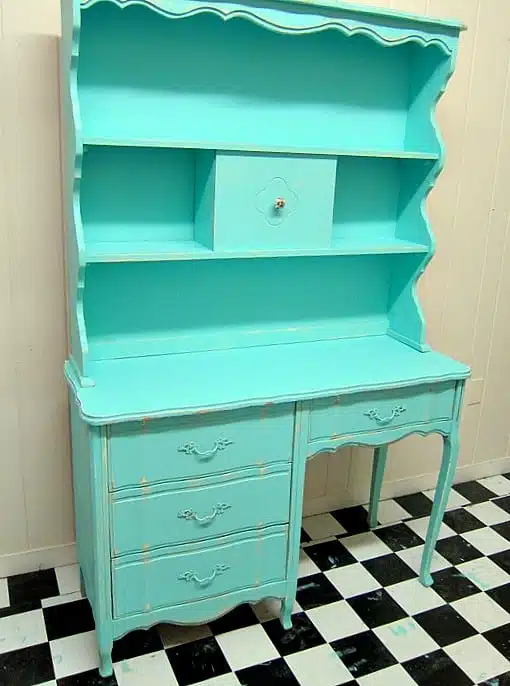 The sliding panel on the hutch has a new knob from Hobby Lobby. The desk and hutch is a joy to look at now.
I have to say hutches, bookcases, china cabinets, and similar items are not my favorite pieces to paint. Too much square footage to cover and it's hard to paint the underside of all those shelves. The corners are a pain too.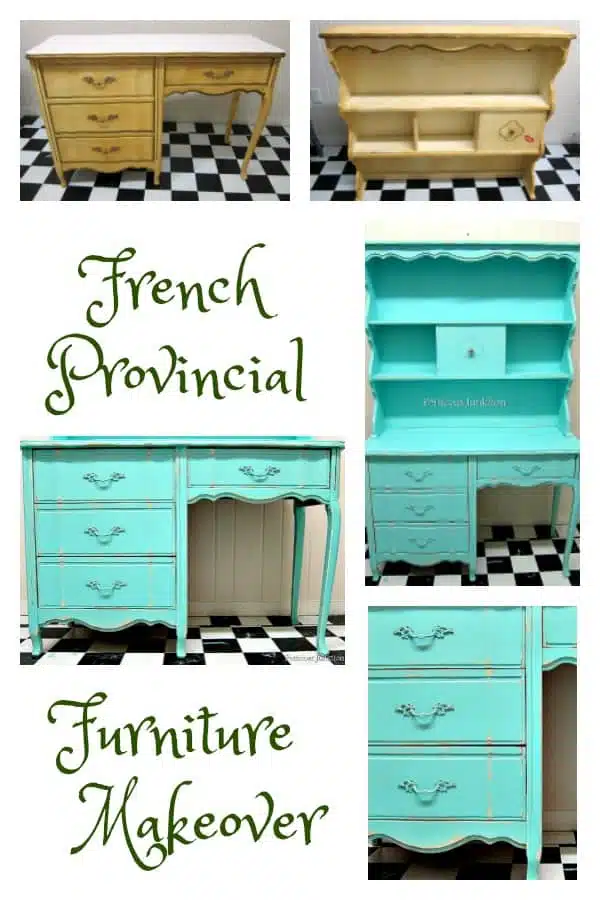 For those of you who like distressed paint I can show you how to do the job with no mess. Video tutorial below...
How to Wet Distress Paint
Like this project? Take a look at this makeover....Turquoise Chest With Green Paint Wash.
That's all for today. I have to start looking for some more French Provincial Furniture because I really enjoyed this project. Thanks so much for spending part of your day with me, Kathy
Author: Kathy Owen (Petticoat Junktion)
Kathy is the founder of PetticoatJunktion.com, a home décor blog focused on repurposing and upcycling furniture, old hardware, rusty stuff, and thrifty finds into unique home décor. Kathy's projects have been featured on the Home Depot Blog, Plaid Crafts, Behr Designer Series, and in numerous magazines. Read more about Kathy here.