Fixed Up Furniture !
This fixed up furniture went to the next level with distressing and new knobs. The knobs made the makeover, seriously. And the curved cut outs on the top drawer look art deco to me. You'll have to let me know what you think. I absolutely love how this project turned out.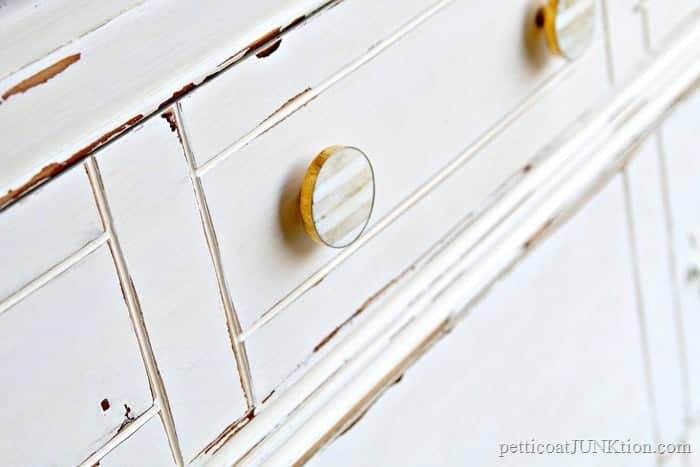 Just a peek at the beautifully distressed details and the new knobs. The rest of the knobs are vintage and came on the chest of drawers.
We bought this chest at auction for about $17.50 the best I remember. The chest is solid wood and you can't beat that price. I didn't care for the hardware but decided to keep it and just spray paint it white. The two top knobs were awful so the plan was to finish the piece then see what knobs looked the best.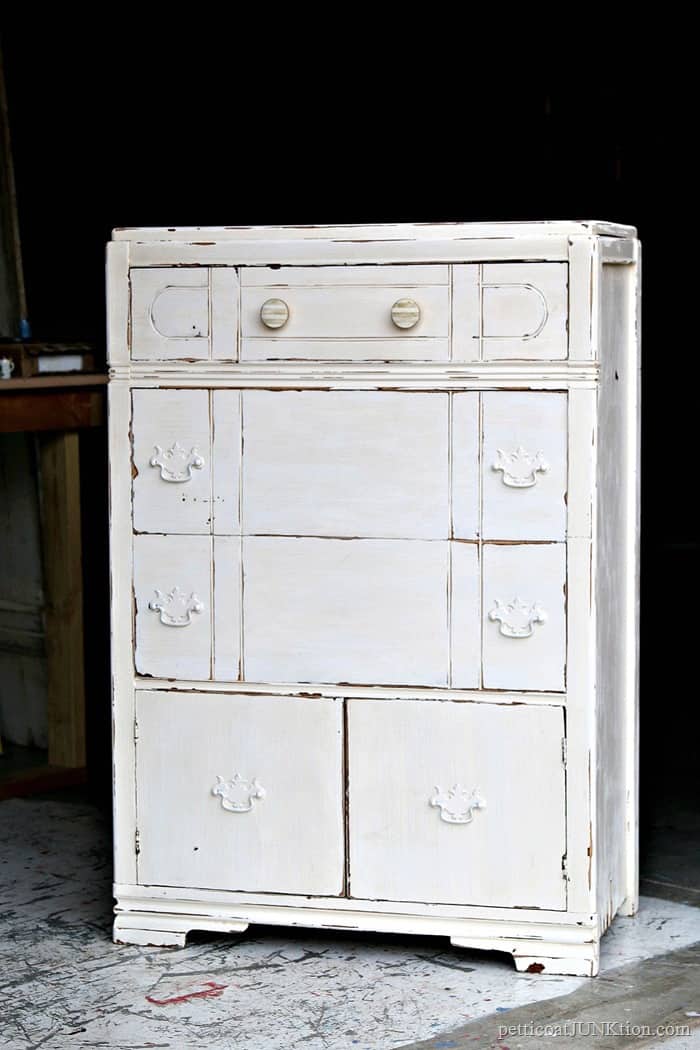 This is how the chest looked after the easy makeover!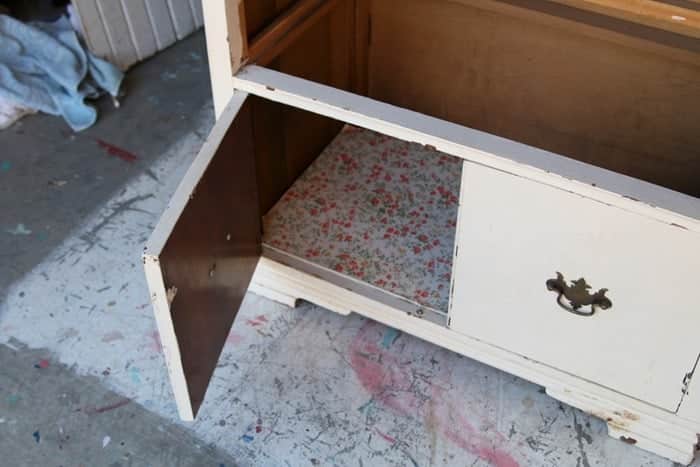 The bottom doors were cool. Just a different look for a change instead of a drawer. The sticky contact paper wasn't as cool.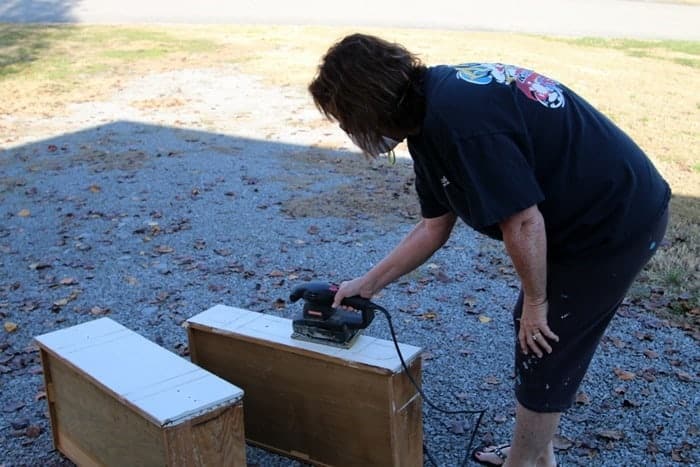 From the look of the paint I decided it must be lead based. Lead based paint was banned in housing in 1978. You can see I'm outside and using a mask while distressing the paint.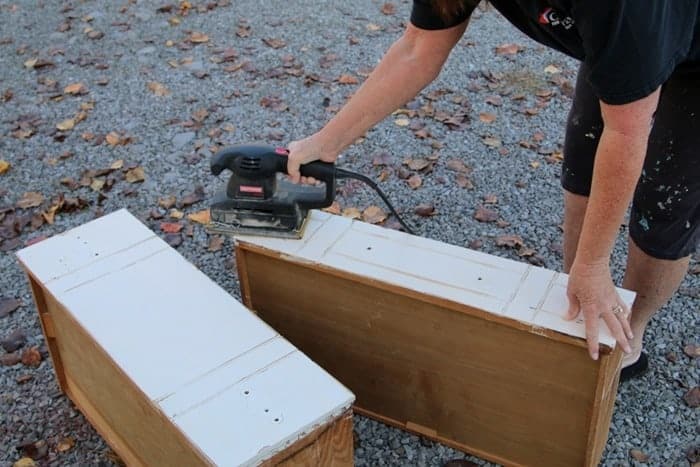 And let me tell you….that paint was on there for life. I used 80 grit sandpaper on the power sander and had to go over and over the paint to distress it. I also got down into the cut out grooves and took off some paint. Details look great distressed.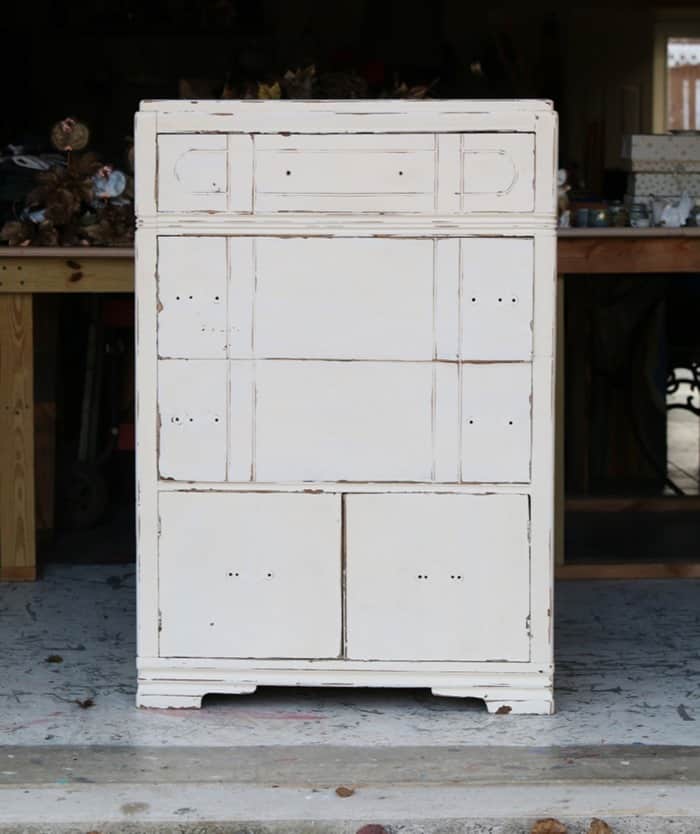 At one time someone replaced the original hardware. The only reason I knew that was because of the extra holes. I hate that. That's one reason I didn't select new hardware for the bottom drawers and cabinet doors. After I finished all the distressing I vacuumed the chest and cleaned it with Simple Green.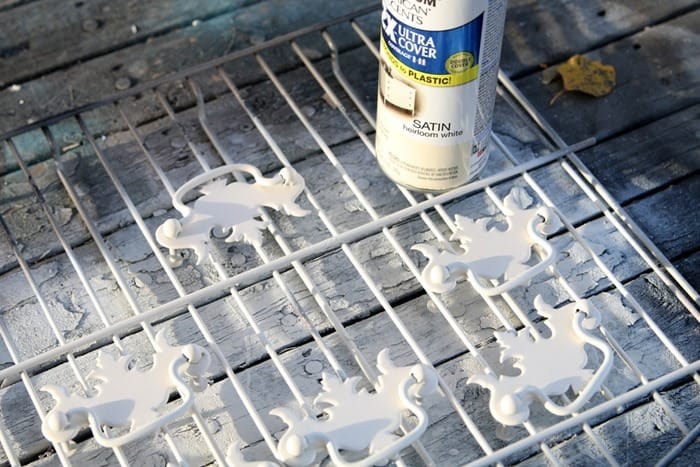 Rustoleum spray paint in Satin heirloom white is my go to white paint. It's not too white white and it doesn't have a yellow cast to it.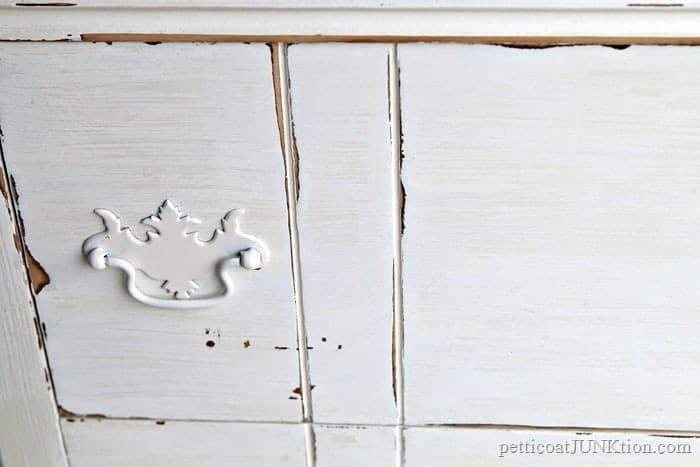 The coat of paint really pumped up the hardware.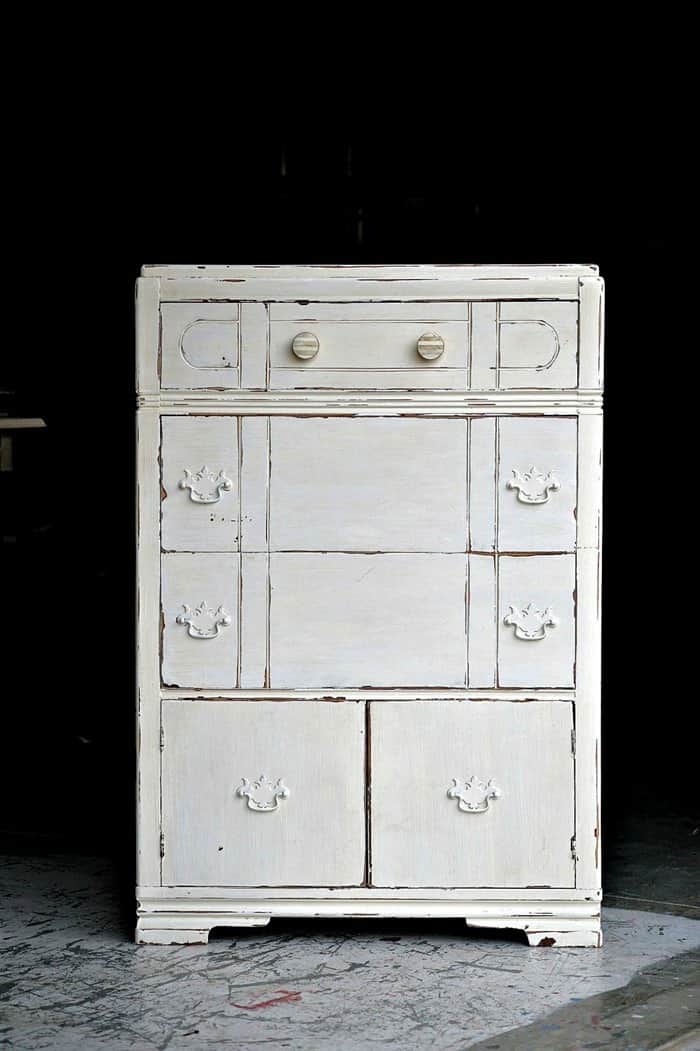 The chest looks so much better and the best part is I worked with what was there. I've done this a number of times. If the piece is already painted no need to paint again…..usually.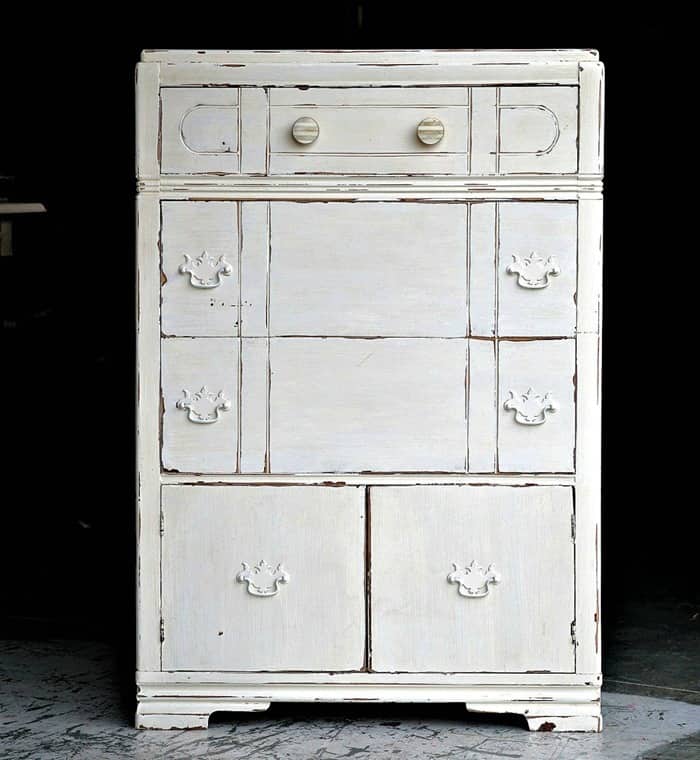 Fixed Up Furniture
Do you guys think the hardware looks better painted?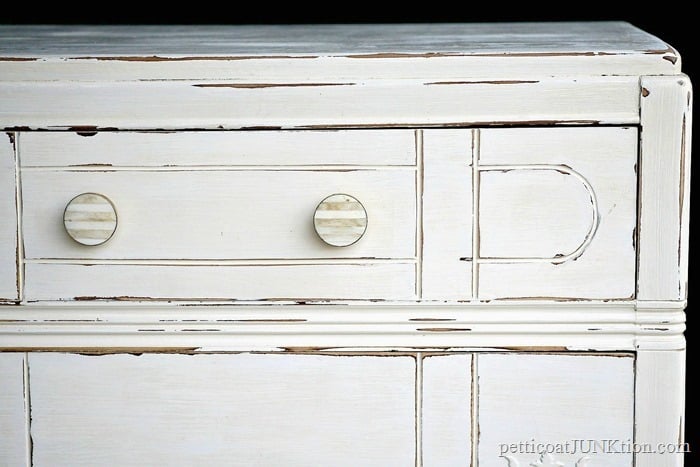 When I went to my drawer pull stash the round knobs were not my first pick. In fact I didn't think they would work at all. When I put them on the chest I had that ah-hah moment. Perfect.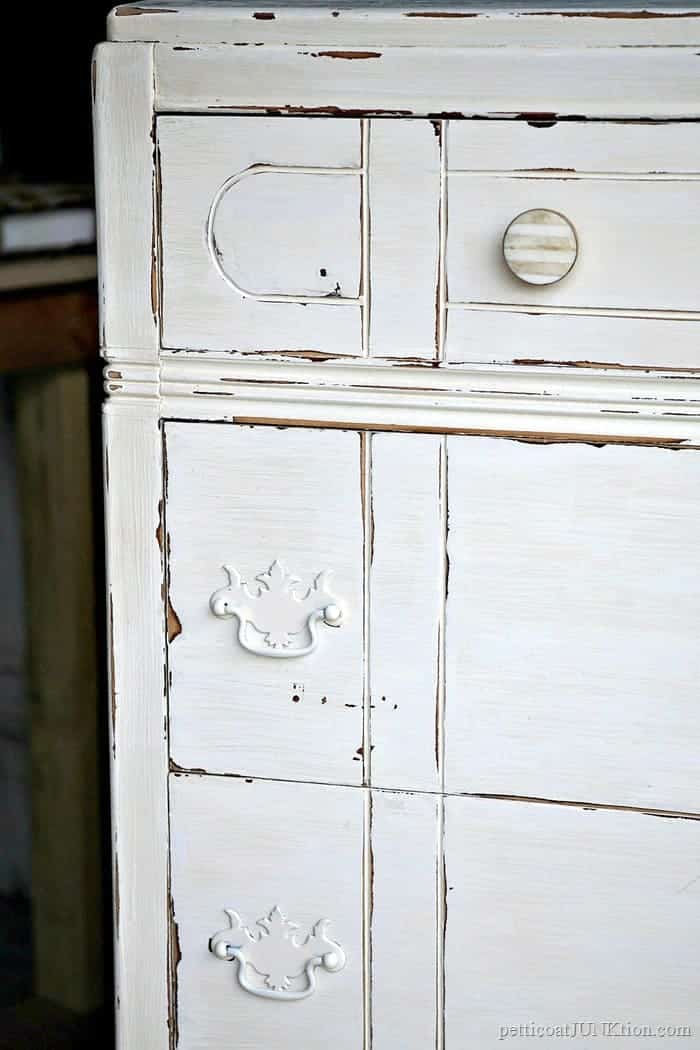 I think the rounded carved details on the top drawer and the round knobs make the chest look Art Deco. What about you guys. Let me know.
That's it for me. Have a great day, Kathy
Looking for last minute Christmas gifts? Find my favorite diy supplies and gifts I bought this Christmas on my very own made for me Amazon Page. My page is here  Petticoat Junktion on Amazon. This is an affiliate link. Read the disclosure here. #amazoninfluencer