I have a new whitewash paint technique. You guys know how I'm always trying new things. Well, I used a sponge, just a regular old kitchen sponge, to whitewash this piece of furniture I'm sharing today.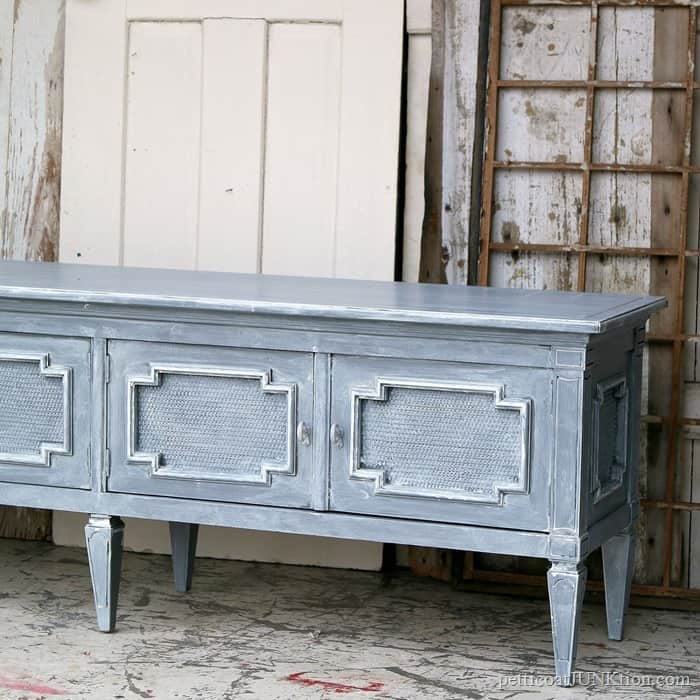 I even made a video of the process. Seeing the makeover in progress is so much better than reading about it.
Everyone has kitchen sponges or if not you can find them just about anywhere.....really cheap.
I started the whitewash process using a lint free rag but for some reason I wasn't happy with the results I was getting. I spotted the sponge on the shelf and it was on.
This is Furniture Fixer Upper Tour Day. Can't wait to see what my friends have been up to. The "before makeover" photos are intriguing. The tour starts at the bottom of this post.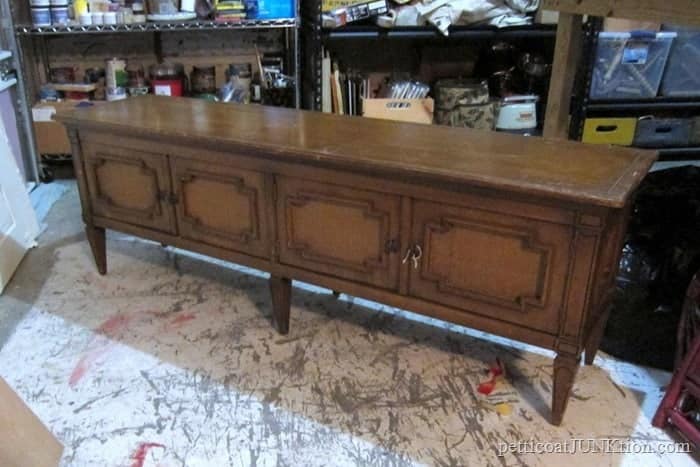 I'm not sure what to call this piece. It is 5 ft. long and very short. It reminds me of maybe a hotel piece from the 70's. Help me out please. Is it a credenza?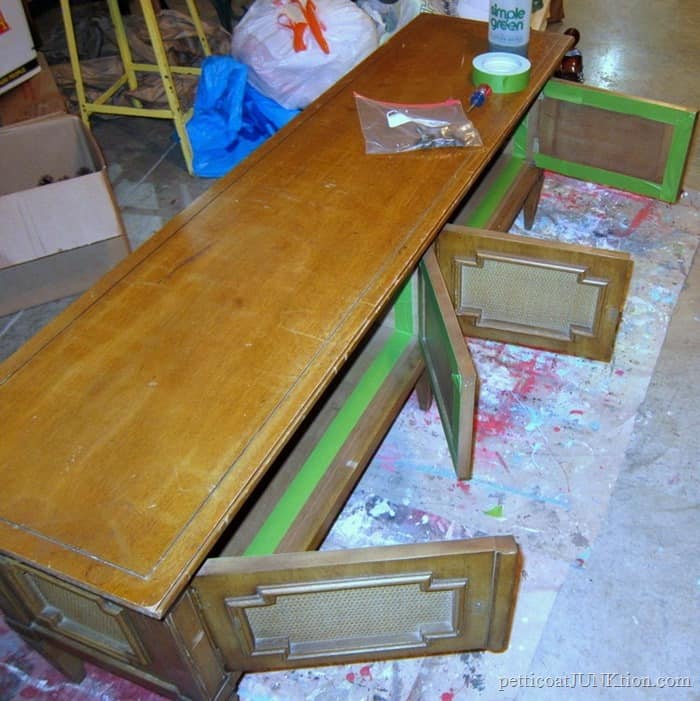 I bought it at a local shop for I think $45. My little sis has been looking for a piece to put in her hallway to catch shoes and whatnot. I was thinking this might work. We'll see if she likes the paint job.
Update to post. My sister did like the whitewashed piece and I delivered it to Arkansas on my last visit. Now she's trying to decide if it works with her decor and how to decorate around it. She's using it in a hallway/foyer as a bench and catchall.
In preparation for painting I removed the knobs, cleaned it up with Simple Green, and placed painters tape for crisp paint lines. I always remove the furniture knobs before painting.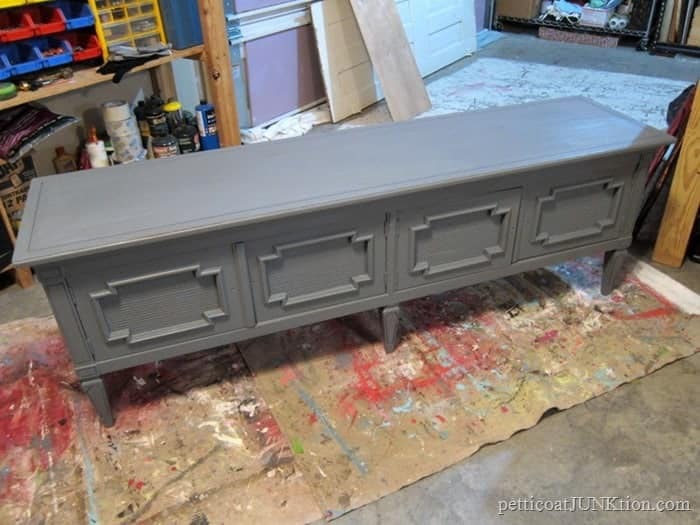 The paint I choose for the project is Beyond Paint in Pewter. You guys have heard me talk about this paint. It needs no priming or sealing. I especially like the sheen of the paint. It's kind of between flat and satin.
This paint also works well for whitewash and other techniques. It doesn't resist the products (whitewash, toner, etc.) like latex paints and it doesn't soak up too much of the products like chalk paints do.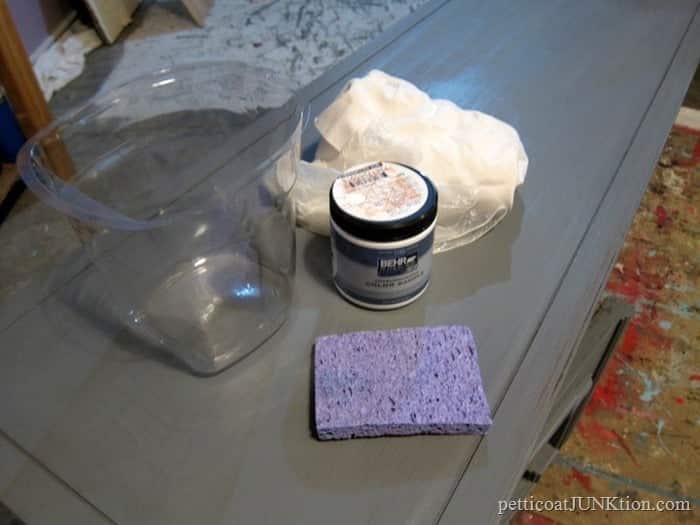 Moving on to the whitewash technique. I mixed a sample of off white paint with water. I did not measure anything. I used about half of the sample paint container and maybe 3 cups of water. The whitewash was really thin. You can see the mixing and everything in the video.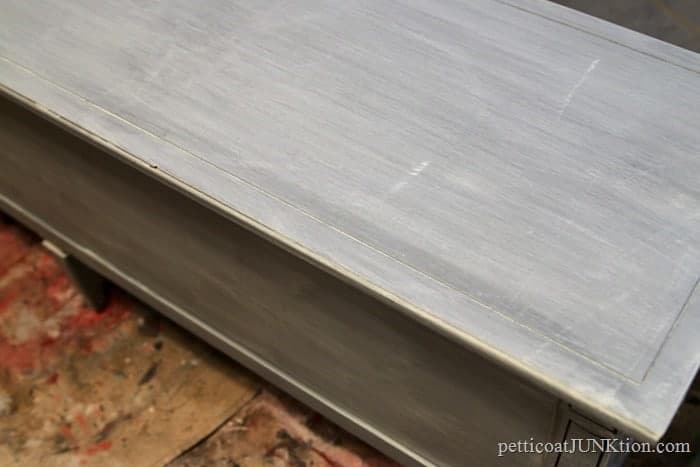 I used a sponge and just wiped the whitewash all over the chest. Then I hit places here and there with the sponge to add extra white areas. I turned the sponge on end and just touched or dabbed the paint to get this affect.
I have to admit it was a pain sponging around all of those details.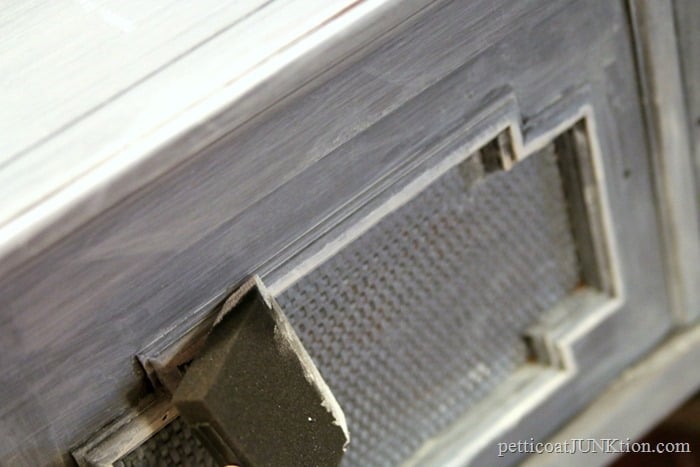 I thought I was finished with the project but the more I looked at it the more I knew it needed something else. The raised detail around the plastic rattan inserts just blended in. They needed to pop so I used a sponge brush and the sample paint undiluted to highlight the detail by running the brush along the raised edges.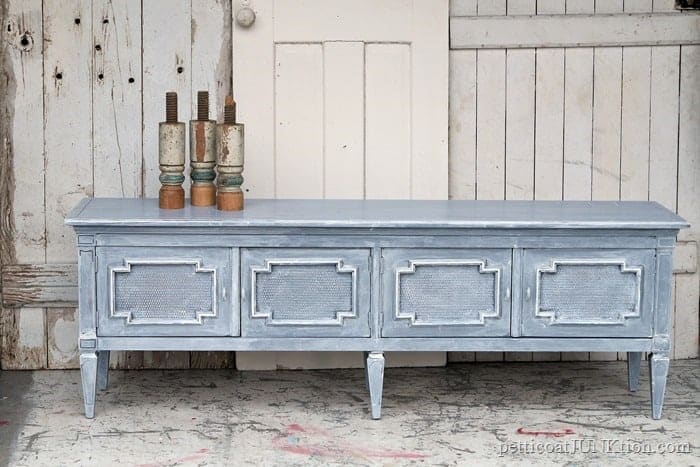 I used the original knobs, painting them a light gray. I tried new knobs I had in my stash thinking something larger would look good. No, they were too much with the busy whitewash.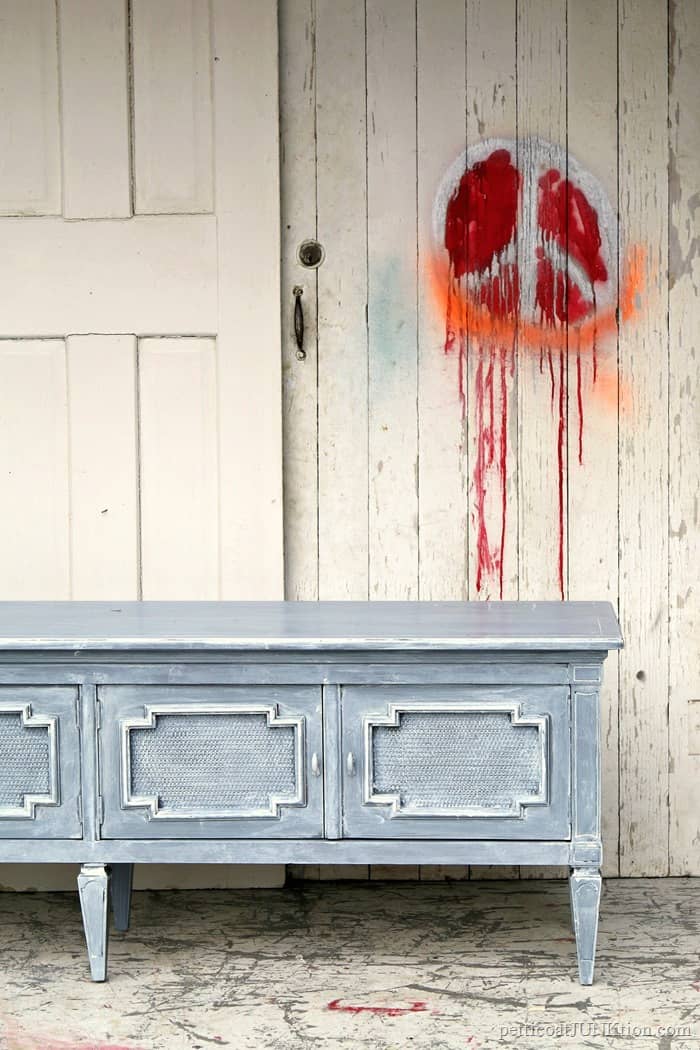 The door with the peace sign has been around forever. I use it as a backdrop in my photos but you don't usually see this side of the door.
I really like the bright colors and the peace sign but the runs from dripping paint look like blood. I might feature it more in my projects. What do you guys think about the door?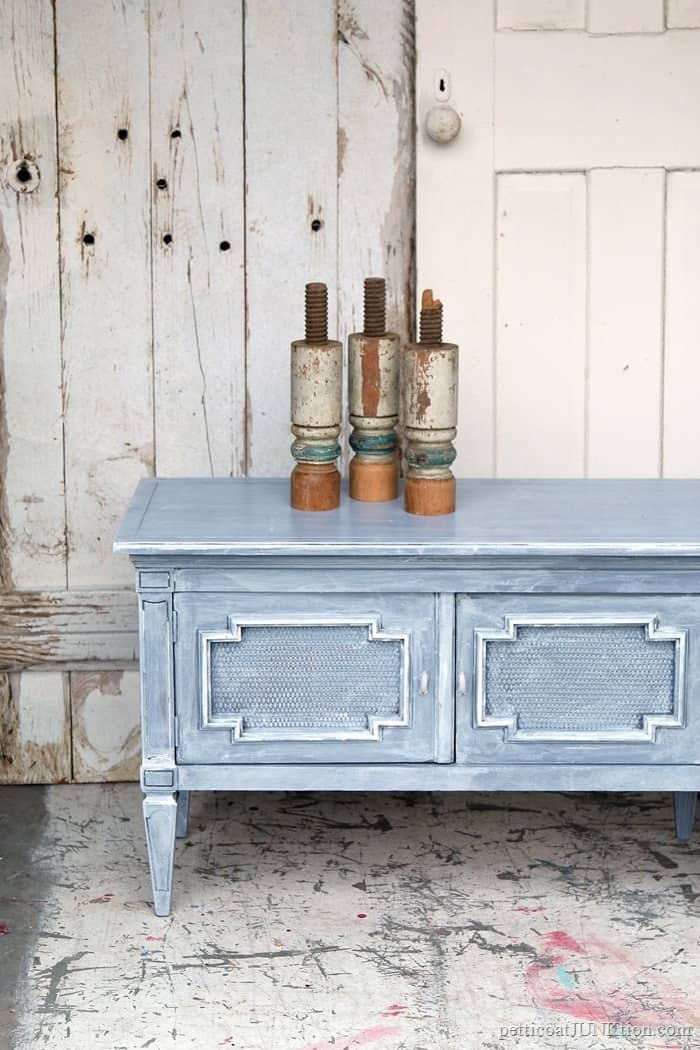 I sure am glad I highlighted the frames around the fake rattan inserts. Patting myself on the back. It doesn't look like hotel furniture anymore.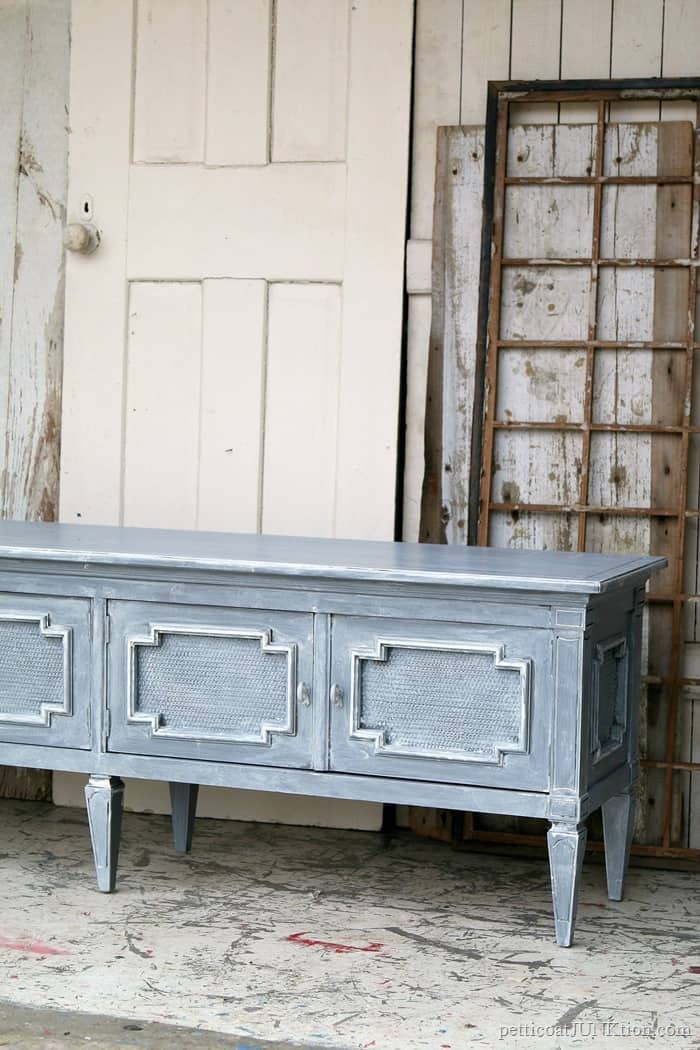 I used a very small paint brush with stiff bristles to push white paint into the cut in grooves on the legs and sides of the piece.
View the video tutorial below.....
Whitewash Paint Technique Video Tutorial
I get a lot of questions about where to find the Beyond Paint. You can find it on the Petticoat Junktion Amazon Page here.
Time to take the Furniture Fixer Upper Tour. Just click the pink links below the "before makeover" photo.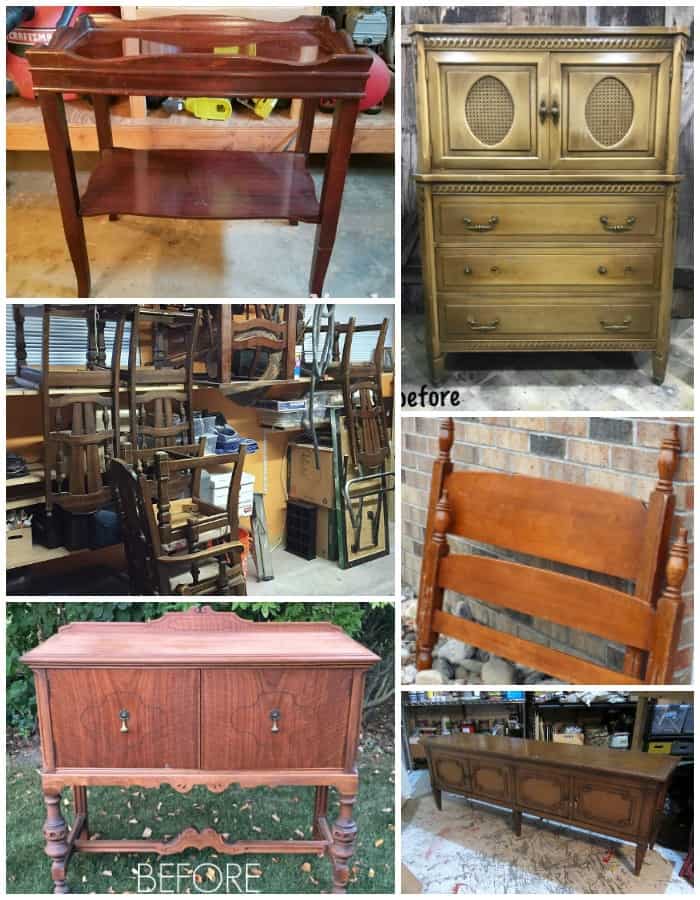 Child's Tea Cart from Repurposed Table Prodigal Pieces
Distressed Painted Furniture Just The Woods
Two Tone Dining Set The Interior Frugalista
Shabby Headboard Bench Confessions of a Serial Diyer
Antique Sideboard Makeover Girl In The Garage
Whitewash Paint Technique Petticoat Junktion (you are here)
Thanks for being here and have a great weekend. See you next week, Kathy
Author: Kathy Owen (Petticoat Junktion)
Kathy is the founder of PetticoatJunktion.com, a home décor blog focused on repurposing and upcycling furniture, old hardware, rusty stuff, and thrifty finds into unique home décor. Kathy's projects have been featured on the Home Depot Blog, Plaid Crafts, Behr Designer Series, and in numerous magazines. Read more about Kathy here.