Christmas Tree Inspired by Martha Stewart
Christmas tree inspired by Martha Stewart. I love doing Martha Stewart Knock-Off Projects. This is a tree branch Christmas Tree. Really inexpensive and fun!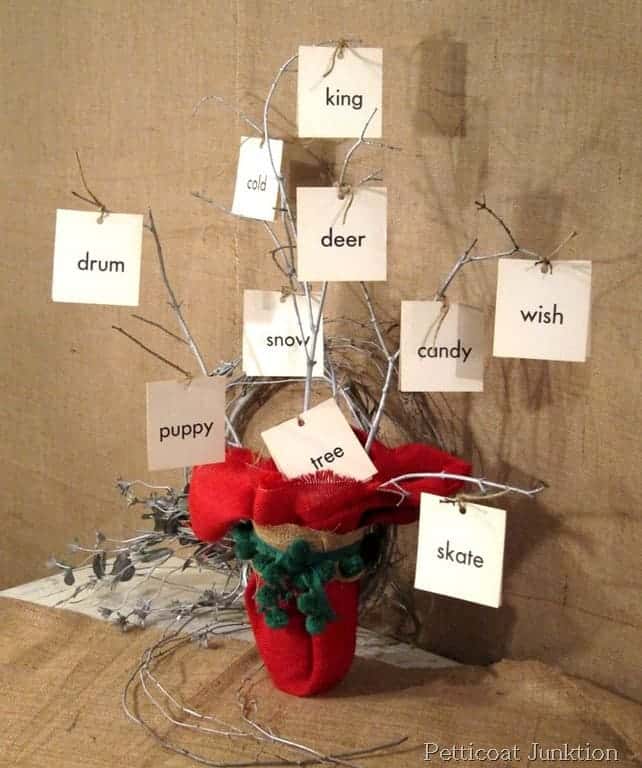 I'm a little late to the party this year. Or I should say……my Christmas crafts and décor are coming together very slowly. I've been salivating over the lovely holiday decorations on my favorite blogs and Pinterest, but for some reason, I just can't get it together. Sure, I put up the tree a couple of weeks ago and strategically placed my lighted Christmas houses and Christmas do-dads around the house, but no lovely new creations.
It's a good thing a group of my favorite bloggers are having a Better Late Than Never Christmas Inspiration link-up. I'm sure they knew I was running behind this year 🙂
And Debbie of Debbiedoos is having a Knock-Off Decor party and that's what this Christmas craft is, a Martha Stewart knock-off. I like  trying  to one-up Martha. I put this project together today and also started painting two pieces of furniture. I think I'm back.
My Inspiration…….Christmas Card Tree from Martha Stewart Living
Petticoat Junktion is a participant in the Amazon Services LLC Associates Program. As an Amazon Associate I earn from qualifying purchases.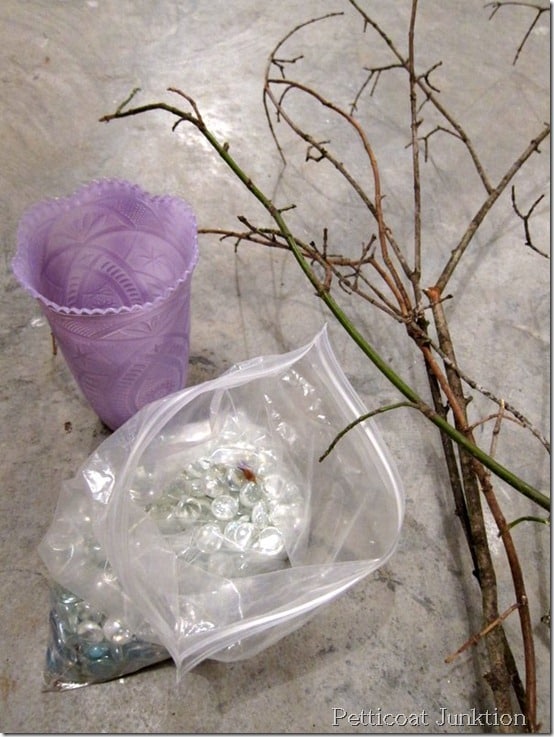 supplies, vase to be covered with fabric…beads to give the vase weight and the branches stability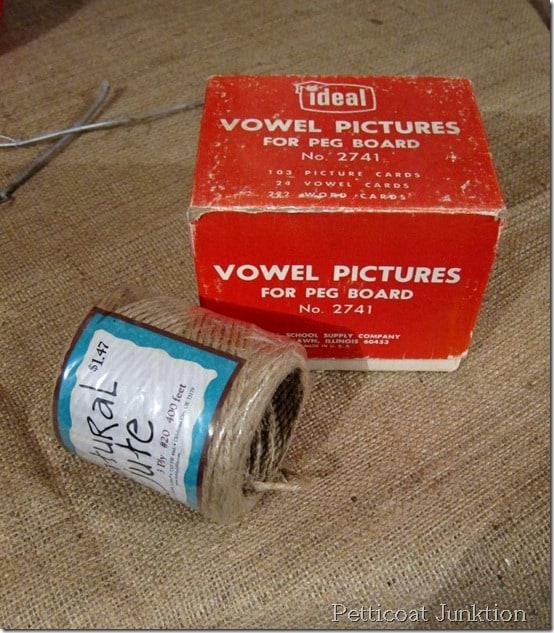 Jute for hanging some of the vintage vowel cards I scored at the thrift store a while ago.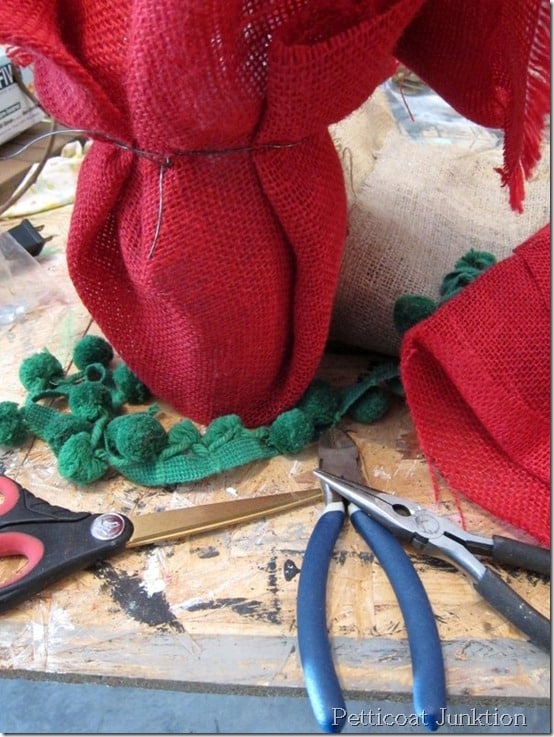 red burlap and vintage green pompom fringe from my stash of supplies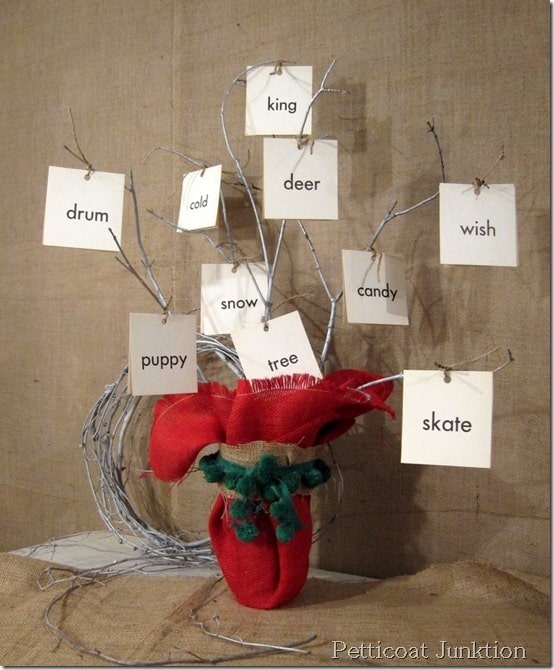 To put it together I first wired the red burlap around the vase then covered the wire with the brown burlap and green pompom fringe. I spray painted the branches white and silver then set them in the vase and poured acrylic beads around them. I was a little unsure about this, but the branches ended up arranged pretty well and the weight of the beads hold them firmly in place.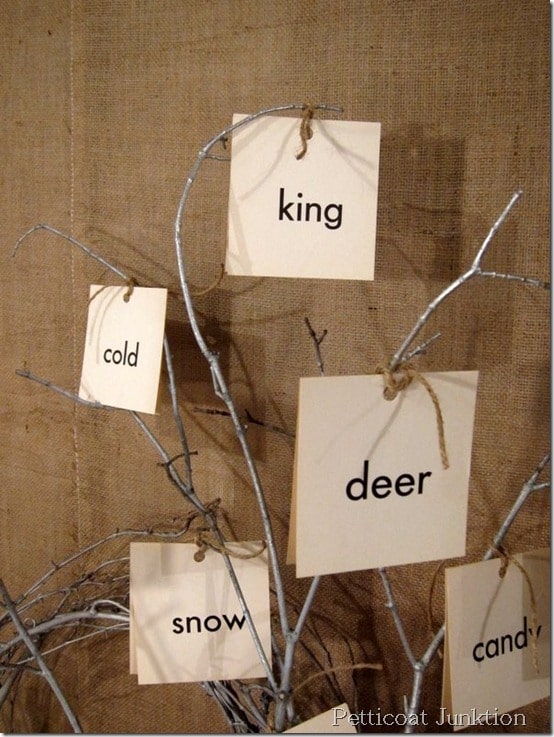 Christmas Tree Inspired by Martha Stewart
The cards are only printed on one side so I placed two back to back so there would be printing on both sides. I used the jute to loosely tie them on. There were a variety of word cards in the box and I tried to choose ones that fit the Christmas theme.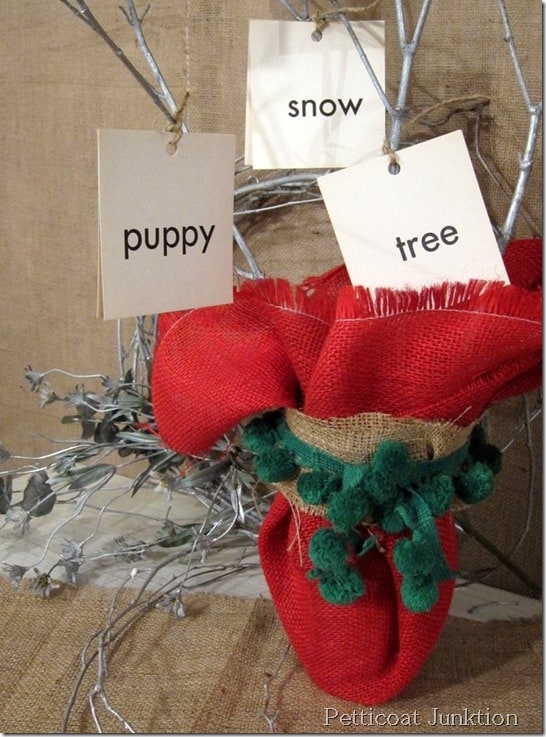 I love pompom fringe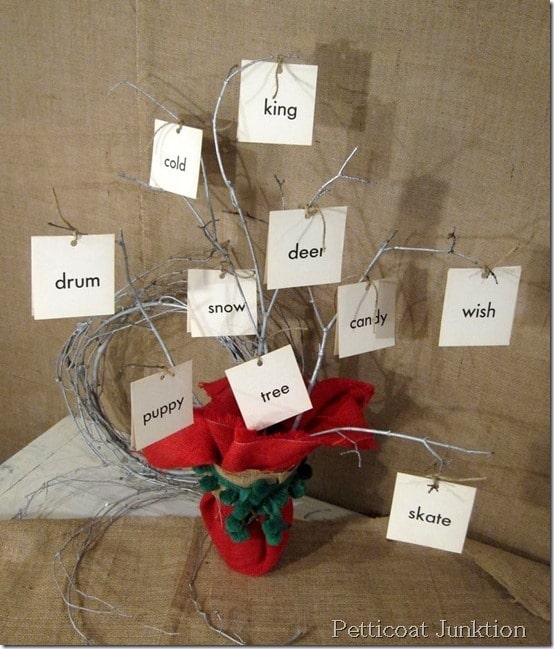 Branch Christmas Tree Decorated with Vintage Word Cards
Do you like my knock-off?
Kathy