Isn't it funny that your bathroom is your first stop in the morning and last at night, yet when it comes to home decor, we often let our bathrooms take the backseat?
Our bathrooms can be one of the most intimidating spaces to decorate. And for good reason: we don't want extra things cluttering the counter or getting grungy in a humid environment.
Fortunately, many clean, easy, cost-effective, and chic ideas exist to spruce up any bathroom or powder room! This article will cover some of the best bathroom decorating ideas that won't break the bank.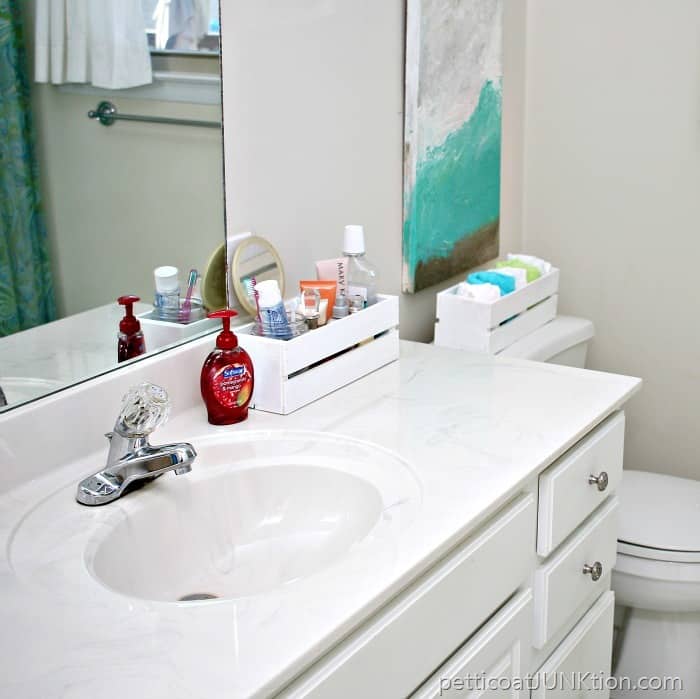 1. Paint It Up: How To Refresh With New Colors
Has your bathroom been feeling a bit 'meh' lately? Let's discuss your bathroom's most basic elements: the walls and the cabinets.
The first and most crucial step in your bathroom transformation could be as simple as picking up a paintbrush and changing the color palette.
Maybe you've just got a faded 90s vibe that's not retro-cool yet.
Let me tell you something: a fresh coat of paint can seriously work wonders, almost like magic!
It's more than just the color. It's all about the emotions the color brings.
Crisp whites and soft, light shades can make your bathroom feel larger, giving off a vibe of cleanliness and relaxation. It's like having a mini-spa retreat right in your home.
But then there are the bolder colors. A deep navy blue or a rich forest green can create an atmosphere of luxury and modernity.
And don't just stop at the walls! Remember those cabinets we talked about earlier? The cabinet can either be monochromatic with your walls, contrast with the walls, or go neutral with it!
Give them a fresh coat of paint to completely transform the look and feel of your bathroom, taking it from 'just fine' to 'absolutely fabulous.'
Pro Tip: Adding some interest with a peel-and-stick wallpaper accent wall behind the sink might be another great way to add drama to the space.
2. In-Wall Storage: Who Knew?
Are you running out of floor space in your small bathroom? Fear not—let's go vertical!
Say hello to in-wall storage—it may be the game-changer you are looking for.
In-wall storage provides you with ample space without crowding your bathroom. It's the perfect solution for all your bathroom essentials and luxury products, and it can stay hidden behind a mirror or a door if desired.
So, here's the idea: install a recessed medicine cabinet or even some lovely open shelves using the space inside those idle walls.
Yes, it's simple! It can add depth and functionality to your bathroom, quickly bringing order to such a small space. Plus, it allows you to display some of your favorite perfume bottles, maybe a vase or cute containers holding cotton balls or Q-tips!
3. Raise Your Vanity
One of the finest ways to elevate your bathroom is by raising your vanity.
Often, we underestimate how much a raised vanity can change a space's look, feel, and function.
Perhaps your old vanity is a bit tired and too low, or you're simply looking for a way to add elegance.
The solution is to raise your vanity. It gives a feeling of space and luxury to your bathroom. Plus, it provides you with additional storage space underneath your sink!
Consider changing the hardware, knobs, and hinges if they look shabby!
4. Frame a Large Mirror
The devil is in the details—in this case, your bathroom mirror!
Mirrors can be more than just practical ornaments. One of the simplest yet most impactful ways to enhance your bathroom's aesthetics is by framing your large mirror.
Your large mirror isn't just a functional item; it's also a perfect canvas for self-expression!
And by framing it, you will transform your mirror into the center of attention in your bathroom.
5. Flooring: Peel and Stick Tile Options
A complete flooring makeover might seem daunting, but don't worry! We've got a trick up our sleeves.
Enter peel-and-stick tile options—they're a godsend if you're on a budget and have a time constraint.
Because they cater to virtually any aesthetic, you can find them in various patterns, colors, and styles.
Applying these tiles is as simple as it sounds: peel and stick them onto your current flooring.
The process is quick and completely reversible. These tiles are water-resistant and mimic the look of traditional tiles, stone or wood.
You will never know the difference!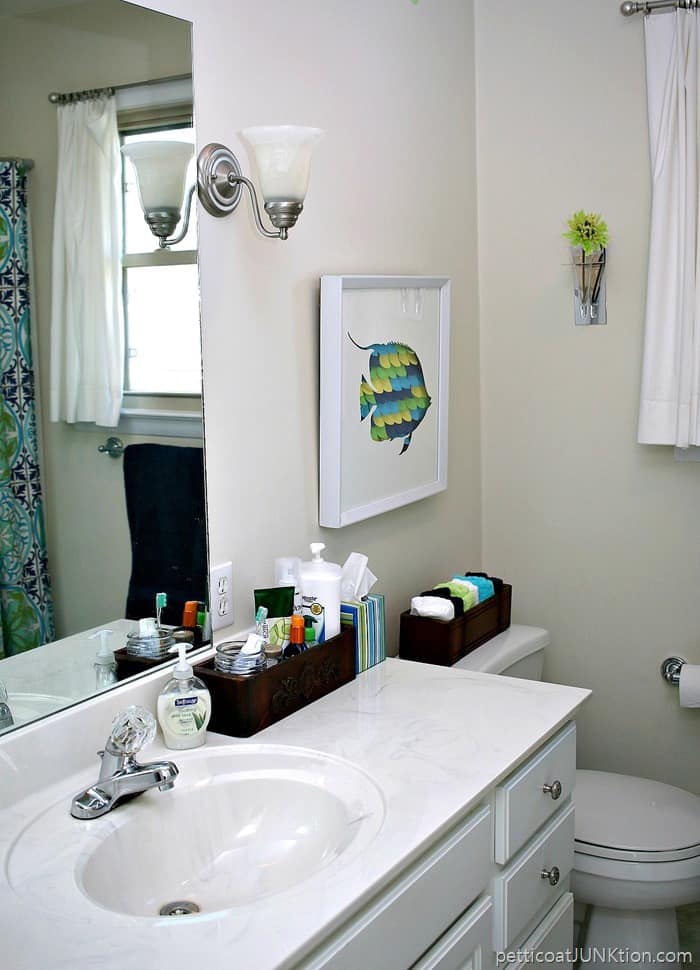 6. Artful Additions: Bring in Bold Artwork
News flash: Art doesn't have to be confined to our living rooms and hallways.
Who would've thought the humble bathroom could turn into a perfect gallery for our favorite pieces?
Imagine walking into your bathroom and, instead of the usual blank walls, being greeted by an art piece that's a pure expression of your personality.
It adds a special touch; suddenly, your bathroom doesn't just feel like another room in the house. No—it starts to feel like a curated, thoughtful space!
Now, when I say art, it could be anything. If you're into vibrant abstract paintings or vintage movie posters, go for it!
The right artwork can breathe some life into a space that otherwise feels sterile.
Don't forget to select pieces to match the bathroom's overall color scheme and theme. But, above all, pick pieces that genuinely bring you joy.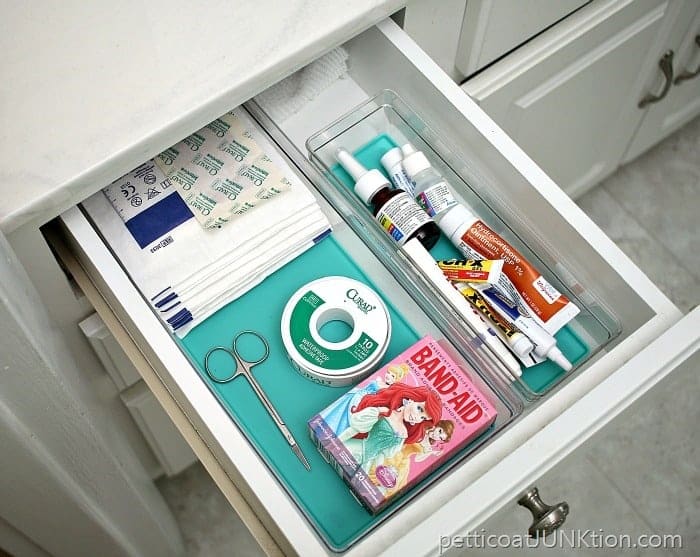 7. Little Touches: Enhance With Decorative Elements
Alright, ready for the next hot tip?
Let's discuss other parts of your bathroom organization—storage containers for cotton balls, Q-tips, and toilet paper rolls.
I bet you've got them tucked away out of sight, right?
Well, no more! Because those essential items don't have to be hidden!
Who said your storage solutions couldn't be good-looking accessories?
Imagine choosing containers that are easy on the eye and practical; for example, glass jars filled with cotton balls, woven baskets holding toilet paper rolls, or even ceramic dishes for your Q-tips.
It's all about finding pieces to fit your bathroom's theme.
8. Countertop Update on The Cheap
Another thing: are your countertops looking like they've seen better days? I know the feeling. Mine were worn out and tired, but then I discovered the magic of contact paper.
Yup, you heard me right. Good old contact paper!
It's like an easy-to-use makeover on a roll! They may all be snazzy patterns like marble, granite, and wood.
It can turn your old countertops into something brand new and exciting. I couldn't believe the transformation! So give it a go, and you'll see what I mean.
With all the money you saved updating the counter, you could splurge on a new faucet to complete the look!
9. A Call for Double Duty!
Here's another crazy idea for your bathroom: furniture!
Step stools and small wardrobes can all play double duty in your bathroom. Trust me on this one.
Take a sweet-looking step stool. Instead of just using it to reach a high shelf, stack extra towels or bath products next to the tub like a mini side table.
And wardrobes? Even a slim one can instantly turn into an unexpected linen closet.
I discovered this multi-purpose furniture doesn't just crank up my storage space. It brings a whole new degree of aesthetic value to the bathroom.
When picking out these pieces, try to find ones that fit right in with the theme of your bathroom. I've got an antique wooden ladder I use as a towel rack in my vintage-style bathroom.
So, next time you're out furniture shopping, don't just think about your living room or bedroom. Give your bathroom a little thought, too!
10. Take It to The Next Level!
Still, yearning for more ways to transform your bathroom? Cool, here are some more creative solutions:
Stencils and Tile Paint
Consider stenciling a new backsplash or painting the existing one with tile paint. This small change can add a pop of color and character.
Reorganize
Well, maybe the problem isn't the space itself but its clutter. Try reorganizing your bathroom essentials to create a more streamlined, functional space. Be sure to remove extra products and supplies you haven't used.
Runners and Rugs
You can add a bathroom runner or rug for a splash of color and a cozy feel underfoot.
Crown Molding
With this, you can quickly transform your bathroom from blah to outstanding. It gives off an atmosphere of sophistication and luxury.
Lighting
Swap out your old light fixtures for new ones. Choose fixtures that cast a warm light.
Ceiling Upgrade
Consider the ceiling. Usually, a bathroom is a small enough space to consider doing something cool on the ceiling without considerable expense.
Your bathroom is a sanctuary where you can rejuvenate and pamper yourself, so why not make it a stylish retreat?
These ten bathroom decor ideas cover many aspects of a beautiful and functional bathroom design. Whether you prefer a modern, classic, or eclectic style, there's an idea here to inspire your next bathroom transformation. So, get started and turn your bathroom into a space that reflects your personal style and offers the ultimate relaxation experience.
This article originally appeared on Wealth of Geeks.
Cassity Kmetzsch started Remodelaholic after graduating from Utah State University with a degree in Interior Design. Remodelaholic is the place to share her love for knocking out walls, and building everything back up again, to not only add function but beauty to her home. Together with her husband Justin, they have remodeled 6 homes and are working on a seventh. She is a mother of four amazing girls. Making a house a home is her favorite hobby.