Stenciled Christmas Wall Decor In Turquoise And Red
This stenciled Christmas wall decor is a Believe sign that's perfect for any room.
It's awful hot here in Tennessee. The Believe wall sign I made this weekend had me believing in a cool down. And it happened. Did it cool down a bit where you are? For this easy project I pulled out all the stops with pretty paint colors and a fun stencil. I made a video too, always an adventure.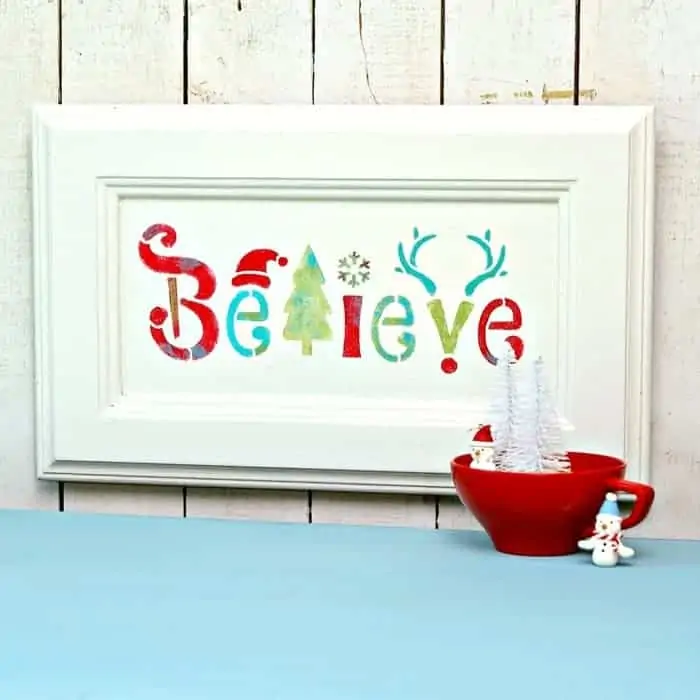 How about those colors. I selected lime green, turquoise, and red for my color scheme. I've been going non traditional for Christmas the past few years. I love red and green and these colors are just a slight variation on the traditional.

I had this small cabinet door in my junk wood pile that's been painted about 50 times. It was the perfect size for the stencil. To show off the bright colors I picked out for the Believe sign I painted the cabinet door white (51). I added a wire hanger to the back center top and wall protectors to the four corners. The door is ready to hang so on to the stenciling.....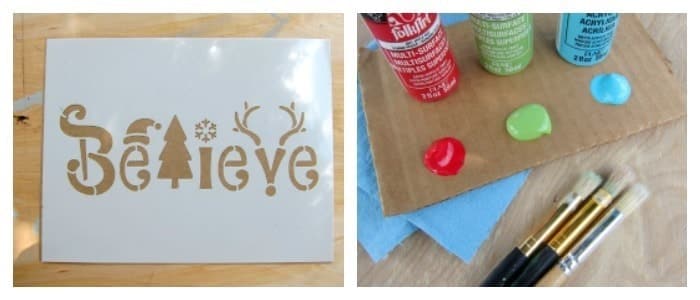 Believe stencil from Stencil Revolution
The letters of the Believe sign were made from different items that symbolize the magic of Christmas like the Santa hat, a snow flake, the cute Reindeer antlers and red nose, and of course the Christmas tree.
I used FolkArt Acrylic paints and stencil brushes. You don't have to have a bunch of stencil brushes. Just wash them off when moving on to another paint color.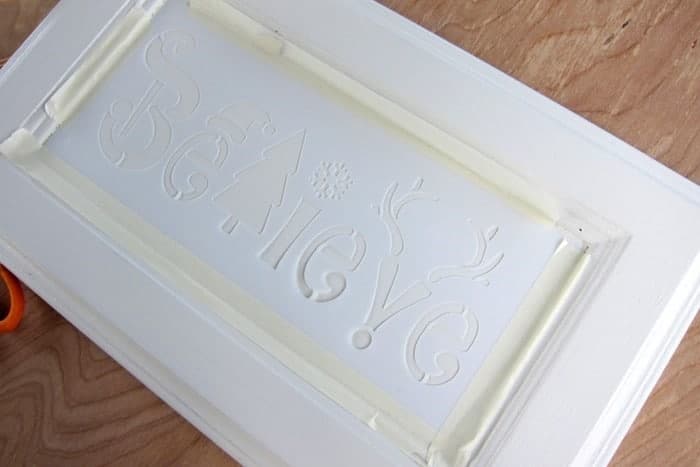 I cut the stencil to fit into the inset part of the cabinet door then taped it down with stencil tape.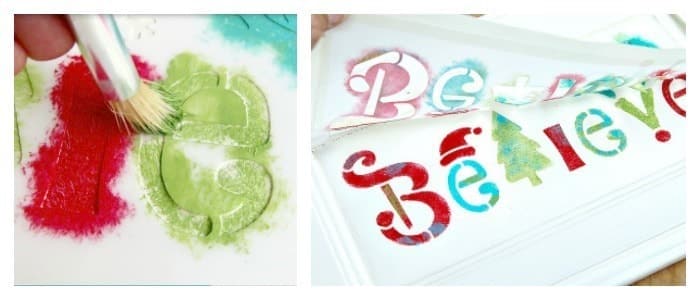 Then I started stenciling. You guys have seen me do this a bunch. I have tutorials and also videos of the process. A dry brush is the secret to stenciling and the secret to a beautiful professional looking stenciled design is to layer the paint colors.
I decided what the main color would be on each letter and stenciled them. Next I highlighted the letters with a second color just all willy nilly. I didn't give it a lot of thought. I knew the green tree would look cool with bits of turquoise here and there and the snowflake would look nice with dabs of all of the colors.
It's hard to explain but you just have to think about it and go with what colors you believe will work together. If the colors don't look right then paint over the stenciled design and start over. I've done this before. It's nothing to be embarrassed about. Mistakes or bad color combinations happen a lot around here.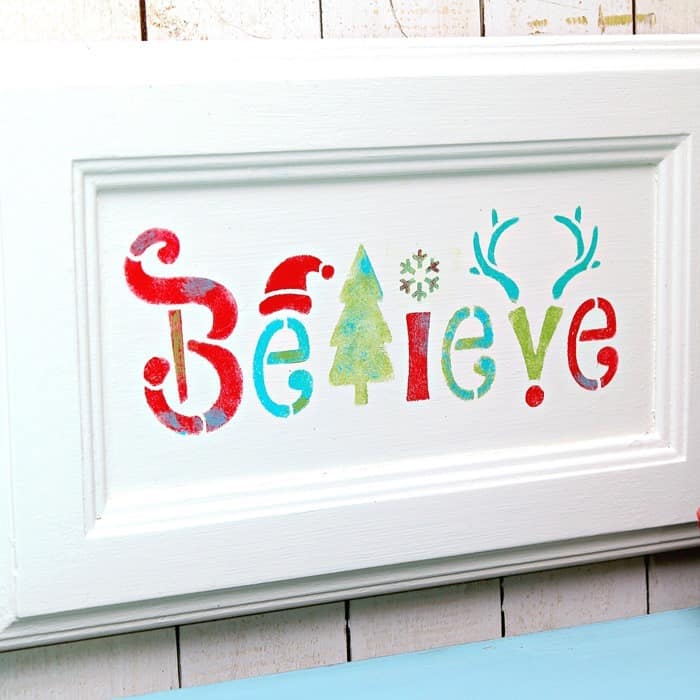 What do you think about the color combination. I can think of others; red, green, black…….orange, turquoise, lime……fuchsia, metallic gold, lime green. I bet metallic silver and metallic gold with a touch of pink would be pretty. What's your favorite color combination?
I almost forgot to mention that you can put this stencil on anything. A simple white canvas would work or any reclaimed piece of wood, or maybe buy an 8x10 picture frame and stencil a piece of mat board. I'm sure there are other things that could be used too. Think outside the box!
Watch the video below showing how I stenciled the Believe wall decor…
Believe Wall Sign Video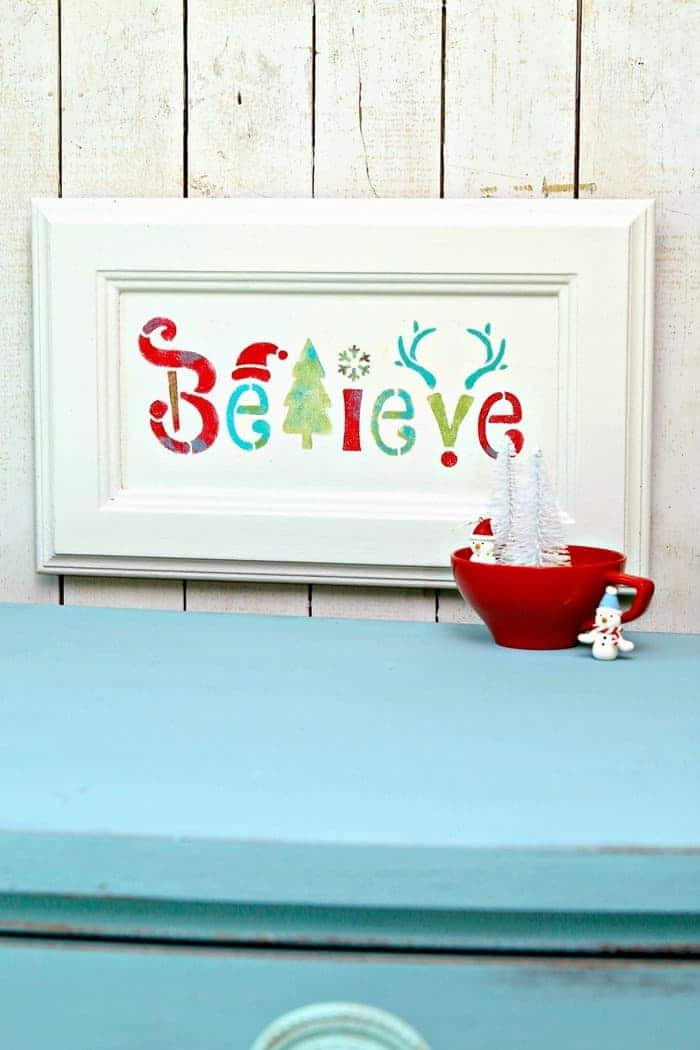 Make your own Believe Wall Sign
The Believe stencil I ordered is an 8x10 and is made from 10 mil mylar. I love the thickness, no creases and very easy to work with. You need this stencil!
This week we have Furniture Fixer Upper day and my project is sooooo pretty. Yes, I'm patting myself on the back. Wait until you see it. Thanks for being here and have a great day, Kathy
Author: Kathy Owen (Petticoat Junktion)
Kathy is the founder of PetticoatJunktion.com, a home décor blog focused on repurposing and upcycling furniture, old hardware, rusty stuff, and thrifty finds into unique home décor. Kathy's projects have been featured on the Home Depot Blog, Plaid Crafts, Behr Designer Series, and in numerous magazines. Read more about Kathy here.