8 Never Before Seen Projects
I love fuchsia pom poms….or any pom poms for that matter…….and sea glass spray paint…….plus silver metallic spray paint, pink flowers, peace signs, and upcycled lamps and picture frames. Projects Alert!
You guys have no idea how many projects I do in the course of a few months. If I shared everyone of them with you and blew up your email you might see red. But I wouldn't do that to you. I looked back at my photos for the past few months and selected 6 or 7 projects you have never seen before…..to share today all in one post. Don't worry, no detailed tutorials, plus they're really easy projects! I think you guys will like these ideas. Maybe try a few of them.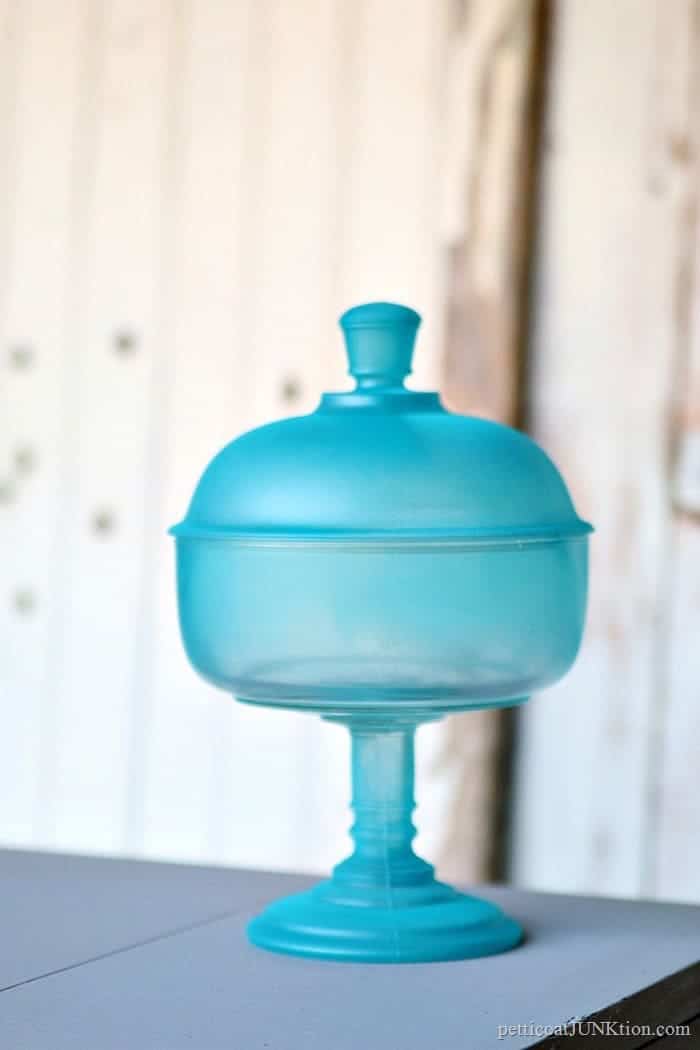 Aqua Sea Glass Spray Paint Project
You can buy sea glass spray paint to create a faux sea glass look.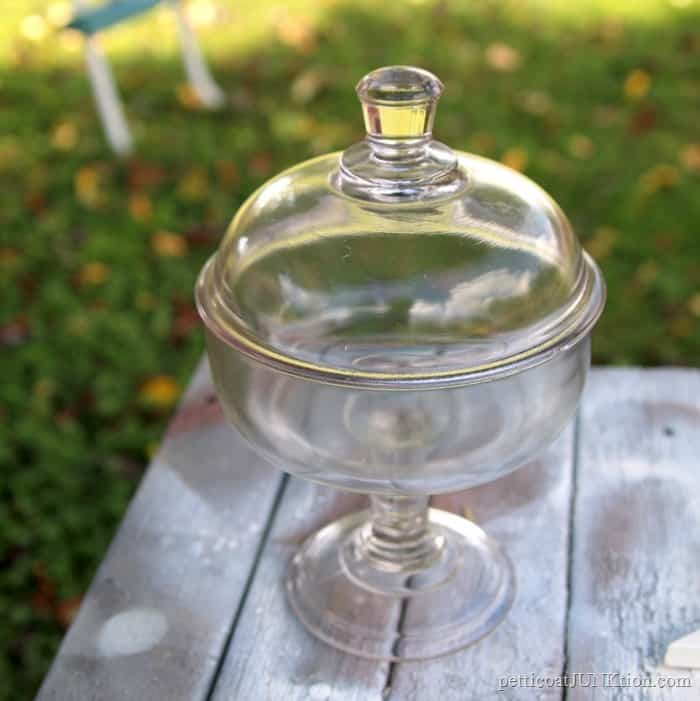 I bought the clear glass dish at the thrift store.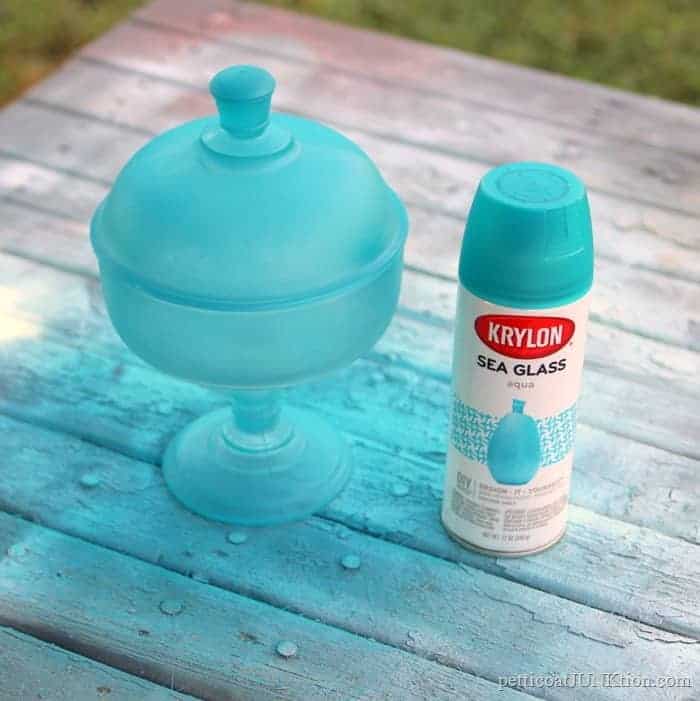 And a quick spray paint job with Krylon Sea Glass spray paint gave me this pretty look.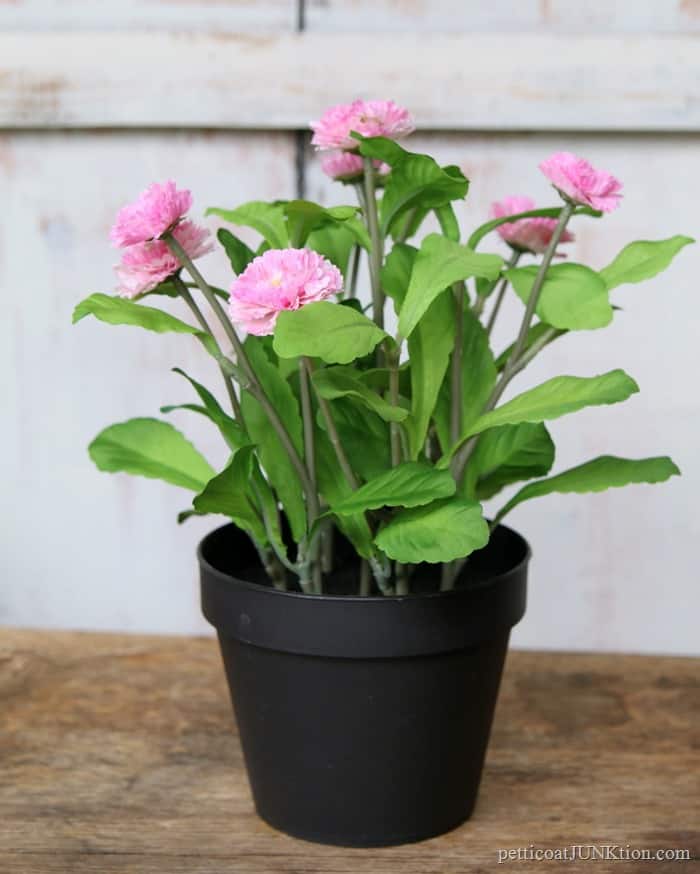 On to project 2. I bought the pot of fake flowers at Ikea in Memphis. I thought they would look pretty in Mom's nursing home room. The Memphis Ikea is at the half way point between my parents home and our home. The drive is seven hours and I sometimes stop and walk around Ikea for an hour or so. And I usually buy a few small things.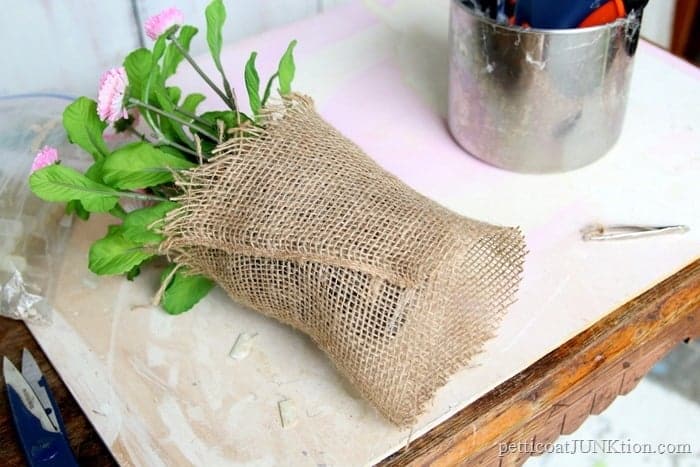 But they needed a little fixing up. I cut a piece of burlap, wrapped it around the pot and secured it with hot glue.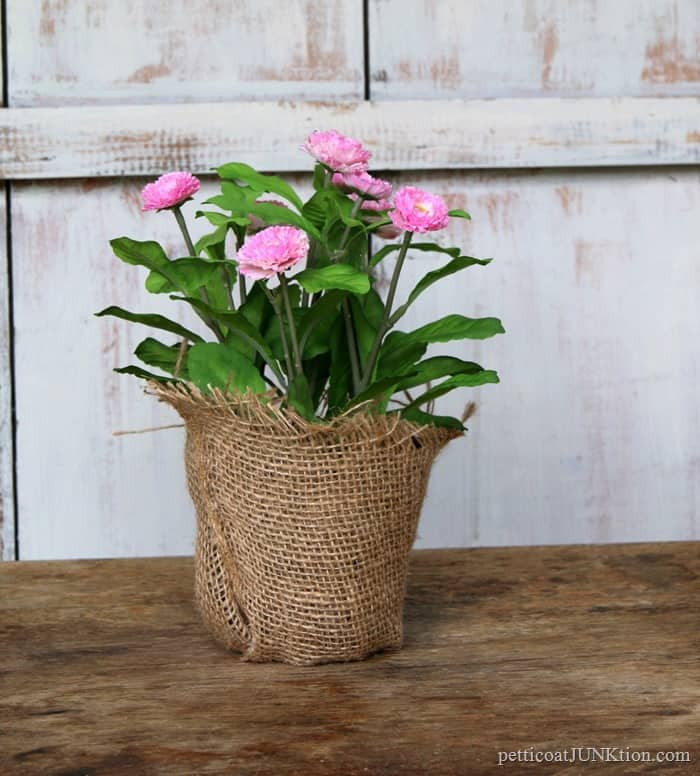 It looked a lot better but I wasn't finished with it yet.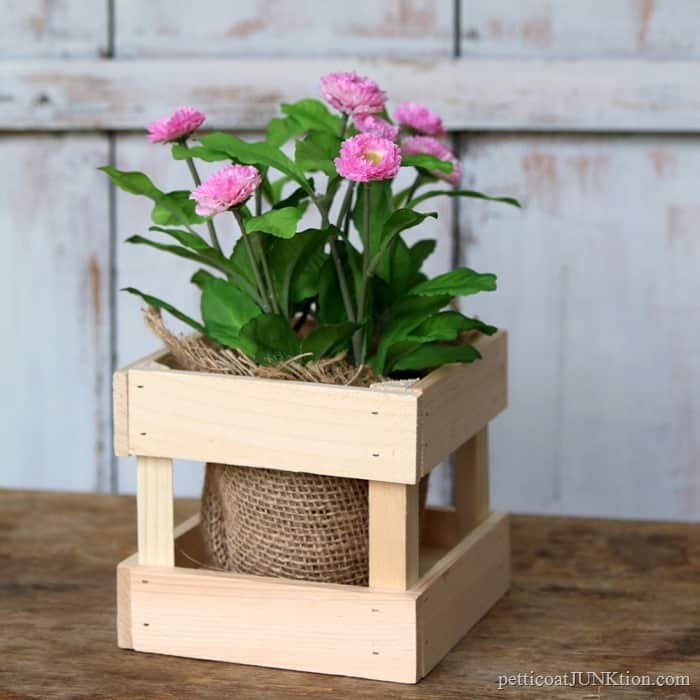 I had this small plant holder I put together at a conference workshop and the size was just right for the pot of flowers. The flowers spruced up Mom's room until the Fall when I replaced them with more seasonal décor.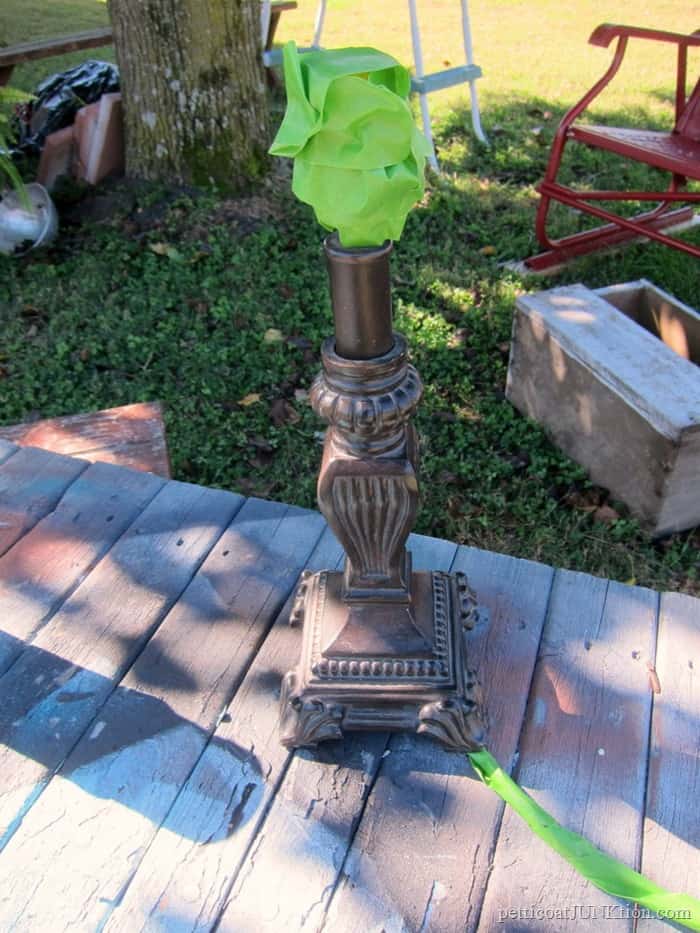 This lamp needed a little love. You can always find lamps at the thrift store. I'm bad about buying lamp bases and not being able to find the perfect shade. I hate to buy new ones because they are so expensive.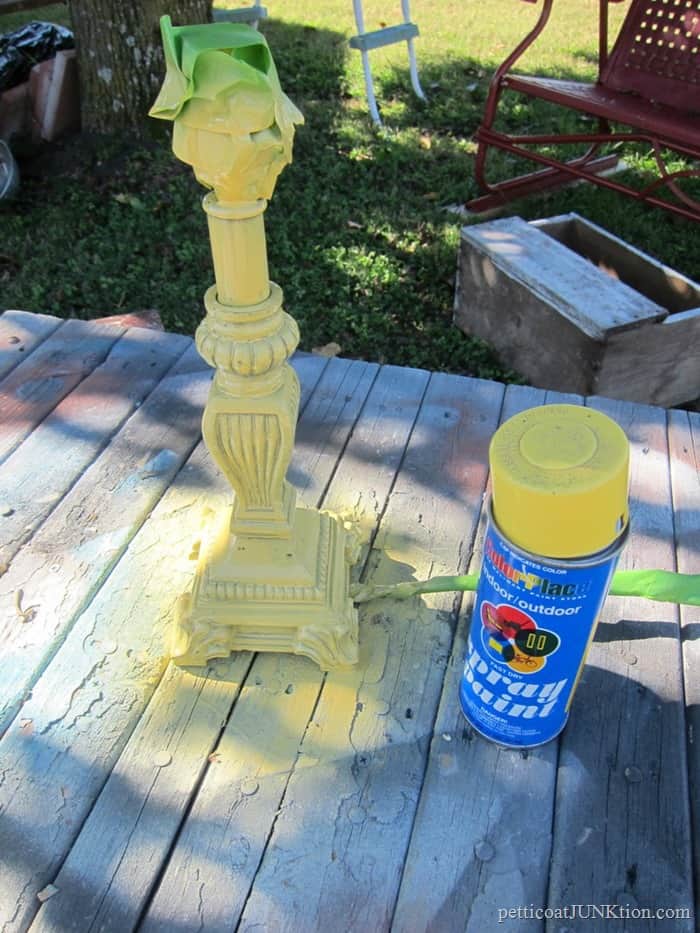 I chose a bright yellow spray paint for the lamp base.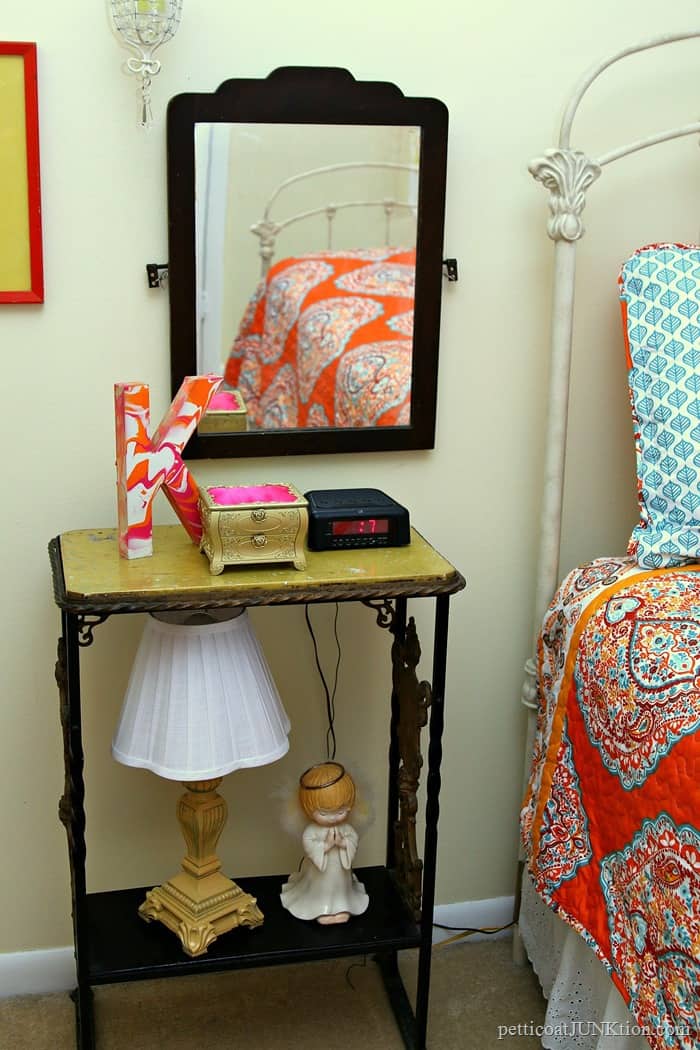 The lamp in in the Granddaughters bedroom at the house. The lamp shade came from the thrift store and it's white and it's okay but a little out of style. I'm on the lookout for a better one.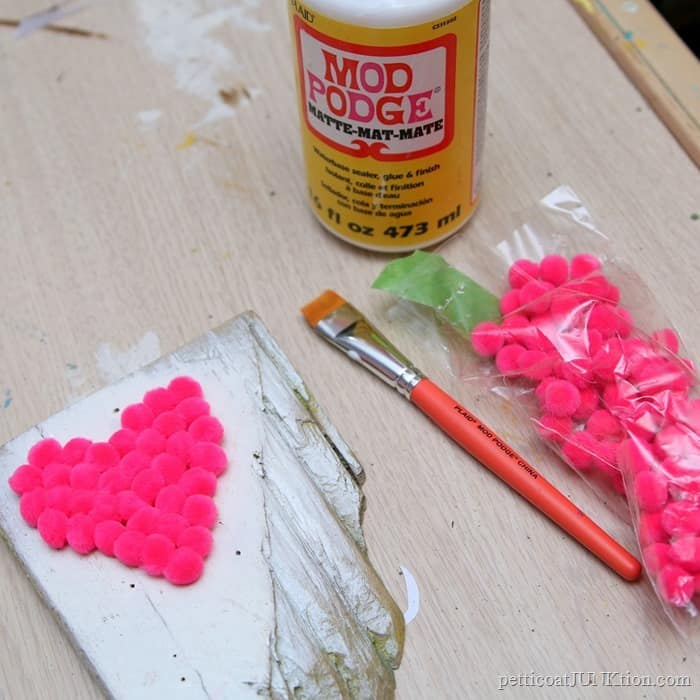 I made this project for Valentine's day last year and never posted about it. I had the itsy bitsy fuchsia pom poms in my junk stash and the piece of wood too. I cut a heart template out of paper, place it on the wood, brushed a thick layer of Mod Podge on the heart template, and stuck the pom poms on. That's it. I added a pop top tab to the back for a hanger.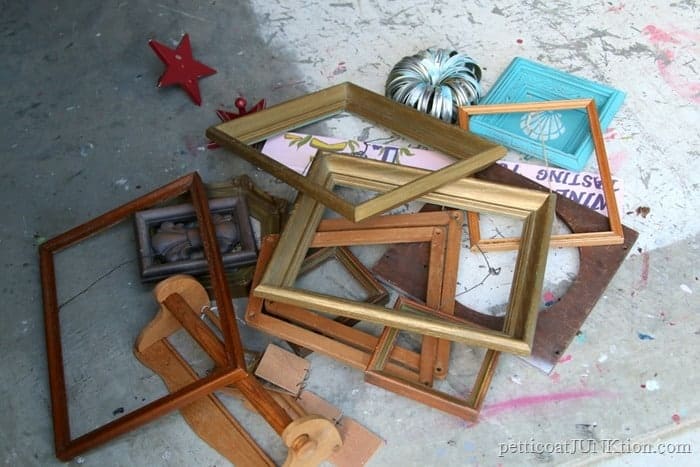 When the weather is nice I go through all my junk in the workshop and gather things to spray paint. This was one of those days.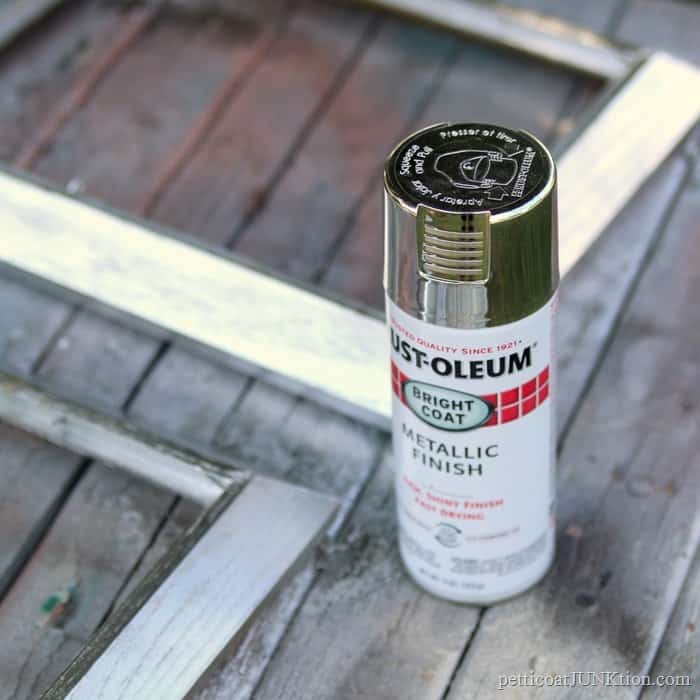 I pulled out my favorite metallic silver paint.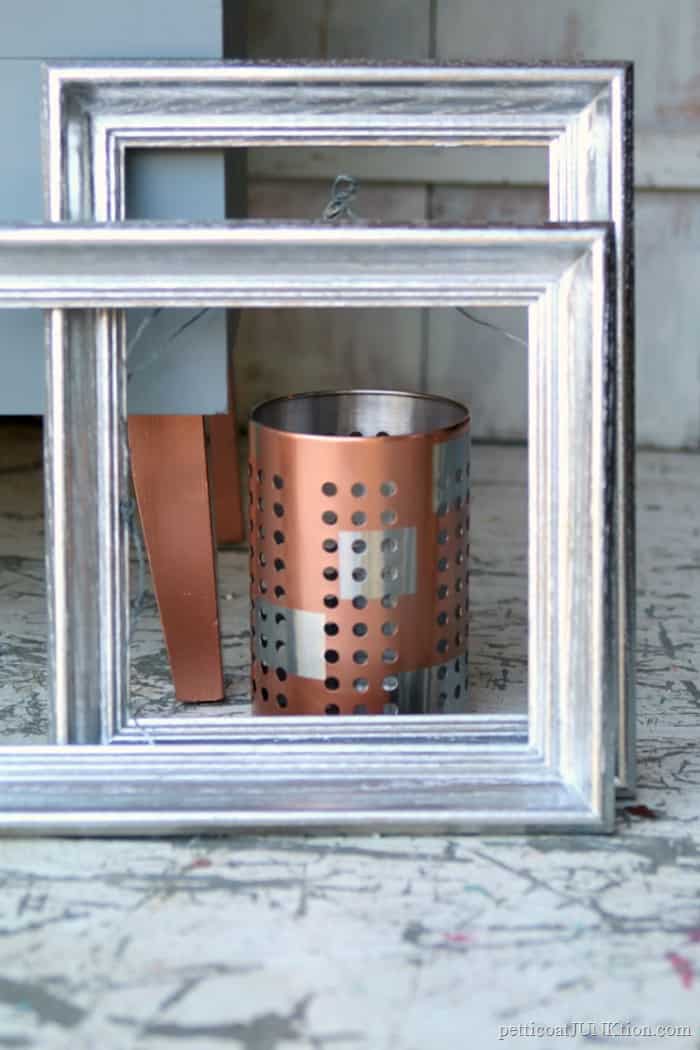 Spray painting home décor accessories is so fast and so easy. Seriously, a five minute project. Find some things around the house that need updating and get to work.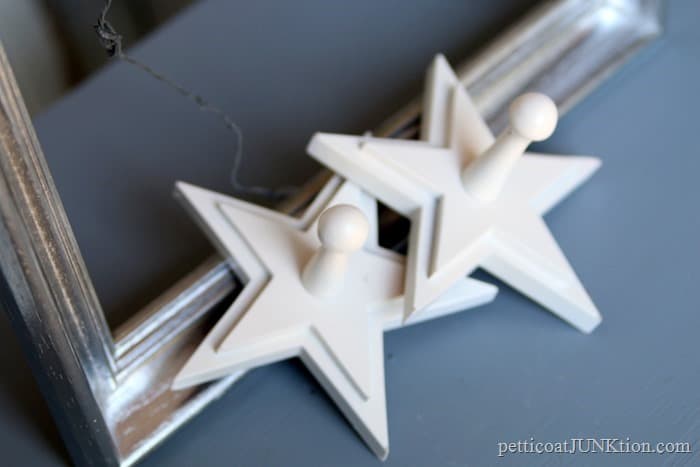 The star hangers are made of wood and look much better in Heirloom White than dull red.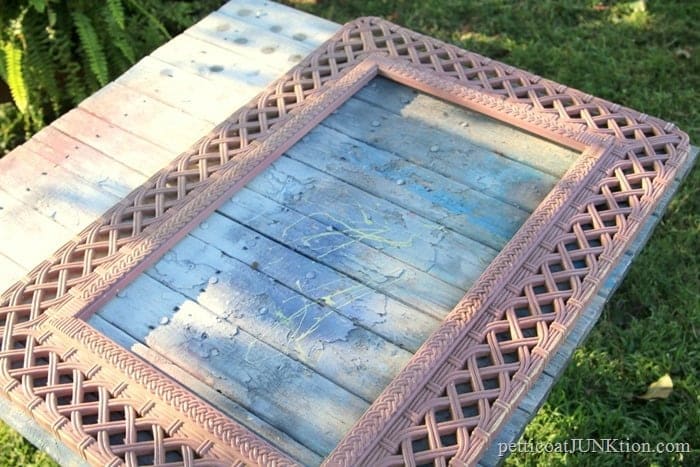 The yucky colored mirror fame got a coat of the Heirloom White Paint from Rustoleum too.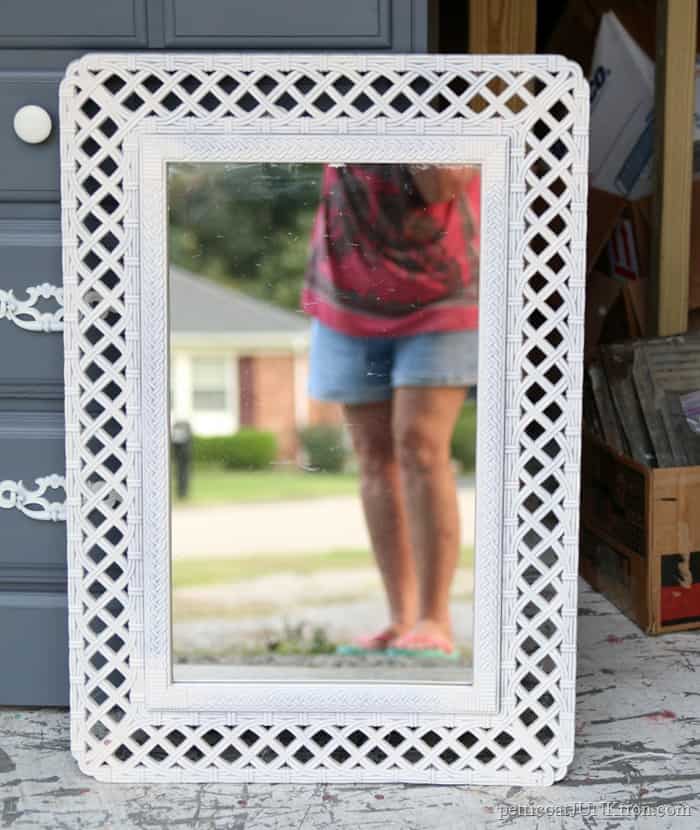 I always try to remove the mirrors from the frames before painting. If they are too hard to remove from the frame I have to tape around the frame and cover the mirror with newspaper.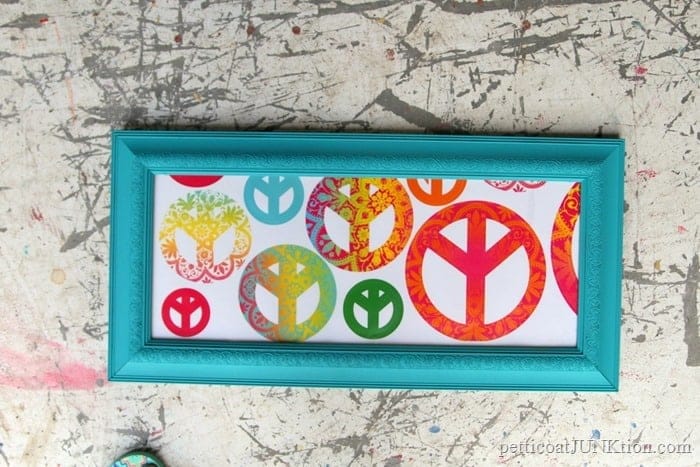 And this is the last project, promise. The frame did contain an outdated print. I removed it, spray painted the frame a pretty turquoise and added part of a peace sign wall paper decal. I think I bought the tube of wall decal at Hobby Lobby a long time ago.
Find the spray paints and my favorite DIY supplies on the Petticoat Junktion Amazon page here. Everything all on one page. (You can read my affiliate disclosure here that says among other things that if you buy something I make a small commission but the price is the same for you.)
That's it for today and this week. I'm still working on the paint project I shared yesterday. I have special plans for it. Keep your fingers crossed for me. Thanks for being here, Kathy