disclosure: affiliate links may be used in this post.
Pretty Red Heart Crafts
Are you seeking red heart crafts for inspiration? Me too. I thought you guys might want to see what I found and what I like! You would be surprised the things you can make hearts out of.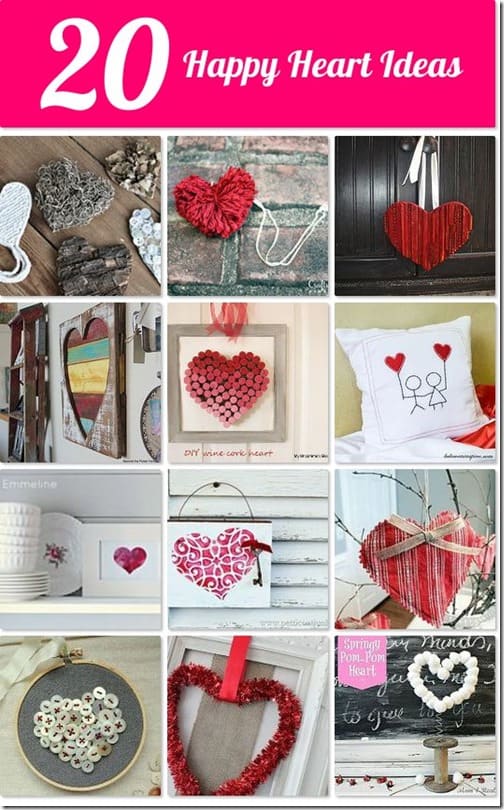 Red Heart Crafts
It's getting close to Valentine's Day. I was in the grocery store yesterday and I managed to walk by the candy aisle without so much as a glance.
I really wanted some Hershey's Kisses or Peanut Butter Cups but I was a good girl. I will have some before Valentines Day but didn't want to put the rush on it. If I start eating chocolate now I will end up buying who knows how many bags of candy before the big day gets here.
Today I wanted to share some simple red heart crafts.  Heart projects aren't just for Valentines Day. All of these crafts can be showcased year round. Like this pompom heart…..
…from Uncommon Designs. I can think of several places to hang this heart…..a door knob, from a curtain rod, on a drawer pull, etc. I love anything with texture and the pretty yarn heart is calling my name.
Heart Tag Craft
The heart tag with key is perfect. Of course I love everything Susan from Homeroad puts together. She has a junky rustic style I am gaga over. I don't know how she comes up with some of her ideas. Genius.
This project would be super easy. You wouldn't even need a power tool to cut the wood tag. Or maybe you have manilla or wood tags like these in your junk drawer. I might could freehand a heart although it would be symmetrical that's for sure.
And to soften things up there is this burlap heart pillow from My Paper Craze. Really sweet. I like pillows but pillows in our family room or living room usually end up on the floor. They just get in the way when sitting on the sofa or chair. But, I do love pretty pillows and have a ton of them.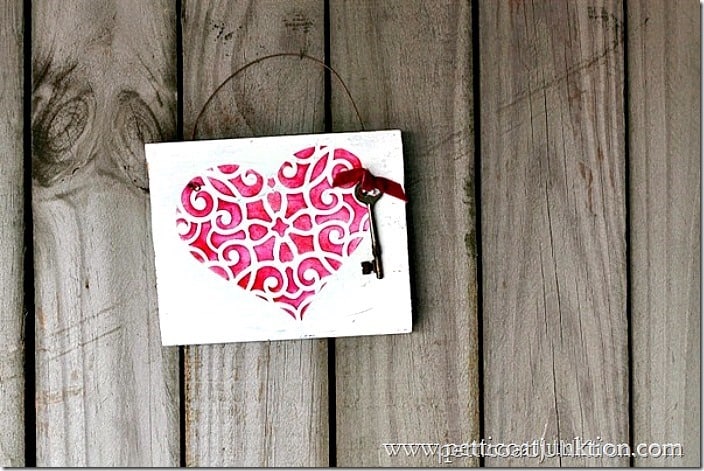 And the last red heart craft for your inspiration is a stenciled heart project I completed last year. I heart stenciling because I sure can't paint anything freehand…..not even a heart!
I stenciled the heart in varying shades of red and pink. The secret to a good stencil project is adding depths of color. The project will look three dimensional instead of flat. But the stenciled wall sign needed just a bit more of something. The antique key and velvet ribbon were the perfect finishing touches.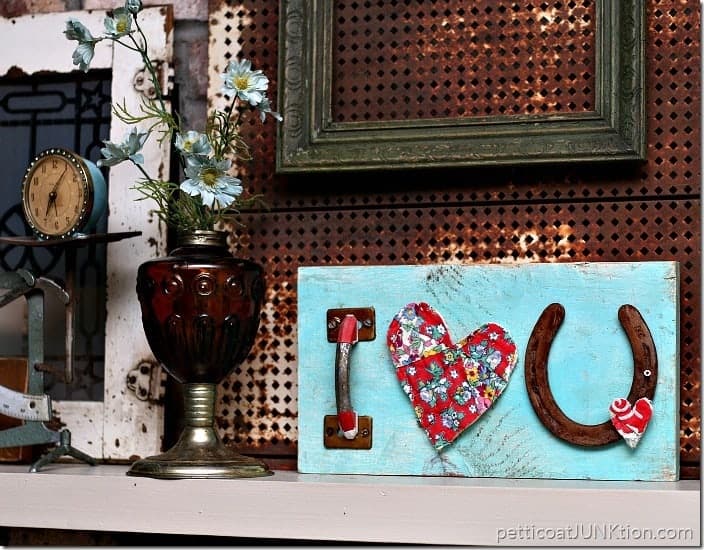 This multi-color large red heart is made from a cutter quilt (ragged torn quilt). The little heart on the horseshoe was a last minute addition and such a fun touch. I "heart" texture in everything! You can find the quilt heart project here.
Which heart project did you like the best? Can you draw pretty things or do you need a stencil like me? I love reading your comments.
Tomorrow is Themed Furniture Makeover Day. It's going to be a doozy. See you tomorrow! Kathy