15 Vintage Dresser Makeovers
The topic on the agenda today? Vintage Dresser Makeovers...and let me tell you, these are some truly amazing and creative makeovers. I'm crazy over several of them and am now stalking the painters….only in a good way…..to get a look at their other projects.
When you think of a dresser that needs a makeover, what image comes to mind? In my mind, there is no better makeover for a dresser than to give it a classic and vintage look. A bit of paint, a little bit of sanding and primer, and tadah! You have a dresser that may be "old" to you but looks totally new and unique to your guests. These fabulous makeovers feature drastic changes. The before and after photos can't begin to tell the makeover story! I selected a variety of colors and dresser styles because we all like different things. It's what makes the world go round.
15 Vintage Dresser Makeovers
1. Two Tone Dresser Finish. You guys know I have to start with one of my vintage dresser makeovers.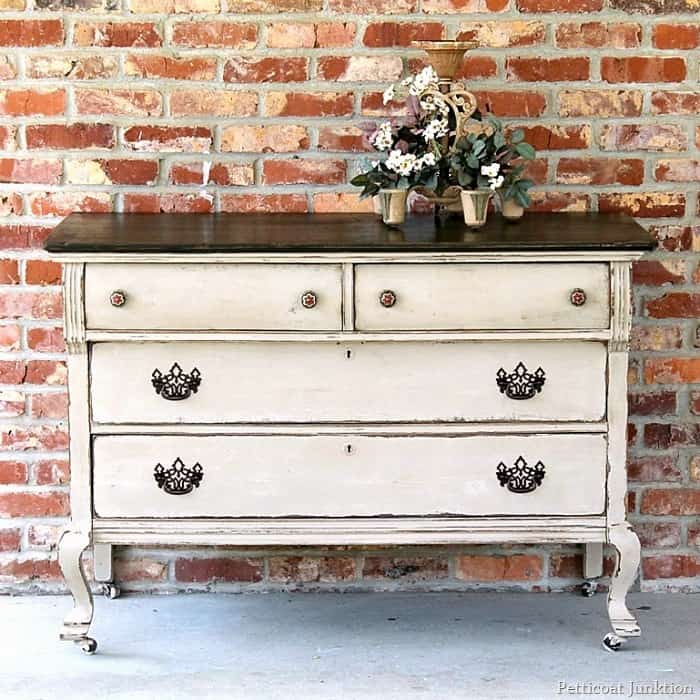 This piece was a mess when we got it. The JTS had to do a bunch of work to it. Then I took over. I gave the dresser a two tone look and a few new knobs.
2. Small Vintage Dresser Makeover. This dresser may be tiny in stature compared to others, but it still packs a big punch and you can never go wrong with classic white.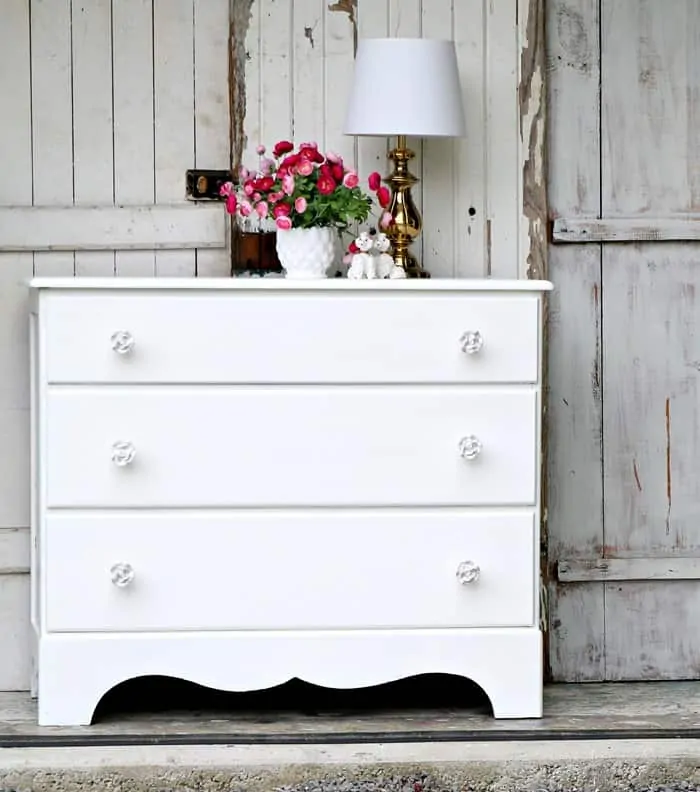 The white rose knobs give the small dresser a dreamy look. Perfect for a nursery or a teenage girl's room.
3. West-Elm Inspired Wood Tiled Dresser. I'm truly amazed at the amount of work that went into this makeover. It just goes to show that you can take a dresser and totally transform it. The sky is the limit. Can you image cutting a ton of tiny wood blocks and gluing them to the dresser drawer fronts? That's what happened here.
4. Dated Pine to Feminine White Dresser Transformation. Not only did this very plain dresser get quite the makeover on the front panels, but it also got a makeover on the inside of the drawers. Add new knobs and it has a whole new life.
5. Tricycle Red Dresser. Another of my projects. This dresser was missing a drawer bottom but once again the JTS fixed it up for me.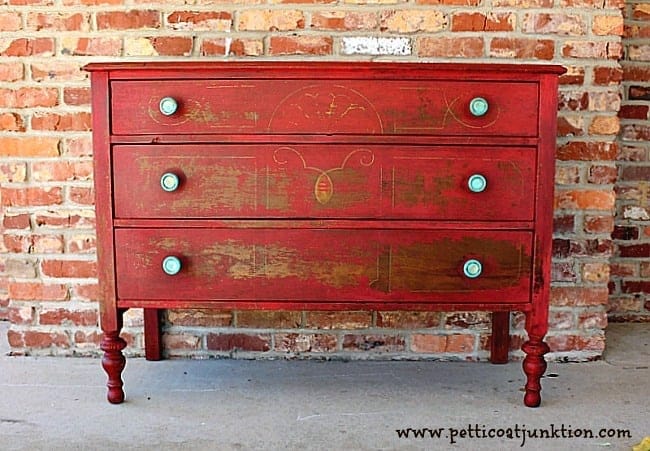 6.Grandma's Vintage Dresser Makeover. This dresser is almost unrecognizable after the makeover! A great example of what a little paint and patience can do.
7. Milk Paint Custom Color Dresser Makeover. One of my really chippy projects and it's not for everyone.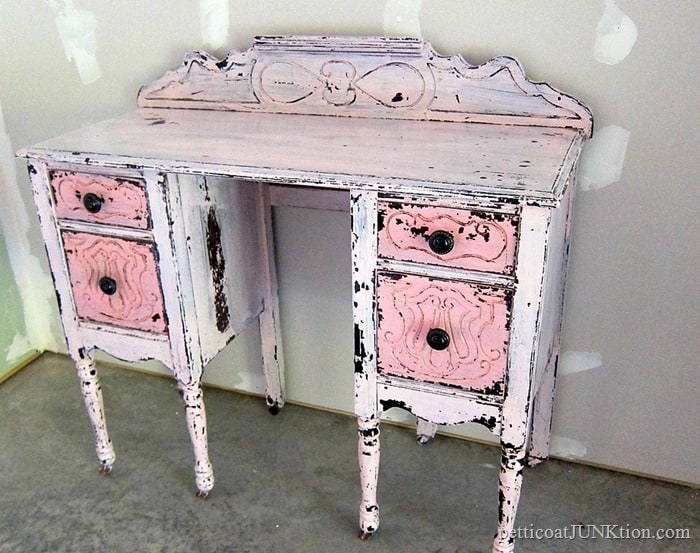 I used Miss Mustard Seed's Milk Paint to get this chippy look. I combined colors to get the custom pink.
8. Vintage Dresser In Lamp Black. Ugly Duckling to Beautiful Swan. The knobs and paper drawer liner make this one a standout.
9. Vintage Dresser Makeover. This piece is the mate to Grandma's Dresser listed above. You can tell the pretty French Provincial pieces are real wood not pressed board like the later knock off pieces.
10. Vintage Dresser Farmhouse Makeover. If you love farmhouse decor, then this is the makeover that you need to pay attention to. The top of this beautiful piece was stained to show off the wood and the body is painted white. A gorgeous contrast.
11. Caviar Style Vintage Dresser Makeover. I'm swooning over this piece and the color.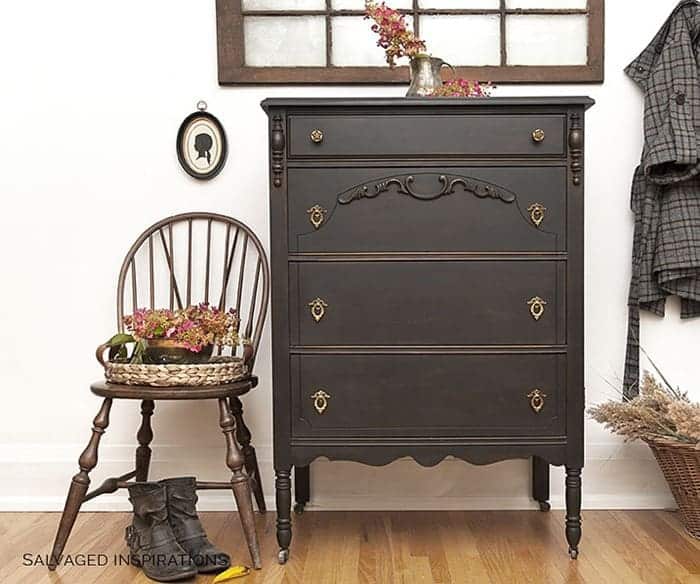 Seriously ya'll, I can't get enough of this beauty. There are a ton more photos over at Salvaged Inspirations if you want to see the tutorial and close up photos of this chest.
12. Rustic Stenciled Antique Dresser Makeover. The stencil work on this antique dresser is gorgeous and really makes it stand out and quite unique. The project is by my friend Jen, Girl In The Garage.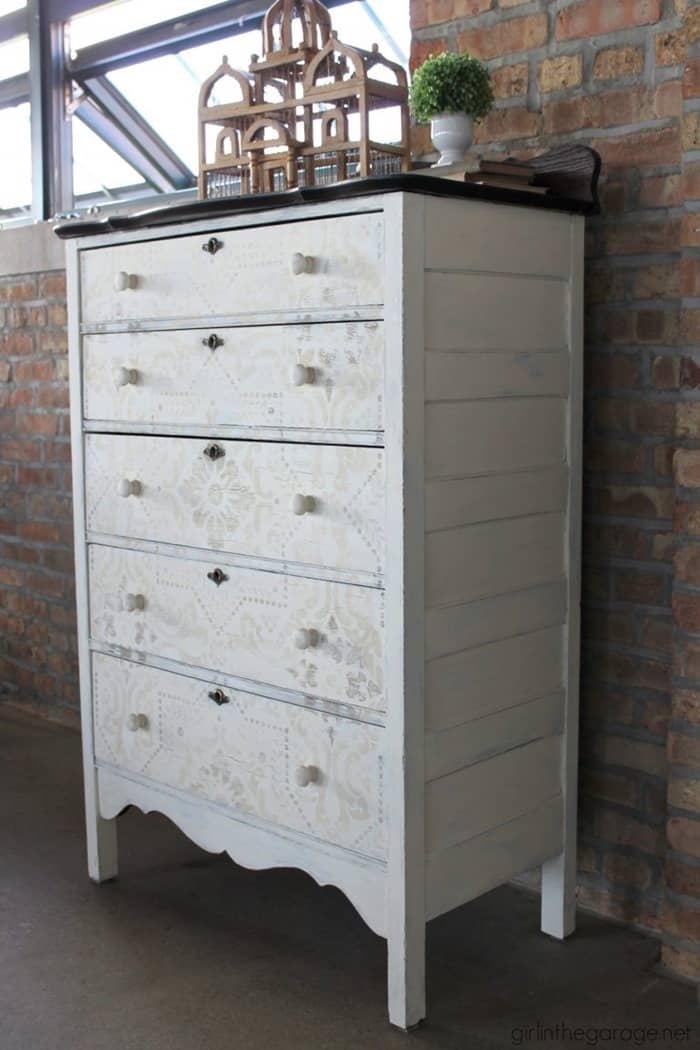 13. White and Brass Vintage Dresser Makeover. This dresser has such an amazing vintage look with the brass handles, the entire dresser painted white and even having the wheels at the bottom helping to create the overall vintage look that suits this dresser perfectly.
14. Vintage Dresser Makeover with Milk Paint. One of the cutest dresser makeovers you'll ever see. A furniture painter I can relate to. You'll see what I mean.
15. Vintage Dresser Painted Blue. This blue color of this makeover is to-die-for. And the original hardware is soooo pretty.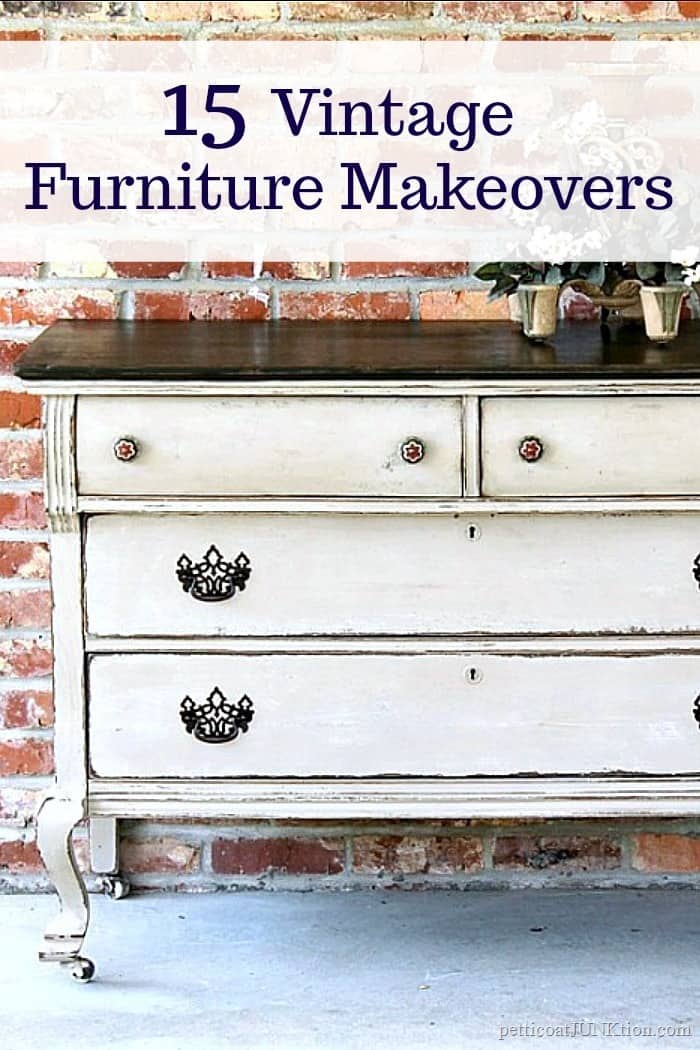 Vintage Furniture Makeovers
Always remember that any piece of furniture, no matter the condition, has potential. Just because it may look like it's on its last leg doesn't mean a fresh coat of paint and a few cosmetic changes couldn't spruce it right up. Channel your inner creativity and give a dresser or other furniture item a makeover. You'll have fun and maybe create a unique piece that is perfect for you and your home decor.
Did you have a favorite of the bunch or one that inspired you to get out your paint brush? Hope you guys enjoyed viewing the furniture makeovers as much as I did. Thank you for being here and have a great week…..and weekend. Kathy
Author: Kathy Owen (Petticoat Junktion)
Kathy is the founder of PetticoatJunktion.com, a home décor blog focused on repurposing and upcycling furniture, old hardware, rusty stuff, and thrifty finds into unique home décor. Kathy's projects have been featured on the Home Depot Blog, Plaid Crafts, Behr Designer Series, and in numerous magazines. Read more about Kathy here.