Magazine Rack Planter
You know what makes me smile?
Pretty flowers and a good upcycled project.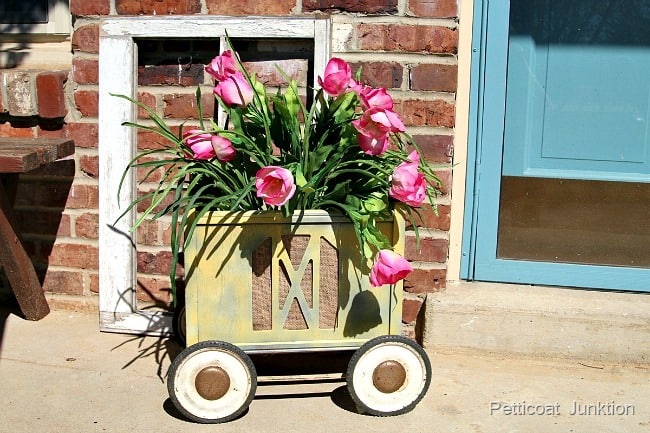 Even artificial flowers make me smile. Artificial work best for me because I can't keep real plants alive.....at least not for long.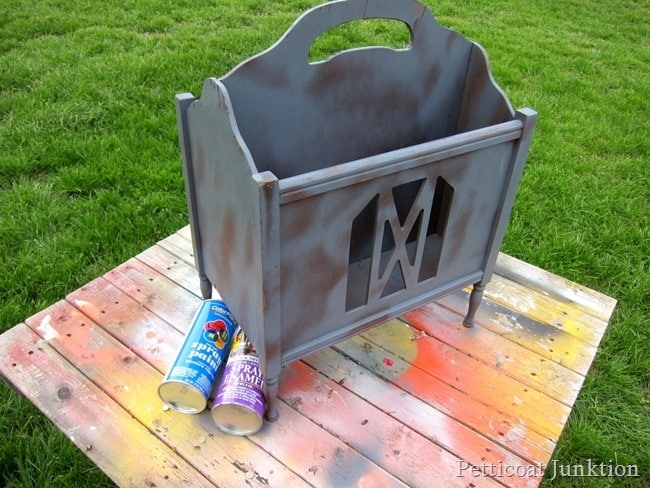 The wood magazine rack has been in my work shop forever.
Every time I spotted it (under all the junk) in he shop I would think about a flower planter/pot.
The plan was to paint it turquoise and display some bright, bright yellow tulips in it.
My first step was to spray a base color before applying the turquoise paint.
I started with three cans of spray paint that were almost empty….gray, white, and yellow.
I didn't even get the wood covered completely before all three cans of paint were empty.
The yellow ended up being my last coat of paint.
I started the project on Sunday afternoon and when I got home from school yesterday I went down to the workshop to finish it up.
I liked the yellow paint and I had the pink artificial tulips from my Guthrie flea market shopping trip….so change of plans.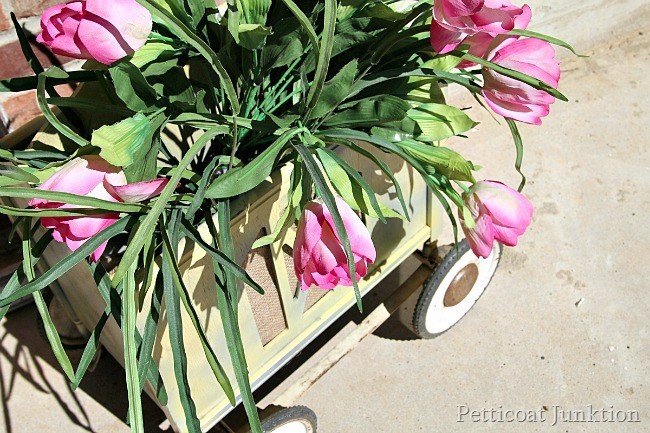 The tulips were $1.50.
They weren't quite full enough so I found a greenery bush in the shop to add to the planter.
Grabbing the magazine flower planter I headed for the front porch.
Well the wheels/cart base were still on the porch from my Christmas display.
Hey, it's just March….don't give me any flack.
Any way, that little magazine rack fit right down onto those wheels….fate.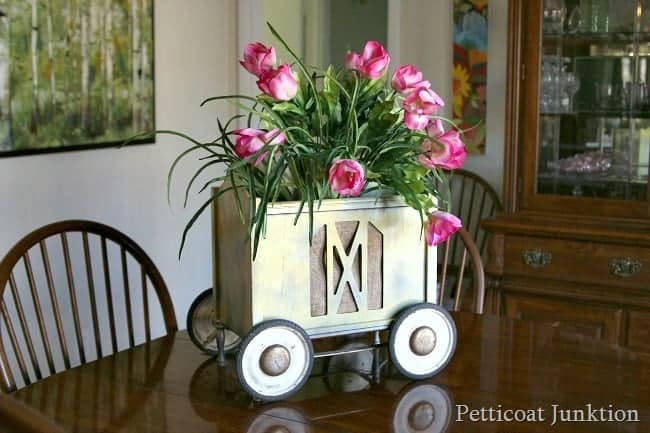 Magazine Rack Planter
The display looks petty good on the dining room table too.
Oh, I forgot about the burlap.
I taped a small piece of burlap to the inside of the magazine rack to cover the cut-out opening. I think some pretty scrapbook paper would look great in the opening too.
And that's it…what do ya'll think?
My favorite funky junky plant containers for the front porch can be found by clicking here....Unique Plant And Flower Containers For The Porch or Outdoor Space
Have a great day, Kathy
Follow Petticoat Junktion on Facebook, Instagram, and Pinterest  by clicking any of those pink links.Thanks!