Paint A Terra Cotta Flower Pot
This terra cotta flower pot decorated with pretty designs using bold colors is perfect for holiday decor, party centerpieces, or just to hold a plant! If this project doesn't make you smile nothing will.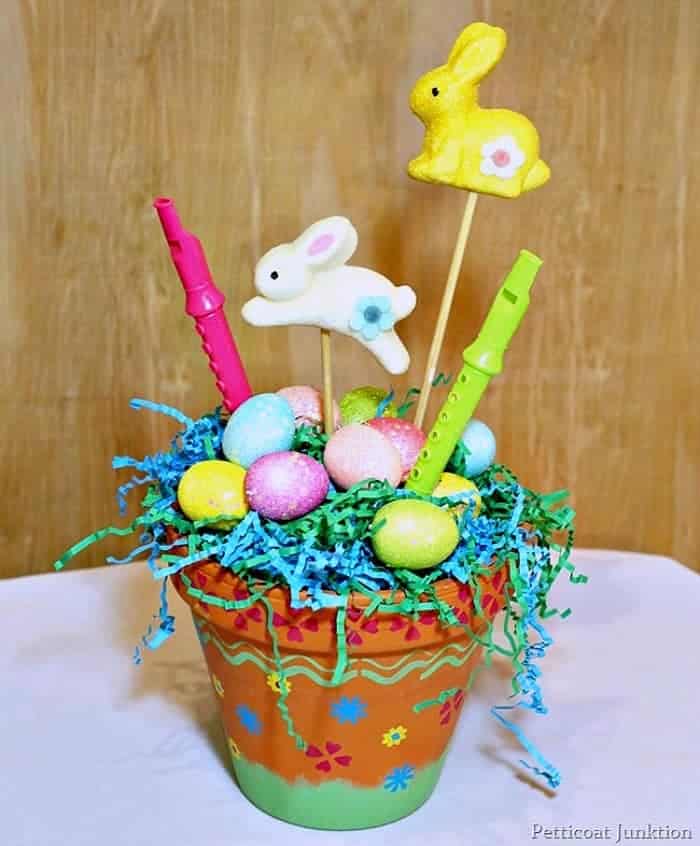 Terra Cotta Flower Pot Decor
Nice and colorful. You guys know how I love bold colors. The terra cotta color calls for something that pops that's why I selected the perfect colors for the stenciled design.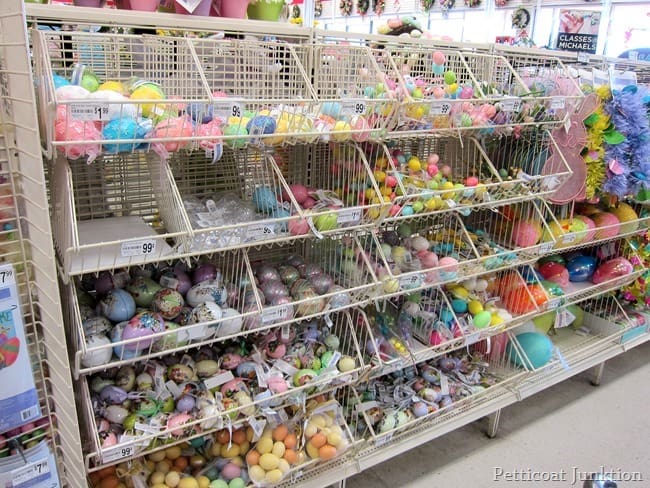 I purchased all supplies for the flower pot at Michaels. The store had aisles and aisles of holiday stuff. I decided the a flower pot project before I arrived at the store. After seeing all the Easter supplies I decided to do my own spin on the flower pot craft in the Michaels store brochure. They always have craft idea pamphlets at the store.
The cool thing about crafting…you can make the project "your own". Get the basic idea from Pinterest, a magazine, whatever, and go from there.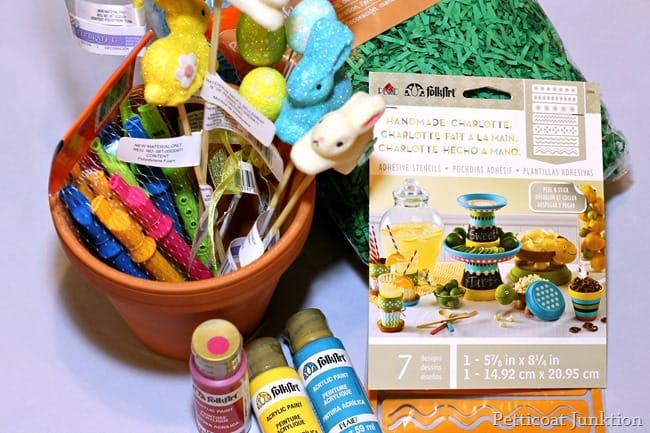 Supplies for the project: Folk Art acrylic paint and stencils, clay flower pot, various Easter décorations and paper shreds for grass.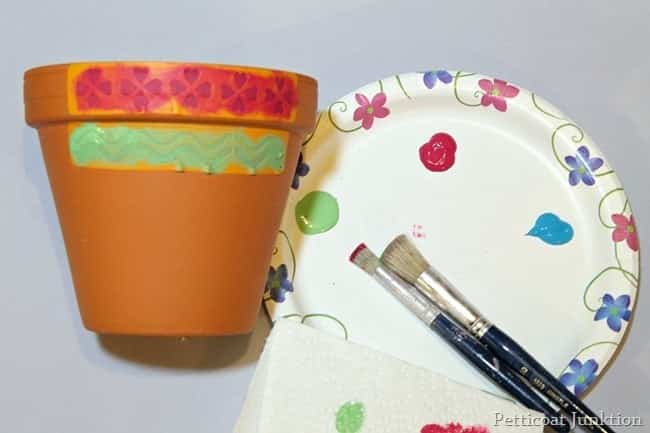 My first step was to stencil the flower pot. The best technique for stenciling is to…pour your paints onto a paper plate…..dip the stencil brush ends into the paint…..wipe off most of the paint on a paper towel….make little circles on your stencil to transfer the paint.
Sounds like a waste of paint doesn't it. See those little dabs of paint. It doesn't take much. If the brush is relatively dry then you don't get globs of paint under your stencil. I just hate that! The secret to stenciling is a dry brush…..very dry.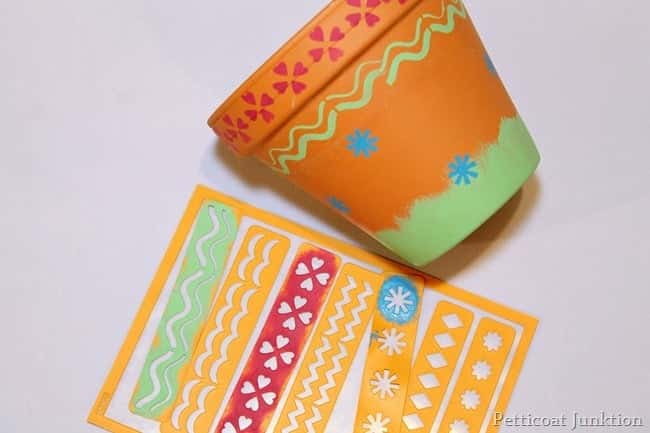 I really like this Folk Art stencil. Each little design is separate. You pull it off the clear paper backing and it clings to your pot or whatever surface you're stenciling. Perfect for a rounded or curved surface. The stencil was easy to clean up too. Just took a bit of soap and water.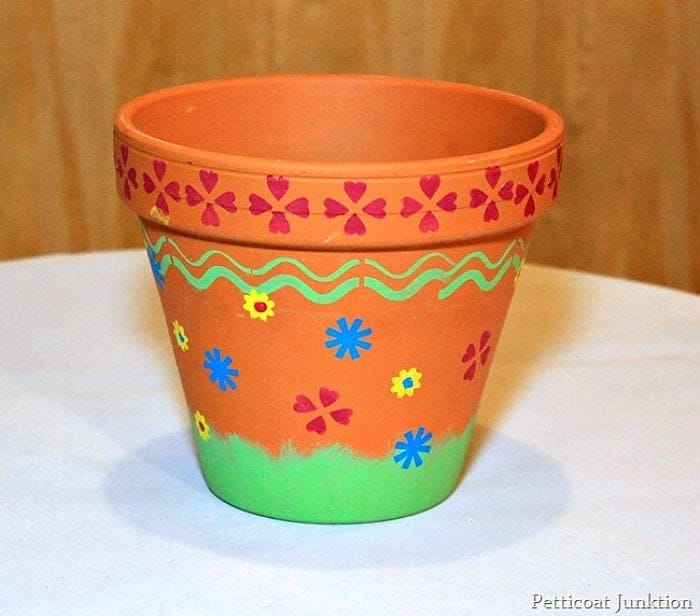 Now I could have just left the pot like this. It would be great as…well…a flower pot….or you could use it to hold garden tools or paint brushes or just about anything.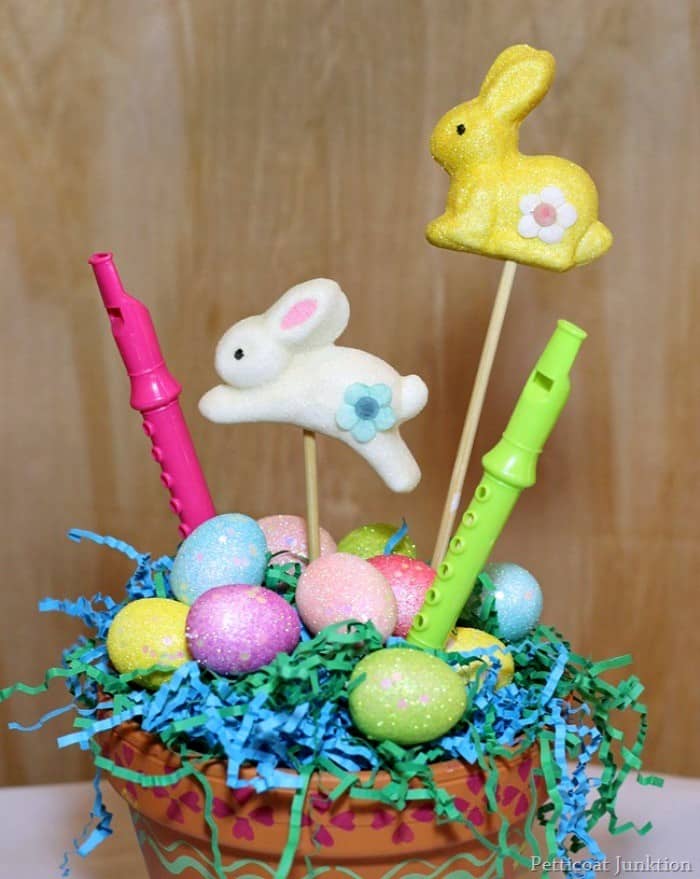 I chose to make this Easter display with my pot. I glued green floral foam in the bottom of the pot then added my Easter décorations until I had the look I wanted. I can always change the pot with the seasons. The bright colors have me smiling. I completed the project in under two hours. Cute, cute, cute!
You have to see the Easter decoration I made from an old hanging light fixture. It's colorful too. Just click here….Hanging Easter Light Display.
Do you decorate for Easter? How about decorating Easter eggs? I still decorate eggs. I'm just a big kid at heart. I remember my Dad helping me put the sticker transfers onto the dyed eggs. One of my favorite memories.
Thanks for stopping by and have a great week, Kathy