Paint clay flower pots to use as a planter, a fun Easter display, a desk organizer, a table centerpiece, a candy dish.....or just for decoration.
I painted my clay pot using stencils and bold colors. If this project doesn't make you smile nothing will.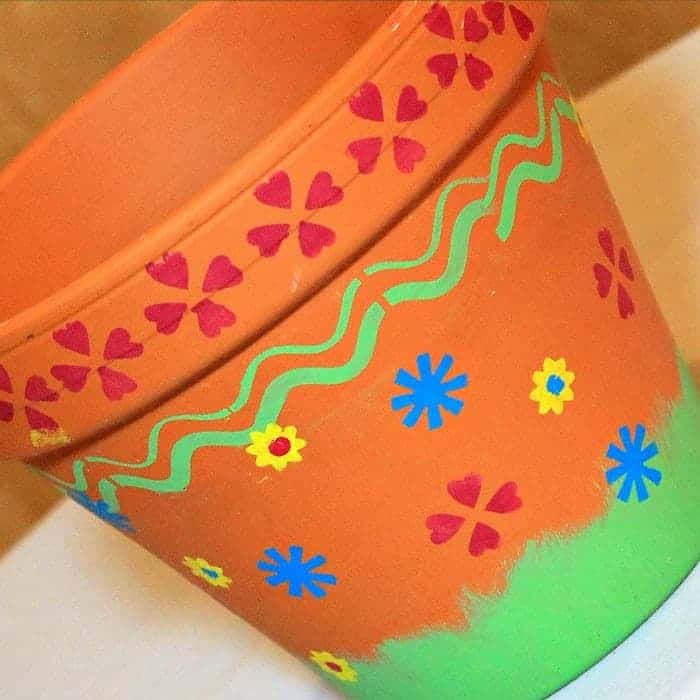 Nice and colorful. You guys know how I love bold colors. The neutral color terracotta or clay pot calls for colors that pop.
I spotted the flower pot craft when thumbing through a craft idea booklet at Michaels. It was so cute I wanted to make my own. I veered from the plan on the brochure. You didn't see that coming did you. The cool thing about crafting…you can make the project "your own". Get the basic idea from Pinterest, a magazine, me, whatever, and go from there.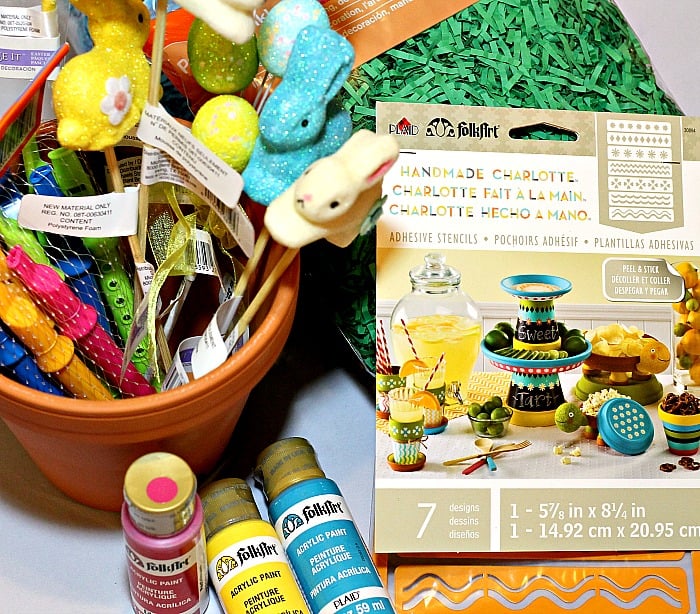 I picked out a medium size clay (or terra cotta) pot, an adhesive stencil that had smallish flowers and graphic designs, and three bold acrylic paint colors. While wandering around the store looking stencils and paint supplies I noticed all of the Easter stuff.
That's when I decided to do my own spin on the flower pot. I picked out all kinds of things to fill my "Easter Centerpiece Display". I thought Sofi and friends would get a kick out of it.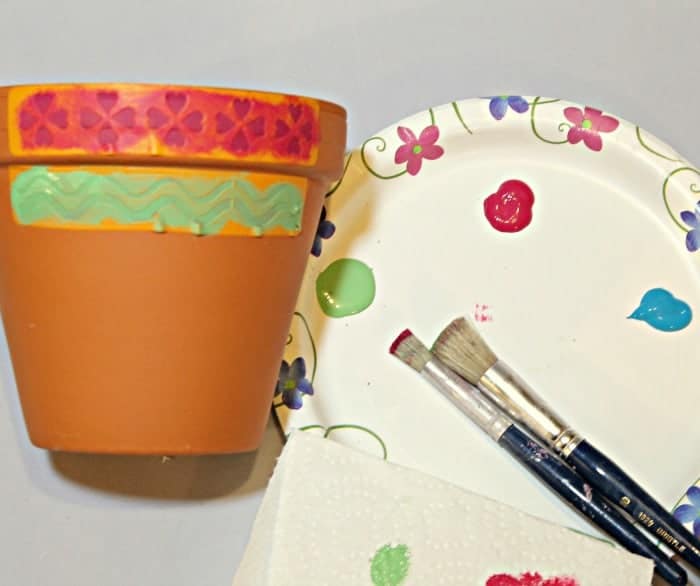 I half way planned out a design and started applying the adhesive stencils. I poured a small amount of each paint color onto a paper plate and found some stencil brushes in my stash. Time to stencil.
The best technique for stenciling is to…..dip the stencil brush ends into the paint…..wipe off most of the paint on a paper towel….make little circles on your stencil to transfer the paint. You can find a complete tutorial on how to stencil like a pro by layering multiple colors here.
It may sound like a waste of paint when you wipe most of the paint off of the brush but it doesn't take much paint at all to stencil. See those little bits of paint on the paper plate? I only used a small amount of that for the project.
When your stencil brush is relatively dry you don't get globs of paint under your stencil. I just hate that! The secret to stenciling is a dry brush.....very, very dry.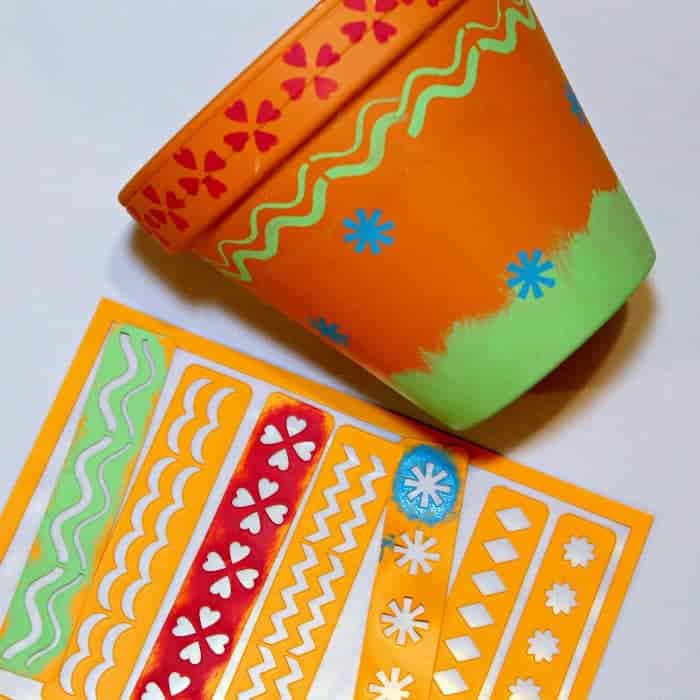 I looked at the pot at this point and decided I needed more flowers. I didn't want to use the flower design I put around the top of the pot so I decided on the small flower shapes on the bottom of the stencil.
To finish off the small flowers I found a pencil with a small round tip and dunked it in paint to add a center to the flowers. (find the cute stencil here)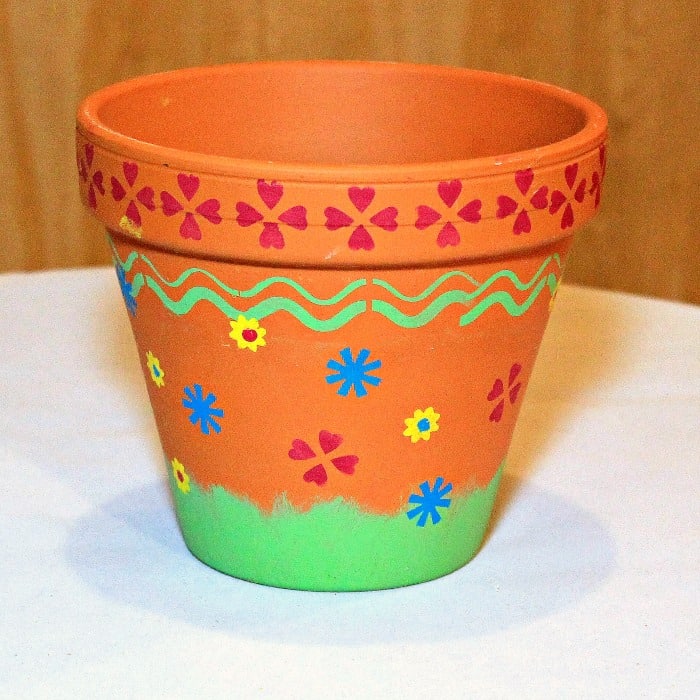 See how nice those little yellow flowers look! I picked out different colors for the flower centers instead of making them all alike. I did add just a few more of the fuchsia flowers as filler. Now the stenciled designs are perfectly random but spaced out nicely.
I really like this Folk Art stencil. Each little design is separate. You pull it off the clear paper backing and it clings to your pot or whatever surface you're stenciling. Perfect for a rounded or curved surface. The stencil was easy to clean up too. Just took a bit of soap and water.
Next I decorated the pot to use as an Easter Centerpiece but when Easter is over I will put a pretty potted flower in it.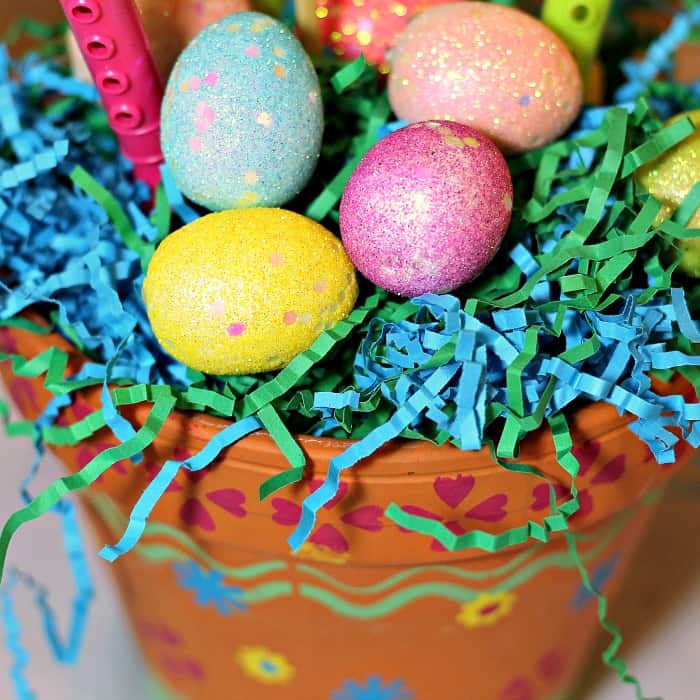 I glued green floral foam to the inside bottom of the pot then started placing the Easter decorations.
I started with the paper "grass" mixing the blue and green paper together. Next I placed the rabbit picks and the kids toy flutes.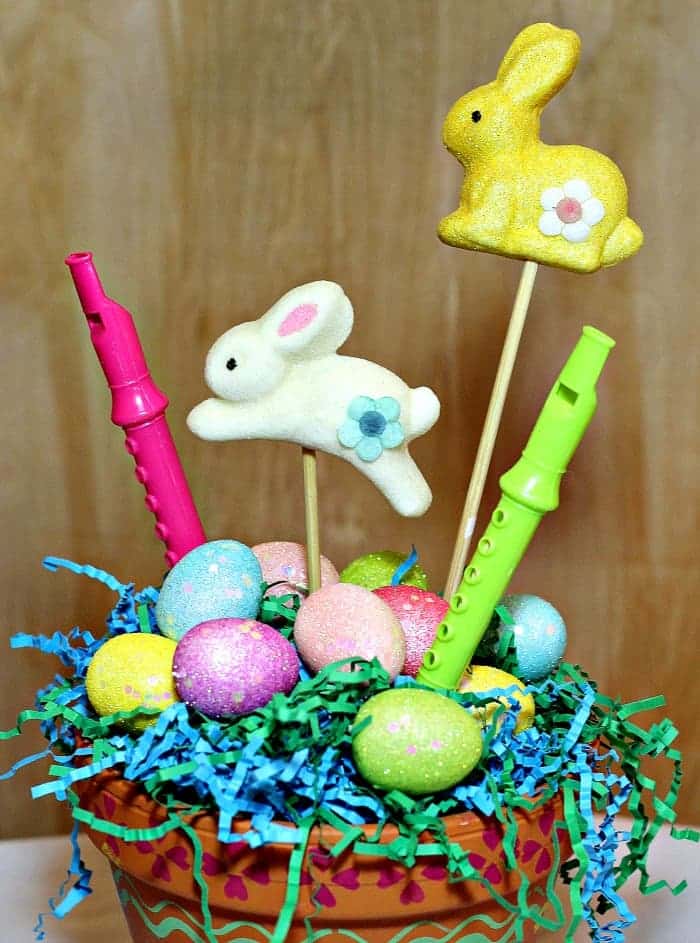 Then I added the foam eggs all willy nilly. It sure came out cute. Patting myself on the back. All of that color makes me do the happy dance. I completed the project in under two hours.
You have to see the Easter decoration I made from an old hanging light fixture. It's colorful too. Just click here....Hanging Easter Light Display.
Do you decorate for Easter? How about decorating Easter eggs? I still decorate eggs. I'm just a big kid at heart. I remember my Dad helping me put the design transfers onto the dyed eggs. One of my favorite memories.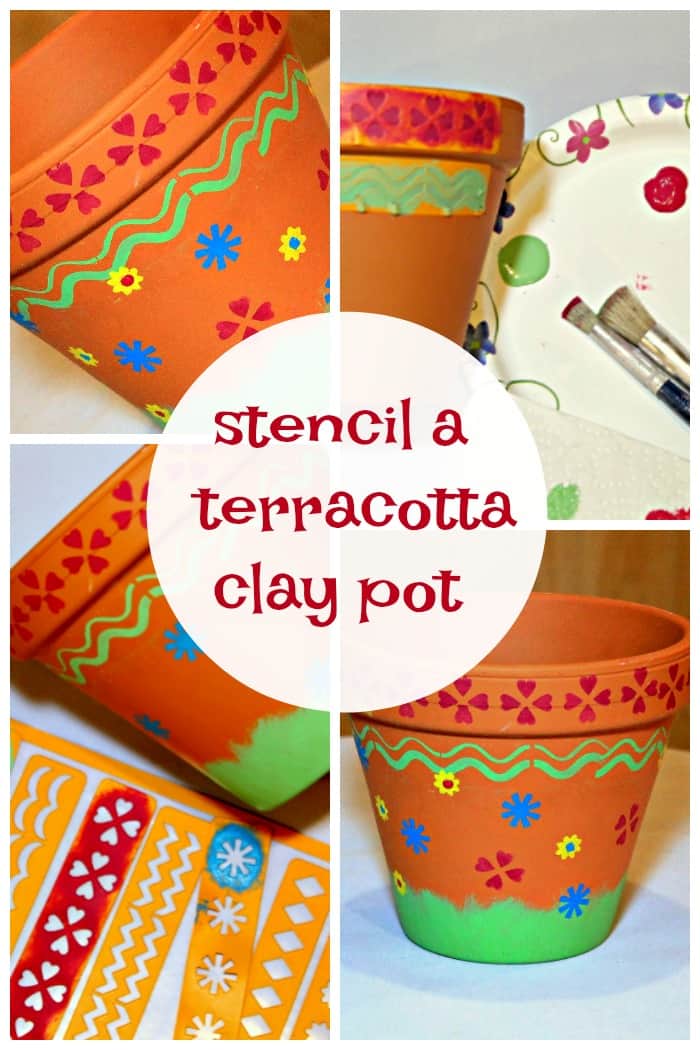 You know they don't even have those designs you lay on the egg upside down and put a wet cloth on to do the transfer anymore. Kids these days don't get to have any fun.
Have you got an old pot around the house you can paint? If not you can buy a new clay pot pretty cheap.
Thanks for stopping by and have a great week, Kathy