The Best Milk Paint Furniture Makeovers
I've put together a list of my favorite milk paint furniture makeovers. Have you tried Miss Mustard Seeds Milk Paint? It's one of my favorite furniture paints.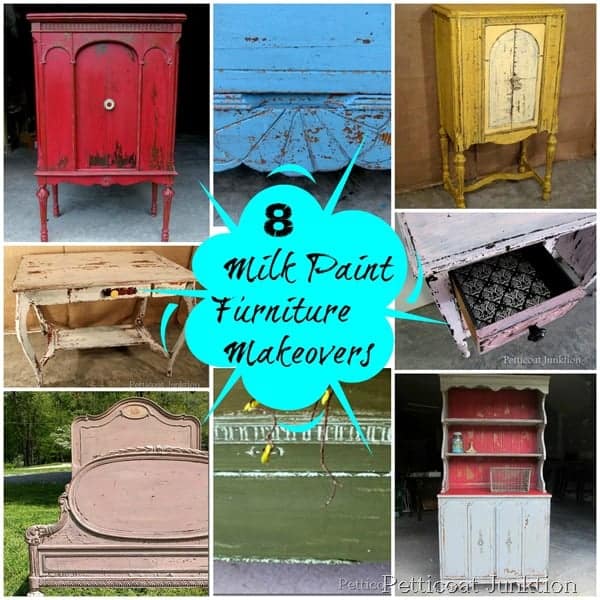 I get lots of comments and emails about painting furniture. Some of you like to talk about Miss Mustard Seed's Milk Paint and that is one of my favorite subjects. I put together a round-up just for you. The projects below includes clickable links so you can see the full project tutorial. Just click those pink links.
1. My Tricycle Red Cabinet…most viewed and most pinned of my projects on Pinterest.
2. Antique Bed painted Vintage Rose special mix MMS …..a softer look and another fan favorite
3. Boxwood Cedar Chest…..Boxwood over a lighter green original paint and distressed
4. Quirky Table…… with about 6 different milk paint colors layered on
5. Milk Paint and Decoupage Table…..chippy, with fabric decoupage
6. Mustard Seed Yellow Milk Paint Cabinet ….3 different shades of Mustard Seed made by mixing it with MMS Ironstone
7. French Enamel Chest of Drawers….a beautiful turquoise color
8. Hutch painted in Shutter Gray and Tricycle….these two colors compliment each other perfectly
9. Desk in Two-Tone Pink …..this is also a special mix of MMS
10. Painting Tips for Miss Mustard Seed's Milk Paint….things I learned using the paint
Click on any or all of the links above to view more photos and information on the makeovers.