I bought two pieces of furniture at my favorite junk shop last week. I'm excited about both pieces. They are each pretty and unique in their own way.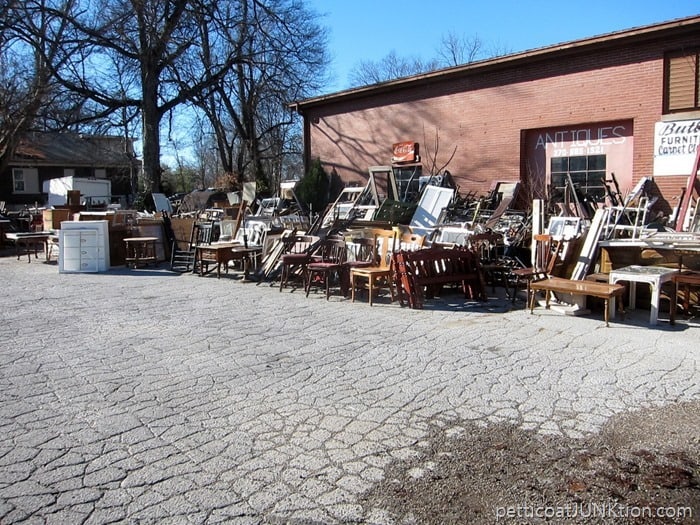 My Favorite Junk Shop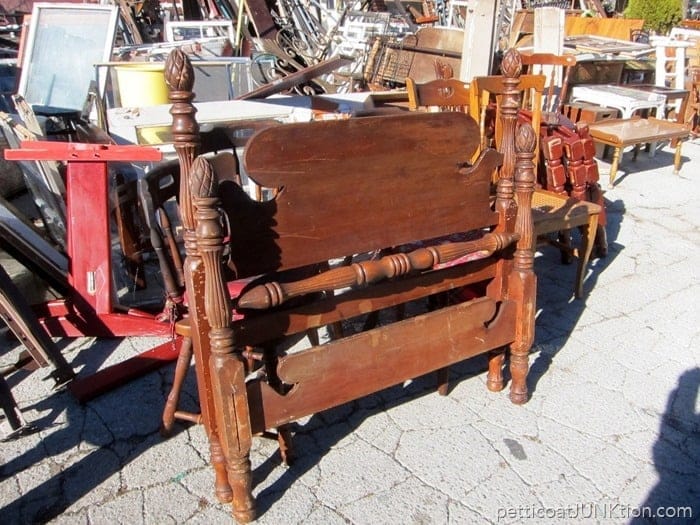 pineapple finial twin bed
The pineapple finial twin bed had me at hello. I couldn't resist those curvy bed posts and the pineapple finials. The bed with rails was $25. I researched the bed and found similar ones selling for anywhere from $150 to $600 depending on condition. I need to look on the back and see if there is a manufacturer mark. I don't remember seeing one.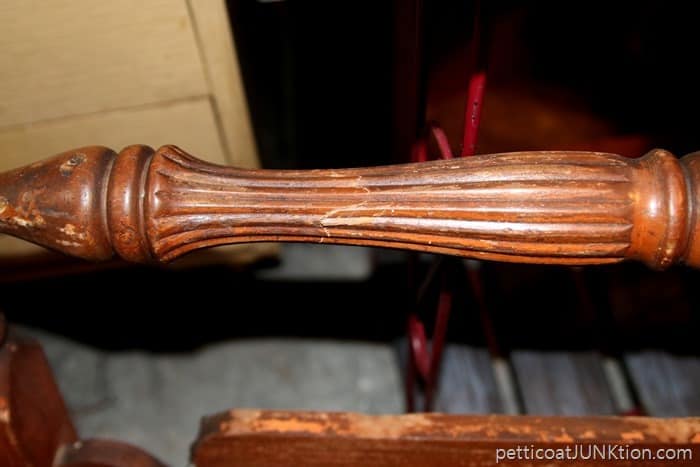 Petticoat Junktion is a participant in the Amazon Services LLC Associates Program. As an Amazon Associate I earn from qualifying purchases.
I know some of you will want me to refinish the bed instead of painting it but I'm going for paint. There are a few cracks in the wood.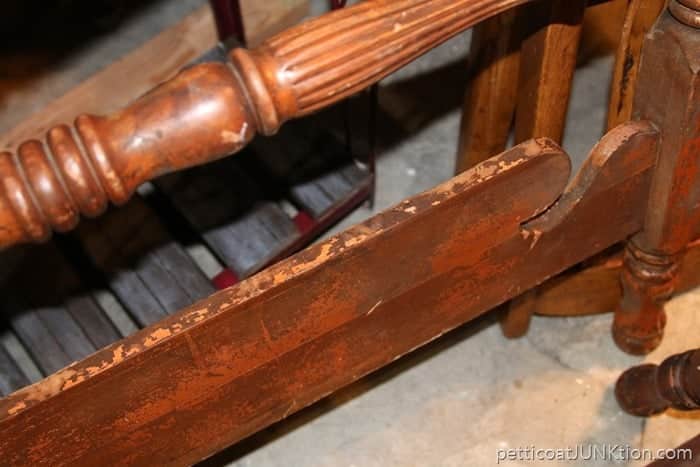 The original finish is peeling off in places.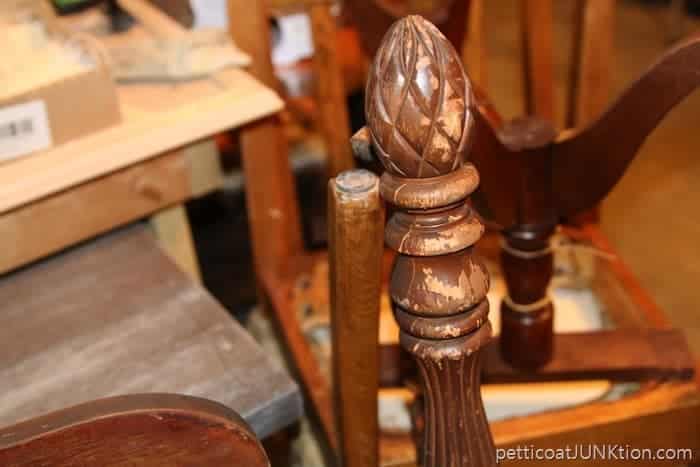 But those pineapple finials are so pretty. I'm thinking of painting the bed a soft pink. What do you guys think?
I also bought the little desk/table. Not sure what to call it. There are no drawers…just made to look that way. Mr. Butler said the bed and table came from the same estate.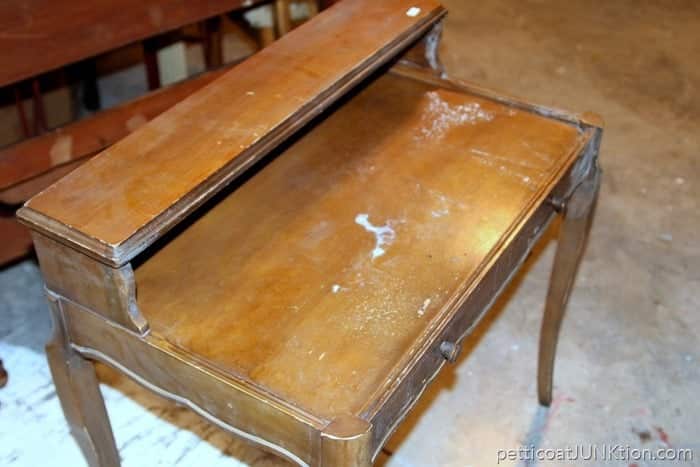 I've already painted the table. Hoping to get photos today. The color is really bold and in your face. Wait till you see it.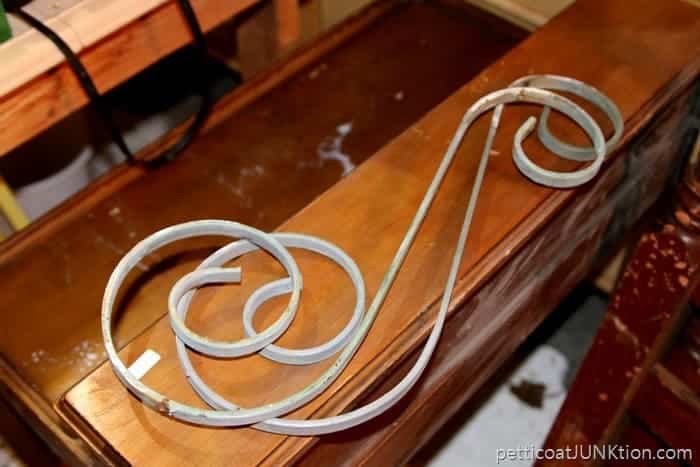 I also bought the two wrought iron s's.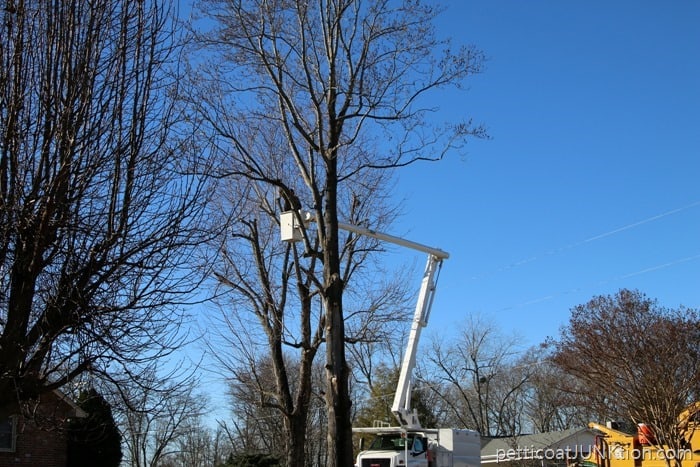 I went to the junk shop because I didn't want to be home while this was happening. Our large Tulip Poplar Tree was struck by lightning in September and it had to come down. When the tree was hit we were in Arkansas and a neighbor called to tell us about it.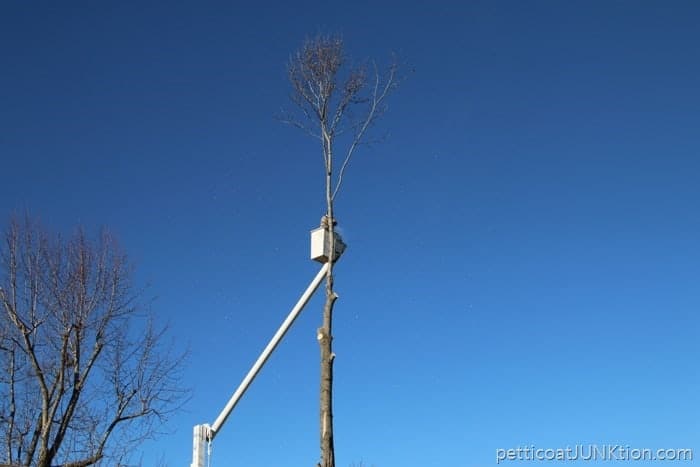 When the lightning struck the tree it shook the whole neighborhood and the electricity went off. We're very lucky that the lightning didn't damage anything in the house. There was bits and pieces of bark and limbs all over the yard. The air conditioning unit is only about 20 feet from the tree too.
Anyway, things like this make me nervous. The JTS was at home to oversee the tree coming down.
What do you guys think of my furniture finds? Have you had a tree struck by lightning? Share your stories and/or opinions below.
Have a great day and I'll see you tomorrow….or the next day.