Nashville Flea Market Furniture Finds
Showing off the best Nashville Flea Market furniture finds from my shopping trips. I'm always looking for paint and color inspiration and the Nashville Flea Market is one of my number one haunts.
You can find just about anything at the flea market. I go for the cheap stuff I can paint or makeover in some way. But it never fails.....the painted furniture catches my eye. I'm envious of the talented painters at the market. I'm also jealous of some of the cool pieces they find to paint.
I can tell you it's hard to find used furniture these days. If I do find a piece I like it cost an arm and a leg. If it needs a bunch of work the price might be cheap but that brings up another problem.....repairs.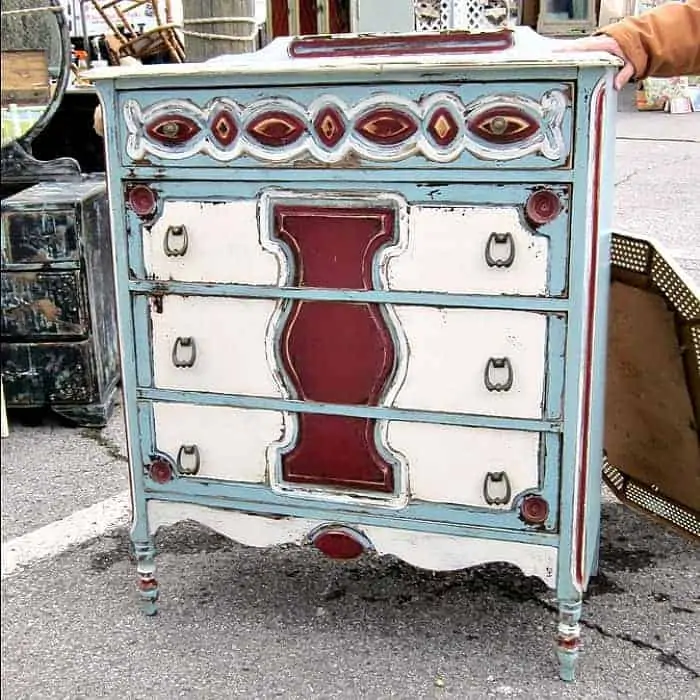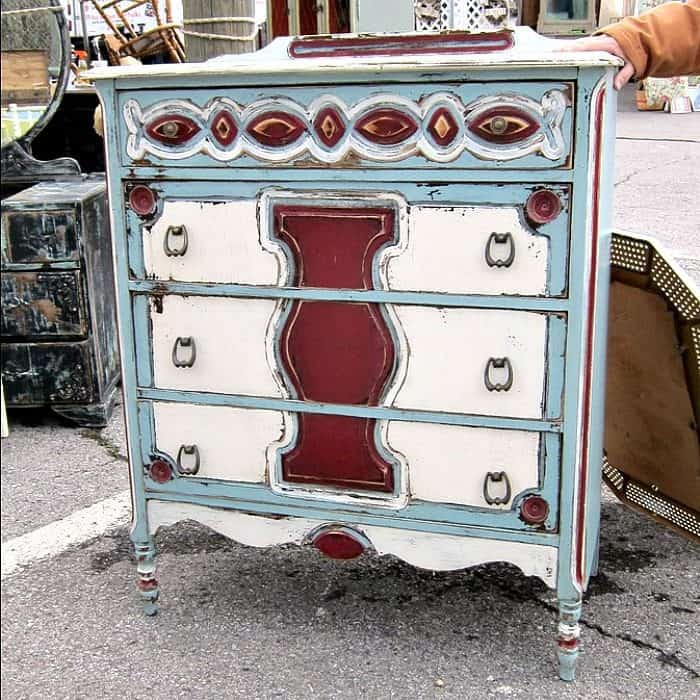 Nashville Flea Market Furniture Finds
I love this chest of drawers! Every month I stop by to see one of my favorite vendors, Debbie of Crabtree Corner. She always has a booth full of painted furniture. Her furniture makeovers are works of art. She is at her best when using multiple colors on a furniture restyle.
I've never been brave enough to try this color combo. I don't know how she decided what details to paint what colors but it works.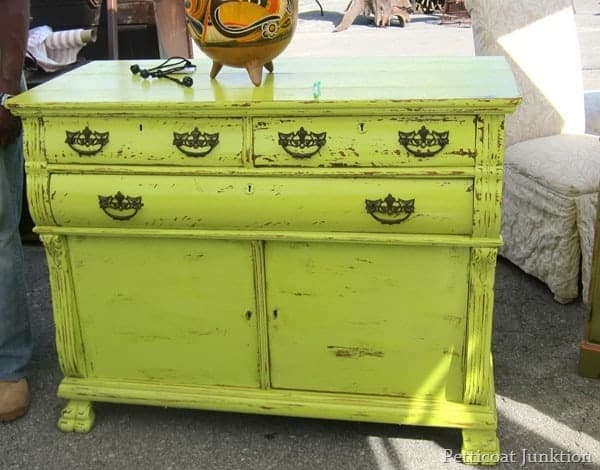 How about this lime green wow piece. This is one of my favorite colors and I haven't used it in a while. Must do something about that. I think this is my favorite lime green project....Vintage Buffet Painted Green.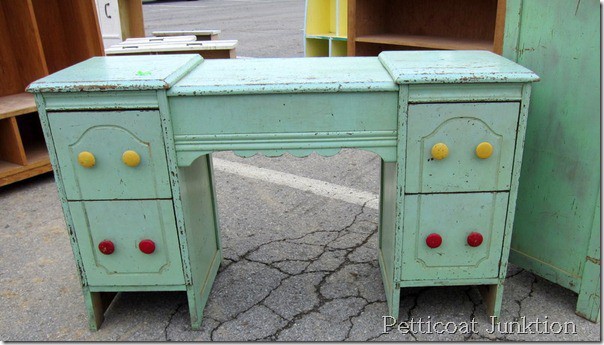 I really like the color of the desk but my favorite part is the knobs. Ya'll knew that didn't you. Not only do I love the bold colors, I love how they are used. At one time I hated, really hated, when I saw furniture with two knobs where there should be a long drawer pull. I'm loving the look on the desk. What about you guys?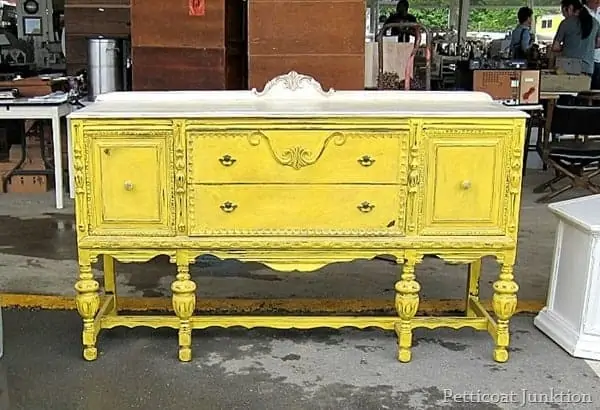 Another piece I love. It's really hard to find beautiful vintage sideboards like this one to paint. If I find them they are $200-$300. I can't buy them for that price, paint, and resell. The yellow on the sideboard is as bold as the chair I painted a couple of years ago. I do love the white top!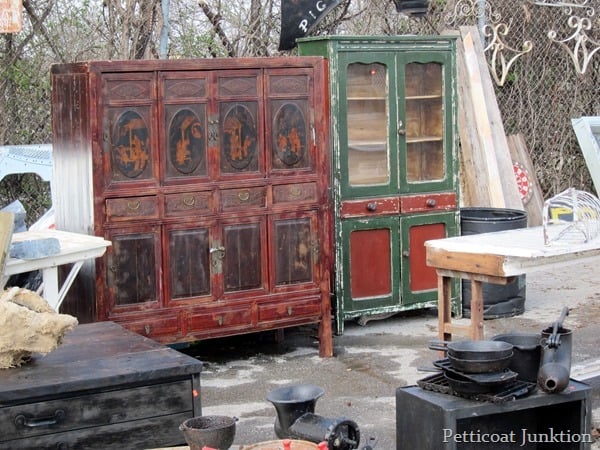 Then I spied these two beauties from across the vendor lot. Such large pieces and wonderfully worn! They look like pieces imported from Mexico but I could be wrong.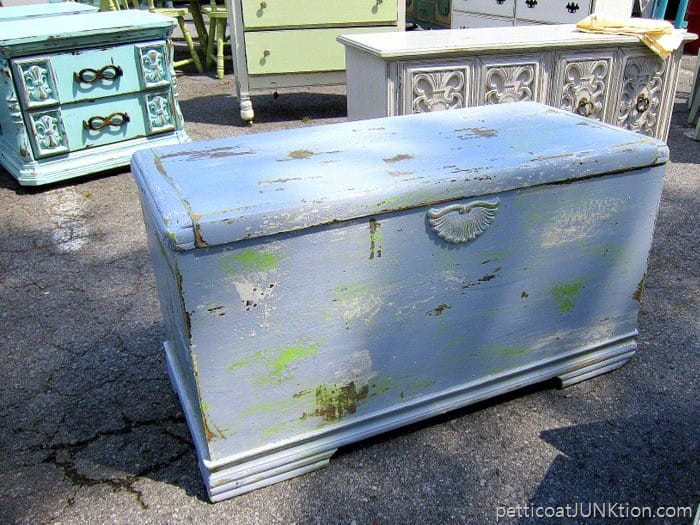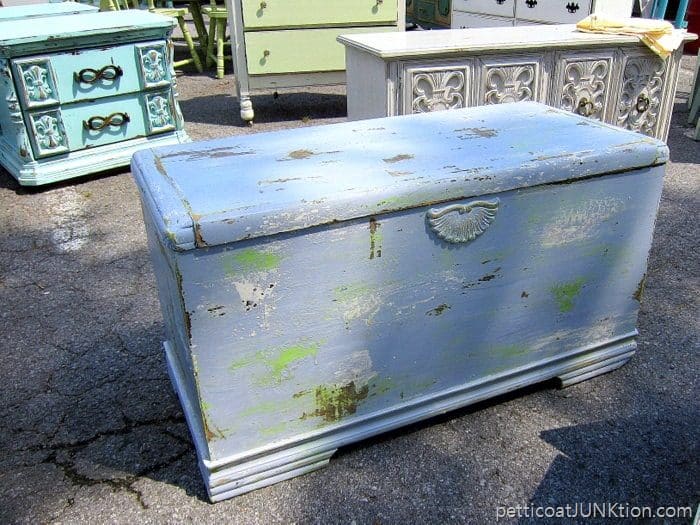 More lime green on the perfectly shabby chic distressed cedar chest. The wood applique is upside down but it works.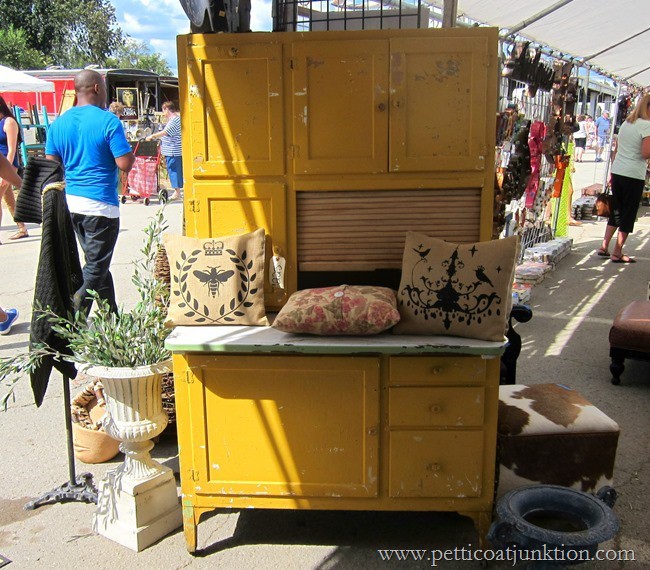 Another pretty yellow piece, distressed with white paint peeking through.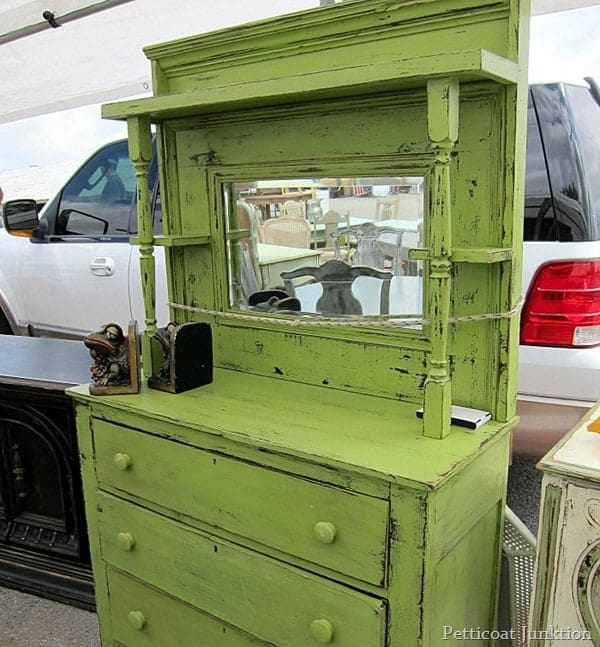 Black and green paint is a great combo, kind-of like peanut butter and chocolate. The light distressing is perfect.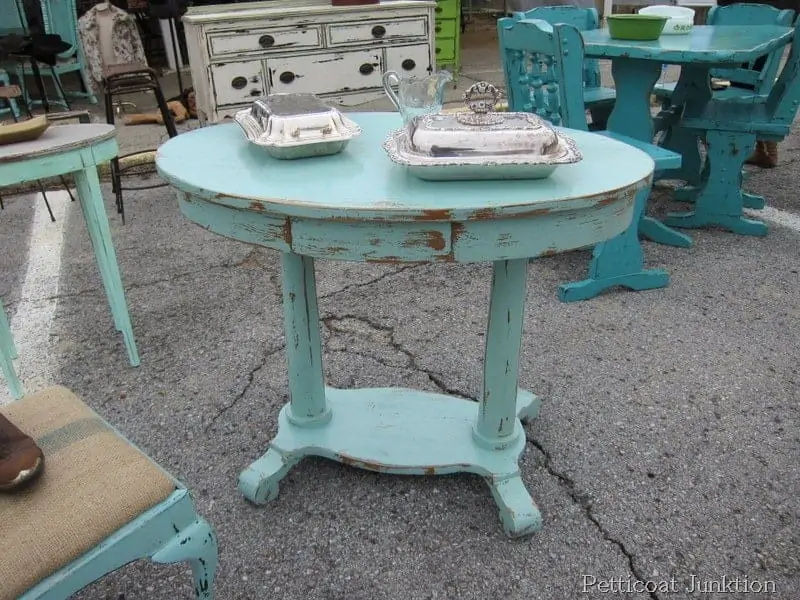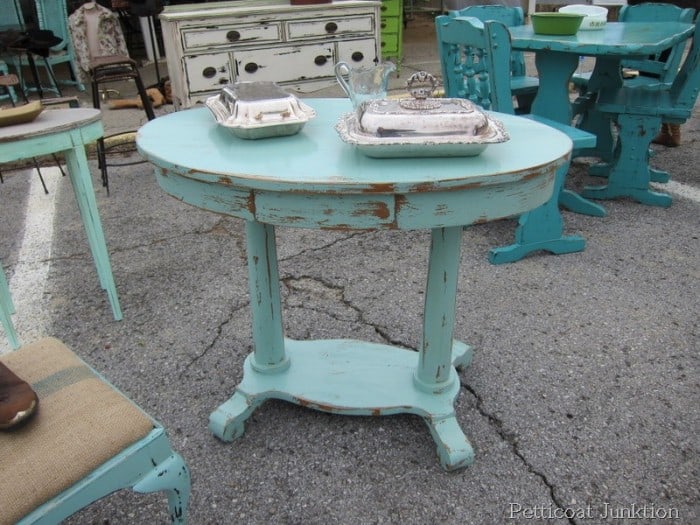 Love the shape of the table top here and the original wood shining through where the paint was distressed.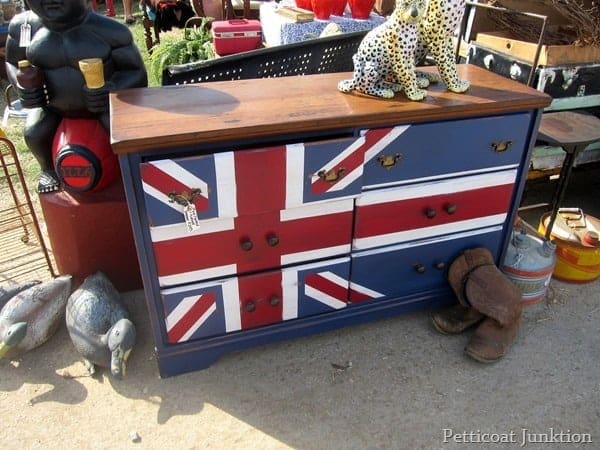 Someone took a lot of time with this dresser. I don't think I would have the patience or the skill to paint a flag, any flag, on furniture. I do love it though. Can't get much better than red, white, and blue.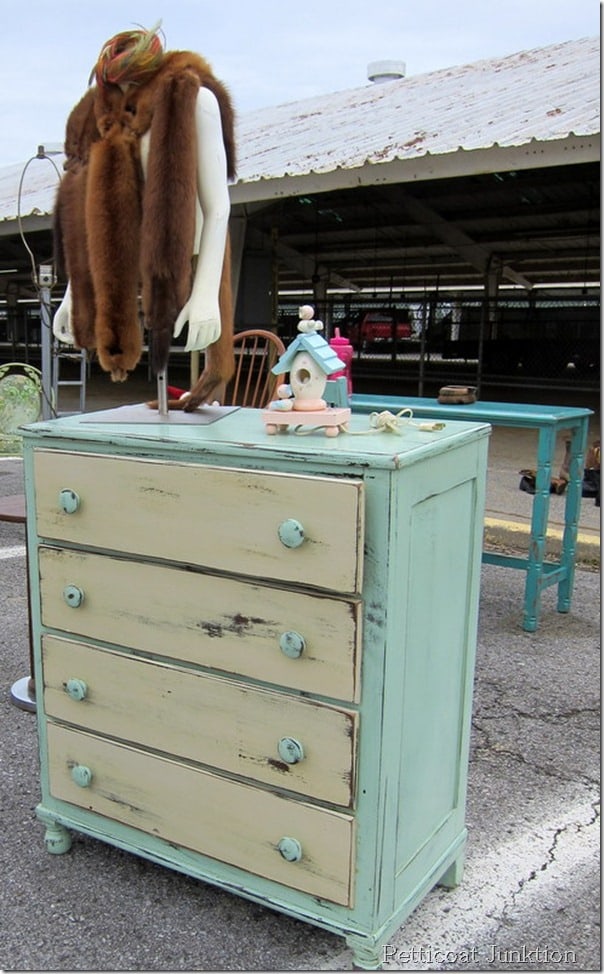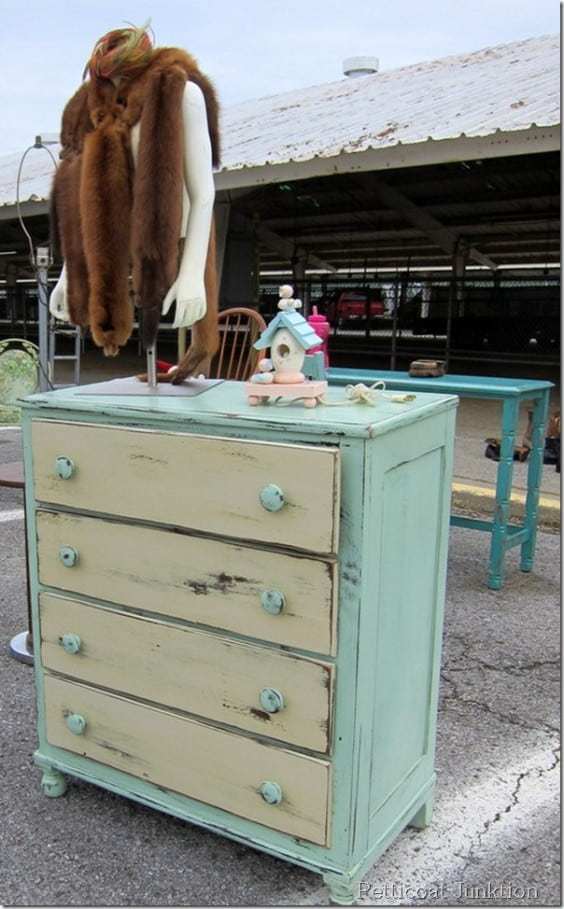 The soft look of this chest caught my eye. The distressing is just right if you like distressed paint, and I do.
That's it for the furniture show today. Find 100's of photos from the Nashville Flea Market on my Pinterest Board here.
For all the details on the Nashville Flea Market click here....Everything You Always Wanted To Know About The Nashville Flea Market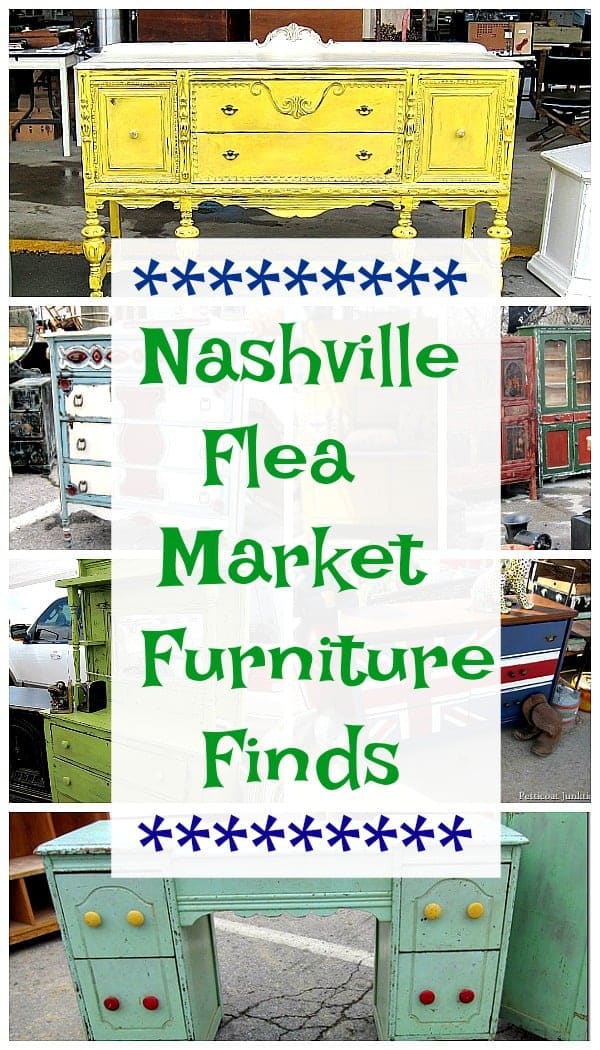 Which piece did you like the best? Leave me a note. As always, thanks for stopping by and have a great week, Kathy
Author: Kathy Owen (Petticoat Junktion)
Kathy is the founder of PetticoatJunktion.com, a home décor blog focused on repurposing and upcycling furniture, old hardware, rusty stuff, and thrifty finds into unique home décor. Kathy's projects have been featured on the Home Depot Blog, Plaid Crafts, Behr Designer Series, and in numerous magazines. Read more about Kathy here.