Antique to New, Junk to Funk, Best Things At The Flea Market!
Yes, you can find just about anything at the Nashville Flea Market. I spotted lots of painted furniture this trip and also several vintage outdoor gliders and chairs.
I'm taking you on a short photo tour and then if you like you can take the video tour (comes highly recommended) at the end of the post. Enjoy!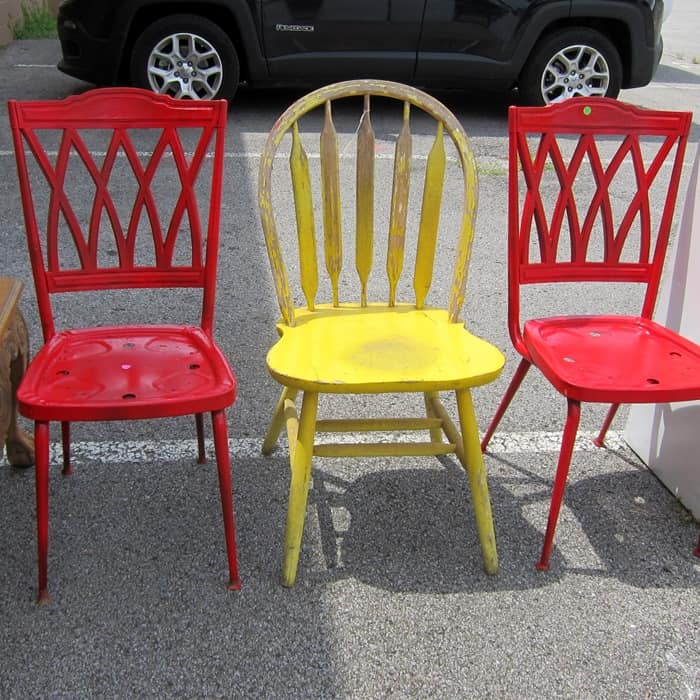 The bold, colorful chairs are right up my alley. The backs on the red chairs are really cool. I don't know if the seats had padding on them before the paint makeover or what. The yellow chair looks like it was spray painted.
For those of you who haven't been to the market before this is the address and quick info:
Nashville Flea Market
500 Wedgewood Avenue
Nashville, TN 37204
615-862-5016
Parking – $5.00
Free Admission to the Market
Pets not allowed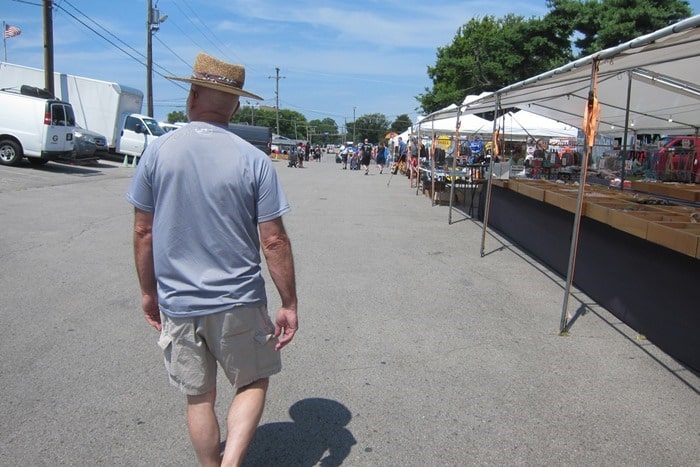 I don't think the hubby knew I was behind him taking photos. The market was just a bit empty this shopping weekend. I think it had something to do with the upcoming 127 Yard Sale in East Tennessee. Several of the flea market vendors set up booths at the 127 sale and were getting prepared for that. At least that's what I was told by some of the vendors I spoke with last weekend. Also the hot weather may have kept some of the outside vendors away.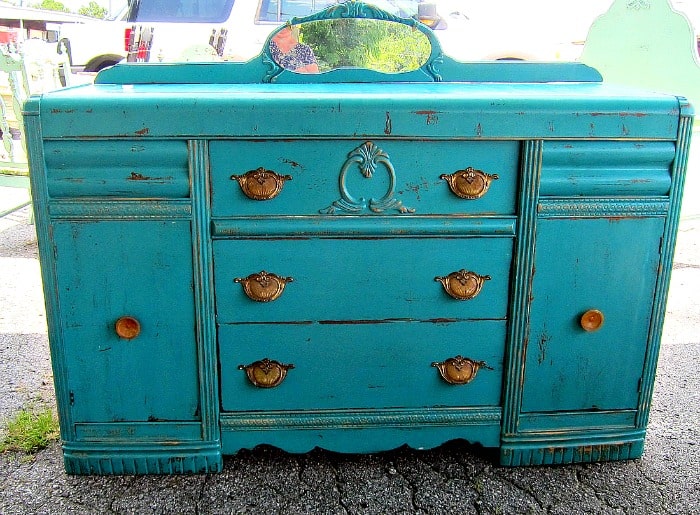 How about this beauty by Debbie. She has the prettiest pieces and I always love her color choices.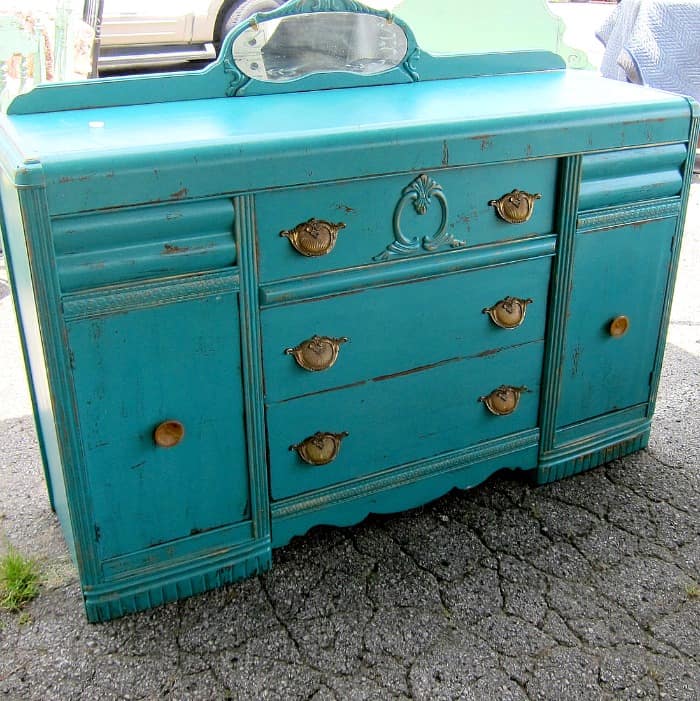 Two photos because I like it so much. The buffet was sitting in the shade and it was hard to get a good photo. I've painted similar Waterfall buffets before. I love the style and all the details. It's nice to have the original mirror too.
Petticoat Junktion is a participant in the Amazon Services LLC Associates Program. As an Amazon Associate I earn from qualifying purchases.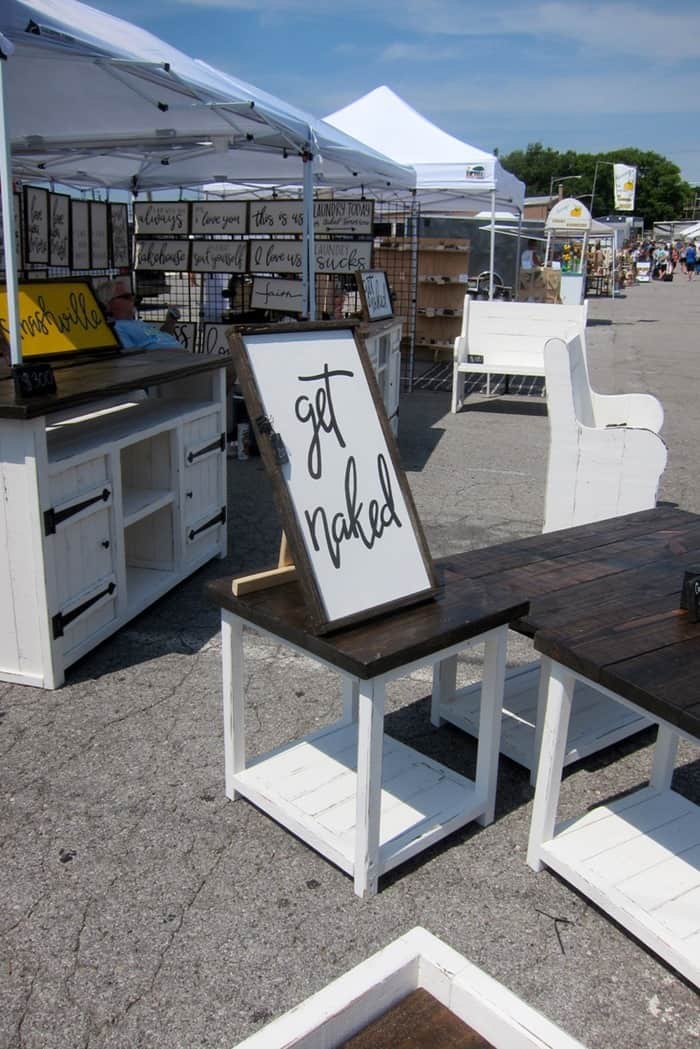 Couldn't pass up this sign without taking a quick photo. This vendor had a lot of farmhouse style handmade furniture and signs.
Just a few of the things you can find at the market….antique furniture, vintage decor, handmade stained wood furniture, new items like purses, rugs, socks, scarves, ets., dishware, knick knacks, specialty foods, boutique clothing, carpets, health and beauty items, jewelry, perfume, leather goods, paper goods…..and I could go on.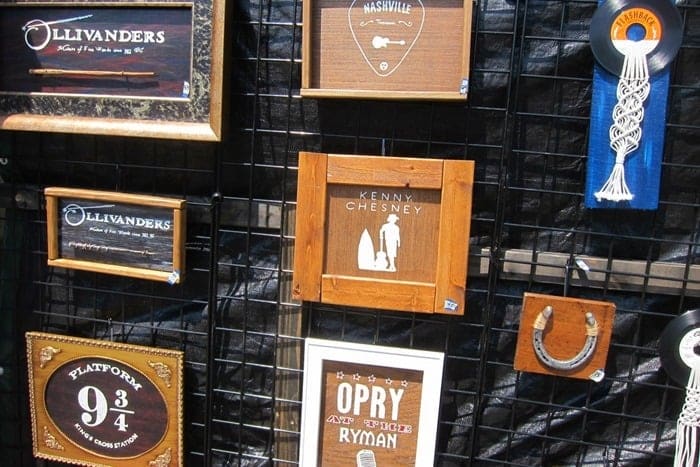 All kinds of signs having to do with Nashville and country music.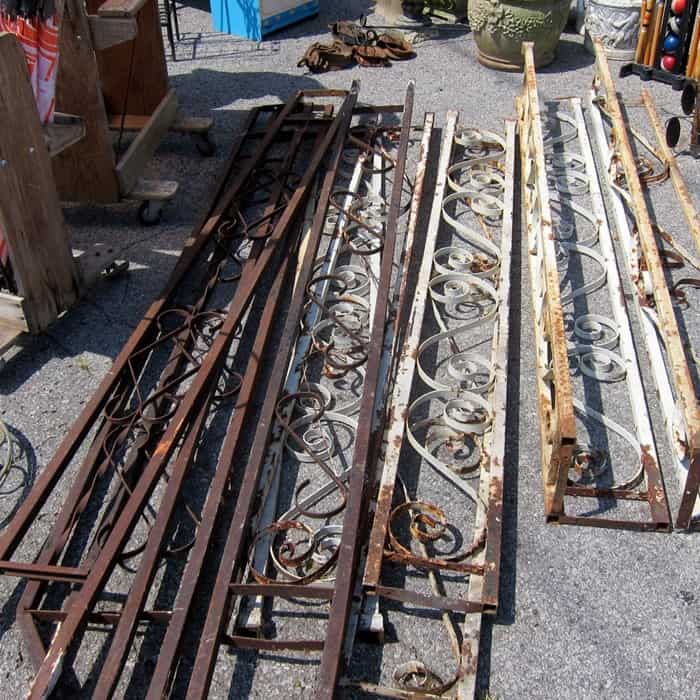 Curlicue rusty metal. Our home was built in 1965 and we have highly ornate metal porch supports. I would really like to have them wrapped with wood to update the look of the house.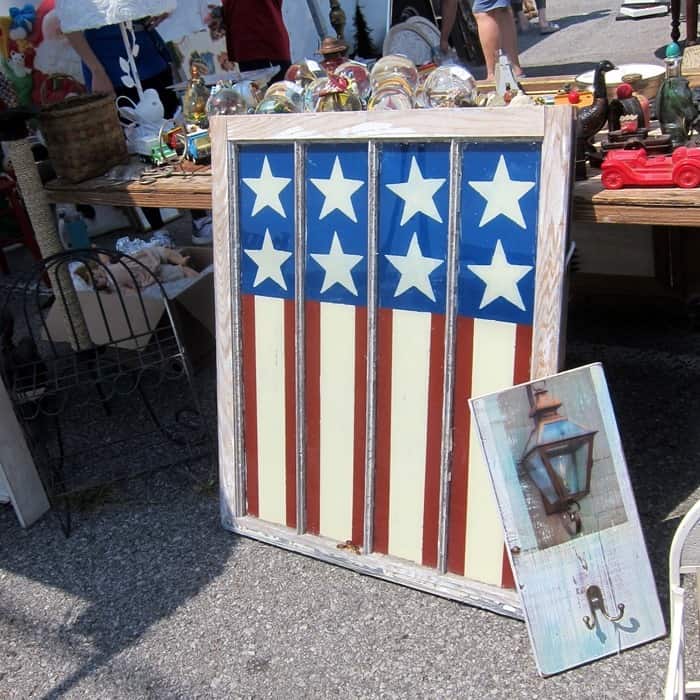 Loving this red white and blue window.
This sign is a little frufru for me and the saying……a little over the top.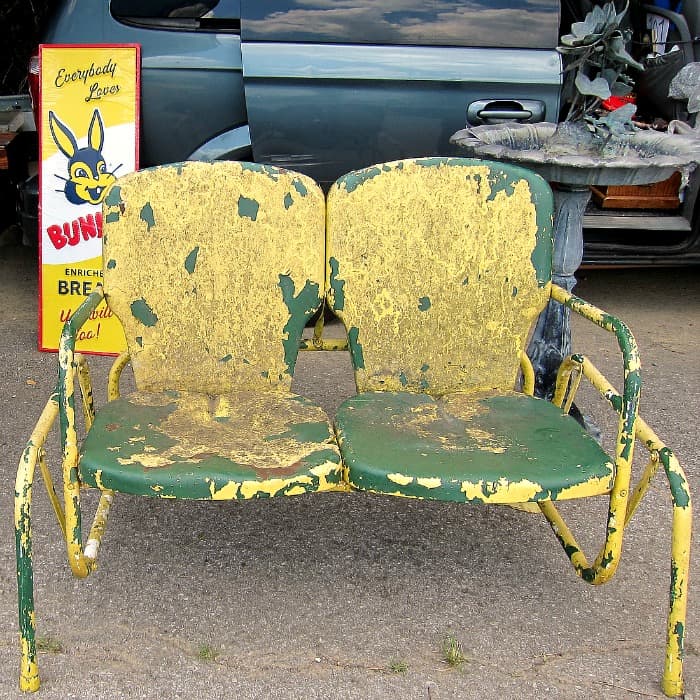 Loving the green and yellow chippy metal glider. Just a bit of clean up and it would be perfect.
The Nashville Flea Market is considered one of the top ten flea markets in the country. It has 800 to 1200 dealers/vendors from 30 states and an average of 2000 booths. That's a lot of stuff to look at in one three day weekend.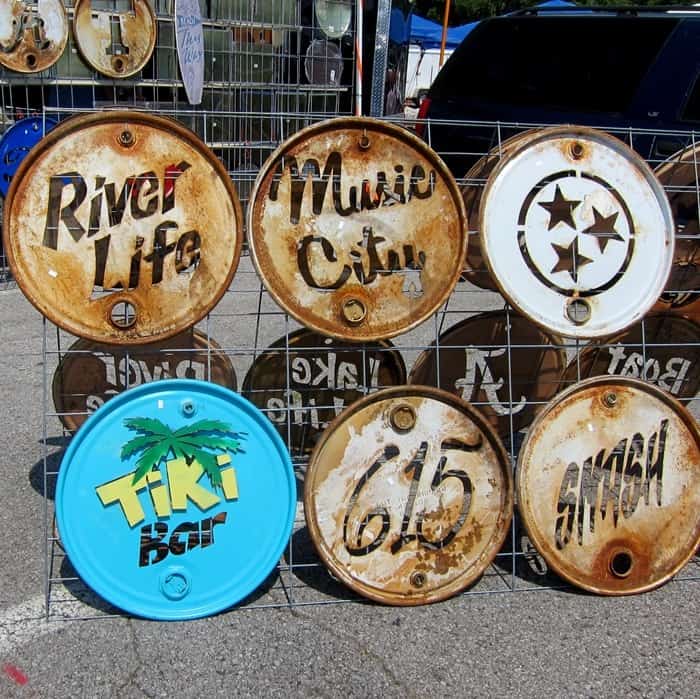 I took this photo for my sister who has a house on the river. She needs the River Life sign and maybe the Tiki Bar sign.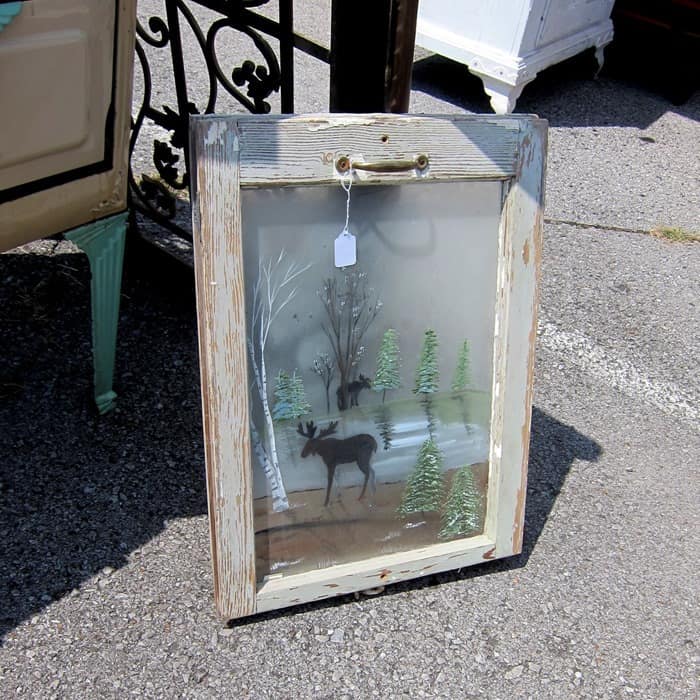 The window painting caught my eye. Should have priced it but I didn't.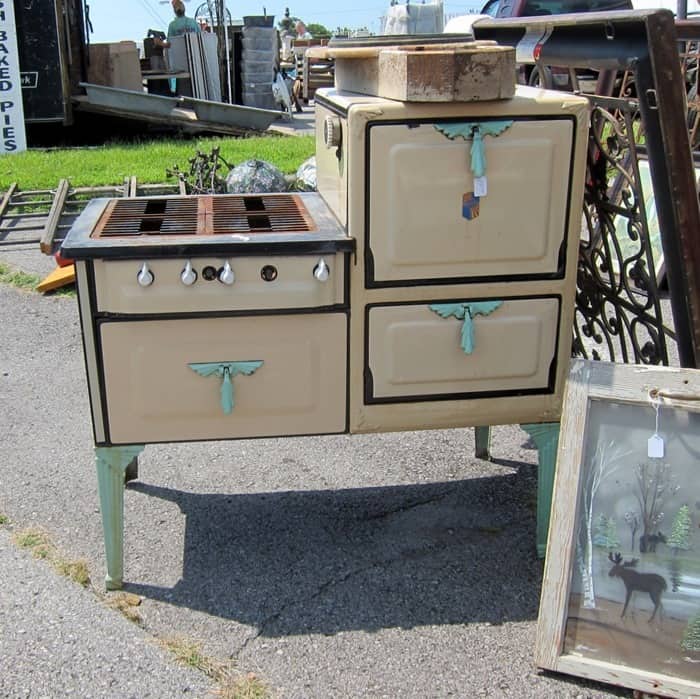 Vintage appliance.
Perfect size church pew for any room of the house or on the front porch. I wouldn't paint it. Just clean and wax.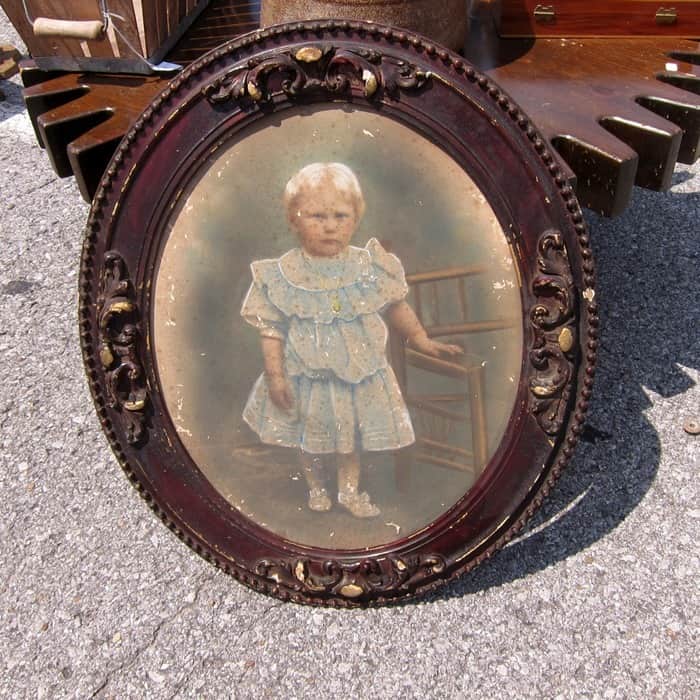 The ornate frame was a bit beat up but still nice.
Watch a short video I filmed at an earlier flea market below…….
Nashville Flea Market Shopping Trip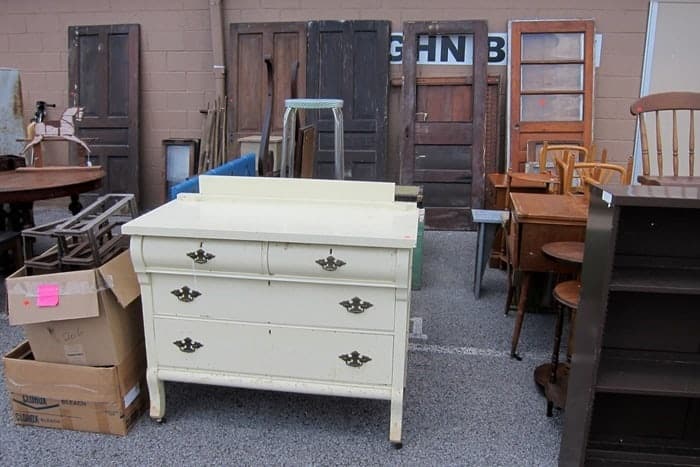 Nashville Flea Market 2019 Information Including Times and Dates For the remainder of the year.
August 23-25, 2019
September 27-29, 2019
October 25-27, 2019
November 22-24, 2019
December 20-22, 2019
Nashville Flea Market Hours of Operation
March-November
Friday 8am – 5pm
Saturday 7am – 6pm
Sunday 7am – 4pm
December-February
Friday 12 noon – 5pm
Saturday 7am – 5pm
Sunday 7am – 4pm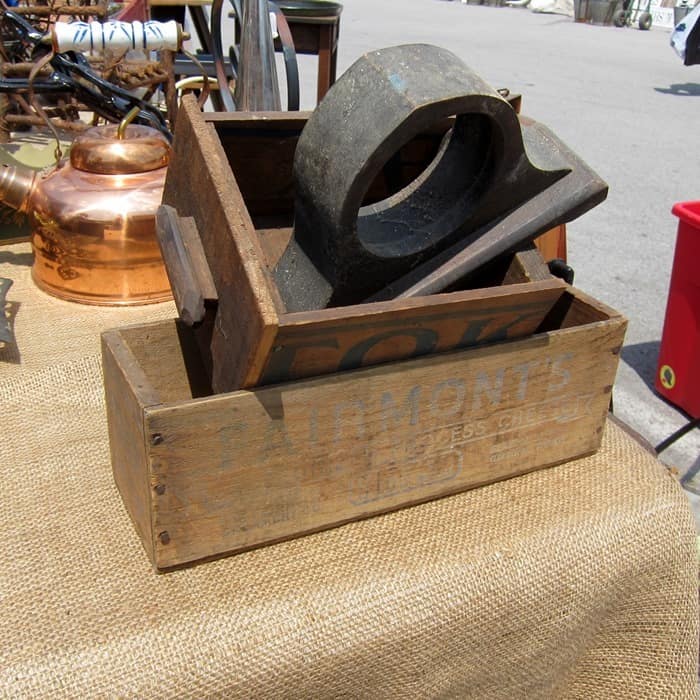 The flea market should be moving into it's new spot at the fairgrounds in September or October. There will be new buildings, covered sheds, and outdoor areas.
If you've missed the photo shares from my favorite junk shop check out the video below that also features the awesome prices for the best junk……
My Favorite Junk Shop in Hopkinsville KY
Petticoat Junktion curates the official Pinterest board for the Nashville Flea Market. You can see 800+ photos I've taken over the years at the market by clicking here (and don't forget to follow the board too, I'm always adding new photos).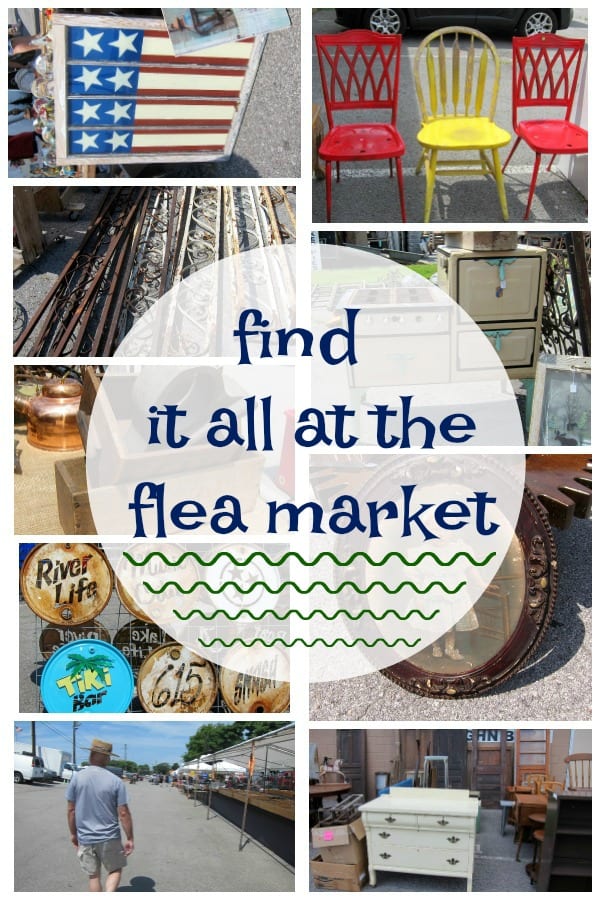 For more info on the flea market read this post….Everything You Always Wanted To Know About The Nashville Flea Market 2019
What was your favorite thing in the photo tour? I think mine was the turquoise buffet. The color is glorious and those vintage pulls, wow. Leave a note and as always thanks for being here, Kathy
Find my must have DIY supplies on the Petticoat Junktion Amazon page here.