disclosure: affiliate links may be used in this post.
Paint And Distress A Vintage Wood Table
Hey guys! Wait until you see the blue desk….and the chair. I wasn't planning a post for today but I finished this project yesterday and couldn't wait to share it. I'm really excited to be back in the swing of things with painting furniture and working on other DIY projects.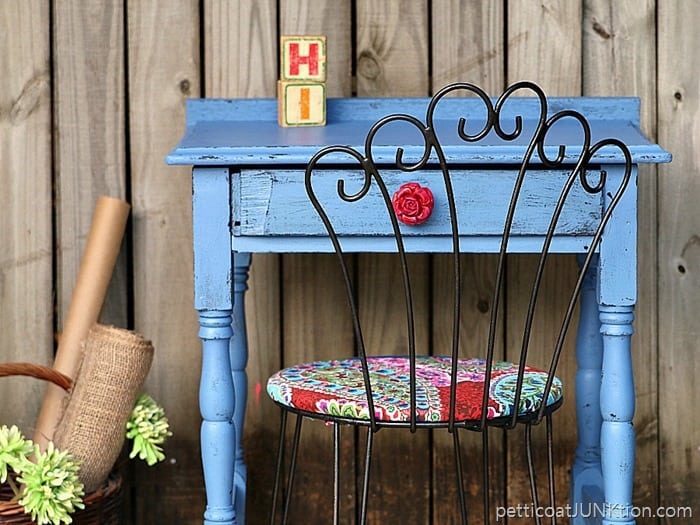 Vintage Table Painted Blue
The past few years have been up and down for me. After the Laboratory I worked at for over 25 years shut down in 2013 I was at loose ends and went back to college. Many of you know I graduated this past May.
During this time I went through periods of mild depression especially when I was on college break or vacation. It's not that I didn't have anything to do because I always have projects waiting on me. But most of the time I was working on projects because I felt I had to…not because I really had the urge to create something.
Over the last couple of weeks I've been looking forward to getting in the workshop and painting furniture, so I think I'm back. It's just that it's too darn hot to work in the shop. I finally couldn't take it any longer and headed to the shop to paint this beauty on Tuesday afternoon. If this darn weather would just cool down I would be happy.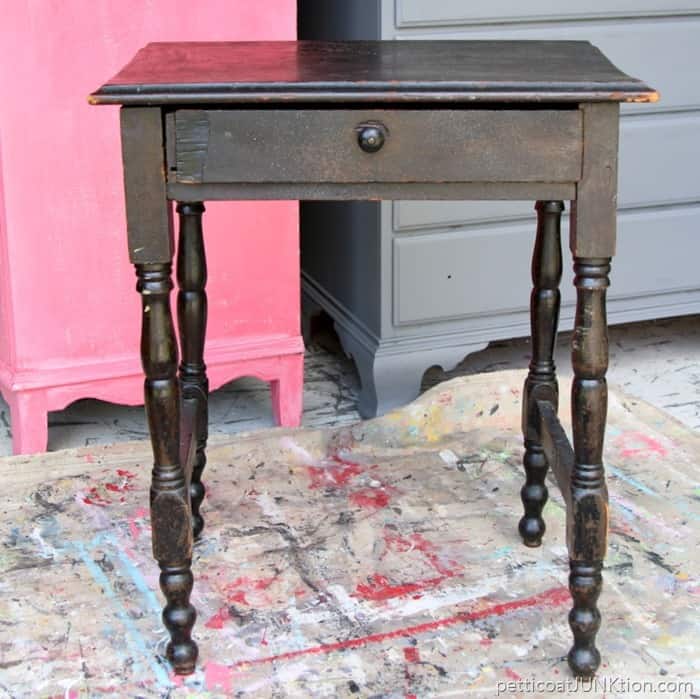 This is the desk the JTS bought at an auction. It was a little dinged up and wobbly. Repairs were in order. You can see where we worked on it here…Furniture Makeovers Involve Repairs And Mistakes.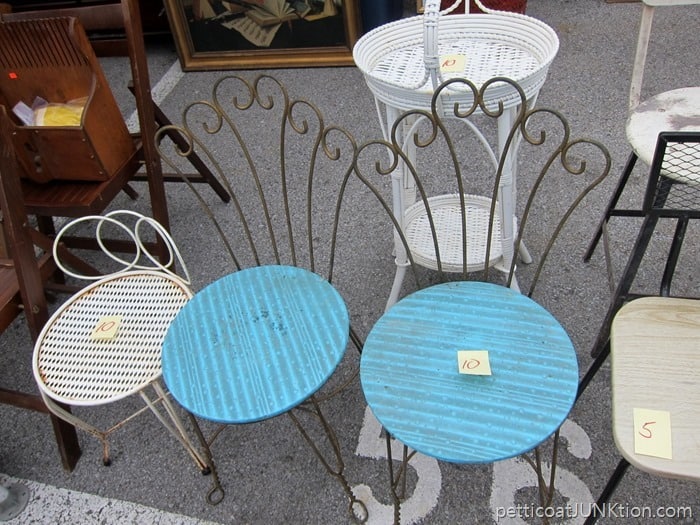 And the chair is one of a pair I found at the Nashville Flea Market. I paid $10 each for the chairs. Not a bargain but good enough. If you live close to Nashville or not toooo far away you need to make a trip to the market. It will be worth your while. It's high on my list of favorite shopping places…right below my favorite junk shop.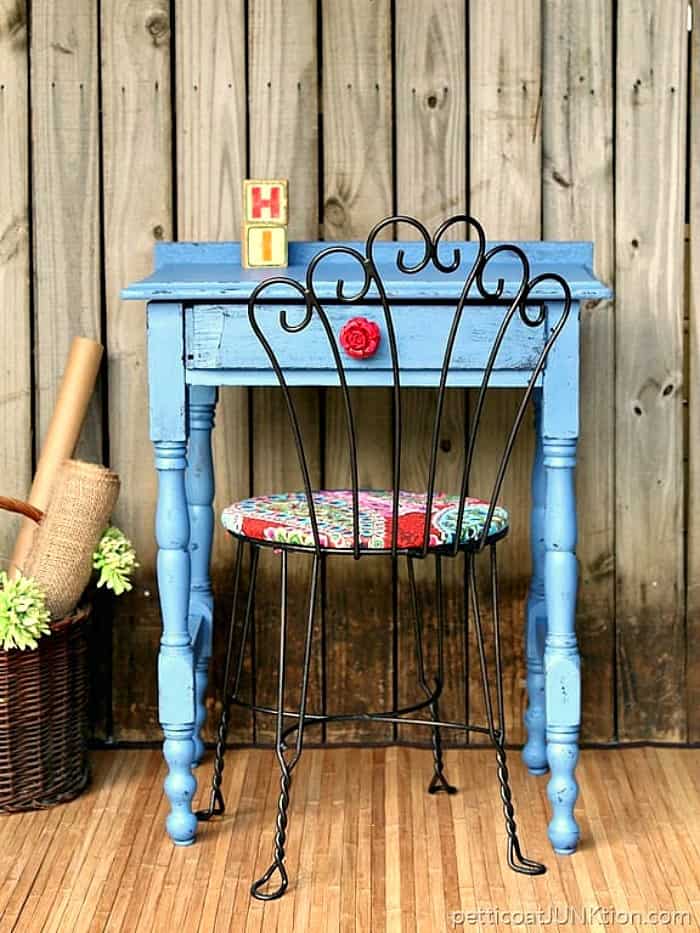 My friend Sara at the shop gave me a can of new paint to try out. She sells the paint in the shop and hasn't had a chance to try the latest formula of the paint.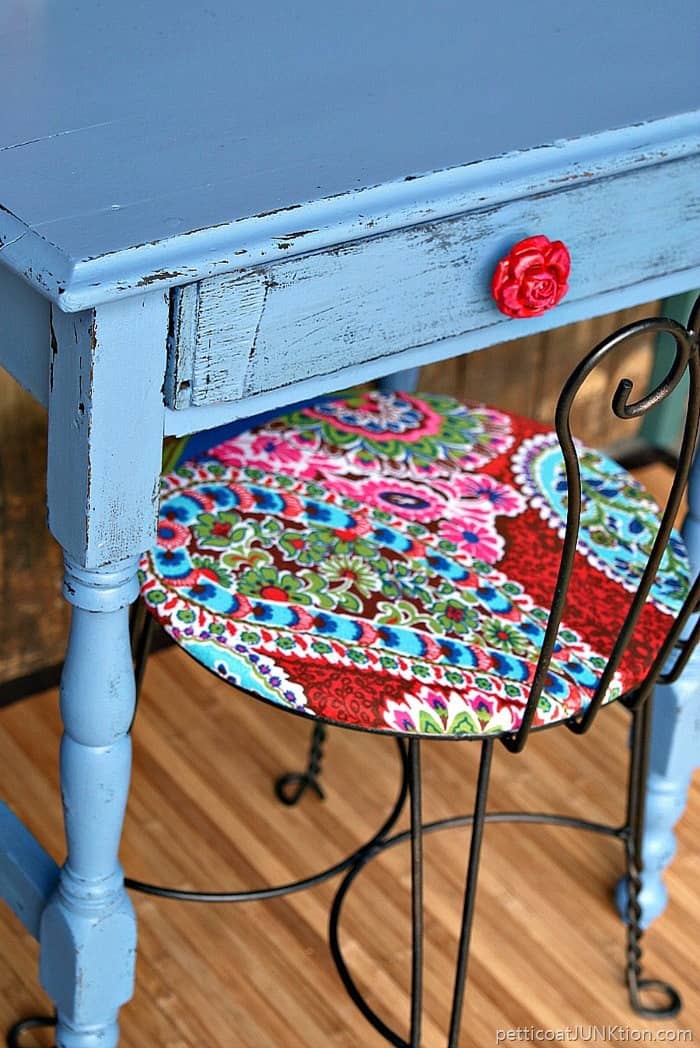 The red rose knob is also from a set of pulls I bought somewhere….can't remember. I do remember I asked you guys about them and someone said they are drapery pullbacks. I'll find the original post and let you know where I bought them. My memory isn't so hot.
I mentioned a couple of weeks ago about maybe making video tutorials of my projects. I finally bit the bullet and did a few. My favorite paint technique is featured in this short video (less than 2 minutes)…
I plan to share the desk and chair makeover details next week. I've run out of time today. I'll tell you about the paint, where I got the pretty fabric, how I distressed the desk, and what spray paint color I used on the knob and the color for the chair. Have a great weekend! Kathy