Gray primer is my best friend. We became close years ago. My introduction to gray primer was as……primer…..who knew.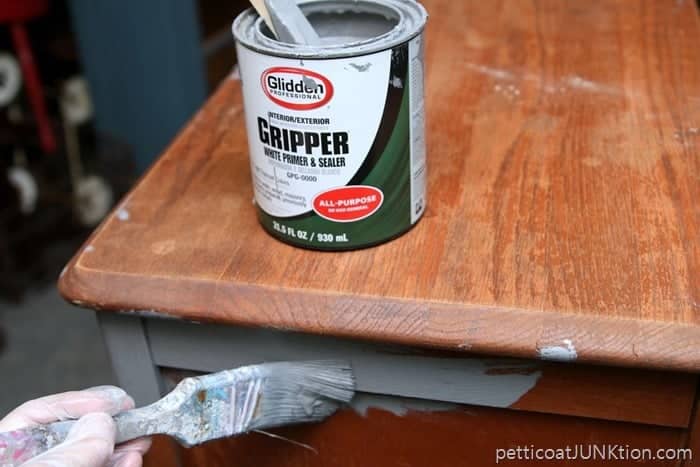 Gray Primer
At one time there was a product called Glidden Grey Gripper. Now they just make Glidden Gripper in white. I get it tinted gray because I've learned gray is the perfect primer color.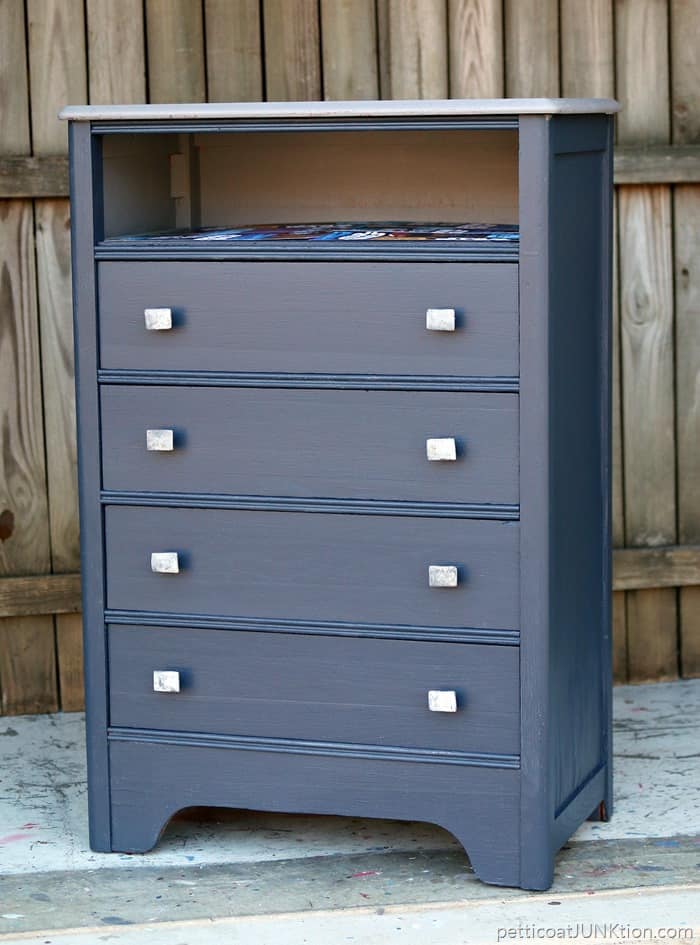 I think it's also the perfect top coat. Other people, like professional painters and paint companies, don't agree with me. That's okay, Call me a rebel. Why the story about the gray primer today? Because I used the gray primer as a top coat on the chest of drawers featured last week.
I have all the paint details on that chest today and a look at other projects on which I used gray primer as a top coat.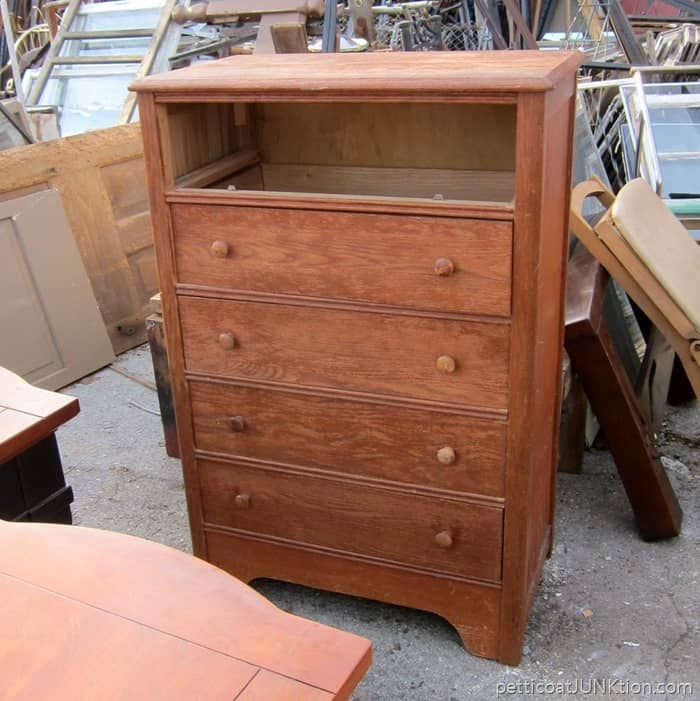 You might remember I picked up the chest at my favorite junk shop. It was missing a drawer and the JTS fixed it up for me.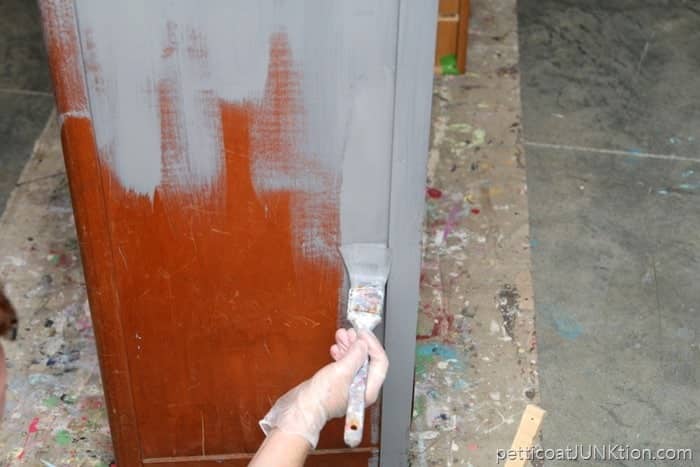 I started the paint job with a coat of gray primer. When I sanded the loose finish off of the top of the chest it looked a little red. Not knowing if the finish would bleed through the paint I decided to prime it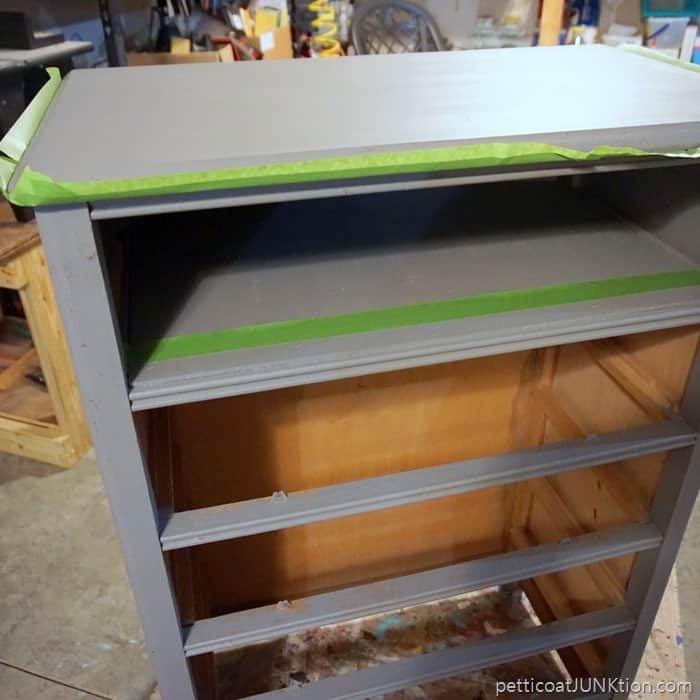 The Glidden Primer covers so well. This photo shows the project after one coat of primer. I had already decided to paint the chest Hale Navy from Benjamin Moore. The knobs I bought at Hobby Lobby screamed boy so navy it was.
Navy and gray compliment each other like peanut butter and chocolate so I stood back and looked at the chest trying to figure out how to use the gray. I finally decided to leave the interior of the shelf area and the top gray. I thought if I didn't like the top of the chest gray I could always paint it navy. I taped off the areas I didn't want painted with FrogTape.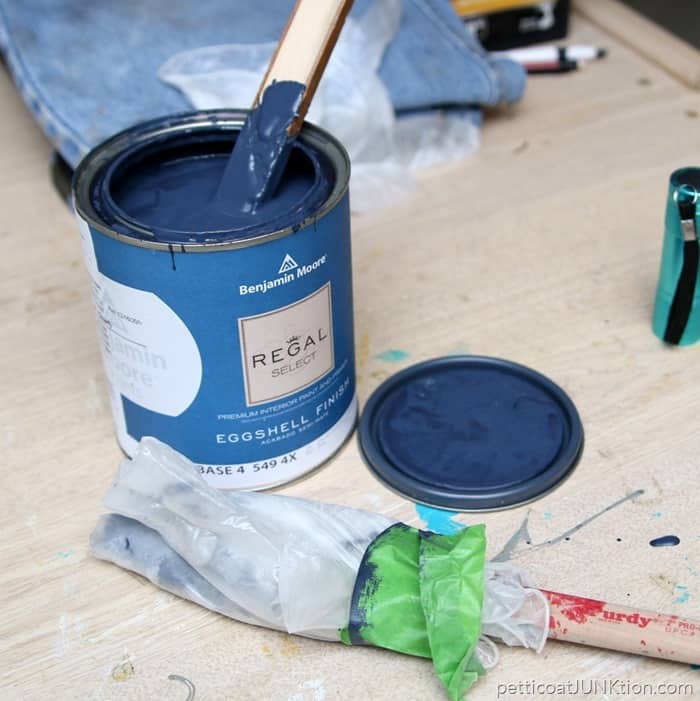 The can of Benjamin Moore Hale Navy has been on the paint shelf for a while. My sister built a new house and her kitchen island and fireplace is painted Hale Navy. It seems to be a very popular color for kitchens. Anyway, I bought a large mid century modern dresser for my sister and the color of choice is Hale Navy. I haven't got around to painting the dresser yet and thank goodness my sister isn't in a hurry for it. The truth is…..the paint plan has changed a few times. But that's a story for another day.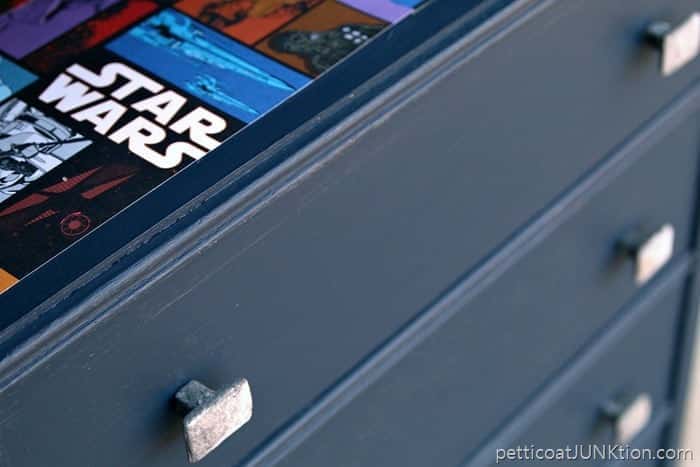 The budget knobs from Hobby Lobby were the inspiration for this project. The knobs were $1.20 each. A deal.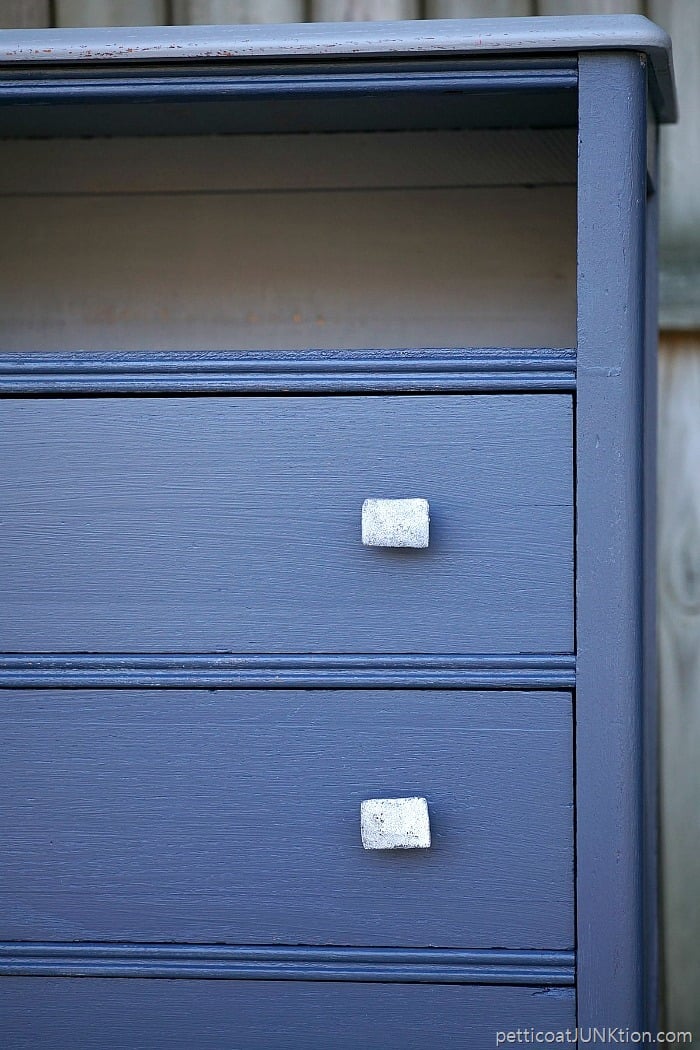 I like the two tone finish.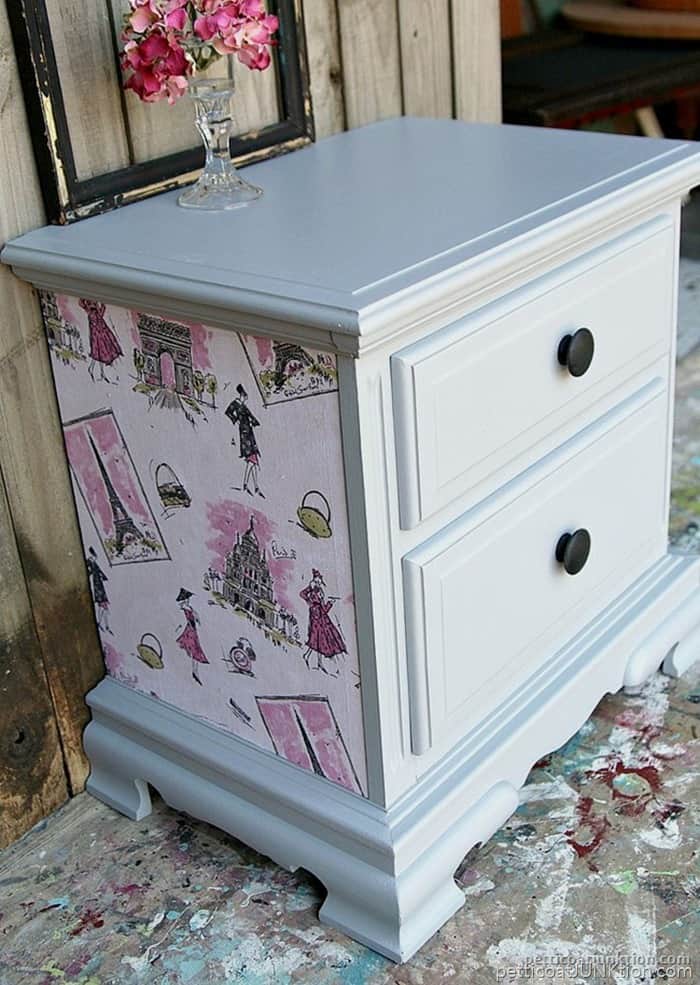 The "Paris" themed nightstand is painted with the gray primer also. I was going to paint the nightstand pink but loved the primer so much I left it just like that. You can find the decoupage fabric details here.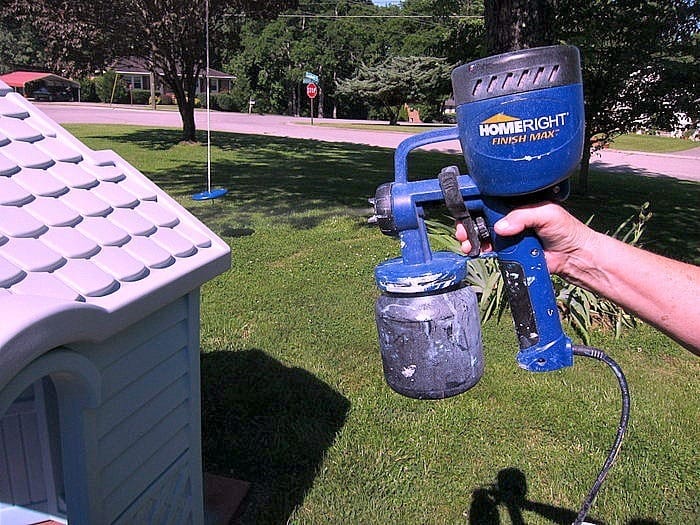 I also used my HomeRight paint sprayer to paint the roof of Miss Sofi's playhouse with gray primer.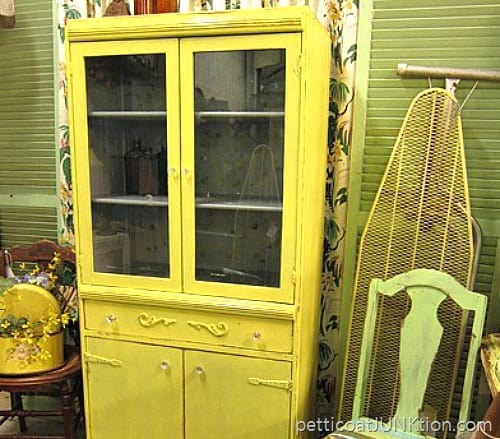 This sunny yellow china cabinet has gray primer for the inside finish and details stenciled in yellow. The project can be seen here….Yellow China Cabinet.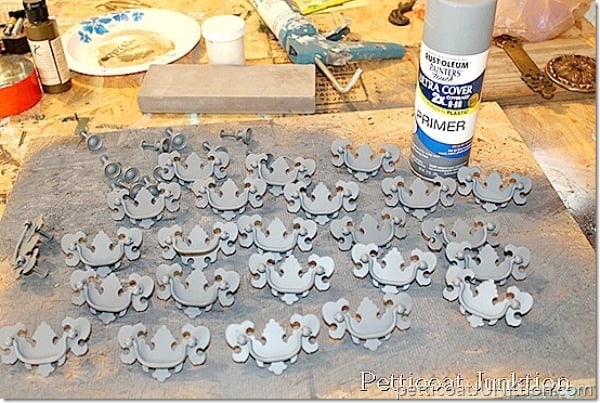 I finished a custom bedroom set for a boy's room and just used gray primer spray paint for the handles. The flat finish worked really well against the dark glossy gray of the furniture . You can see it here…..Gray Bedroom for Boys.
What color primer do you like best? Do you have the primer tinted to the color of your paint? When I buy the primer and have it tinted I just tell them to tint it gray and they do their thing. I guess if I wanted it the same color every time I would have them match a paint sample.
Products used for these projects:
HomeRight Finish Max Paint Sprayer
Waverly Tres Chic Fabric for Decoupage
Glidden Gripper Primer - Home Depot
Hale Navy Benjamin Moore Paint
Products unavailable in your area can found on Amazon. (Affiliate links are for your convenience)
Thanks for being here and I'll see you next week.
Author: Kathy Owen (Petticoat Junktion)
Kathy is the founder of PetticoatJunktion.com, a home décor blog focused on repurposing and upcycling furniture, old hardware, rusty stuff, and thrifty finds into unique home décor. Kathy's projects have been featured on the Home Depot Blog, Plaid Crafts, Behr Designer Series, and in numerous magazines. Read more about Kathy here.