Stenciled Chandelier Surprise
Some of my favorite things came together in this Stenciled Turquoise Wardrobe project…
turquoise paint, red paint, stencils, and vintage furniture.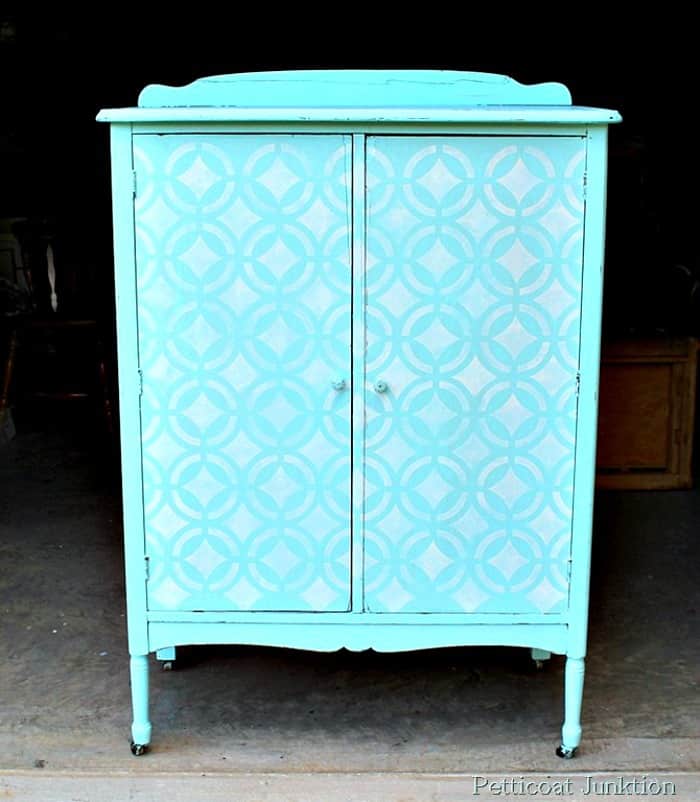 Lots of cool stencil designs these days and lots of stenciled furniture on Pinterest.
I wanted to try stenciling on furniture but was afraid I couldn't get everything centered and lined up and whatever!
This one was easy believe it or not.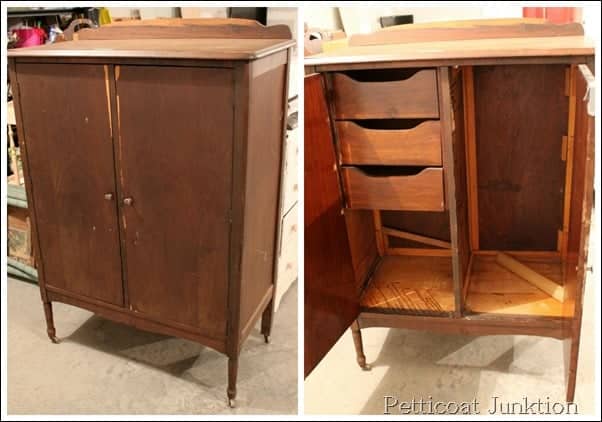 before
One of my best Nashville Flea Market finds, only $30.
The hanger thingy was on the floor and some of the veneer was peeling off but all-in-all a great deal.
The Junktion Technical Specialist screwed the hanger thingy to the inside top and we were good to go.
I glued and clamped the peeling veneer and didn't worry about the missing veneer.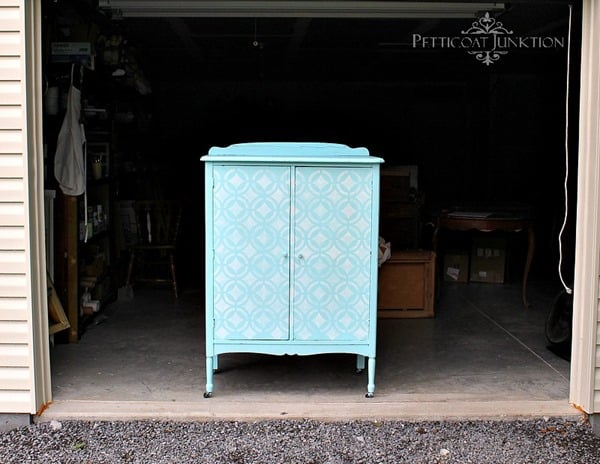 For the paint finish I chose Behr Primer and Paint all in one.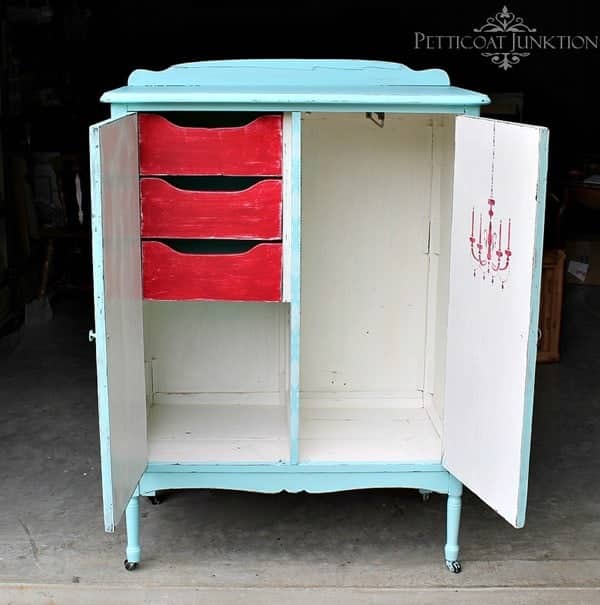 Surprised? I was going with turquoise accents on the inside but they would have been just too boring!
Ya'll know how I love bright colors.
So I used some oops paint in red for a pop of color. I've used this red paint before on the Cedar Chest makeover using the vaseline distressing technique and on the small Two-Tone Cedar Chest I distressed using the wet shop towel technique.
Distressing furniture is one of my favorite things and there are all kinds of ways to achieve the distressed look.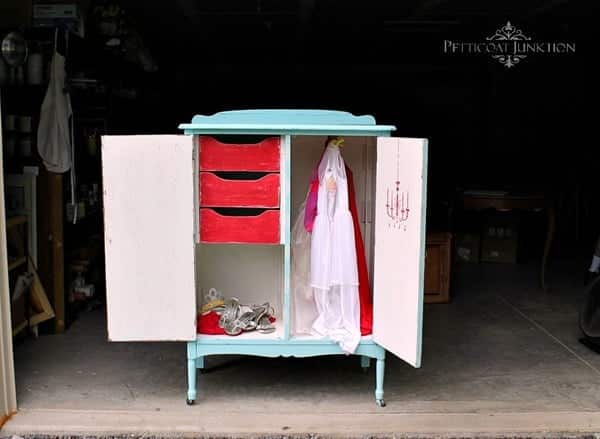 On the outside she's all classy looking….. and on the inside….. a little whimsical.
I distressed the drawers so the white paint would show through and I also distressed the chandelier just a little.
The stencil chandelier is one of my favorite stencils. There will be a post later this week showing the stencils and the technique I used for the door fronts and the chandelier.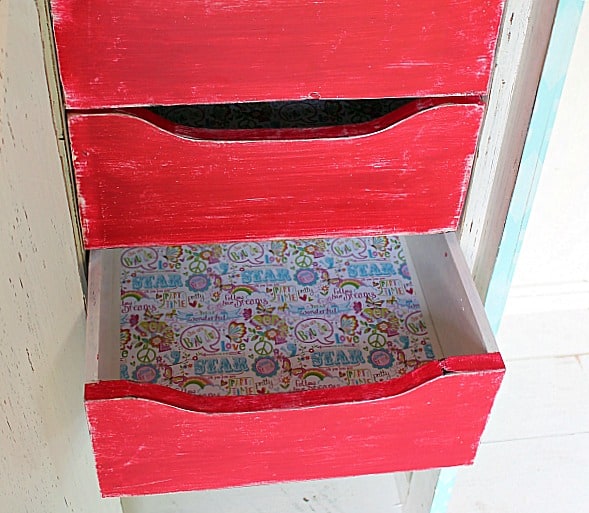 Scrap book paper in the drawers adds another special touch.
I added some of my granddaughter's dress-up things for the staging.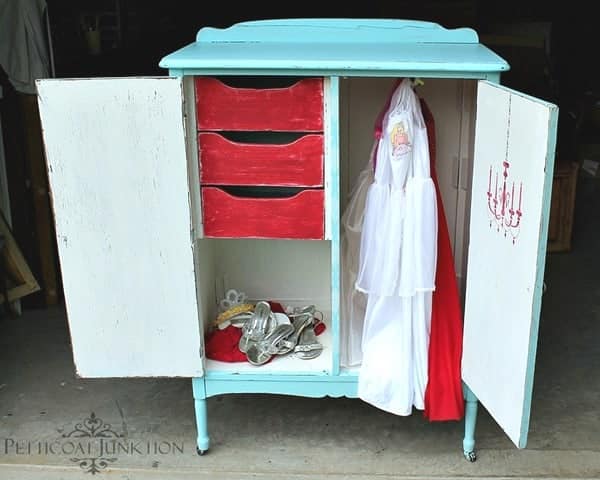 Little girls love to dress- up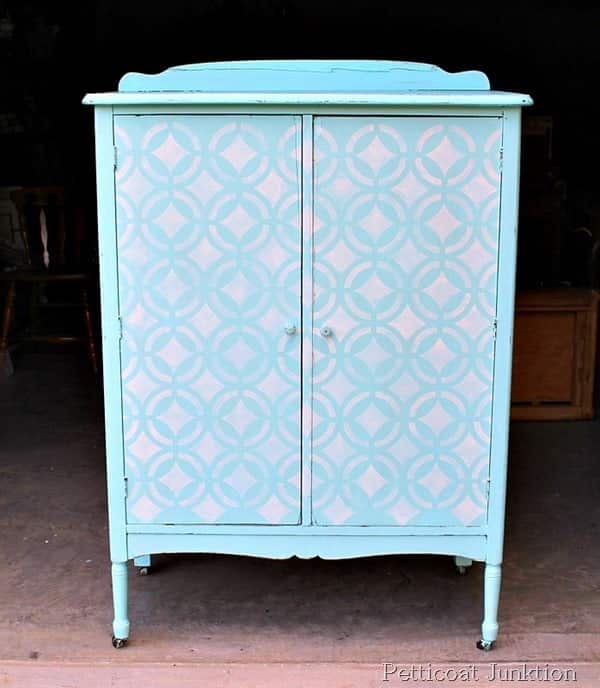 She is classy isn't she!
Soooo, what do you think?
Do you like the inside….the stencils…..the color combinations…..popcorn…. ( wanted to see if you were paying attention).
 click here for Stencil Tutorial for Chandelier and Door Stencils.
8 paint projects using latex paint
Kathy