American Flags Made From All Kinds Of Stuff
Featuring American Flag projects today because I'm feeling Patriotic. My husband served in the United States Military for 27 years. I'm proud of him and I'm proud of our country. My little sister was born on the fourth of July and my birthday is two days after hers. Happy Birthday to us.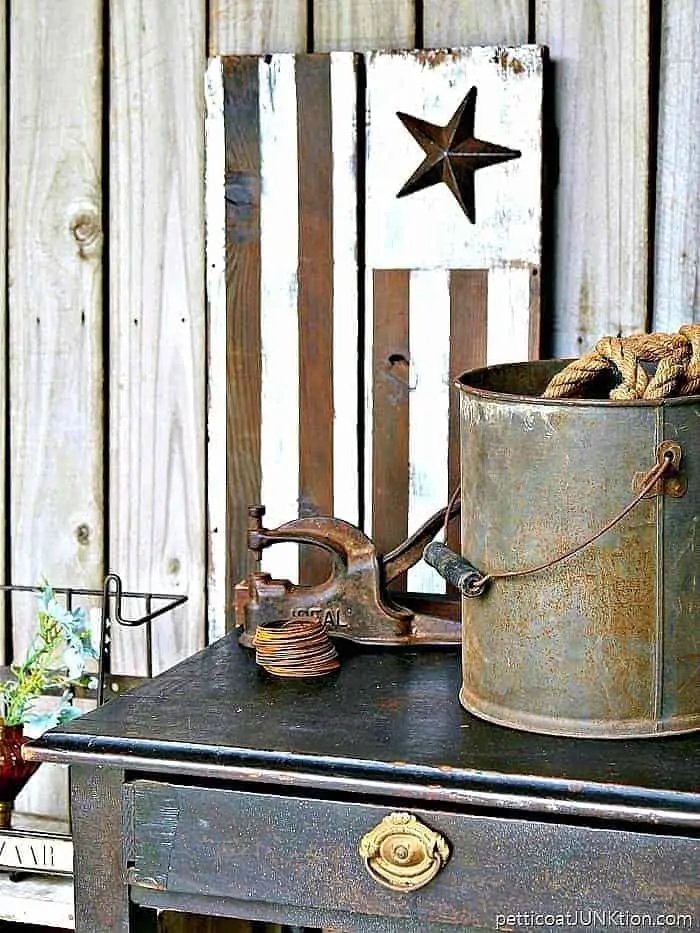 With the 4th of July approaching I wanted to share a few of my flag projects along with some inspiring American flag projects from other DIY'ers.
Most of the projects are super easy. There are a couple of very in depth projects for those of you feeling like you need to work with your power tools. Several of the flags are made from  reclaimed wood and the projects are all budget friendly for us thrifty girls and guys. (Click the pink text links to view the project details)
15 Rustic American Flag Projects
DIY Rustic Farmhouse Style American Flag. I made this flag and the photo is at the top of the post. I completed the whole project in a couple of hours. I didn't measure anything and there really wasn't a lot to do. I actually made a short video showing the process. You can view it below.......

DIY American Flag Video Tutorial.
I love using the iron nail stars. They look great on furniture too. I usually order them on eBay but I haven't ordered any in a while so don't know if they still have them.
Easy Peasy 4th of July Rustic Flag. I love that Gail repurposed an old privacy fence. The flag is eye-catching and it has a great backstory.
3. Rustic Painted American Flag. This flag is inspired by a Pottery Barn flag. It is truly a work of art. You have to see it. The flag is made from a wood panel and is huge.
4. DIY American Flag for your Garden. This American flag project is one that anyone can do. You can buy all of the products are your local hardware store. And the best part? It only takes one tool to build it. Give the flag a rustic look by sanding the edges a bit once done! You know how I am about distressing paint.
5. Reclaimed Wood American Flag. Not only did this project take 30 minutes from start to finish, the reclaimed wood find cost less than $1! And it's another big, big, flag.
6. DIY Patriotic Wood Flag. For this flag you definitely have to have some tool skills. It's something I might try if I had the patience. That means it's not going to happen. Take a peek at it and see what you think.
7. DIY Rustic American Flag. Another big wood flag but I could make this one. The cool thing about all of these projects is the flags can be painted different colors and made from various fun items to fit different decorating styles.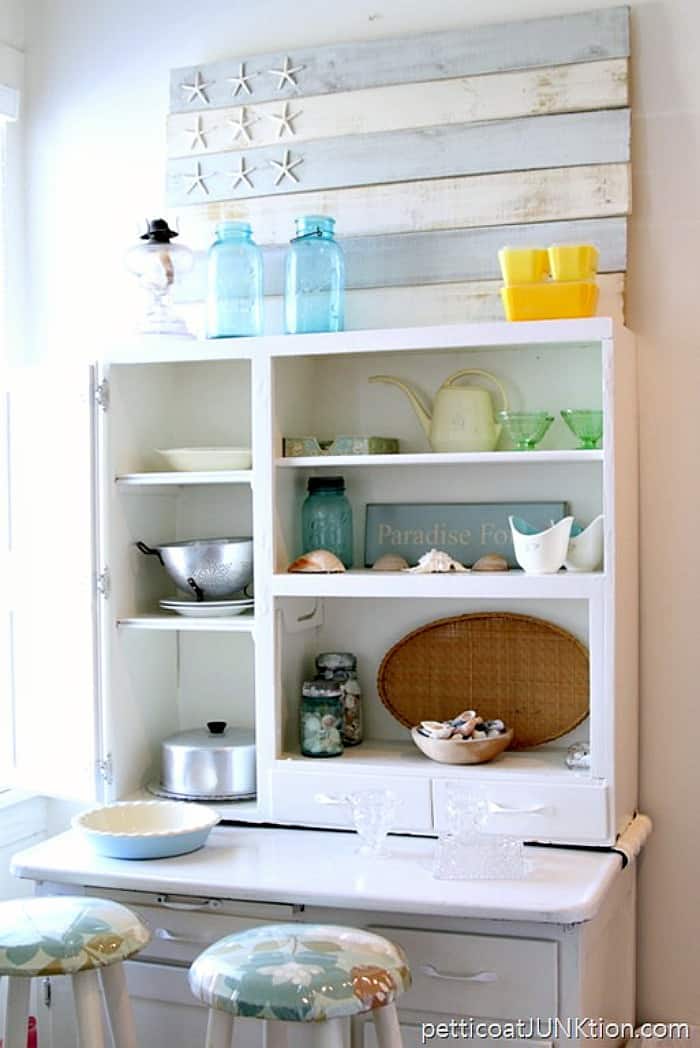 I didn't make the flag above and it's not included in the roundup but while writing the post I thought about it. The flag was part of the décor in a cottage we stayed at on Tybee Island a couple of years ago. I love the colors and especially the starfish "stars".
8. Iron Star Rustic American Flag. Another project of mine and another of those Iron nail stars. This flag was another no measure just use the painters tape as a guide thing.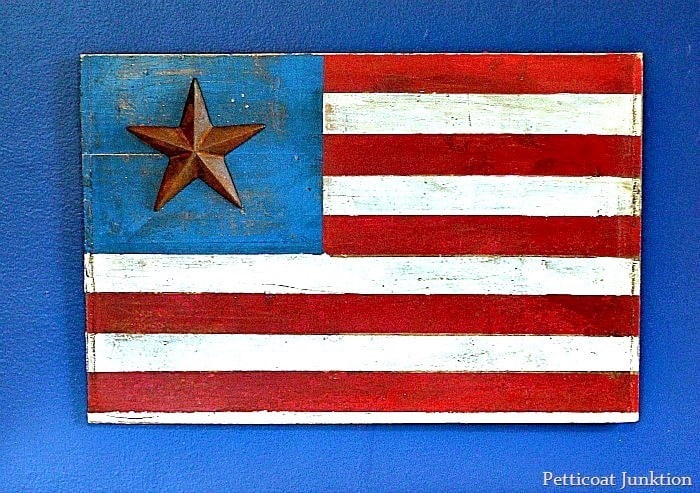 I've told you guys I do things the easiest way possible……always. The paints used are some I already had on hand.
9. DIY Yardstick American Flag. This flag is similar to my wooden ruler flag I made for thrift store day. I like the yardstick idea a lot and the folding wood tape measure makes the perfect star. The size of the yardstick flag is just right for hanging over a sofa.
10. Pallet Wood DIY Flag. I love the farmhouse feel and total summer look of this pallet wood American flag. The colors are very muted and just right.
11. Pallet Wood and Shutter Slat American Flag. This may be one of the coolest transformations I've seen and the flag,  well it's pretty. Not sure I have the patience for this one either. I'm sharing some more difficult projects today because I know some of you have the skills (and patience)  to put them together.
12. Vertical Patriotic  Flag. Okay, this shutter flag is my favorite. I used to make things from old shutters and the flag project has me thinking about shutters again. When we lived in Florida I took old  shabby shutters in beachy colors and added things like welcome signs, flowers, starfish, etc.
13. DIY American Flag. This is a super easy flag project, I promise. Three boards, star stencils, paint, hanger.
14. Rustic Painted American Flag. I'm seriously in love with this one. I never would have thought to use the thrift store box this way.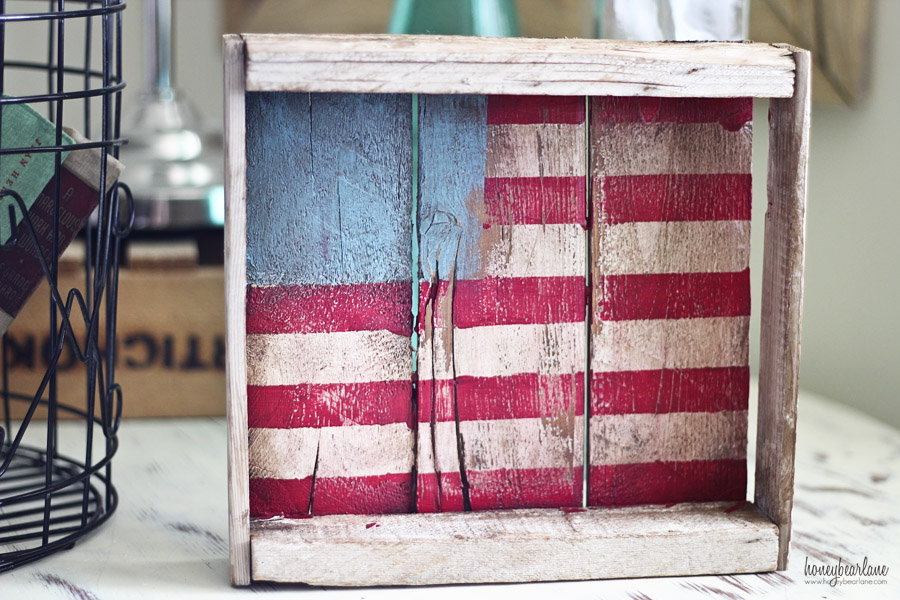 .
It's perfect to set on your table or shelf for a great focal point during the holiday festivities.
15. Scrap Wood American Flag. Who says that you have to purchase or have the perfect wood pieces on hand to create a beautiful American flag? With this fun project, the scrap wood chosen worked out perfectly.
Did you pick out a favorite or two? I hope after viewing the American flag projects you have a few ideas for making one of your own. I'm always looking for inspiration and I got several ideas when searching the internet for diy flags. While some of the flags were very similar it's interesting to see how DIY'ers put their own spin on things.
I was reading a bit on the history of the flag. I learned about Betsy Ross in school but I didn't see anything about her in the version of the flag history I read. I didn't know the meaning of the colors either ......
Color Symbolism
Red symbolizes Hardiness and Valor.
White symbolizes Purity and Innocence.
Blue represents Vigilance, Perseverance and Justice.
On June 14, 1777, to establish an official flag for the new nation, the Continental Congress passed the first Flag Act: "Resolved, that the flag of the United States be made of thirteen stripes, alternate red and white; that the union be thirteen stars, white in a blue field, representing a new Constellation."  If you are interested read more about the flag and the changes made to the design throughout history ....source here. 
Have fun creating some DIY patriotic decor for the upcoming holiday! Thanks for being here and have a great weekend, Kathy
Author: Kathy Owen (Petticoat Junktion)
Kathy is the founder of PetticoatJunktion.com, a home décor blog focused on repurposing and upcycling furniture, old hardware, rusty stuff, and thrifty finds into unique home décor. Kathy's projects have been featured on the Home Depot Blog, Plaid Crafts, Behr Designer Series, and in numerous magazines. Read more about Kathy here.