These DIY cookie stands were so easy to make. The candle holders I found and the decorative dinner plates didn't need any work…….just glue to put them together. The cookie stands are great pieces to have for holiday parties or anytime parties.
As a bonus I'm sharing one of our family's favorite cookie recipes. I made the cookies so I would have something to display on the three serving stands I made.
My project today is part of our holiday cookie tour and links to all of the participants are at the bottom of the post.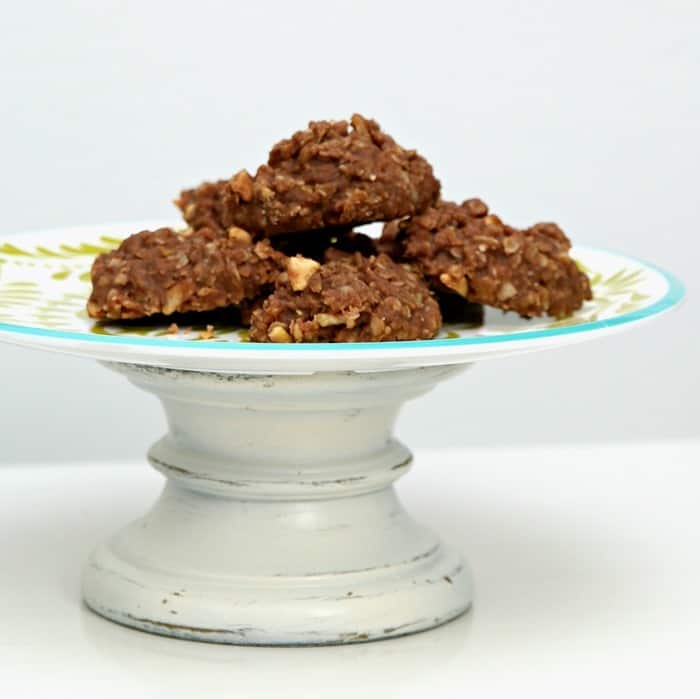 First thing I'm going to do is show you the thrift store pieces I used for the serving stands and how I put them together.
Some of the candle holders were in my stash and the others are purchases I made in anticipation of this project. I gathered anything I thought would work as a stand because you never know.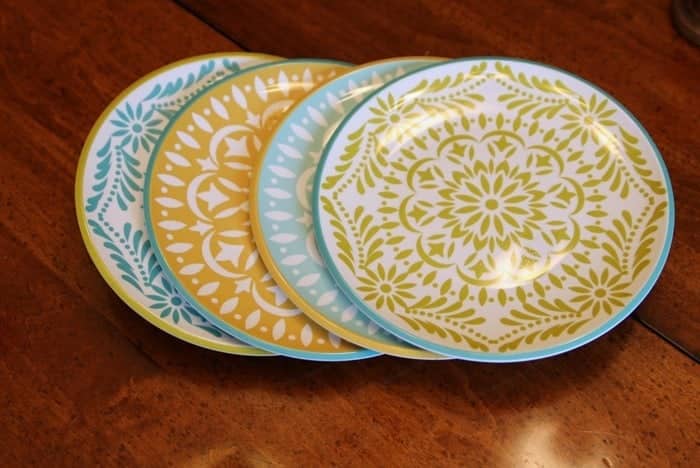 I found the plates at the thrift store just up the street from me. I paid $2.59 minus my 30% retired military (spouse) discount. Can't beat that. The plates are a set and the designs are pretty and stylish.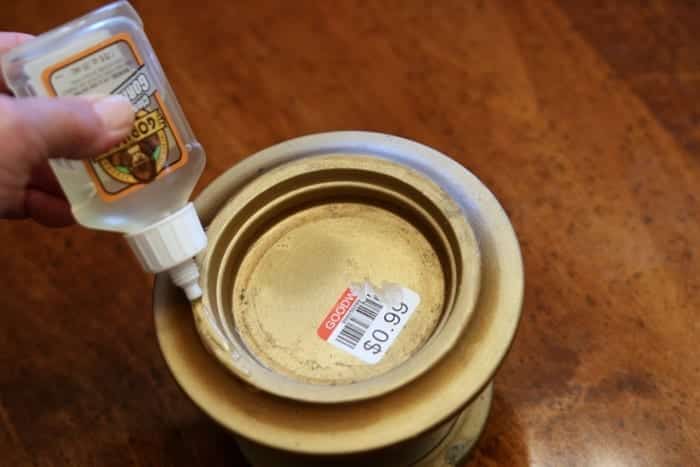 I selected three candle holders and paired them with plates selecting the colors that went best together. I cleaned the plates and candle holders before putting the pieces together.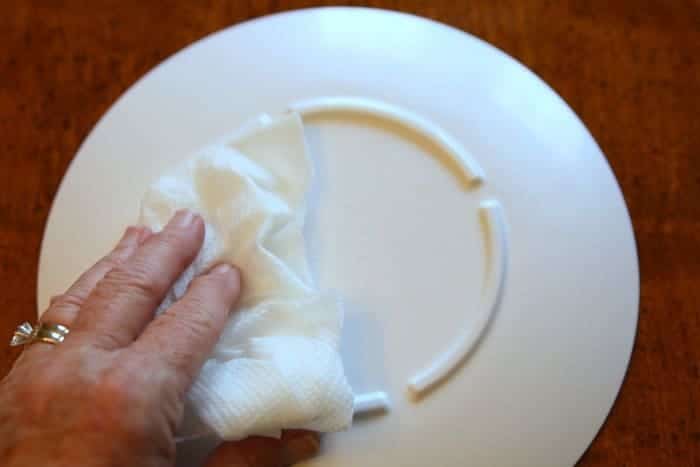 I use Gorilla Glue in a lot of my projects and for some reason I decided to read the directions before starting this project. I'm glad I did because I learned the proper way to use the glue.
The directions say to dampen one of the items before gluing the pieces together. Who knew?? I dampened the bottom of each plate with a wet paper towel and applied the glue to the top edge of each candle stick.
After running glue all around the rim of the candle stick I turned it upside down and set it on the bottom of the plate. I put two more serving stands together and set them up to dry.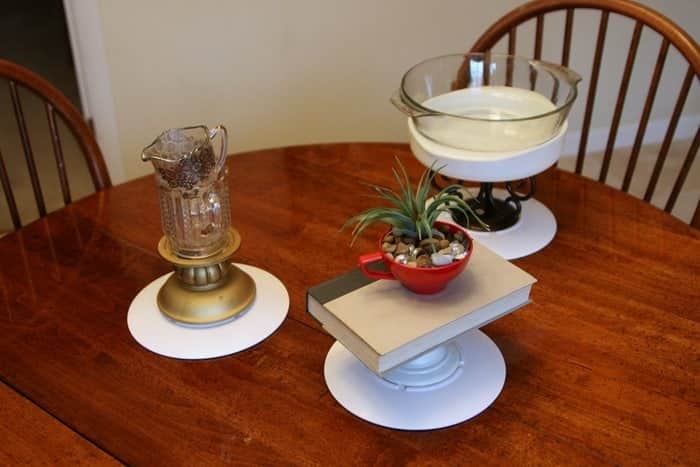 The Gorilla Glue directions also say to put something heavy on the project pieces while the glue dries. That's why the photo above looks funny. I grabbed things from around the house to set on top of the glued pieces.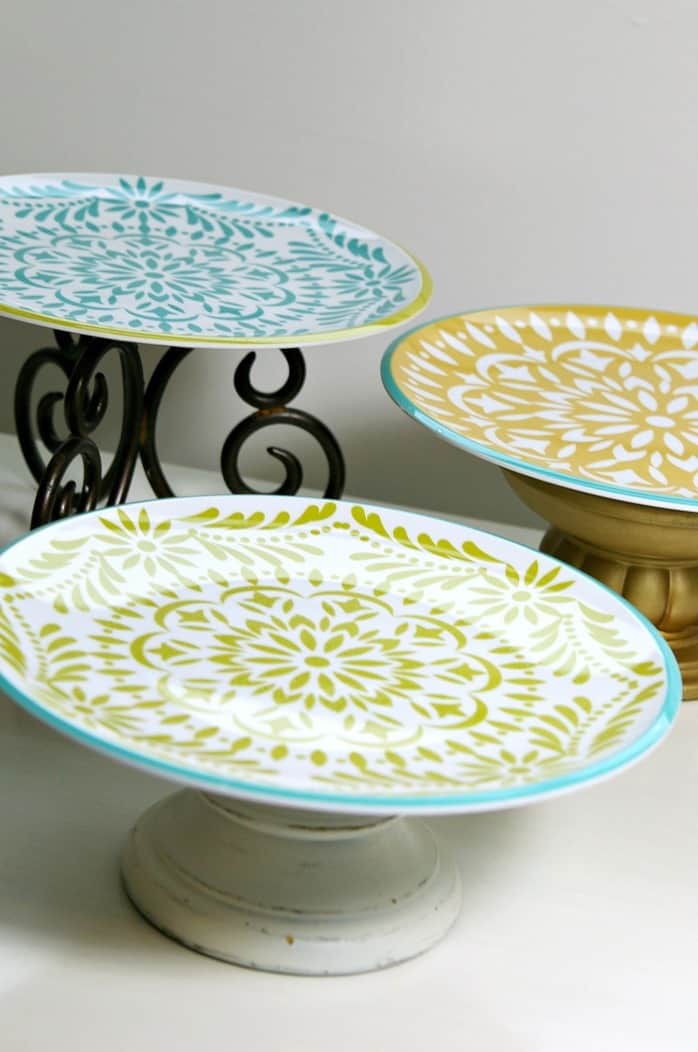 DIY Cookie Stands
The stands were dry enough to work with after a couple of hours. The directions say to wait 24 hours but who has all that time……and patience.
The cookie stand with the white base is the only thing that's painted. I painted it for one of my prior projects. When I get tired of a piece I take it apart and put the parts back on the workshop shelves. That's what happened with this wood candle holder.
Time to look at the recipe. The no bake chocolate cookies were a favorite of my brother when we were growing up and is still his favorite. Of course, I like them too.
Anything with chocolate works for me. I add my own twist to the recipe from my cookbook. I use extra crunchy peanut butter and I also add pecans. The nuttier the better.
No Bake Chocolate Peanut Butter Oatmeal Cookies with Pecans
Ingredients
1 Stick Unsalted Butter
2 Cups Sugar
3 Tablespoons Cocoa (Hershey's)
½ Cup Evaporated Milk
1 Teaspoon Vanilla Flavoring
1 Cup Extra Crunchy Peanut Butter
2 ½ Cups Minute Oats
½ Cup Chopped Pecans
Combine butter, sugar, cocoa, and evaporated milk in a heavy sauce pan and bring to a boil on medium heat. Boil for 1 minute stirring constantly. Remove pan from heat and add vanilla flavoring and peanut butter. Stir well then add oats and chopped pecans. Mix together and drop by spoonful onto parchment paper or wax paper. Let cool. Enjoy!
You can print the recipe here….No Bake Cookies.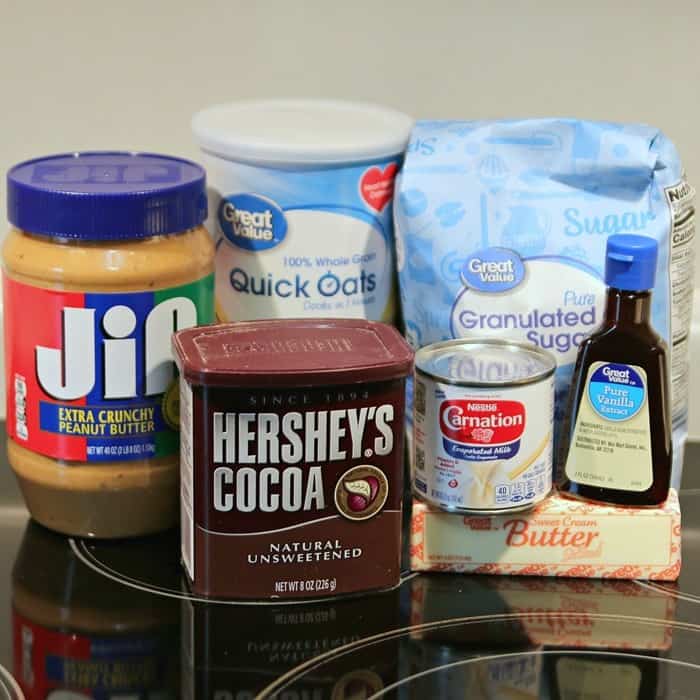 These are the ingredients I had in the cabinet. I'm not stuck on any certain brand. I do prefer real butter over margarine though.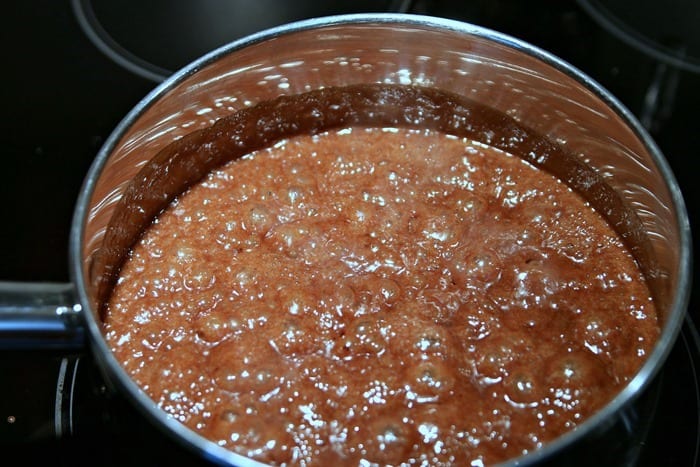 Combine the butter, sugar, evaporated milk, and cocoa and bring to a boil. Boil for 1-2 minutes.The no bake cookies are easy to make but if you don't boil the mixture long enough the cookies will be too soft and if you boil the mixture too long the cookies will be a little dry…..cook them waaaay too long and they will crumble and fall apart. I know this because I've been through all three scenarios.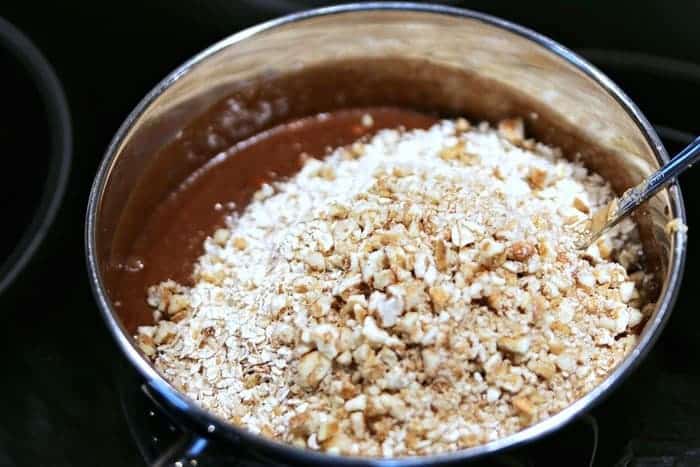 Add the vanilla flavoring and peanut butter to the pan and mix well. Add the oatmeal and pecans last. Stir together and drop by spoonfuls onto parchment paper, wax paper, or a buttered cookie sheet.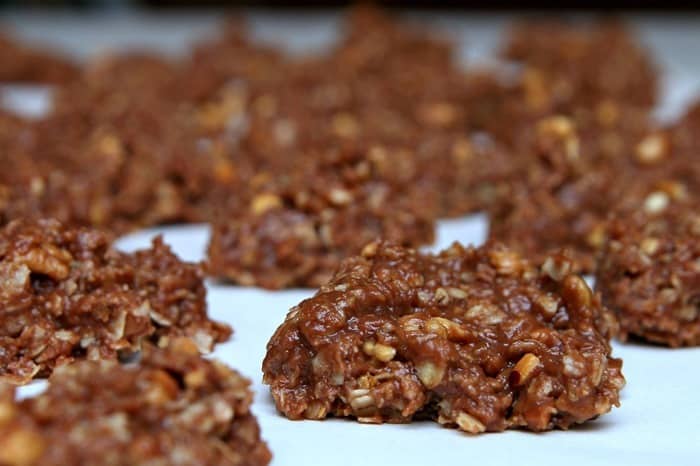 Let set until firm then enjoy! I may have boiled the mixture just a tad too long because my cookies were a kind of dry. Not too dry because they were yummy.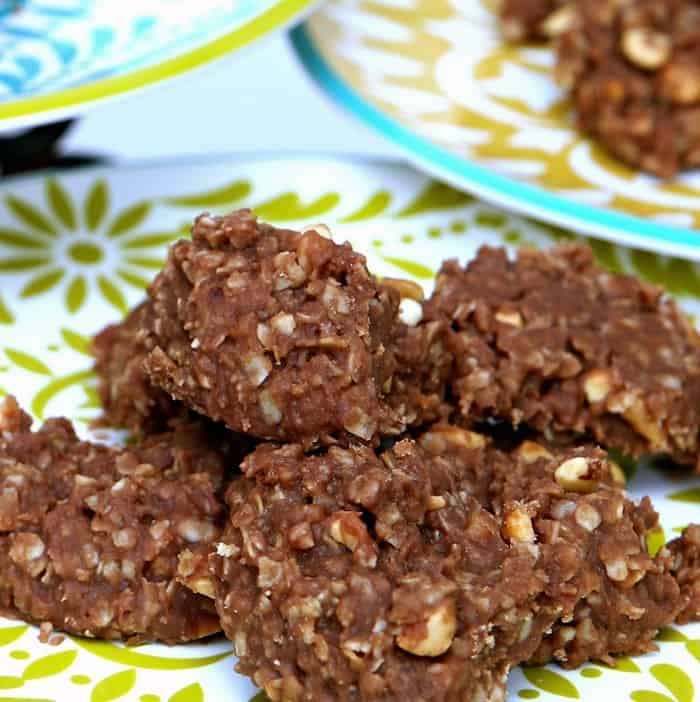 If you don't care for nuts just omit the pecans and use smooth peanut butter in the recipe.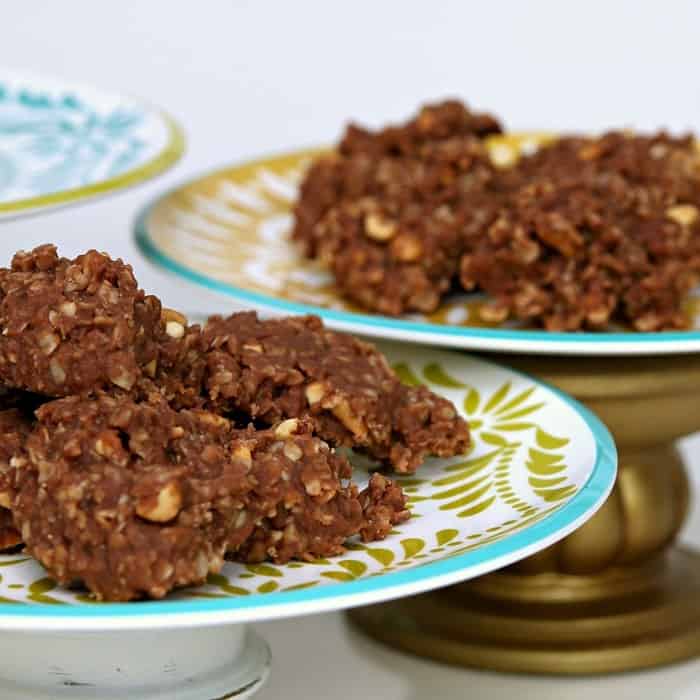 The serving stands can be used to hold just about anything. They would be great for donuts, a small cake, muffins maybe. You can also display lemons and limes, bananas, jewelry, whatever, on them. You have any ideas for me?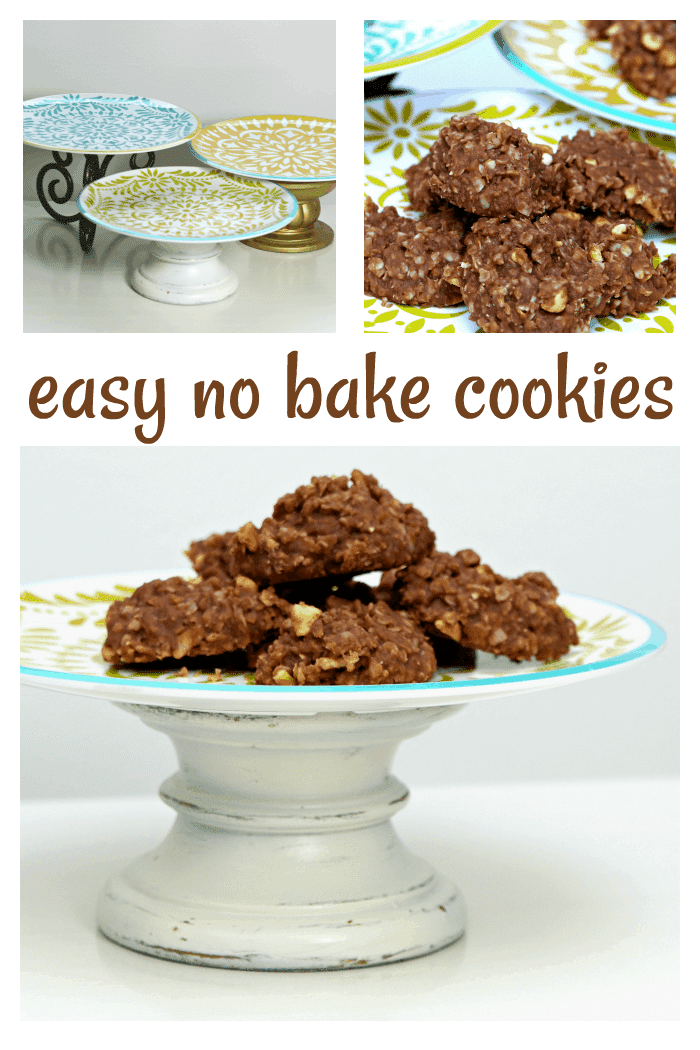 I have more family recipes here.....Millionaire Pie........Italian Cream Cake........Sausage Wonton Appetizers. How about you? Do you have any favorite cookie recipes?
I want to thank Maryann at Domestically Speaking for hosting this fun holiday cookie tour. Just click the text links below for more holiday cookie ideas….
**I am on the November 5th Tuesday Tour. Wednesday-Friday cookie posts are not published yet. Please bookmark this post so you can come back each day (or whenever you have time) to take the rest of the tour.
Holiday Cookie Tour
Monday's Cookies
Christmas M&M Peanut Butter Cookie Bars
Santa's Whiskers Christmas Cookies
Tuesday's Cookies
4 Ingredient Peanut Butter Cookie
Wednesday's Cookies
Easy No Bake Peppermint Gingersnap Cookies
Easy Spritz Cookies (not pictured)
Thursday's Cookies
Christmas Surprise Cookie Recipe
White Chocolate Cranberry Cookies
Friday's Cookies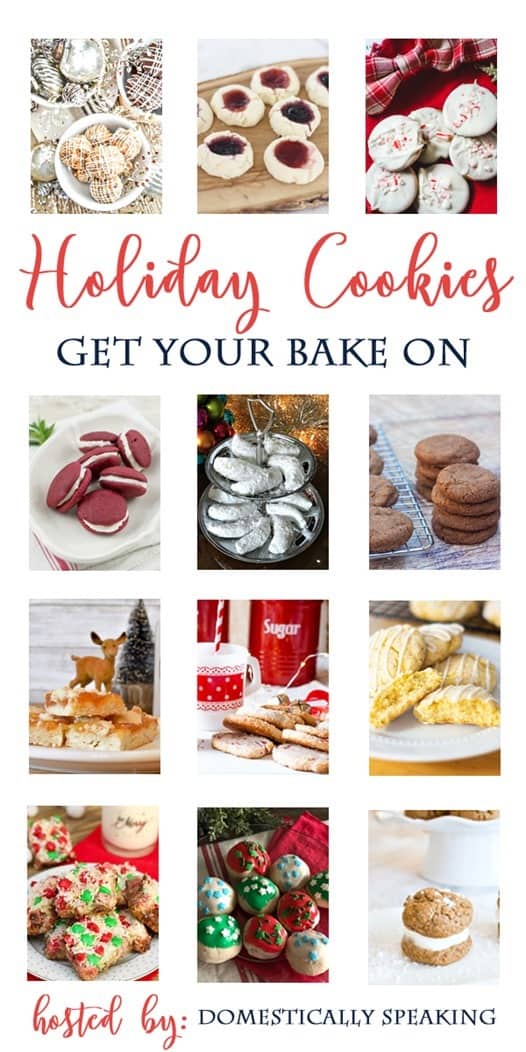 As always thanks for being here and have a great day, Kathy
Find my favorite project supplies including Gorilla Glue here.