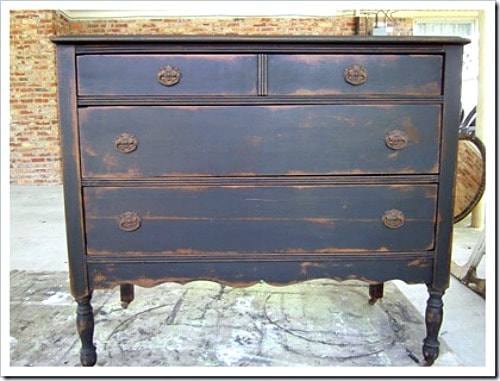 Hi guys!  This vintage dresser was just crying out for a little love.
I took the hardware off and scrubbed the chest with Simple Green cleaner.  I gave it two coats of
Caromal Colours
Peppercorn basecoat paint. I don't use Caromal Colours products exclusively but they are easy to use and produce a great finish, especially if you want the piece to look aged.
I always try to paint more than one item at a time.  I had these mirrors on hand and I thought they would look great with a touch of the Peppercorn color also.
After the paint dried, which only takes two to three hours, I took my trusty sander to the chest and distressed it pretty good. The white crazing or scrubbed look from the sanding  is covered when I use the Caromal Colours Toner.
update 3/2/2014 Many of you encountered problems when trying to order the Toner from the Caromal Colours website so I am now selling the toner on  Etsy. Just click the photo below.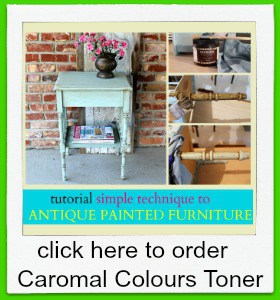 The toner also gives the freshly sanded raw wood an aged look. I used Howards Paste Wax in Oak to give it a deeper richer color and sheen.  The Howards is also a good aging product but it tends to wash off over time whereas the toner want.
The finished frame and mirrors with the chest.
I finished the chest Friday morning and Friday afternoon it was on display at This Old Place Antiques in Clarksville. On Saturday a lovely lady from Starkville,  Mississippi took it home.
Thanks guys that's a wrap,
 Kathy
Party time with
The Shabby Nest Frugal Friday
Miss Mustard Seed Favorite Furniture of 2011