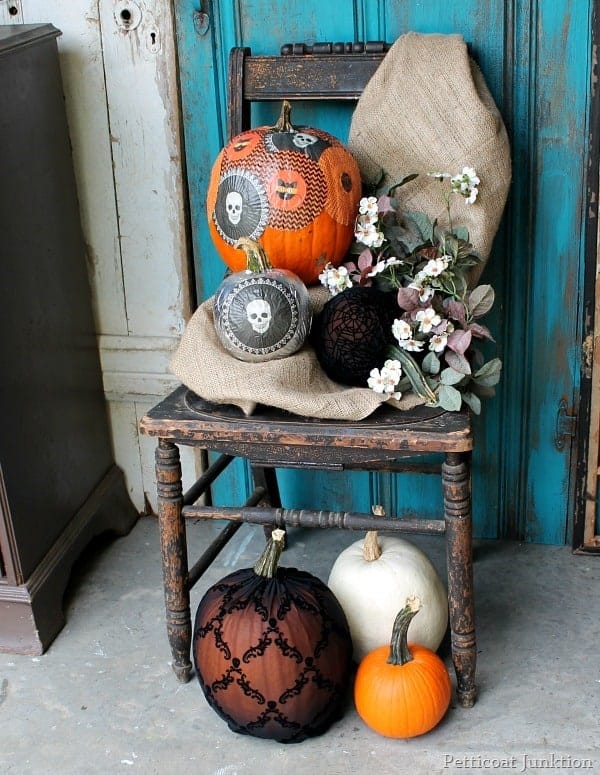 Decoupage Pumpkins, DIY using Martha Stewart Crafts
I was feeling crafty again this week.
I went on a shopping trip to Michaels and loaded up on Martha Stewart Crafts supplies. The Halloween craft supplies were on sale so when I say I loaded up, I mean it!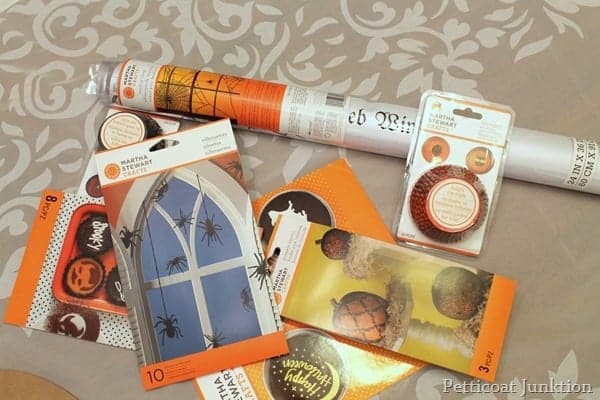 I came home with Martha Stewart Crafts glitter paint, cake stencils, cupcake stencils, foam hangie spiders, treat wrappers, window clings, and lace pumpkin sleeves.
Petticoat Junktion is a participant in the Amazon Services LLC Associates Program. As an Amazon Associate I earn from qualifying purchases.
There's enough stuff here for several projects.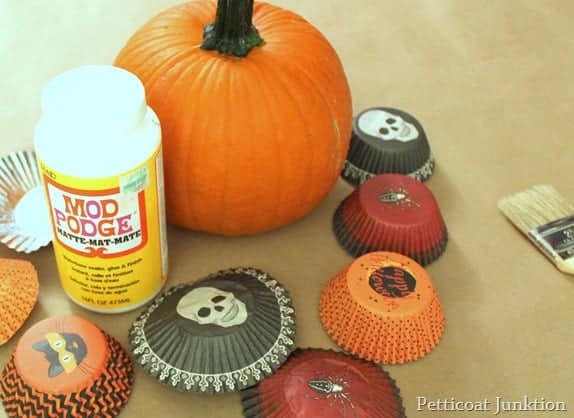 Inspiration struck when I spied the Martha Stewart Treat Wrappers.
Perfect for decoupage pumpkins!
The wrappers come in 4 patterns; there is a spider, a skull , a black cat, and a Happy Halloween.
The inside of the wrappers (cupcake liners) are silver foil lined.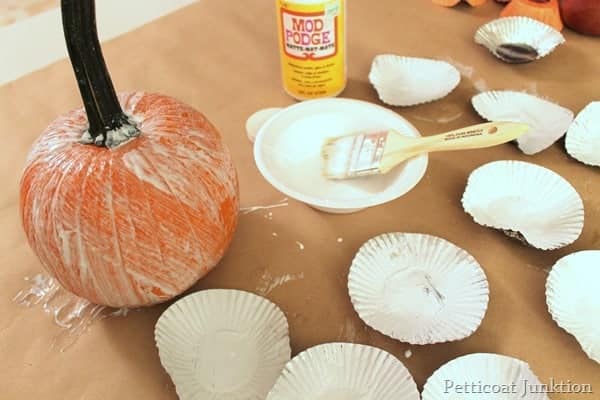 I brushed a heavy coat of Mod Podge on the pumpkin and the wrappers.
Past experience has taught me that more is better.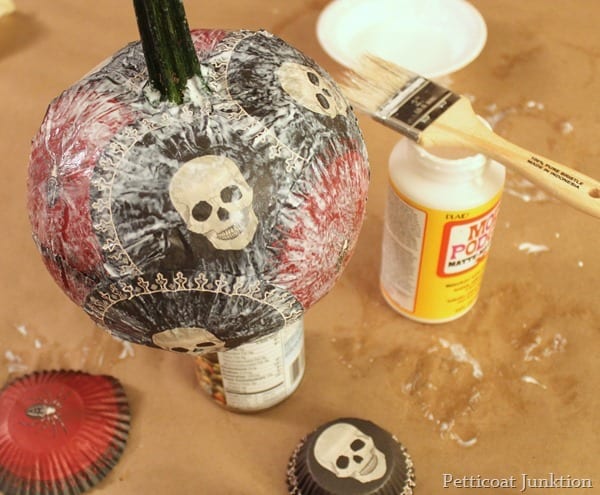 Since the wrappers were rounded, they were easy to fit to the pumpkin.
I smoothed the wrappers over the pumpkins until they were adhered well.
I didn't align them perfectly and they had a few wrinkle's but that's ok.
Trust me, the final product will  be awesome
I brushed Mod Podge over the outside of the wrappers also. This helps protect the paper.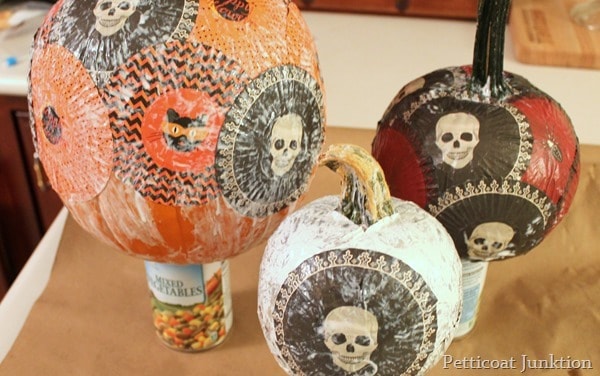 The first pumpkin project went so well that I did two more.
It took about 45 minutes to decoupage the three pumpkins.
I set the wet pumpkins on top of canned vegetables to prevent them sticking to the Kraft paper.
I forgot to mention that I covered my work surface with Kraft paper and I also wore a pair of disposable gloves.
The pumpkins are still wet in this photo but the Mod Podge will dry clear.
See…..
I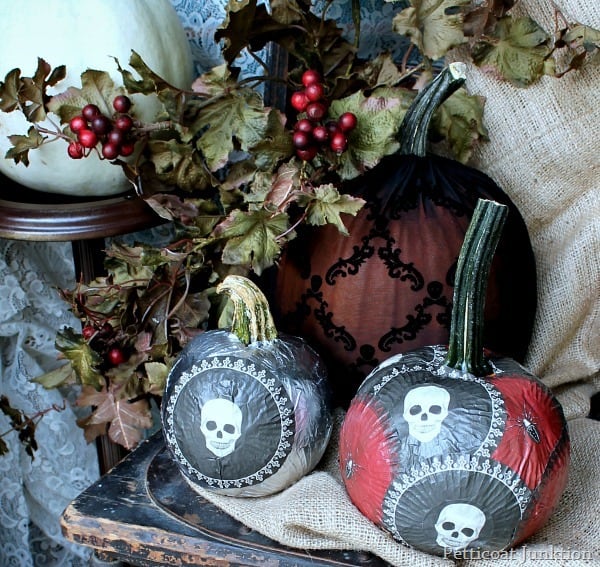 I really like the skull design and I dressed up one of the pumpkins using the silver lined side of the wrappers.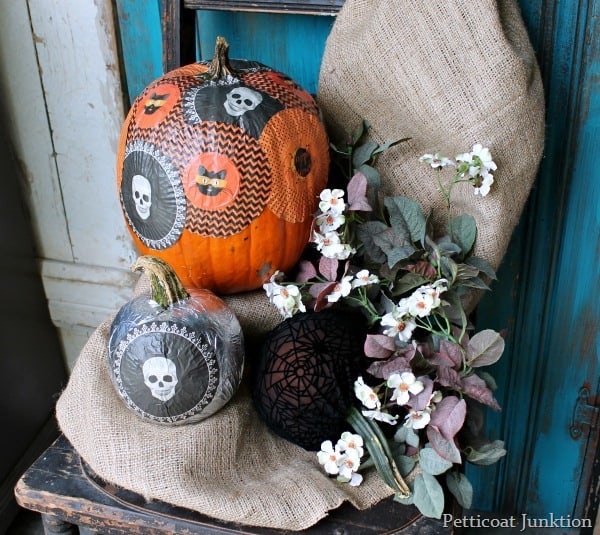 My original plan was to cover the large pumpkin completely but I liked the scalloped edges, so half-way down the pumpkin I was done!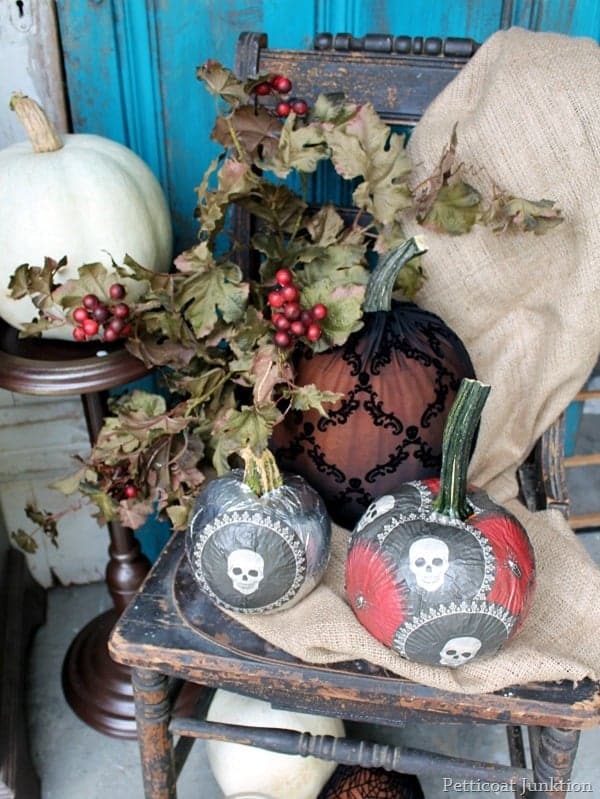 Notice the black lace covered pumpkins……Martha Stewart Crafts Pumpkin Sleeves…..
the easy way to decorate…..and such a cool look.
This is not a sponsored post. All of the supplies for this project were purchased by me.
I like Martha Stewart Crafts supplies. I love the stencil I used on the Cherry Red Chest and the silk screen template for my Up-cycled Urn Project was really cool. It's the first time I used a silk screen.
What do you think about the decoupage pumpkins?
Cool or Crazy?
Please leave a comment below. I love to hear from you.
If you don't have a blog….that's ok…you only have to leave your name (first name is ok) and your email address, then your comment.
  Your email address will not be shown on my blog.
Thanks for stopping by and have a great week,
Kathy
Follow….
On Facebook Petticoat Junktion
On Twitter Petticoat Junktion
linking to these parties….
Remodelaholic
DIY Sunday Showcase……Throwback Thursday
Thrifty Décor Chick…..Funky Junk Interiors……
Savvy Southern Style……Shabby Creek Cottage ……Tatertots&Jello